Shania Twain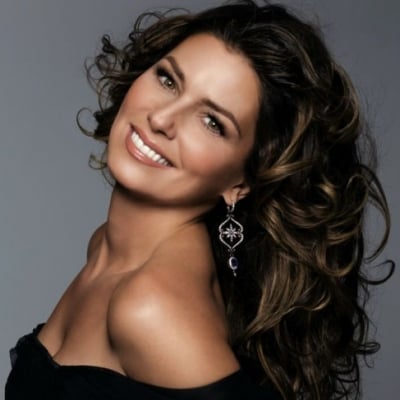 Uploaded by mood333
Comments
Top
Popular
Newest
Man! I feel like a woman! And I'm a man... =p Shania Twain has it all: a beautiful voice, a stunning face and body, and a knack for songwriting. From her humble beginnings to her life as an aspiring performer to the country-pop crossover success we all know and love, she is an icon. Not just in her home nation of Canada, but also in the U.S. and even in Europe and Australia. Plus, she is a giving person as her T.V. show/book attest.
At first glance, I didn't think Shania deserved to be this high, but I remember the late nineties and first few years of this millennium when it seemed young girls really started listening to country music. The two artists mainly responsible were Shania and the Dixie Chicks. So I guess I'm okay with her ranking here, as she really did help bring a whole new audience to country music.
Shania Twain can sing live, and there very few that can sing live. Also when you can listen her live singing, you understand that she sings better live than she does in studio. She is beautiful, and she loves to connect with the fans and the audience she performs in front of. I have a lot of respect for Shania, because she also writes the songs herself. I don't think that anyone can beat Shania Twain.
Shania sold over 85 million albums (Woman in Me, Come On Over, & Up).. Come On Over became the best selling album by a female artist (any genre) of all time, and the best selling country album of all time... She is the biggest reason why todays country-pop music has significantly evolved... Shania crossed borders, she tore the veil of the country music purist, she is "beyond words"... Whatever success that Taylor, Carrie, Rascal Flatts, FGL, Cassadee, Lady Antebellum, etc, have is something owed to Shania twain...
She is Awesome I can't wait to see her live in concert in Moline Illinois! Amazing voice and down right Beautiful I have waited a long time to see her in concert for the first time. I have been a fan for a long long time wish there was a way to get a meet and greet pass it would be so wonderful to meet her in person like a dream come true!
I agree - very much the total performer! Her material really tests her singing abilities and she handles country, ballads, country rock, etc. with ease. Doesn't hurt she's great to look at either! Plus she surrounds herself with nothing but top-notch musicians.
She's still the ONE. The face, the body and the voice you'll love to sleep with.
Great voice, great songs like "Still the One" or "Forever and for Always". She is one of the few singers whose songs actually sound much better live (maybe because of the visual stimuli posed by her - actually she's absolutely sexy).
She has the best voice, singing live, is better than her studio singing, Beauty counts also, her figure, her skin, her hair and the way she dresses and delivers herself is effortlessly mesmerizing.
She took country music to a Global audience in a way that no one ever has. That sexy sultry sound to match her looks amazing! On top of that she could also sing high notes and belt it out too.
I choose shania twain to be number one, She is pioneer in build and mixing both country, rock and pop... She is creative and great...! I always vote to her...
Because of her and the worldwide success she made, Country is what it is today. I'm sorry, but she's the only one who is known and loved all over the world, plus her work and talent are undeniably perfect. - mood333
After reading about her life since childhood and all the horrible struggles she soldiered on through, to take care of her siblings and to show them how to be strong, and to create such beautiful music...she earns my vote!
After Reba, Shania tops any female country singer, Carrie and Miranda are coming strong but Shania paved the way for a lot of these new age female country singers
Even thought I met a canadian with a bad behavior... SHINA TWAIN is different from others... I love shania twain, she had the package of a country singer that people really wanted to get it.. She mix something to impress people by her song. I know that many people won't agree with me. But for me, she is the heart of my soul... I LOVE YOU SHANIA TWAIN...
I grew up with her music it was fantastic! She has such an amazing voice and natural beauty. her voice, her face, and songs are amazing. she makes the best country music. GO SHAINA TWAIN!
She is willing to share her soul / spirit in whatever it takes to touch her audience. Not her dancing - her beauty - her sounds that God gave to her. Beautiful within and on the outside.
To me she gotta be the best country singer. I don't usually listen to country music till I heard this beautiful voice on the radio.
Shania Twain has the best albums of all time! All of her songs are hits to me, even the ones that are not considered hits-they are! She wrote every one of her songs! Not every singer can do that, and she is the best selling female artist in the history of country music. Shania Twian is amazing and a beautiful person inside and out!
She began the country-pop crossover music in 1990's. Till date her style is being copied, dittoed and being more and more wanted for...
Best Selling Female artist in some aspects, has achieved cross-over success like none other and with that twangy voice how can you go wrong.
Loved her since day one. Beautiful, sexy, and great voice. Carrie and taylor should owe everything to shania. Hope she comes back soon.
I love Shania Twain I think she is the best country female singer every. She and carrie underwood are the best. My favorite song is UP!
Best tone, best pitch. So sultry. Great songwriter! Plays the guitar! Down to earth. Just the best! LOVE her!
I adore her and shes lovely and beautiful and her voice is amazing and shes my idol and her music is awesome so she deserve to be number one all the time
Related Lists

Top Ten Songs By Shania Twain
Best Songs From Shania Twain's Come On Over
Top Ten Songs on Shania Twain's Now
Most Memorable Shania Twain Songs