Kittie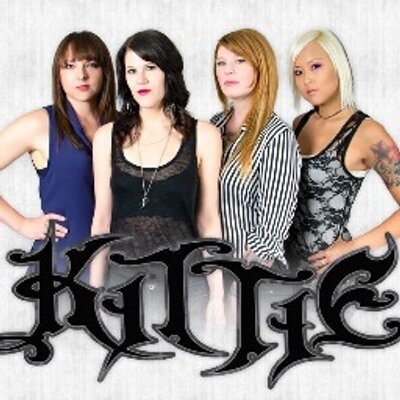 Found on twimg.com
Info
Kittie are a Canadian heavy metal band formed in London, Ontario, in 1996. They have released six studio albums, one video album, four extended plays, thirteen singles and thirteen music videos.
Comments
Top
Popular
Newest
Listen to Brackish. Honestly, I didn't like the beginning vocals from Morgan because I found them rather pitchy whether she meant it to sound like that or not. But when Fallon Bowman comes in with the fast-paced, heavy vocals and the instrumentals go all in, it absolutely blew me out of the water. The song has really grown on me and it's still my favorite song from the band. Plus, it's an all-girl metal band, which I think is kick-ass
Love them. They deserve to be higher in the rankings. These women actually have metal sound and melody, not just death growls... Evanescence is a pretty girl with a pretty voice combined with what pop radio would call "rock. " Kittie will kick your ass and make you like it!
Definitely my favorite female metal bands. Morgan's voice is awesome, her cleans are perfect and her screams are just savage. Definitely a contender against some of the biggest male bands out there. Favorite songs are What I Always Wanted and Mouthful Of Poison.
A favorite of mine from like ten or so years ago when they played all the metal bars but weren't old enough to drink. Morgan sings so sweetly and when you least (or most) expect it lets loose with demon-tones, while her sister and drummer Mercedes is a true master (mistriss? ) of the double-kick. They're working hard this spring, after a trip to Oz, they have dates from 4/10 thru 5/25 with NO days off!
Kitty is the only death metal band that scares me I love these women. And I've got to say if this is what when you get girl playing death metal I want more. Morgan voice is beautiful and her Sister Mercedes plays as good as she looks
ABSOLUTELY AMAZING! They are probably the only metal all girl band that has been successful. I LOVE THEM!
Kittie DOES deserve to be in the top 3. They are heavy, they have rasp in the scream and their music flows well. They were huge in their prime.
How are they not in top 10?! They really deserve it, in my opinion. I love them so much!
If you ignore the three rock bands above them then they are in the top 10 - germshep24
Kittie in my opinion is not just one of the top female metal bands but also one of the top metal bands period...
They are a awesome all woman band
In my opinion Kittie are hugely under-rated and underappreciated, for years they have been overlooked and ignored by metal fans purely because of their gender.
One of the classic female metal bands!
Kitties my number one they're the ones that got me started,these girls definitely got it all
Related Lists
Top 10 Best Kittie Songs