Lacuna Coil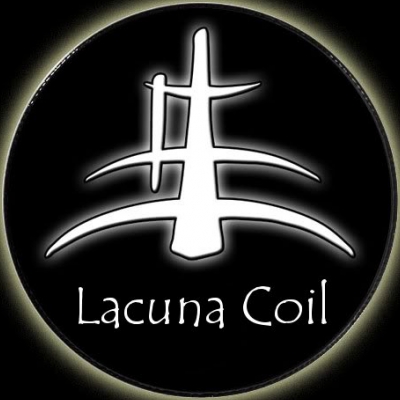 Found on photobucket.com
Info
Lacuna Coil is an Italian metal band from Milan. Since their formation in 1994, the group has had two name changes, being previously known as Sleep of Right and Ethereal.
Comments
Top
Popular
Newest
I LOVE Lacuna Coil. Cristina should be number 1 on this list. I've listened to a lot of female metal/rock vocalist and in my opinion they all sound alike; however, Cristina offers a unique sound to every album. I don't agree that they've "struggled" to find a distinct sound, I believe they kept with their roots and displayed their growth and musical diversity, as bands should! True fans will always be true, while the posers will be misled by what everyone else listens to just because the radio plays it more. I say FORGET the radio, most of the music today is crap and sounds the same. Lacuna Coil has never disappointed me, Andrea & Cris have awesome vocals. I am looking forward to their new album and concerts in the states! - Vanessa Marie
Absolutely fantastic voice. Hypnotic accords and very different from other metal bands. Probably most beautiful singer that I've ever seen. I like the newer albums though.
Great Band, Cristina has fantastic vocals. their cover of Enjoy the silence and swamped are two of my favorite tracks of all time!
She has such a powerful voice, never fails to deliver an amazing performance giving it all she has got. Her voice is so distinct and so powerful that she stands out from everyone else. She is an Amazing role model for many women and girls out there and she proves to us all just to be ourselves, no fakery, just be honest, be yourself and love yourself because we are all perfect the way we are. She is such a friendly caring woman who will go out of her way for others a d her fans, I waited after a gig to see her and the band and she gave us all the time in the world to greet us, sign albums and have photos with us. To me she is the best.
Cristina Scabbia is my idol. The strength, power and emotion that she bring to every song is life changing. I don't think it's fair to say that the "band struggled to find a consistent sound", every person/ band grows and interests will change (if they didn't, people complain of boredom and repetition). Like every band, some albums are better than others; but they always stay true to themselves and make albums they are passionate about. Respect!
There's no need to list the many reasons why the Coil are so high on this list as their music speaks for itself. And unlike Nightwish they don't sound like a Christian rock band. Just hard tracks as well as the talent to carry soft ones with equal skill. Anyone commenting on this page should at least check out and listen to songs from the other bands and hear why they made the list. Do yourself a favor and give them a go.
Not only does Cristina sound amazing but she is also a kind person. We waited to meet her after a show one night and even though it was freezing she came out and talked, took pictures with and hugged every fan that waited for her. Every album sounds amazing. I actually can't think of a Lacuna Coil song that I dislike.
Amazing band! Cristina is simply my idol - charismatic lead singer with a mesmerizing voice, amazing stage presence, brilliant personality.. This lady will rock your world. She's a great example of a strong, confident and badass woman! Is there anything about her that you wouldn't love?
Cristina Scabbia is as good a fn' great singer and as a band they're incredible. They sound different than most contemporary gothic metal bands. Amy lee is more talented but her band isn't that great. Most songs sound similar and it's not my prejudice. All Hail Lacuna Coil and lover for Cristina.
Cristina Scabbia, is a wonderful woman, in the stage and out of stage, shes an inspiration. At the moment of she sing, transmits a lot of energy! The power of her voice is incredible and her heart is SO big. :3
' Cristina's vocals are amazing! As are the vocals from nightwish, but I think Lacuna coil has a little extra. They're very varied but still always the same genre. Plus, they're extremely nice and down to earth! '
Christina/s vocal range is incredible live. I am really confused why they modify her voice for the albums. This is one of very few bands that I think are better live than on the CD.
Cristina's vocals are just perfect for the dark haunting sound that is Lacuna Coil. Let us not forget about Andrea, he and Cristina balance each other so well.
I think I probably just voted for them because what's-her-face sang a song with Megadeth. And I don't really like girl singers anyways. But she's Itallian too which is awesome. So yeah, I don't really like chick singers. Sorry but I never thought metal should have chick singers. (no offense. I'm a girl too so it's not like I just hate chicks)
I have been listening to this guys since I was 12 and they have changed a little their style, but still have the same spirit, and Christina always making the front look awesome.
Christina has such an amazing voice, she controls the crowd well and tells you not to give up on yourself! That's what music should be about!
The very best in the metal world. Cristina has a marvellous voice and she is a very nice dark lady. Their best album is Broken Crown Halo.
They have the most powerful contralto, awesome composers and great style which after get used to, you are gonna fall in love with...
Amy Lee is O.K. but for diversity Lacuna Coil ranks number 1. Evanescence is musically talented but the vocals are the same each song, as where Christina has many varirations and range, you have to look at all the angles here. But there's so many great one's not even listed..
Lacuna Coil is eons past Evanescence.
One of the best metal singers ever! She is amazing, she is pure adrenaline and energy when she performs :D my idol
SHE IS FIT! Would destroy so hard that those 4 seconds of her life would be her best!
Cristina Scabbia is very beautiful girl. But they have a strange site.
Love her voice and their songs. Have attended their show in Rio de Janeiro. The best I've ever gone.
To me what makes them unique is how awesome they are all personally, The Rezophonic project is inspiring and reflects the commitment to humanity each of the Band has and every encounter I have had with any of them has been positive!
Related Lists
Best Songs From Lacuna Coil

Best Songs On Lacuna Coil's Dark Adrenaline
Best Lacuna Coil Albums
Best Songs On Lacuna Coil's Unleashed Memories