Nightwish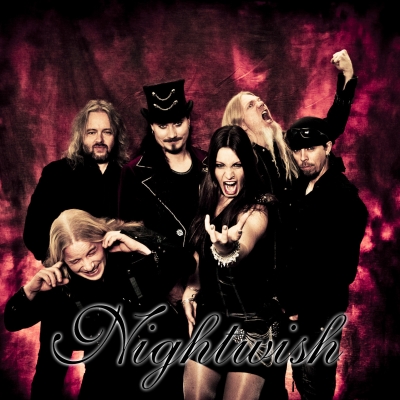 Found on photograve.net
Info
Nightwish is a symphonic metal band from Kitee, Finland. The band was formed in 1996 by lead songwriter and keyboardist Tuomas Holopainen, guitarist Emppu Vuorinen, and lead singer Tarja Turunen. It's currently formed by Tuomas, Emppu, lead vocalist Floor Jansen, bassist and vocalist Marco Hietala, ...
read more
.
Comments
Top
Popular
Newest
I absolutely love Nightwish. Everything about them is amazing. Their lyrics and deep, dark, and inspiring. Their music is spectacular. I have been a Nightwish fan for six years. And I'm only 12. First heard 'Poet and the Pendulum' when I was 6 and I was entranced by the melody of the music and Annette's voice. I begged, literally begged, my father to get me all the Nightwish albums. I had heard every Nightwish song in a matter of two days. Now you can just play a few seconds of a Nightwish song and I'll tell you the right answer. If you don't believe me, Nightwish themselves tested me. I met them before a concert a few months ago and they tested me. I gave the right answers of Weak Fantasy, Wish I had an Angel, and Sacrament of Wilderness. They were shocked and literally kept waving at me from the stage. Anyway, Nightwish is amazing and probably the most brilliant band to ever walk this earth.
Nightwish is a great band indeed. The music compared with the lyrics are divine. Of course, Tarja was the best vocalist ever for the band, but I still like Nightwish, because it's still Tuomas's compositions. Anette was decent, but no exceptional and sometimes unsatisfying. I'm very glad to hear that Floor is their new vocalist (one of my favourite voices in metal).

I don't understand why Evanescence are in this list. You may like Evanescence, but they are not metal. This is a metal band list.
Besides, Evanescence are way too overrated in my opinion. They released a good album (Fallen), but after that I see nothing exceptional in their music, just mediocrity. Not to mention that Amy Lee's voice is not as great as her fans think. I doubt the Evanescence fans listen to any other bands in this list, or metal in general.
Tarja is queen of opera metal. Anette sucks big time
Nightwish is the only band with female singer that I actually can listen to. Well, I _can_ listen to other bands, too, but Nightwish is the only one I enjoy listening to. I prefer Tarja's voice but I like Anette and Floor, too. I think 'Nightwish' is what they played with Tarja, it just isn't Nightwish anymore. I'm not saying that Tuomas should have changed the name of the band, or anything, I'm just saying that for me Nightwish is Tarja Turunen, with Anette and Floor it's something else. It's not worse, it just doesn't feel like Nightwish anymore.

But yeah, Nightwish is the only band I like with female singer. But the best song of Nightwish is 'While your lips are still red' which is sung by Marco :DDD
Their style has definitely changed now that Annette has replaced Tarja (possibly for the better), but there is still no doubt that they are the best female-led metal band. Their style has shifted to something more akin to Evanescence. I can't quite compare them, but I can put them into tiers--Nightwish beats Evanescence all day long.
Nightwish should be at 1st place :-) old fans like tarja, new like anette, but true fans like NIGHTWISH! :-)
Nightwish is one of the best female fronted metal bands, they were better with tarja, because Tarja sings technically better then Annette Olzon, also, Nightwish is more Metal than Evanescence, besides that, the other musicians of Nightwish are better than the ones of evanescence.
No other band really comes close in this regard, the talent level in this band has always been top notch on every release. As a teenager in the 1980s and a metal fan for over 30 years I can say from years of listening that Nightwish compositions are that and a bag of chips. Symphony or not Imaginerium might be one of the best metal albums ever written. The haters need to listen to Imaganerium unbiased about 3 times through. Evanscence shouldn't be on the list because 3 albums in 15 years equals a side project at best and not a full fledge band. If my favorite band Iron Maiden had released 3 albums from 1980 to 1995 they wouldn't even qualify as anything. Evanscence is gothic metal and again no real band releases their first 3 albums over a 15 year period, what are they defunct now anyway? No true metal head would accept that output. real bands like Nightwish have released 8 albums over the same period. And that's a normal metal output nothing off the charts.
This band should be at the top. With or without Tarja, Nightwish is the perfect example of a female fronted symphonic power metal band. Evanescence is a good rock band but should not be on this list. There are many wonderful bands out there, but Nightwish tops the list!
Whether led by the vocals of Anette Olzon or Tarja Turunen, Nightwish is the very best of female-fronted metal. The gorgeous vocals combined with Emppu's crunchy metal riffs and Tuomas' soaring keyboard melodies create absolute music perfection.
Nightwish without a doubt! I love every single song! Tuomas is a genius. I prefer Tarja because she's the voice I fell in love with when I first listened to NW, and her voice is simply amazing! Anette is good, but not perfect. In my opinion she's better as a pop singer than in Nightwish. Floor has a great voice and I think she's just what the band needs! I'm so looking forward for the next album with Floor. Nightwish is the best female fronted band out there!
With the addition of Floor Jansen Nightwish is now the best out there. They've always been good, but now they have reached a new level. As good as their albums are they are now on a whole different level live and no other band can compete with them on stage. Totally amazing.
Nightwish is the best metal band ever! I love those, classics" like Iron Maiden but Nightwish is my favourite band and they are really awesome! Anette can be better, but Tarja is the best female metal singer in the whole world. Nightwish deserves #1!
I just saw this band April 13, 2015 in Quebec City. This band is the most complete unit of all time. Brains, good looks, tons of talent and a composer that is second to none. This is the best band of all time period. Evanescence isn't in this league. They shouldn't be on this list at all.
I respect Anette and Floor Jansen, they have lovely voice. They all have different styles. But I wouldn't start listening Nightwish if Tarja didn't come first. Tarja's voice was different than any other female metal singers. That's why many people chose Nightwish..
Is there any doubt!? This band is original and epic, and the front singer absolutely have a part in that! I do not hate Anette, I think she is good, and I listen to songs from her era frequently, but Tarja is just unique!
Nightwish are metal, they are symphonic metal and I just love the!
Toumas's music is amazing, he is a a true talent. Tarja and Anette are great, everyone in her own way. Nightwish ROCK forevermore!
Definitely metal and way better than Arch Enemy. They have a bunch of great songs and all their albums are great. Not one band on this list is half as good as Nightwish.
Seriously, Evanescence! It is like ranking Slipknot as the best metal band. Nightwish is the most famous, appreciated and talented female fronted metal bands. It is a rare case where even men like it and not because the singer is hot.
When someone says "female fronted band" my first thought runs immediately to Nightwish. They actually were the beginners of the symphonic metal movement, they are both powerful and melodic, they have a great stage presence.
Nightwis is great! They were much better with Tarja, but Anette is not bad. I vote for them because Evanescence is not metal to me. Tarja's voice was the thing which makes Nightwish's quality.
Won't beat the dead horse here on lead singer debate. Love Nightwish in both versions. Put them over Evanescence. Songs of choice for both :Ghost Love Score and Meadows of Heaven. Nemo and Amaranth.
Floor Jansen has added a lot to the group. Always been my favorite metal group with any of the three ladies singing. Everyone seems to have a preference, each lady added something to the group and made them better for it.
Only with Tarja...Love the musicianship of Nightwish but they are on completely different level with Tarja. She is truly a generational singer and there isn't another female on the planet that can compete with her
Being literally the founders of the symphonic metal genre, Nightwish is to be at its summit. Their music has significantly changed, though they're the same, those who have started the global symphony of beauty.
Related Lists

Best Nightwish Songs
Best Nightwish Albums

Best Songs On Nightwish's Once
Best Songs From Nightwish's Imaginaerum

Best Songs On Nightwish's Wishmaster