Sarah Brightman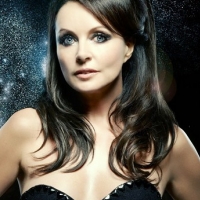 Found on i.telegraph.co.uk
Comments
Top
Popular
Newest
I sat ten feet in front of her once at a concert. What I heard was better (i. e. her live voice) than her recordings.

Ok, you could say that about others. But, often the live concerts don't match recordings, tonal intervention, etc. When Ms. Brightman sings, there is no need to utilize electronics. This a unique talent, unmatched today, since the late 1980's.
Sarah Brightman retains a unique voice that has the ability to sustain emotion in the listener. From sadness to joy, Miss Brightman's voice is the only one that can break hearts, and make one cry. I know this. She has had me in tears with her talent, for years!
The Primevere time I saw her was when Andrea Bocceli Cato was wonderful to see and hear her sing when you hear all the bad feelings and negative came out of me, their music is awesome and you better, Sarah Brightman are the Angel that I... Thanks for existing
- JManu
I so agree with previous comment; she is the empress of music and performans! The most unique talent on earth! She is the ultimate artist. Totaly unreachable among other nusitians. Everythig else is such a ridiculous rubbish comparing to her performances! Sarah- the Empress of music!
Her voice is magical. She sings from her heart. And that is why I adore her that much. I do not want only to listen a good technique, I want to listen and feel at the same time and her voice gives me that emotion that I need to feel.
Sarah Brightman is the best. She has been in my heart since 1990's I have listen to Sarah Brightman's voice, her singing for many years with her Angelic voice. Because of Sarah I learned to love Soprano Opera and Classical Music. I love that Sarah Brightman sings in more than 3 languages. I enjoy singing with Sarah Brightman's songs and watching her sing in Dvds.
That woman has it all! She is perfect in every way; as a performer, as a singer, dancer, lady... She is such an example to other ladies.. But its a pity for them, cause they never gonna reach her level of professionalism, charisma and talent!
Shes still after all the trials and tribulations of her life the best if the british classical so called professionals can't recognise that after all these years then we don't deserve her
OTHERS CAN HAVE A "QUEENS", "DIVAS" AND OTHER RIDICULOUS TITULS BECAUSE THEY ARE ONLY HUMANS. SARAH IS THE EMPRESS OF ALL VOICES AND SHE WILL BE ON THAT THRONE LONG AFTER 21ST CENTURY!
Totally agree. Sarah is not only the best singer in the world this century, she's a musician, actress, producer, Symphony Orchestra director, Philanthropist, Ambassador and artist of Peace from UNESCO, member of the Advisory Council Challenger Center and also a cosmonaut in training now. Hey voice left speechless all to audiences
You just have to listen Sarah, and you'll answer to all questions concerning Sarah. She's the Best. That's all.
There's no question about it, she is the best, nobody can touch her. Her voice says it all. She sings and everyone stops, that's what happens when the best sings
Sarah Brightman blows away the competition as the greatest female singer of the 21st century. She is beautiful and amazing with the voice of an angel!
Sarah, so how many genres do you sing in because I lost count. You break boundaries, break language barriers, put Paul Stanley and Andrea Bocelli on the same album, and you let no genres label you.
Have to admit there are other singers and other bands that I listen to. But her voice her music has a magical quality to it. I can't say anything else about her. Only that she is breath taking. - richt63
You've got a great voice and your songs are all very inspirational and amazing too. I love your "A WINTER SYMPHONY" album so much. You are talented and keep on making more songs. Thank you
Best female artist on this incomplete list. What about Hayley Westenra? She blows all these people away. And Cecila Bartoli? Again blows all these people away. Ann Wilson? You can't be serious. Do you people just not listen to real music? Pop artist? You've got to be kidding. Lady Gaga? I love her music but she can't even carry a tune.
I think She is one of the BEST singers of the 21st Century
Internationally recognized as the worlds best selling soprano her range is amazing as is she probably the best known singer in the world
SARAH, BECAUSE SHE IS THE LIVING PROOF THAT SUPREME BEINGS EXISTS! SHE SHOULDNT BE IN A COMPETITION, BECAUSE SHE IS UNCOMPETABLE!
Cream de la Cream of music! The others can only watch, learn and CRY! Because they will never even get close to that level!
None of the 12-year olds here at the top tens has heard of her, which is a good thing. She deserves to be #1.
With sich a diverse voice Sarah is truly the best female singer of the 21st century!
With her new album symphony; sarah proves she is the ultimate diva of all time
Hell yeah... I love many genres but Sarah is my number one that just transcends them all.
Related Lists
Top Ten Sarah Brightman Albums
Best Sarah Brightman Songs
Best Songs From Sarah Brightman's Time to Say Goodbye
Best Songs From Sarah Brightman's Harem
Best Songs From Sarah Brightman's A Winter Symphony