Fatin Shidqia - Indonesia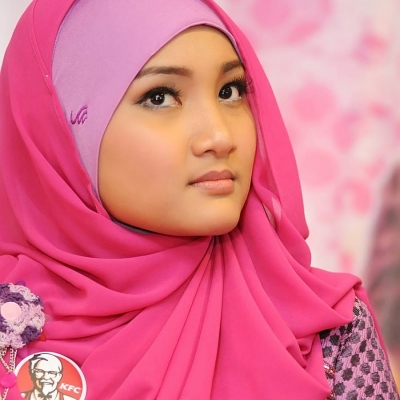 Found on bp.blogspot.com
Comments
Top
Popular
Newest
She's so young and very talented singer. As a newcomer in music industries she's very phenomenal and has a unique characteristic.

Good Luck Fatin Shidqia
IndonesianPride1
She's The Best Singer In Indonesia she's young (16 years Old), cute, have good Voice beautifull and With strong character in her Voice, she successfully amazed all Indonesian people
Little girld with hijab her voice is very nice and character amazing
Fatin, good voice, phenomenal, both veiled and, hopefully win deh
She's the bestshe's young, Cute, Beautifull, and strong character in her Voice...
Fatin have fatinistic who will always support behind you and will there wherever and wherever you stand for competition...
You have a unique voice and that can make fall down everyone who listen you sing...
Good luck fatin...!
She's a new female single prodigy in Indonesia
With beautiful voice and great attitude
Fatin have a unique voice, good talent, n she's very cute.. Fatin although still young but already a winner x factor Indonesia one season. Go go fatin.. We all support you :).. Fatin Fatin.. Foyyahh..
She's got a great and unique voice, nice character. She's different from another singers in Indonesia especially, and in the world in generally. She's really talented, and of course she's beautiful inside and outside.
Smart, Religious, and character of his voice very rare in this country
Fatin has a unique voice. Her voice is raspy, and so easy to listen. I love her voice, she has an unique character in her voice. Her voice is soulful and she did'nt have to do a big effort to sing. She sing flawlessly. Even so many profesional Indonesian Musician wanted to do a duet with her. And believe it or not, she is 16 YEARS OLD!
Her voice is amazing, unique and awesome! FATIN SHIDQIA go go go! Fatin Amazing Teen In Indonesia.. I love you
She's young and talented, both of her voice and character are very unique.. You can imagine, a 16th yo girl can singing a popular song "Grenade" with her own style, and Bruno Mars happy to put her video clip to his official website, Awesome!
Good play sing a song, fatin good young talent, uniqly voice and amazing, thumbs up for her
One word to describe for this girl : phenomenal. Her first appearance in x factor indonesia when se sang grenade had hypnotized the judges, audience, indonesian people and also foreigners. Her unique voice and apperance has captivated so many viewers around the world in just few months. Her audition video was even uploaded in bruno mars wesite. And george levendis mentioned her name in his socmed account to highlight her performance. Exceptional!
Only Fatin who has a distinctive sound and character
She's have very Good vokal character.. Oh I very loved she's character.. Fatin fatin for ya.. (Y)
Good job fatin..
Soloist newcomer to the former Indonesian musk dropout xfactor champion who has a unique voice character
Fatin voice makes me proud and happy to Indonesia had a voice like a diamond
She is cute singer with unique voice and character from Indonesia. Always make the song she sang different and being her own.. I think she is next Indonesian diva
I proud yiu fdatin your voice unique and next time you can a big singer as big as agens monica, anggun and etc
Fatin has a unique voice. Hearing her singing is addicting. She has a good personality, humble and pure girl without any effort to change who she is whether she have already won X Factor Indonesia. She is still young so she still has more chance to evolve her ability in singing. Albeit now her singing already good.
Fatin is a good singer that I've ever seen. He has a good sound quality and the vocals are so strong that whenever I listen to his songs will never get bored. I miss the sound but it will continue to exist at all times.
So let's vote fatin shidqia to become the best female singer in Asia..
FATIN SHIDQIA LUBIS have a fantastic character voice, particularity, and she's 16 years old, so I proud she will be international singer with a jilbab. And I hope she will be the one singer with a jilbab that go international.
Fatin auditioned for the first season of X Factor Indonesia with the song "Grenade", originally sung by Bruno Mars. She amazed the judges in her audition and received a lot of positive feedback among social media users, advancing to the next round