Charice Pempengco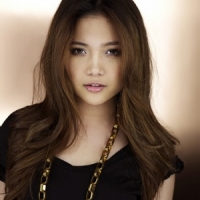 Found on nautiljon.com
Info
Jake Zyrus (born Charmaine Clarice Relucio Pempengco, formerly known by the mononym Charice), is a Filipino singer who rose to popularity through YouTube. He is a transgender man.
Comments
Top
Popular
Newest
She deserves everything that's happening to her right now.. With that, along with her talent in singing, I should give the credit with her.
"If you are a die hard fan of someone else, you got a reason to hate this person but if you are a real music genius or a music lover then you agree to me that this person is one of a kind. Foster can't even exactly denote what where she fits in. She is just too talented that she can sing anything they want her to sing. Made in the Philippines but marketed around the globe. A person you every open minded Pilipino could be proud of. Her song being used as a winning piece in tvo Armenia. That is Europe man. Her song being covered by popular singer man. That is Australia man. With a wide range of voice, she offers different kind of songs that your playlist wont be boring. One thing more, she is so generous lending her voice in different activities to help others in and out of the country. A thing her mentors had thought her about giving back. Many more to say about charice. But back to the topic, she had proven herself and now with the new her, she will gonna offer more so watch out! "
The best Singer and should not be compared to other Filipina singer like? Because Charice is the best! And Charice is a International Singer not the other singer in the Philippines, they don't like Charice before and now Where is Charice, she's become the world Favorite Singer teens and Olds, Poor and Richest we Idolized Charice because of here being a nice Singer, good singer and most of all being a fighter in life, she doesn't stop even Crabs surrounds her, because we Chasters around the world Protect Charice!
I like Charice because she hits her high and low notes with ease. She has a God given talent and people from other countries recognized this and that is why she is successful internationally. She will never be successful in the Philippines because she is short, round face, born in the Philippines and who cares and it's none of their business. At least you can sleep soundly Charice and people that insult's you cannot. Hang in there Charice, you are the best, stay humble, keep singing because we love you.
Here in late 2015 I just discovered Charice. At 71 I am so filled with awe with her singing. I'm so thankful I'm still alive to be able to hear her voice ringing in my head. She is so breathtakingly beautiful I only wish I could have found her sooner so that I could have seen her in person. If she ever decides to tour again I only hope she decides to come to Canada. At times tears flowed down my face and my heart has been filled with so much love and happiness just watching and listening to her perform. I'll play her songs for as long as I can, she is now part of my life's story that's how much affect she's had on me. Thank you Charice.
Charice has the VOICE, as V-O-I-C-E no doubt!
I just can't hardly resist in listening her voice whenever she sings because of the clearness in every word lyrics she sang, the calmness whenever she have to sing it in a low tone, her ability to hold her voice,while prolong it sustaining a high notes, that's awesome!

Charice's famous conquer in music industry does not only in the Philippines but internationally. People of other countries love and likes Charice's feeling to the song she sings everytime! - paulredelosa
Yea She Is The Best Singer In The World No One Can Defeat Her Voice She Is The Number Pinay Singer Who Can Duet The International Divas Like Celine Dion Mariah Carey And Whitney Houston. And Her Voice Is Such As Like A Golden Voice And The Way She Sang. She Feel The Song And Her Heart Only Charice Pempengco Can Travel The International Level. She Is A Legend. Unlike Sarah And Regine The Way Both Of Singing I Feel Like So Playing The Song. And When Come The Highnotes Both Of Their. Tired To Beat A Song "All By Myself" Only 2 Women Who Can Sing This Song Perfectly At Live And That Charice Pempengco And Celine Dion. So that's My Opinion. Ahmm. Anyway All My Comments There that's True. And I Swear To God She's Better Than The 3 Vocal Trinities In Whole World That The 3 Vocal Trinities Celine Mariah And Whitney. And She's The Only Pinay Singer Who Can Travel The Glee Club. And The Year 2010 Her First Album Pyramid. Top 8 In The Billboard In The USA. And Oprah Winfrey Calls Her. She Is The ...more
For me Charice is right to be the number one.. Her voice is so amazing.. She Has the best quality of voice, I'm really proud of her that at the young age she became a good singer and the most talented girl as said by oprah Winfrey. She is also singing songs better than the its original.. and she is belting in a proper way I mean unlike other singers who are shouting just to hit those high notes.. She is also a singer with versatility.. and For all, She is the best lie performer in the world.. CHARICE you're the best
The best singer next to the big names like celin dion, whitney and mariah. I hope Filipinos would be very proud of her instead of being a basher and hater.. do filipinos don't feel bad? Because charice become more popular in other countries and they appreciated her more than filipinos did. maybe that's one reason why charice wants to be more on the other side of her. But even there are many negative comments about her, I still love her for who she is. She is very humble in her words even if she already reach Hollywood. GO! Charice you are still the best.
Charice is of a higher level of singer/artist compared to the tradition classical singers in the Philippines. Her voice has wider range from the low registers to the higher belting levels which is rare among artists. Versatile in her craft, she can sing various genres which is still unmatched by most artists in the industry. She's simply the very best singer/artist in the Philippines today.
Beating Charice, nothing can resist to her. Because she have a beautiful and unique voice. I hope that soon I'll be just like her. To be an international singer. Cause I've dream to be a singer. She sings with her heart. And no insicureness, she have enough talent. For me she is the top 1. YOUR MY IDOL. KEEP IT UP. MAKE THE PHILIPINES PROUD OF YOU. GOD BLESS YOU! I LOVE YOU CHARICE.
She crosses the border period. Do any Filipino singers want to challenge her on her success? I don't think so. I practically grew up here in America and I never seen like her totally gifted coming from the Philippines. This is the first time I became a fan of a solo singer from the Philippines.
She is awesome! She has a soulful voice! Her voice is like a pure rose which can never wilt. Her voice hits all the notes you could possibly think of. She can sing! She has 1 billion screaming fans out there and I know that there's some more of where that came from
There no point of comparing her to other singers here in the Philippines! She has wowed the world, the international music industry in which no one has done before in the country! She is absolutely an exception! A music genius!
Definitely, she is at her peak right now and the best female singer in the country today for me. Her pitch is so astonishing and behind that unique voice is her humility and the pride of being a true pinoy. More blessings for you Charice. Keep it up. God bless.
I love her voice its amazing if I could have any voice it would be her! She's beautiful, talented, amazing, and basically nice. I hope she goes far, I hope to see her more in the future! With an angelic voice she captures everyone's heart!
Charice is by far the best singer I have ever heard. She pours her entire body and soul into her singing. There is no other singer that can routinely bring me to tears. Every time I listen to her I am absolutely floored. No singer living or otherwise has ever touched my heart so deeply.

God Bless Charice!
She is really amazing so why people (from the Philippines) always comparing her to their idols as if charice don't know how to dance (YouTube: one day & louder), Rap (YouTube: Reset) and she even use our language in her international singing career.. need to say more? Just be proud and don't compare. Go Charice! - hazelea722
She is ABSOLUTELY the best. To be honest, I don't know who sarah whatever-her-last-name is. She has a beautiful and powerful voice and she is by far the best. At this age to have a voice like that is a gift and she uses it well. The song pyramid was amazing and I loved it the lyrics, the music, her VOICE, everything.

Deserving to be no. 1. In just a short time her career shoots like a shooting star, acclaimed all over the world of her versatility to sing different style of music. Her memorization of songs is unequaled and no one comes close. I'm drawn to her 'cause of her inherent ability to interpret the meaning of songs by the way she sings them. Captivating at any level of performance.
Beating Charice is one of the goals of the other singers but wait till you see, she is really humble and down-to-earth so she said that there is no competition between them. She even told David Foster about the other artists in the Philippines. - hatcher234
When we talk about a young female Filipjna singer making waves worldwide using her fantastic voice that have gained numerous standing ovations like no one else did... It is Charice that comes to mind, no one else.

CHarice magical voice transcends deep into the bone, her voice glitters like a star in the sky to enlighten the mind soul and heart. Her personality is very unique I never admire any singer in Philippines besides CHarice. She is undeniable talented singer
"She has an incomparable voice that she can boast with. You will be confident enough to hear her singing anywhere in the world that Filipinos can be proud of. One of the great singers nowadays" Spectacular!
Yes she is the best singer. She couldn't be in hollywood if she's not the best!. And her voice is very powerful and sweet. Don't like other singers that use auto-tuned to make their voice sounds good. And she can dance too. !
Related Lists
Best Songs Charice Pempengco's Charice