Regine Velasquez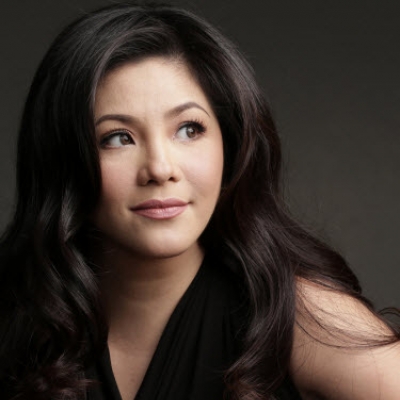 Uploaded by theOpinionatedOne
Info
Regine Velasquez-Alcasid, dubbed as the Asia's Songbird is a Filipina recording artist, host, producer, philanthropist, commercial endorser, actress, and an Asian pop culture icon. She is widely known for possessing an extensive vocal range.
Comments
Top
Popular
Newest
For me REGINE is the BEST. She has this huge love for her family. With regards to the voice no one will ever be like her. She sings effortlessly in any position. During her younger age she sings effortlessly unlike young singers now who sing her songs before sings it with an effort. She also hit high notes shifting higher and able to sustained for 13-14 seconds live that other singers can't do. She became ASIA'S SONGBIRD because she work hard for it and without the help of new technologies she invaded the ASIA. She never fails to amaze the audience every time she performs, every song she sings do hit, if it's a revival people would think of her as the original singer. REGINE VELASQUEZ never canceled her shows or concerts whenever she's not well"the show must go on" that's how professional she is and that's how she loves her audience. She also do concerts without being payed just to help those in needs. With her AWARDS still no one bits her, even a long band paper is not ...more
Regine Velasquez is the STANDARD. The Ultimate Philippine Superstar, the legend made real, the voice that captivated the whole archipelago and the world as well. She is the Songbird of Asia, many title's have already been given to her, praises and unending compliments are skyrocketing like her voice; "The Diva of All Divas" as blurted by Coco Lee, "The Biggest Pop Star of Asia" as blogged by Mandy Moore, "The Only Singer Who Can Rival Celine Dion" as commented by Peabo Bryson, "The Other Favorite Singer" of Maestro Michael Legrand, "Favorite Filipino Singer" of Brian Mcknight, "The One Who Got Me to be a Bigger Mariah Carey Fan" as confessed by David Archuleta, "You did very well" as praised by Prince Charles, "A rare Breed of Singer" as written by Asian Journal, "The most beautiful vocal chord that the PHILIPPINES has ever produced" as said by Asian Song Festival Winner Dulce, "A Jaw ...more
I love regine passion for singing!
She is the best of all the singer!

She is on top of all singers in the Philippines. She is legendary an icon, and proved it for almost two decades in showface.. Hail the queen of Philippine music in the Philippines and Diva of all Divas in Asia

OR ME I THINK REGINE IS THE BEST FEMALE SINGER IN THE PHILIPPINES UNDOUBTEDLY! WE ARE NOT TALKING ABOUT ALBUMS OR CONCERTS SOLD FOR SURE ALL OF WHICH ARE SOLD OUT, THAT'S FOR SURE. BUT WHEN YOU SAY SINGER, BEST SINGER IN OUR COUNTRY, PHILIPPINES, SARAH AND CHARICE? HUH? LETS NOT FORGET THAT AT SOME POINT THEY ARE BEING COMPARED AND EVEN TAG THE NEXT REGINE VELASQUEZ! WHICH MEANT THAT THESE YOU YOUNGSTER ARE NOT EVEN CLOSE TO WHAT THE SONGBIRD ACHIEVED (I KNOW FANS OF CHARICE WOULD SAY THAT IF SHE IS REALLY GOOD WHY DIDN'T SHE BECOME BIG STAR IN USA, WELL GUYS SHE CHOSE TO STAY HERE IN THE COUNTRY, AND WITHOUT HER MUSIC AND SINGING INFLUENCE WE WOULD SARAH AND CHARICE? DEFINITELY NOT). COME TO ...more
She is the top 1 for me. No one can go higher pitch than Regine and her highest pitch is really feminine and not like others.. They have big voice like charice... She has a big voice... Regine Velasques can go a higher notes without using bass pitch like charice who always use a bass pitch. It does not mean that Regine has no bass pitch. She has a bass pitch but she use it in a song which is fitted to a song like the songs which she sung in her album Regine in a lower notes. More power to you Regine. Take care of your baby in your womb. We will wait for you. I hope that pregnancy or delivery won't affect or destroy your voice. God bless you!
Despite of her age right now, she could still manage to reach and sing her signature songs very incredible. A truly gifted singer who absolutely described what a singer should be from low notes to high notes. Her performances could attest how really great she is as a singer. Dubbed as Asia's Songbird is not just a singer, she's a woman who has the humility to help others. A Diva who idolized by the young generations and aspiring singers in the Philippines and who have achieved so much honors and recognitions commending her as Singer and as simple person. Philippines is just lucky to have someone in the presence of non other than, Asia's Songbird, Regine Velasquez-Alcasid.
Need I say more? She is the best there is... I mean, those singers you all idolized today, they all look up to who? Regine Velasquez. Even those up coming singers and talent search winners all have one thing in common, They all idolized and even imitate Regine. I don't need to enumerate all her achievements and accolades because surely, there's tons. I'll just have to say one thing about this person that is extra ordinary; Her Humility. She is blessed, she's at peace in her life and happily flexing her muscles reaping the rewards of success, after 25 years in this biz because she remained her feet on the ground.
Well Regine need not prove herself, because he has proven it all. Also, music in the Philippines, and singing won't be like this if she hasnt set te standard, it was her who started the trend of belting in the Philippines, if not for her the rest wouldn't have followed suit. Best of all Regine is never greedy, she shares her blessings and her talent, she knows how to give back and provide tutelage to the coming singers, the likes of Sarah, Rachel, Angeline, Charice and the rest. True enough the songbird is a legend, yet she is still very humble.
She is not only the best but also a living legend of standard in singing---one that the power to own a song through a majestic interpretation and rendition and one that can capture and captivate the audience attention. She sings with her heart and with passion---which is so rare to hear and notice to other singers because most of them focus only on the technical aspect of singing; forgetting the message and essence of delivering the right emotion of the song.. Regine knows her vocal range and she's not afraid to sing high and complicated songs---versatile and very humble. She's the greatest voice that my country has ever produced.
All I can say is, she's the QUEEN! She's the royal singer Philippines could EVER have and no one, I mean NO ONE can EVER replace her. REIGNING STILL for 25 years and still counting and no one has or ever tried to beat her. The crown only belongs to her and if there's someone who she will give her throne to, that will only be her children. We all know it's a boy, but maybe that little boy would follow his mother's success. Being at the top, being kind and always staying true to himself. Regine Velasquez Alcasid is undoubtedly the BEST female singer the world ever had.
She is still the voice to beat! No other singer can do all her renditions. When she cover songs she sings it as if you heard it for the first time, and it sticks to the people's minds. Not only she can hit high notes but also different genres as well. Regine is the only singer I've known who can sing with a hoarse voice and still hit those incredible high notes. Who else can sing those high notes for two and a half hours for a series of concert that took two months? None other than Regine. The diva of all divas!
I believe Regine Velasquez is one of the best singers in the world. She can sing very well with so much power. I believe she is the only singer in the world who can reach high notes using chest voice with so much ease (effortless), be in standing position, squat position, sitting position, on top of the building and in harness. She is the only singer in the Philippines who has received a lot of praises from other singers (here and abroad), T.V. personalities, and in media. She is on top and no one can argue that fact. She remains humble so with her status in the music industry. An icon to remember.
Sarah Geronimo maybe is the MOST POPULAR singer in the Philippines right now, but Regine Velasquez is the BEST SINGER in the Philippines. All of the respected singers including Sarah G herself is a fan of Regine Velasquez. Everyone knows how she is a singer/performer. She doesn't dance but she can surely entertain people that is very innate and effortless. She's very versatile she sings any songs and she just owns it. Regine Velasquez herself is already a song to U.She's an epitome, a legend, a pillar of the music industry, and a gem of the Philippines.
Everyone is entitled to their own opinion, that's for sure. However, this poll is about the best female singer in the Philippines and mind you being BEST comes with greater responsibilities and one of those is the ability to sustain and protect the title. Singing per se, Regine's ability cannot be imitated by anyone and those who tried I'm sure felt their greatest disappointment in life and would not dare do it again. Tell me, with all honesty, who among our singers who ever tried singing Regine's songs succeeded? None so far because only the BEST can do what Regine did and only the BEST can make better what other singers did. God chose her to own that voice and God has not yet chosen someone to replace that voice.
This is the real diva and PARI awarded her as THE MOST SELLING FEMALE ARTIST OF ALL TIME here in the Philippines! No one can break her record in this industry! She also seldom around the world... she can sing in her very highnotes.. without effort! Even her hoarse voice.. in sitting position, standing position, hanging in the mid air with harnest, sick, etc. she can sing B5 in her full chest with blast and vibrato! B5 note was harder to reach by someone.. they sang B5 note in their headtone but struggling to those notes... but regine can sustained it with her powerful vocal acrobatic in almost 6 to 8 seconds.. meaning she's unbeatable... no one can argue that, of all singer she can do it bec. her style was superb! Other singer can mimic mariah, celine, etc. but regine's voice? They CAN'T! So.. who is the best singer? Compare their vocal type to songbird... REGINE VELASQUEZ IS THE QUEEN DIVA! THE MOST HIGHEST, BEST VOCAL CHORD THAT Philippines HAS EVER PRODUCED!
Regine Velasquez is the best. No once can beat her yet. As others say, she's a living legend! True there's a lot of younger singers and divas in the country who are really talented (I also admire them) but most of these new generation were inspired by Regine... Most of them look up to her... All wanted to be like her. And really amazing that despite her age and how long she been on the industry she manage to be on top. She's still the reigning diva!
She is simply the best. a lot of people labeled her as cover artist due to a lot of song she covered but then every time she does it, she make it seem that it was hers. she is not just a singer she became the song every time she sings! She really did a great job in lifting the music industry here in the Philippines, a respected ICON. she may not have been known Globally but then NO ONE can erase the fact that she inspired a lot who have been now starting to have an international career.
Regine is the best among them all. We can never doubt that.. She can even make lovers cry, smile and even cry while smiling because of her songs and with the great quality of her voice. Regine definitely deserves to be called as a legendary singer of the PHILIPPINES. Other comment were true. She decided to stay in the Philippines which we can also admire about her. I don't think she cannot reign in the USA or even in the whole world, it is just she have a Loyal heart FOR THE PHILIPPINES.. =D THUMBS UP TO THAT..
She started it all. No one sings quite like her--effortless and heartfelt. She's one singer that fills the concert venue because she wows her audience. The range and versatility of her voice are peerless. She entertains and at the same time amazes. What sets her apart from all other singers is her ability to strike an emotional chord whenever she sings. She beautifully explores her low notes and at sets those high notes flying to express deep and powerful human emotions. She just doesn't sing; she tells a story. Sure, the country has plenty of good singers, but none as good Regine Velasquez. She has set the bar so high that she has become the yardstick against all other singers are measured. She's a legend.
Hands up always to the queen, no doubt, she proves herself to the people not just in here but in Asia, she's not just a good singer, but she has this wonderful heart to be able to help those in need, that's why she was blessed with wonderful life which she really deserves.
Let me vote for REGINE VELASQUEZ not that because She's the mother of all vocally challenged divas from our country at this generation.. not even because She kicked the Asian and even the international music scene.. not even She almost entered that Miss Saigon.. not even she's called the Asia'e Songbird.. and not even because She has the biggest fan base among millions of filipinos around the world who searches for a 'heart strum listening' to music...

The Rare Diamond, the sweetest of all voices ever heard by any human ear
Vocal Artistry, proper breathing, proper volume control, proper handling of notes from her depth to her peak, throwing of stunning notes that no one can correctly do 'live', proper amount of emotion... almost everything is sang correctly with her powerful yet angelic voice...

SHE IS DIFFERENT and SHE'S ON TOP, NO ONE CAN ARGUE THAT FACT
After how many decades she still rules in the MUSIC Industry... A true LOYALTY in the Showbiz Business... An ICON... A true talented woman... The STARS that every future singers wish to be like her...

Every amateur singers wants to be like her... She BELTED powerful... Even she's on the TOP, I guess what she had contributed in the music industry was ENOUGH to hail her as the Queens of all Queens in terms of Being DIVA in the Philippines alone...

More power... And May God Bless you always... May God sing with you always...
SHE IS THE BEST SINGER OF ALL TIME... CHARICE AND SARAH ARE NOTHING WITH OUT REGINE'S MUSICAL STYLE... DUBBED AS THE Asia'S SONG BIRD IS UNDISPUTED AND INCONTESTABLE BECAUSE IT IS A FACT... CHEST VOICE? (PERFECTLY SUSTAINED EXTREMELY HIGH NOTES) HEAD TONE (DONE WITH EASE AND IS SUPER EXCELLENT) WHISTLE? ( NO NEED HER BELTED HIGH NOTES IS EQUIVALENT TO A WHISTLE SOUND?... I AM CHALLENGING YOU ALL!

SHOULD CHARICE FANS SAY THAT SHE IS THE BEST SINGER THE Philippines PRODUCED? I AM CHALLENGING CHARICE PEMPENGCO TO SING AND NAIL A5 TO B5 (PURE CHEST VOICE) NOTES AND POST IT IN YouTube.. AS WE ALL THAT SHE IS A YouTube SENSATION SO, SHE HAS TO PROVE HER TITLE...
The one and Only Asia's Songbird always Soaring High with her unbeatable Voice. Truly who ruled and Reign the Philippine Music Industry and believe it or not who also conquers the World as she ha been collaborated with Hollywood Artists.
Just my opinion, when it comes to this poll, as THE BEST FEMALE SINGER, its not about the down to earth, this should be based on musicality, the person, as a singer. And with that, no doubt, this woman has all of the factors of being a singer, performer, entertainer, I'll go for the queen, nothing less than, THE REGINE VELASQUEZ. Vocal acrobats, vocal capabilities, interpretations in ALL GENRES! She's the one!
Regine had showcase different styles and vocal acrobatics, different range and has given her entire childhood life to singing. already has proven her worth to the business and to filipino people, who would not know on the wings of love which is the national anthem of regine's fans club. humble to new generations of singers and never forgets to share blessings to poor. if your not a regine fan, most likely you haven't experience regine phenomenal effect to people on her live performances. her voice never changes, a true 1 in a billion talent that was born to sing for us.
Related Lists

Best Regine Velasquez Songs