Best Female Tennis Players of All Time
The Top Ten
1
Steffi Graf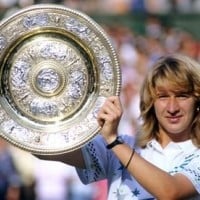 The epitome of class. Unparalleled game - the female version of a mix of the best bits of Federer, Nadal and Djokovic meant that she is the only player in history to win all 4 slams at least 4 times. Chris Evert got it right when she said Steffi came along and took the attacking qualities of Martina and the long consistent rallies of Chris herself. More than this, when in trouble she risked playing unbelievable shots and pulled them off. This is the big difference she has over Serena, who quite honestly often flunks these type of points. Steffi was the coolest operator, almost machine like. Off court she is as soft and lovely as a chocolate fondant. Serena could have learned so much from her, game-wise but also how to conduct herself. I put Serena second, I am a fan of her game, but no, it isn't as good as Steffi's..add into this mix, Serena has created some of the ugliest and most revolting behaviour on-court and tries to excuse herself because apparantely she's treated badly because ...more
Only winner of a golden slam - perfect in technique - not a power machine like Serena William and so she represents the beauty of this sport much better than any other player.
The greatest, just incredible to watch. She also had the unique ability among the women to play ridiculous shots when under pressure and pull them off for victory. Serena messes these up big style. Quickest, best drop shot ever, forehand unparalleled, wonderful volleying, champion's mind.. Yes the true best. Serena is becoming desperate, it is actually taking away from her record now
The best. No disrespect to the other terrific ladies but there is no greater example of the X factor than Steffi. Genuine class and clever and instinctive game. Greatest attacker and greatest defender...work it out..the greatest
2
Serena Williams

Serena Jameka Williams is an American professional tennis player. The Women's Tennis Association ranked her world No. 1 in singles on eight separate occasions between 2002 and 2017. She reached the No. 1 ranking for the first time on July 8, 2002.
Unlike the greats before her, Serena Williams is accomplishing two very unique achievements in the singles game. First, she's collecting her hardware hall during an era where this kind of dominance is uncommon.

Chrissy, Martina and Steffi basically passed the baton one to another, but they also had contemporaries, rivals legitimately for supremacy with which they were forced to share the stage. Neither Chrissy nor Martina eclipse the other and given the HUGE asterisk surrounding Steffi's career, a very credible argument can be made that not only was Monica Seles better, but Steffi wouldn't have distinguished herself from Chrissy and Marti, had Seles been around to contest for a few more of those grand slam trophies. Does anyone doubt Seles would have won at least four more?

Next, Serena may be in the twilight of her career and as an elder states person, she is showing the field how to get her done! The other greats were waning in their late 20's and wrapping up their ...more
Anyone who does not put Serena #1 is a big racist. Graf is great but had her biggest rival stabbed and still got passed by Serena in most achievements.
Serena is the best female tennis player that ever wielded a racquet. Her serve - best ever (first and second), her back hand - awesome, Her forearm - powerful, Movement athletic, her mental fortitude untouchable. Serena is dominating in an era when tennis is really open to a lot more people round the world the top 100 to day can easily compete in the early era of tennis. Graf supporters will say she held the number 1 ranking for so long but Seles who had taken the number 1 rank from her and was dominating for a long while even as a teen as subsequent stabbed and taken out of the game which allowed Graf hold on for another 87 weeks. My second best ever will have to be Navratilova for her achievements in tennis.
Serena has come from humble beginnings and rose to the top of the Tennis World. She and her sister both have contributed more to the sport than some who just played it.
I, personally, appreciate what she brings to the sport. I have watched tennis for more than 30 years and never have I been more excited about the grand-slams than I am when she is a part of them. You go Serena.
3
Martina Navratilova

167 singles and 177 doubles titles,18 grand slam singles and 31 grand slam doubles titles...
In a few years my vote might be for Serena but at the time of this post I have to go with Martina. I believe that Steffi stats are inflated so I could not go with Steffi.
Martina is just amazing - her career spans decades and she won wimbledon 9 times. What an ethic she has and a great personality.
Martina is the greatest female tennis player who ever lived but also the greatest tennis player who ever lived. Bille Jean King in (2006) said about Martina "She is the greatest single, doubles, and mixed doubles player who ever lived".
That was then, this is today. King even says Serena is clearly the best ever today. - feisty37
4
Chris Evert

Often the only thing of interest in her matches was the score. How many games and points could her opponent get?! And Chris was a miser in this regard. 6-0 and 6-1 sets in favor of Chris were common even against the top players. She was absolutely ruthless.
I remember when she first came on the circuit and handed crushing defeats to some of the top women at the time.
Deceptively attacking, aggressive player. Intimidated her opponents when she came on the tennis scene in the 70's.
Great return of service, superb anticipation, great disguise, poker faced. The queen.
5
Monica Seles

It's You who should read Your Tennis History before posting comments that aren't true! Get your facts right! Graf leads Seles 10-5 in head to head matches, and BEFORE! The stabbing it was 6-4 in Graf's favour. In slams the score was 3-3.

So if Graf was leading 6-4 before the stabbing and 10-5 overall how the hell do you come up with comments like "Seles beating Graf time and time again! It's just not true and these are real! Facts.

Also when Seles was winning most of Her slams before She was stabbed it wasn't always Graf She beat to win them. At this time Graf lost to quite a few other players in slams so the injuries and the trouble with Her Father obviously didn't help.

Seles was a brilliant player and no doubt would of won more Slams only for that dreadful sickening incident. She was the better player on Clay but overall Graf is the best all round female tennis player ever in my opinion.
MONICA SELES was like the "Michael Jordan" of Tennis, during her prime, in her TEENAGE years... she was unbeatable -- UNSTOPPABLE! Yes! She was 'just' a TEEN, at the time... and thus, she would always find herself winning many, many GRAND SLAMS against the best players in the world... players such as Steffi Graf (in her prime)... indeed, she played against the BEST and she 'beat' the best! That is prior to that sad and tragic day, that forever changed the sport of tennis... when she was brutally and violently attacked by a deranged "Steffi Graf OBSESSED" lunatic... on April 30, 1993... Indeed, this girl was on a path... on a mission to become the GREATEST tennis player that ever walked the Earth... but then tragedy happened in 1993... and her DESTINY of becoming the greatest player ever dramatically came to a sudden halt... and in the process, her dreams of becoming the best ever were suddenly derailed... forever... and thus, she NEVER recovered from that ...more
Monica is so under rated. I'd forgotten how good she was and have rediscovered her games on YouTube. Man oh man, her power combined with the angles she could hit were just incredible.

I think had she not been stabbed in her prime, missing those important years, she would easily get the respect she deserves.

I think her game was better than both Martina and Chrissy. Her game was probably on par with Stephie and Sarina
Overrated. People only talk about her being unlucky with the stabbing which is true but forget she is lucky in many other ways. Had she played in any era past where 3 of the 4 majors were on grass or even 2 of the 4 were on grass she would never been a dominant player and won a ton less. Had she not peaked in an era with no hard hitters besides Graf (who she barely played in 91-93) she again isn't ever dominant. As her head to heads vs Venus, Serena, Davenport, Graf, Pierce, all prove she has trouble with hard hitters.
6
Maria Sharapova

Maria Sharapova is a Russian professional tennis player of Belarusian descent. Sharapova has competed on the WTA tour since 2001. She has been ranked world No. 1 in singles by the WTA on five separate occasions, for a total of 21 weeks. She is one of ten women, and the only Russian, to hold the career ...read more.
One of the greatest female tennis player ever and there is no doubt about it. Jumping forward in the highest level isn't that easy and she didn't just prove it but showed it when she was only 17.

And believe or not, I believe she has what it takes to be the best ever and she completely, undoubtedly deserves a lot more higher ranking in this list!
She is a world class tennis player you know that when someone wins wimbledon at the age of just 17 and to bounce back from injury lately and to have got back in the big time is pretty inspirational she is still in her mid 20's so more success is sure to come but to anyone she is one inspirational tennis player
She is a really inspiring character that brings so much to tennis both on and off the court... Her glamour quotient is one of the highest in tennis and she is really one of the best players on the current tour
I love Maria Sharapova because she is tough no doubt about it and is always ready for a new game. She is so inspirational. She is the worlds greatest female tennis player in my opinion and she proves that she is the best plus she is my nationality Russian
7
Margaret Court

Definitely better than Seles and Sharapova. Below Evert though.
In 1970, Margaret Court became the first woman during the open era and the second woman in history to win all four Grand Slam tournament singles titles in the same calendar year. Court won a record 24 of those titles during her career. She also won 19 women's doubles and 19 mixed doubles titles, giving her a record 62 Major titles overall. Her all surfaces career match winning percentage of 91.74 (1177/106) is an all-time record. The International Tennis Hall of Fame states, "For sheer strength of performance and accomplishment there has never been a tennis player to match her". She is clearly the greatest female tennis player of all time, so why is she not number 1 on this list?
Most single grand slams.
Most singles gland slam titles
Most singles titles
Most doubles grand slam titles.
Most doubles titles.
Most mixed doubles grand slam titles.
Equal most grand slam titles after children
No doubt best of all time
Should be just behind Chris Evert and ahead of Billie Jean, Sharapova and Seles.
8
Billie Jean King
If it weren't for Billie Jean King, no one would have ever heard of the Williams sisters, Maria Sharapova, or anyone else in women's tennis.
If you don't know who she is you don't know women's tennis.
Battle of the sexes is enough to put her above all the rest.
She is a good tennis player, you should search her up.
9
Justine Henin

She has the best backhand in the womens game. She had a very good all around game and her slice was considered one of the best of all time. She won 7 grand slams and reached the final ov every grand slams including reaching the final in all of the grand slams in 2006. She also won the gold medal in 2004 at the olympics defeating Mauresmo in the final. The only grand slam she didn't win was Wimbeldon. She was considered one of the best volleyers on tour and won 3 consecutive French open titles. She retired with 4 french open titles, 1 australian open title, and 2 us open titles and is still known as one of the greatest tennis players ever
Should be way higher than this. Having her behind Sharapova and Seles is a joke.
The best, most attractive tennis without screaming!
The best backhand forever.
10
Venus Williams

Longevity, class, power, agility. I have always admired the Venus game, and how she has adapted and added to her repertoire as her career advances. Her perseverance is very inspiring, especially her 2017 season which was phenomenal. Also her doubles and Olympic record is commendable too. What she has done for women's tennis from equal pay, to the representation of black women and her fashion icon status is amazing, she is still playing quite well today at 39, beating players half her age or ranked higher, and her record on grass is also noteworthy. When she wins a match her smile and happiness is magnetic and she is always respectful. Her love for Serena is obvious, a mentally weak person may feel threatened by Serena's success but Venus is able to celebrate her and also remain focused on her own success. She is an entrepreneur with her own pursuits outside of tennis, arguably a distraction from what she can achieve in tennis however it is nice to see tennis players focus on other ...more
I'd put Venus higher on this list, after Serena I think. I mean..her groundstrokes are the best I've ever seen. She is great at the net and is the greatest athlete on the courts. Venus' problem is that she wasn't consistent. At the absolute best she was good on every surface. I've seen her hit the best forehands and backhands, get back balls no other player except for maybe Serena could get back and at her best playing very smart. Most certainly the best game to watch. The only reason why she isn't the number one on this list is because she wasn't consistent and Serena is mentally stronger. I mean, she won - only - 7 Slams and made a high spot on every greatest player of all time list, that says a lot. Talent wise I just think the Williams sisters are the best. Don't forget Venus had a lot of injuries and at her best, she always had Serena as an opponent, who was playing her best at that time too. After her 2003 injury Venus just wasn't the same. So, don't always look at titles but ...more
The best groundstrokes I've ever seen. Best forehand and backhand, so much power. Great volleys, she is very strong at the net. If she plays her best she is great on every surface. Massive first serve, fastest ever on the women's side. Second serve can be good, but sometimes is a weakness. The best athlete on the courst ever. Mentally strong, but just not as much as Serena and she is very inconsistent. She can bring back balls no other player except for Serena could bring back. That's why I didn't put Venus on the top spot. A lot of you are wondering why I put the Williams sisters ahead of everybody else. Well..Venus was only been consistent between 2000 and 2003. If she is consistent, I think she has the greatest game ever. She is the one player who really changed the game. I don't think it's all about titles but about what players are capable of when they are at their best. As it comes to tennis I think the Williams sisters are just simply the best ever. After 2003 she was never ...more
Impeccable, beautiful to watch and winner of one of the best women's Wimbledon finals ever. Serena may be the better technical player but it was Venus who changed women's tennis and ooh things to a whole new level.
The Contenders
11
Simona Halep

Very nice breakthrough season. She is the current queen of clay. Based on past seasons. She has back pains, sadly.
SiMONA is definitely better than #13. I would put her further up. Better than Davenport by a mile! Strong, focused, athletic, great backhand...
She bet no 2 Serena in Wimbledon 6-2
6-2, how come that she s only on position 13#
Best fighter
12
Martina Hingis
When I saw Graf and Seles come along in the 1990's I thought that they were at another level from earlier players like Evert & Navratilova but then along came Hingis and the level was raised again. The only other player that may prove to be as great is Andreescu from Canada. Honourable mention to Kim Clijsters*
Hingis was the grand master of chess playing tennis. She could dismantle any power hitting opponent with placement, stroke and uncanny angles. An absolute favorite to watch.
Beautiful to watch. She was a genius. Too bad she had to retire young, WTA lost the most talented player of the generation.
Great finesse and gamesmanship. Would have had a longer time at number one were it not for the arrival of the Williams sisters who have dominated based on brute force.
13
Lindsay Davenport

Other than the William sis Lindsey Davenport is my hero cool
Collect Waite ing for the ridgt time to execute and a class act no tantrums. Simpley an American ican my temnis gero and one other an maition tennis great for me Daniela hantecova skine 🔥 craker miss her
14
Kim Clijsters
She is the best player ever. She made many players to go on break, biggest example was willam sisters, sharapova and players like davenport and others. She was the true spirit of tennis. And I am sure if there are no health issues, She can beat any player on the tour. She should be back to let this world realized who is the real champion... Kim you are truly Great.
Being able to win 3 gs after childbirth says enough! She is the best!
Best forehand ever so far like a sladgehammer :) I love her style, strong flexible and intellicent. Wish you all the best Kim
15
Evonne Goolagong
Graceful, elegant player. Made tennis look smooth and easy. In my view did not quite reach her full potential - partly because of her lack of hunger, but mostly because of Chris Evert who ensured that Evonne stayed #2 behind her.
For me, Evonne stands out as one of the most graceful and sporting players. With her graceful, natural game she made tennis look easy. For this she deserves an honorable mention.

But she just did not have the competitive fire needed to be number 1 which was the kiss of death for her against someone like Chris Evert who exuded competitive fire!
One of the best players in women's tennis during the 70's! Along with 1980 Wimbledon Champion!
Graceful, elegant player. Good to watch and made tennis look easy. Unfortunately her career coincided with that of Chris Evert who was a bit too strong for her.
16
Jennifer Capriati
A solid tennis player throughout her career! She was punished for things that all of us did when we were young. We love you Jennifer!
Best 13 yr old ever
17
Gabriela Sabatini
Gabriela had it all. She deserves to be much higher on this list. She had a great serve, a powerful return game, a cerebral ability to mix-up her types and placement of shots well and a charming personality that made her the media darling of women's tennis. A top-10 great player for sure,but more important--a quality person.
She was the only one that won 11 times to Steffi Graf and was number 3 in the ranking about 10 years
18
Caroline Wozniacki
A role model for tennis players and one of the best this decade
Unbelievable run... Congrats Caro!
Love her!
19
Agnieszka Radwanska
She's an amazing person and excellent tennis player. As far as I know she is on the fifth place in worlds ranking now.
Agnieszka Radwańska is an amazing player she plays really well near the net and is known for shooting the most amazing and hard shots. As a little girl I always looked up to her attitude always inspired me how no matter if she was losing or winning she had respect for her opponent and she always stayed calm. As a teenager that player tennis I hope that in the future I will be able to play like her and make our country proud.
Ninja on the court. Magical touch.
She could produce any shot you are even afraid of thinking.
I wish she could win any Grand Slam tournament.
"Magican" player! One of the best technique in tennis and the most clever game style!
20
Helen Wills Moody

21
Manon Bollegraf

Best player ever! Especialy in doubles.
22
Victoria Azarenka
Vika has to grand slams she is the only one that could defeat serena at her best in this days she is young so she has a lot of time to add more slams to her collection and I'm sure that she will be one of the best of this sport
SHE PLAYS too good
23
Ana Ivanovic

So beautiful, kind and sympathetic.
Ok it's because she's my pretend girlfriend, Which I mean I pretend she is my girlfriend. I saw her in person at the open last year and she is even more stunning than I could have imagined. I know some might say that my criterion for the best female tennis player might be sexist, but nigil tufnail once said" what's wrong with being sexy? "
24 Maureen Connolly
25
Li Na
Shes hot too laugh out loud
She encourages more Asians to play tennis.
Best two-handed backhand of all time!
PSearch List