Steffi Graf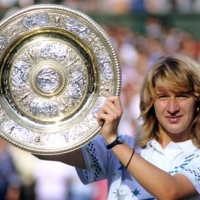 Found on honestpublishing.com
Comments
Top
Popular
Newest
In tennis since Graf retired there has been a massive evolution with racquet technology, I believe with the same racquets as Williams, in her prime Graf would win, Williams would really struggle against the slice on Graf's backhand, and her foreman would be even more awesome than it already was, her speed around the court would mean she would retrieve balls others could not and her serve, while not as good as Williams was not bad at all.
With Steffi, there is no comparision to the grace, elegance, agility, accuracy and athleticism. She is to Women tennis as Federer is to Mens. It was always fun to watch her sail on the court. Perhaps she used to have a nervous slow start but pick up later during the opening set. Though she was a perfect baseline player, I would have loved to see her come to the net more often. Quality of Women's Tennis surely dropped after her retirement.
Serena has steely nerve most of the time, but she can be whiny occasionally, an it seems if she feels she doesn't have it for that match, she'll cash it in and excuse herself. Steffi has the consistency in all aspects. It would be close amongst several of the best, but I put Steffi over Serena 7/10 times
Anyone that doesn't realize Graf is the greatest women's player of all time must not have been around when she was playing. Steffi had 22 Grand Slams at age 29, then retired...Serena had 13 at the same age. Graf was more dominant over her career with a better win/loss record than Serena and during an era with more amazing opponents. Williams is great but Steffi Graf was definitely better, no question about it. 1. Graf 2. Navratilova 3. S. Williams.
Stuffi is the best ever. She like Henin could have won many more majors. They both retired by 30 and had the best backhands you will EVER see. Serena is good but like Sampras without a serve to bail her out she may not be top 10. I really feel it is Graf #1, Henin #2 and a tie with Serena and Martina Navratilova for #3. All are great but just because you hang around a long time to get close to a record doesn't make you the best.
She finished more by the time she was 30 than Serena who is now 33. In some ways Serena is better, and in some ways Martina is better. Honestly, if Hinigis had not had all her injuries Serena would not have won as many championships as she has. Of course, you could say the same about Graf not winning as many had Seles not gotten stabbed. Anyway, Graf stayed number 1 for many days longer than Serena. Graf had arguably more competition than Serena. Graf had a Grand Slam and Olympic medal in the same year (unheard of). 1. Graf 2. Martina Navratilova 3. Serena Williams (and I think that spot would have been taken by Hingis had she stayed healthy) 4. Margaret Court (Seles had this place taken from her due to being stabbed)
No match graf. Serena has to;

Win a golden slam/

Win 22 grand slams

Has to has winning record against every top player that she has played at the start of at the end like graf

Has to retire rank no. 3 or higher

Has to retire while French open champion and Wimbledon runner up
Not as powerful as Serena, but only by a small margin. But so, so more athletic and skilful and the best forehand ever seen in tennis.
Steffi is by far the best female tennis player ever. Even Serena says she's not even in the top 3. Serena says she's around the 5th best!
For me now women's tennis has dropped a lot since steffi graf retired. She became as popular as bjorn borg was in his days. When borg retired that place was taken by graf.
In terms of greatest tennis player of all time, singles, doubles and mixed... That's Martina Navratilova without question. In terms of just the singles discipline, either mano a mano or in terms of longevity, athleticism, fear factor, (serve, strokes, speed; selection) and domination combined, it's Serena Williams.

Some argue that Steffi has won more slams... Not for long. Some argue Steffi has more weeks at number one, valid... But Shaky. If Serena never played another tournament but remained active, she'd maintain her number one status at least until next year's Aussie open, which would probably make her second of all time, eclipsing Navratilova. If she wins the U.S. open this year, not only will she tie Steffi's slam haul and earn her first calendar slam, that almost seals the deal on her being number one, without winning another match until next year's Wimbledon. We know she's motivated for more Olympic Gold, she's already the most golden child along with her sister... So, ...more
when graf retired the standard of womens tennis dropped,... now its a joke
She is the best...Serena simply don't have any competition..You prove your greatness when tested..
Steffi was more consistent than Serena and others. She was very fast within the court and her forehand has been the best ever in women's tennis.
Serena currently has 3 years as a professional more then Stef with 1 less Grand Slam and 39 less career titles...
NO disrespect for Serena but you have to be kidding, because Graf has 5 more majors. She also is only female to 4 all majors four times.
What if Steffi Graf used the developed racquets in her time as her rivals used? Maybe her slam count would crossed 50.
Graf played over 10 years at top level. Beating Serena, Venus and Navratilova many times. She ended her carer at top.
Steffi Graf is the best tennis player on every tennis court
She done it with class and composure, not having to scream her butt off before her opponents backhand.
Ladies tennis became popular and respected all over the world because of Steffi. Her fans adore her. She's the best not only on-court, but also off-court.
Guys pl be noted court evert & navratilova all are great but steffi faced more competitive opponent in her era... She is superb fighter... But it is also a truth after steffi era there is a gap continuing in the women tennis. There is no comparison between steffi and others.
Best of the Bests is the only statement that can go with this fabulous player. Absolute genius.
Steffi is the best athlete and her forehand is the best in history.
377 weeks at #1 Will never be broken. For those who think Serena is #1 -
ONLY 145 weeks at #1 - shows inconsistancy - PLUS Steffi was never given special treatment. They all bend over backwards to give Serena the best of everything at tourneys because they are afraid she will pull out the "you know what card"