Lewis Hamilton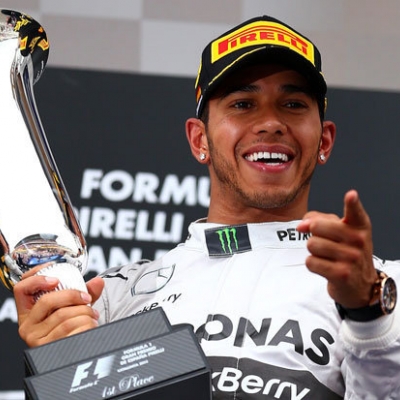 Found on expressng.com
Info
Lewis Carl Davidson Hamilton is a British Formula One racing driver from England, currently racing for the Mercedes AMG Petronas team.
Comments
Top
Popular
Newest
Lewis finished above the driver who is ranked the best of this generation while Lewis was a rookie, Lewis has beaten world reigning champion while in the same team. And Lewis is the only driver on the grid who has won every season he has raced.
Hamilton should be above Alonso.
Hamilton was 2nd driver yet he made the current champion of the day look ordinary at McLaren. I don't agree with people who say Vettel is better in the wets because even Button is better in those. The only driver who will be able to match Hamilton will probably be Verstappen.

Vettel is always tussling with Verstappen and coming out second best.

Old drivers are only rated above Hamilton because of Nostalgia. For me Schumacher is the best followed by Senna and Hamilton. Senna could have gone to achieve more which is why he will be always top 3.
Even if he won 10 Formula One Drivers titles I would NEVER consider him the best ever. He wins only since he is in the fastest car every bloody year, unlike people like Alonso, Vettel, and Schumacher (remember he won 2 world titles with a total no name team) who don't need the fastest car to win, and if they were in the same car as Lewis would blow him away. He can't even dominate Rosburg and Button in the same car.
Fast and fearless. Always capable of pole and great race craft.
I hate him so much. I probably wont even watch Formula one ever again until his monkey ass retires at last.
An amazing gifted driver. So underrated, yet his list of achievement speak for themselves.
If it was Jenson Button with Lewis's stats he'd be number one on this list...Just saying, if the face fits.
He sucks, is so overrated. Literally had a silver spoon in his mouth from Day 1, getting the fastest cars, fastest team, best timing, and preferential treatment from his own team from the start.
Its shocking that Lewis, is not in top 3 or maximum top 5.
when you actually type in the search on most searches Lewis does not even show up on the the list.

Sad but hey it says a lot about this platform and the world we live in.
I also feel Lewis has also made the sport go mainstream through his image and hype. Also his stats speak for its self.
Lewis is the only world champion in the current era to have won the title in the second fastest car of the season (McClaren), all the others Vettel, Raikkonen, Alonso, could only win if they were in the fastest most dominant car. He is the full package - incredibly fast, great wheel to wheel racer, virtually never makes a mistake, out brakes everyone, is fearless. He has won a race in every season, even when the McClaren was driving like a mobility scooter! He has had only one really bad season when he kept crashing into Massa ) which was as much Massa's fault as he kept crashing into other people in subsequent seasons. Button would never have beaten him if his head was straight. He would have won two titles at McClaren if it wasn't for Alonso's cheating and the many pit lane mess ups they kept making. Leaving them was the best thing he could have done,
HE IS MY ROLL MODEL And I will race in his farewell season. He just has to put a few more things together and he will win the season! And in 2021 here's my saying: good luck out there, champ! You're gonna need it!
Just voted for him to make a point. In 2007 he beached his car in the pit lane in China Maldonado style. In 2008 he smacked out Raikkonen in the pit lane. In 2009 he lost his cool on the radio and criticised his team frequently and crashed so many times. In 2010, crashed at Italy, again his fault. In 2011 decided to crash into Massa as many times a possible and crashed in Belgium (though Coulthard tried to cover it all up). In 2012 he had many accidents that he could have avoided had he not been so aggressive.
When this man's career is finished people will understand just how good he was. Car for car hamilton beats all but Senna and even him some of the time.
Sucks. Riding on faster cars than his competitors to win. Almost nothing to do with his driving. - jayjustinbest
Lewis Hamilton is my role model I want to be just like. I am only 12 years old and hope to be as successful just like Lewis Hamilton. You go Lewis
You all say vettle won 4 championships and it was amazing, and you all say Hamilton won2 because of his Mercedes well it's very easy to break down that argument...1) Hamilton took his first championship fighting to the last corner of the last lap if that is not pressure I don't know what is...2) he never had a the over powered car in comparison to Ferrari and yet he won...3) his first season of formula one he almost took championship from kimi and only lost by 1 points whilst kimi was in his prime...3) yes he has a well developed car for his next 2 championships but so did vettle and you all say well then why didn't Webber win one well whilst at Mercedes Hamilton out performed Rosberg who is more or less on parr with Webber and I can say that Rosberg only won a championship due to reliability issues with Hamilton... yet he only lost by 1 points after 3 failures, vettle at red bull was no1 driver and therefore they favoured him a soon as Ricardo came and it was even he got beaten and ...more
He has always been in the best cars and is arrogant. He has never had to fight for his carrers such as every other driver. After he got with mclaren as a kid every little thing he done has been praised. Also his behaviour is embarrasing and every commentator sticks up for him even if he's done something wrong
I just adore Lewis! Such an exciting driver. Lewis sees opportunity where others don't and he makes them happen. I am delighted that I am around to witness this era of F1. All the drivers in this list deserve a place but for me personally, Lewis is the champion!
Because he always comes first or second
He has got the most raw talent I've ever seen in F1.
Once he's about 30 (more mature), with a competitive car, I envisage he will start to dominate.
Sebastian stupid vettel can never beat Hamilton. This is Hamilton he is the best.
He is good but doesn't get penalty for things he doesn't do example Mexico he is amazing though
One of a handful of pure racers, he will do anything to win. Second best in modern era to Alonso.
Lewis js just awesome, a natural born winner, I've watched every single one of his races since he started back in 2007 and he has always been my biggest hero, one of the fastest drivers ever, never a dull moment with him
Lewis Is Even Or Better Than Alonso
Lewis has done what few drivers have, including Schumacher, Vettel, Alonso and even Senna... he won the world championship in a 2nd rate car. In 2007 he was robbed of his chance to win his rookie year by a gearbox fault in the last race and the two Ferrari cars 'conveniently' switching places during the final round of pit stops. In 2008 Massa had an utterly dominant car, but couldn't keep the young Brit off his heels. He went into his first two seasons leading the drivers championship at the last race, showing not only his speed but a consistency he is often not credited with. He had a few 'under the radar' seasons while his racecraft caught up with his tallent, before seeing the future potential with the Mercedes F1 team that few others could. His two championship years with Mercedes were utterly dominant, despite the lions share of the bad luck, as he also did in his disastrous Malaysian GP in 2016 (lost 28 points in one race, in a season he lost by 5! ). But for one gearbox fault ...more