Best Indian Cities
The Top Ten
1
Bangalore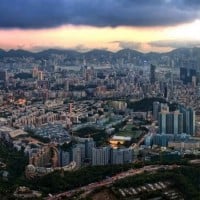 Bangalore is not the best city in India anymore.
It is definitely not clean. Garbage is shrewd even in the posh localities.
Traffic is over the limit in Bangalore.
Lakes are encroached and polluted.
Air is polluted.

Please stop flattering Bangalore online. Apart from the weather, nothing else is great in Bangalore.
Cities such as Mysore, Mangalore, Kochi and VIsakhapatnam are MUCH better than Bangalore.
You'll find a lot of garbage scattered in Bangalore roads.
Roads are filled with potholes. If you have Asthma problems, the Bangalore is hell for you.
Auto drivers do not go by the meter.

Visit Bellandur lake and enjoy the poisonous froth instead of water over there.

I have experienced a lot of hair fall after I came to Bangalore. Water is terrible in this city.
Air quality will make Asthma and breathing problems much worse.

I AM GLAD THAT I DON"T STAY IN BANGLORE.

Bangalore is DEFINITELY NOT the best city in India.
Bangalore is not the best city in India. People are definitely lying over here.
Apart from the weather and IT industries, Bangalore is hell to live.

Worst traffic, hair fall due to bad water, Asthma problems due to bad air, you name the problems - bangalore has it.
Sure to be first forget evrything else, if any other city can beat this weather and the music scene ranging from heavy metal to rap, amazing people friendly to the core surrounded by trees and lovely forests in the outskirts, home the biggest mall in India, the best food, the pub capital, IT capital, classical music capital (carnatic0 rock music capital of India
2
Mumbai

Mumbai is the capital city of the Indian state of Maharashtra. Mumbai lies on the Konkan coast on the west coast of India and has a deep natural harbour. In 2008, Mumbai was named an alpha world city. It has the highest number of millionaires and billionaires among all cities in India. Mumbai is home ...read more.
India's financial, commercial, entertainment, skyscrapers capital, Indias largest metropolis and cosmopolitan city and world's alpha city is enough to describe Mumbai. Having slum is indication of how eager and strong ambitious people are living in Mumbai... If seen from other point of view.. They are ready to live in slums but
Don't want to leave Mumbai..
Just crore times better than Bangalore... How can this happen!
I am not an Indian I live in and from USA I have been to Bangalore, Mumbai, New Delhi and Puri but according to me by culture, civilization Mumbai is the best.
Actually my favourite place is Bangalore. But still I only don't like Mumbai because it is over crowded. Otherwise, everything is nice about this city.
Lol, insecure bangaloreans made their way into this page to vote for their city. That tiny unplanned dump of a city with all the dogmatic and useless people, whose only USP is being a city of software engineers for outsourced American jobs, can never compete with India's commercial, financial, entertainment, fashion and billionaire capital
3
New Delhi

New Delhi is the capital and seat of government of India. It is also a municipality and district in Delhi and serves as the seat of Government of Delhi.
Delhi, the capital of India has a rich history and culture. Visitors are always awed by the amazing juxtaposition of modernity and rich Indian culture of Delhi.

It has remnants of mosques, forts, gardens of Mughal era. And the best places where you will find the multicultural flavor of Delhi are the markets.

Over the years, influx of migrants is on the rise in the capital, we give you ten reasons why hoards of migrants want to live in Delhi:
The best city in India without any doubt. Is rapidly becoming the first Indian world city. Beautiful road infrastructure, great public transport, a model merto rail which is being copied by other cities in India and even elsewhere in the region. Home to huge parks and well maintained monuments. Truly the most livable city in India today.
Overall, New Delhi is the best city in India in terms of infrastructure, greenliness, and cleanliness but in terms of night safety and high population Delhi government has to take some certain steps.
Calm, clean, rich, poweful and diverse.. People from all over India can be seen here.. Truly the heart of India, no city can beat our capital.. I wonder why delhi is on 4th..
4
Chandigarh
Chandigarh is the number as it all the ingredients. It has
1. Greenery
2. Planned market
3. Planned resistance
4. Plenty of parks
It has hundreds of parks to play and for running
5. It has nice shopping mall and sector 17 as well.
6. And also it has got high class crowd from Punjab and Haryana roaming all around the Chandigarh.
7. Beautiful punjabi girls. !
8. highest per capita income in India.
9. Highest number of cars per household.
The fact is, the life is so classic in Chandigarh that you could not believe that you are in India when you are there in Chandigarh. I love Chandigarh
I'm a Delhihight, and have been to Mumbai, Chennai, Bangalore, Jaipur, Calcutta, and some places in U.P. the thing I experienced in Chandigarh is that people don't throw waste on roads, none of the vehicle I saw parked on roadside or no parking so as I experienced good traffic mentality, no grocery or general stores in residential premises, no hawkers on footpaths, more greenery less honking, One could say a civilized place to visit.
Best road among any Indian city, Most clean, so easy to work with government departments, relax, very safe, no hooliganism, more or less free from political vandalism, a few hours from best hill stations...
Chandigarh is rated as the richest and the cleanest city in India. I have traveled a lot in India and personally I find chandigarh the best city to live in.
5
Chennai
Chennai is the only city have no slum area like the one in Mumbai and in Kolkata. I agree bangaluru is # 01, Chandigarh is #02, Goa, Ahmedabad and Jaipur were at #03, #04 & #05. Mumbai may be #06 and Delhi #07. Chennai and Hyderabad shall be #08 & #09 and Kolkata is the 10th.
Chennai is the best city in India. It is the second oldest corporation in the world after London. So IT city, silicon city, pink city, green city are nothing in front of the city like Chennai.
1. Second Oldest Corporation in the world.. (next to London)
2. Only Oldest city that still preserves its culture and is modern as well
3. Land of Music, art and dance (Origin of Carnatic Music and Bharathanatiyam)
4. Second Largest Beach ( Marina )
5. Land of healthy food.. land of superstarRajinikanth and land of CSK
Chennaites are the Most humble, fun & friendly people when compared to other cities in India, yet hated every where else..Proud to be a Chennaite! Haters go hate yourselves!
6
Hyderabad
Hyderabad is the best city to live in. It is ranked no 2 in the world for the best destination. 29th most developed city in the world and 4th most developed in India. And it deserves number 1 position.
Has excellent architecture and history. Very peaceful and is free from most natural disasters just excellent
HYD is the city of Lakes, Biryani, Bangles Known for its rich heritage sites,The friendly People, Cost of living is very less when compared to major metros good law and order citizen friendly police, good government less pollution & traffic when compared to other metros, Hyderabad is an IT and Pharmaceuticals HUB and safest place for women.
Hyderabad is most beautiful city in India. And having best IT sectors.
Remind all cities have only one language to communication. But in Hyderabad there is local language Telugu and national language hindi aslo.
The most peaceful city in India. Once you visit Hyderabad, you can't leave it. The city has emerged as a major global center for the information technology (IT) industry, and biopharmaceutical industry.
7
Kolkata
Kolkata has a class of its own, and not really for commercial or business activity. This is possibly the only city in the country where people are taken as human beings, and not judged in terms of money one has in one's bank account. And being emotional, these kolkata people will reject or accept you by the way you conduct yourself, not by your so-called status.
You need a little time to understand the mood and the internal life-flow of this city. It is a city of emotion, culture, poetry and friendship. Once you understand that, it opens its door to the one who is willing to share and love. I donot think any other city in India is so open to all irrespective of language, caste and creed. It is the best place to live without fear.
A city is not just built with bricks and mortar... A city is made with its people... Kolkata is known for its culture, generosity, diversity, warmth, broad-mindedness, intellectuality... A city that opens its arms wide to people of all ethnicity or religion. The only city in India to have all these traits!
India has a lot of wonderful cities.. You can always lead a good life in those cities.. But a city that touches your heart from the very roots of humanity.. That's not too busy that it cannot lend a helping hand.. That's a great city to live in.. You can come here and keep smiling..
8
Ahmedabad
One of the best place in india were you will find peace, lively and colorful minded people, best business and trade, best arcitecture of gothic, victorian and indian style, best and hygienic food, better life, etc etc.

This city has no slums and poverty due hard works of gujarat government
Ahmedabad is the fastest growing city in the world and the best city to live in India according to recent reports, which shows the incredibility of the city.
Friendly people. Relatively inexpensive. Very hot summers though. Full of foodies.
Still require more work on cleaning, planting trees and traffic.
9
Goa
First of all, Goa is a state, not a city. Anyway it is very beautiful and enjoying place.
Goa is the best state in India. People are saying bangalore is a good city but goa will always be our best state. long live goa
Awesome place to visit
Goa is a state of India
10
Thiruvananthapuram

Thiruvananthapuram, formerly known as Trivandrum, is the capital and largest city of the Indian state of Kerala.
It's the only city in India which have monorail!
Very beautiful roads with footpaths, side trees, parks, good people, educational institutions, high litracy, very good water supply scheme, health facilities with world class hospitals, civic sense of citizens very high, high standard general awareness of public on political, economic and social matters, good traffic control with modeerate vehicle population, neatness, high standard sanitation facilities, good housing facilities, neat and clean streets, markets, buildings etc, contributes to trivandrum as the best city in India
Best city in the world
The Contenders
11
Shillong
Beautiful place also known as the "scotland of the east" and rock capital of India
12
Amritsar
Amritsar is also known as a holy city.. Amritsar is 2nd big city of punjab state. It is population more than 2 million.. City is famous for tourist place and also religious places like Golden temple, wagah boarder, Durgiana temple, Jalia wala bagh,. Amritsar also famous for their food..
13 Navi Mumbai
14 Delhi
15
Kozhikode
Of course the best city in world...
16
Jaipur
Best city in India. Delicious food of Rajasthan, fast-growing city, has almost all features of a metro city and the best thing is that is not as overcrowded as other metro cities in India. Practically the most convenient Indian city to live in, not to mention the plethora of fun places and historical places to visit in and around the Pink City, Jaipur
Jaipur is famous for its location. What a beautiful and well planned city!. Here infrastructure is also developed. It is 24th rapidly increasing city of world. So I hope that in next 5 years jaipur will be at 1st rank in India
Jaipur is the perfect city of India. One of the most beautiful & gorgeous cities of India.
The Indian gvt need to improve the pink city. This is the most beautiful city in India infact is among the top 20 cities in the world.
17
Kochi
I love my kochi, mingled with all the cultures, traditions,customs, etc...My kochi is safe for all whether women,men or children. The lovely lakes and lagoons makes the queen of Arabian sea more beautiful. Whereas there are some defects which is always there in all metrocities. Here those defects can be easily corrected by a very strong and loyal administration.
No other city in India has such amazing waterfronts and is an authentic seafood destination. A mix of kerala style classical and modern archaetecture dots the city and friendly people throughout! This is also one of the safest places for women and tourists.
No doubt. Kochi is the most beautiful city in India. No comparison... but only problem is not big. World tourism corporation has selected Kochi is one of the place must visit out of 50 places. Marvelous city...
Best city in all aspects... Clean city, world class stadium,Amusement parks, India's largest mall and and more for entertainment... Peaceful... No pollution at all..best transportation facility including best airport, metro rail..etc..City with world class living facilities at all...
18
Pune
Pune has everything which a metro city has. Garden, Malls, flyovers, multiplexes, pizza shops, 5 star hotels, clubs, international stadium etc.
It have biggest university. Have it park. It is a educational place. Safe for women's and enjoyable for tourists.
Pune is going to be India's first smart city! Why the hell is Lucknow above Pune? Pune is so much more developed! Please vote
Pune is most safest place in India for women and for tourist also...
19
Lucknow

Lucknow is the largest city of the state of Uttar Pradesh, India A major metropolitan city of India, Lucknow is the administrative headquarters of the eponymous District and Division and the capital of the state of Uttar Pradesh.
Lucknow has 50 lakhs population in 2011 and it is truly a metropolitan city where all the community lives with peace and harmony. Lucknow is best is infrastructure. It is a second largest city in North India after Delhi. Lucknow is booming and happening metro. It is a beautiful city too. Lucknow is becoming an international standard city.
A good city to live with all good facility and a clean city. Not to much safe but good. I its very beautiful city. It's transport is very busy and polluted that's the only problem
Lucknow is very nice city... Friendly people, rich culture, good education system, very nice infrastructure, peace full life. World level malls... And fooshop and hotel... I m dehli but I like lucknow...
It is the second best city in North India infrasturcure wise. Blessed with culture, tasty cuisines, Modern infrastructure... it is the best place to live in.
20
Surat
One of the cleanest and well-connected city with Mumbai and Ahmedabad within 3hrs.
There's NIT Surat and Beach. Also, lost of expensive cars around with very low noise pollution. Planning to settle here.
One of the best city I ever seen...Not because of my hometown, but I have seen most of the major cities, including metros...
But believe me Surat is the place to settle, awesome food, helping people, fun loving and joyful group defines Surat...
It is an very safe city for women comparing to other Indian cities like delhi and Mumbai.And it is also one of the fatest devolping city of world and rank 1 in India.So think it should get a space in top ten best cities of India no problem even if it get tenth rank.
Its really a fun to live here.. Whenever I get chance I always travel to surat.. It's a mind blowing city.. I love it.. The green city rocks
21
Udaipur
Udaipur was ranked the most beautiful city in the World in 2009 by Travel+Leiser magazine, New York.

Several top hotels of India are in udaipur - the oberoi udaivilas, taj lake palace, the leela palace, fateh prakash palace and several others.

A life of royals, greenery, mountains, lakes, palaces, what do you want more than this - truely a paradise.

Most expensive hotel, most romantic hotel in India - taj lake palace is in udaipur.
City Of lakes. What more to say? Nature's purity all around. Kashmir of Rajasthan. Gaining Tourist attraction. Visit. You will never run for your city.
Yeah really good city..
No. 1 city Udaipur
22
Visakhapatnam
Awesome weather... Splendid beach.. Exotic foods... You just can't hate this city once you visit.. Its also safest city for woman as per recent survey...
One of the most peaceful cities you will ever find.. Once you been here you will fall in love with this city
Most peaceful city in India ad far as crime and other disturbances are concerned.

Heaven for education
This city deserves to be in top ten in my opinion.
23
Dehradun
Dehradun is best for students and a person who really wants to enjoy his life. It's a cosmopolitan city. Native of uttarakhand (Garhwali, kumauni and Jaunsari ), Punjabi, Nepali, Tibetan, himachali, Baniya, and Jaat people live there. Migrants from Bahar, UP East, Jharkhand, Bengal, Orrisa also come for doing Labour work. People are fair and beautiful. You can feel good watching beautiful and stylish boys and girls. It host best schools of India, in these schools maximum students are foreigners. Dehradun has beautiful weather. You can enjoy snowfall on massurie Hills in winters and can enjoy rafting and camping in Rishikesh in summers. A lots of picnic spots and water falls are located in Dehradun. Crime rate is low cause of Hill culture, Hill people are most open minded and modern as compare to any other part of India. You can watch beautiful girls roaming in shorts, skirts and small dresses but it's not possible in our Delhi. So for safe and glamorous life Dehradun is best. And ...more
It is my native place. It is really beautiful place. It might not seem so beautiful to outsiders but there are numerous places into the interior of Dehradun which have zabardast natural beauty and adventure.
It is the city of nature and education both. Please add in list...

Beautiful city... Amazing weather... Everything is perfect, except the roads and night life
Great climate, greenery, easy life, no hassle for anything, everything within stretch of a hand, great temperament of people.
24
Guwahati
Financial capital and largest city of both Assam and entire Northeast india, alongside being one of the fastest growing cities of india, Guwahati is a city where everyone feels like home.. Situated in the banks of river brahmaputra, Guwahati has a simplicity to the level of infinity. The strategic importance of Guwahati is second to none for india and it is just amazing and awesome to see how Assamese people has successfully created their own urban centre of economic power projection from the banks of brahmaputra to entire india.
Guwahati is not a good city.
All villages and cities in rajasthan are far better than guwahati.
I hate guwahati
Guwahati is a very beautiful city. It also known as "gateway to north east India".
It's not best by... fastest growing city in india
25
Indore
Indore is an amazing place. It has scenic beauty around it, old traditions and cultures, sites of pilgrimage around it, a good education hub, great food, great living conditions and best of all it is the cleanest city in India third time in a row
Indore, largest city in MP, financial capital of the state, food capital of the nation, IT and education hub of central India, Some areas look like London and downtown :P Indore is best!
Absolutely Indore this is the cleanest city in India and it ranked number 1

And one more thing I am also from Indore, so why not.
Cleanest city in India. We speak pure Hindi and our food is by far the best in India.
PSearch List