Best Indian Dancers
The Top Ten
1
Allu Arjun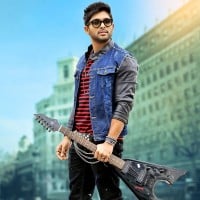 Allu Arjun is an Indian film actor who primarily works in Telugu cinema. After playing as a child artist in Vijetha and as a dancer in Daddy, Arjun made his adult debut in Gangotri. Arjun then appeared in Sukumar's debut film Arya.
I am sure about Allu Arjun and Chiranjeevi as THE best dancers of their generations (Nobody can beat Prabhu Deva he comes in a different category). Hrithik Roshan is a very good dancer since being a bollywood start he was over rated as the best dancer in India. Allu Arjun dances far better than Hrithik, since being from tollywood he was not noticed. Even though now a days with social media, these bollywood guys don't accept this fact because of their high headedness.
Chiranjeevi is the first hero in India to bring breakdance but few don't agree to it because of above-mentioned reason.
It is well known that Telugu Cinema actor stylish star Allu Arjun is the best dancer in entire Tollywood industry. Allu Arjun who spell bounded audience with his awe-inspiring dance skills in his recent movie Badrinath.
He is ultimate Dancer in India that's it...
Allu Arjun always rocks...
Guys vote up for the great dancer of tollywood oh sorry not only tollywood but to the whole film industry of India...
2
Hrithik Roshan

When he dances, I can't take my eyes off of him. He looks like kaamdev. Great V shaped body, amazing smile and the agility of a leaping deer. For me he is the best male dancer and Madhuri is the best female dancer.

Now Shahid Kapoor and Prabhudeva are cut from a different fabric. Their dances are fun to watch. And yes, They dance like Indian Michael jacksons.
I'm sure Prabhudeva is a better crafted dancer than both Shahid and Hritik but I chose Hritik just because he is a total package.

My top 3 male dancers would be
Hritik /Prabhudeva followed by Shahid kapoor.

Current Female dancers
1. Madhuri
2. Aishwarya Rai/Sridevi
3. Karishma Kapoor
4. Deepika padukone
Undoubtedly best dancer in Bollywood, his moves are exceptional and expression is very good.but his name should only come after shammi kapoor and Govinda (moves adjusted period).. If I have to pick only one, Its Madhuri and her nearest competitor is Waheeda Rehman.
If I have to find best dancing hero in India, Allu Arjun & Vijay can give tough competition to hrithik. I exclude prabhudeva in this list, because he is choreographer turned actor. Others in the list are Actors who can dance. this is the difference. We can find 100s of prabhudevas in current generation, but prabhu was far ahead of others in his generation..
Best dancers I have ever seen in Bollywood!
Why is the Hrithik is best dancers...?
1) his dance step clean & sharp
2) his rhythm & his good face look... (is a part of best dance)
3) his body like a dance appropriate
4) nobody find his dance mistake.
5) this 4 point say who is best dance & I say vote to HR. Because HR
Is next michael Jackson in world... So... Vote to his
Thank you...
3
Prabhu Deva

There is something I like about u and that's this quote u always quote before dancing which is WE DANCE TO EXPRESS NOT IMPRESSED . U are indeed Michael Jackson of India
I wish u could teach me some moves
Prabhu is really great... He can dance even like mj(saw in one function)... But he don't use it because he has his own style of dancing... Even lawrence said prabhu a best dancer... Prabhu teaches hrithik fr some sngs... Its clearly proved that prabhudeva is the greatest best dancer in india
He is indian mj that's it of course there is hrIthik,AA,Jr NTR... but they are actors who can do dance too... but prabhu sir is ultimate.. he is a dancer, choreographer I.e; he teaches those actors how to dance as per the song, he is a composer... so please don't compare prabhu sir with any heros... because ""HE IS KING OF DANCE""

When we compare in these three I.e; hrIthik,AA,Jr NTR... ntr is one who is a professional classical dancer... that's it
Allu arjun is not a good dancer than deva... Prabhu knows all style of dance in India, allu arjun only a folk dancer. /
4
Jr NTR
He is the ultimate dancer in India.
No other dancer like ntr he is number 1 dancer in india
He is India's best dancer who can dance both classical and western to perfection
NTR Is The Greatest Dancer Ever! He Can Do Both Western And Classical Dance In A Single Take Where as So Called Comedy Pieces Will Take Many Days For A Risky Step! Search In Google About Top Dancers In India, Everyone Will Know The Result...
5
Madhuri Dixit

Madhuri Dixit, also known by her married name Madhuri Dixit Nene, is an Indian actress who is known for her work in Hindi cinema.
Best dancer I've ever seen in my life. She inspires me by her smile and style that is never fade. So from my country Morocco I watch all your movies and recitate all your hitsongs. Being in a jury is one of the wonderful thing in JDJ show. So my kisses to you my Diva
You are the best for me, people dance with steps and body. You dance with soul! I love you Madhuri Jee, you have been my inspiration and happiness
I Love you I respect you I seeing daily your songs I wish god meet you too mi I pray god you and your family are best life time.
I love you like any thing madhuri even though I am a girl, anyway lol... But I still think you should be in top three I think
6
Lawrence
I don't know why everyone recognises some people that is who have their appearance to be shown it's the matter of fact that see their talent I say him he is the best In serving needy with his talent...
He is the BEST! Really guys if you think the above are better just YouTube and compare your self!
In my opinion he is ultimate dancer than prabhu. His dance combines all styles. He is next to my dance guru Michael jackson
A Great Dancer and a Donater... Whatever he Earns, he donates half of them to Disabled Child. One Helpful mind inside him
7
Shantanu Maheshwari
Well as a dancer I think Mr. Maheshwari is incomparable. The grace that he caries, the ease and finesse with which he dances is mesmerising to witness. His dance looks so effortless like a poetry in motion. You just cannot take your eyes off of him. His expressions are so apt which connects us really well with his dance. The amount of flexibility he has is commendable and he never rushes to the next step, always completes his steps, his steps are always very neat and clean and crisp and it's like he really understands the steps and the dance form, he has that attitude that kinda swag in his dance and all of this makes him one hell of a dancer. And above all he does not just dance, he PERFORMS.
He dances with the exact amount of energy the step needs and ends it with absolute grace. Does few of the most power pact moves but with incomparable grace and class. Has a touch of his own to each step, even a quotidian one and even if he is dancing behind in a group dance, your eyes are bound to land on him and him alone. Most importantly, what makes a dancer great, is his eagerness to share his knowledge of dance with others and at the age of 23, he has choreographed for people older than him, that too phenomenally.
Always and forever Shantanu Maheshwari and also vrushan...

He dances with the exact amount of energy the step needs and ends it with absolute grace. Does few of the most power pact moves but with incomparable grace and class. Has a touch of his own to each step, even a quotidian one and even if he is dancing behind in a group dance, your eyes are bound to land on him and him alone. Most importantly, what makes a dancer great, is his eagerness to share his knowledge of dance with others and at the age of 23, he has choreographed for people older than him, that too phenomenally.
My opinion of Mr.Awesome well Shantanu is that no one can be like him. Like the way he dances is very unique, he does the most perfect expressions, the way he makes you jump in your seat and make you get excited yourself while watching him. It's like a connection he makes with everyone when he dances, he makes every move so enthusiastic and on point that makes the whole stage on fire. It's like you can't take your eyes off him. The way he does everything with passion, and how he adds so much energy to every performance he does. He adds that swag to all of his performances, and never forgets that one (or more) cool WOW step in each and every performance. How better can this guy get?! But most importantly above all these things, he does what makes his well wishers proud. This cutie isn't only a dancer he's an AMAZER.
8
Aishwarya Rai

Aishwarya Rai is an Indian actress who was born on 1 November 1973 in Karnataka, India. She was the winner of Miss World 1994 pageant. She has done many successful Bollywood films such as Jeans, Hum Dil De Chuke Sanam, Devdas, Mohabbatein, Dhoom 2, Jodhaa Akbar, and Ae Dil Hai Mushkil. ...read more.
She's the best dancer! Waiting for her to dance again! No wonder why we still love her in Hollywood!
Aishwarya's move breaks you into pieces and makes those pieces dance
I love your dance, performance, acting & everything which is related with you.
Very excellent dancer the most beautiful lady in the world I have ever seen
9
Vijay

Joseph Vijay, better known mononymously as Vijay, is an Indian film actor and playback singer who works in Tamil cinema and his films dubbed into Telugu, Hindi, Malayalam and Mandarin Chinese. He is one of the highest paid actors in Tamil cinema.
Thalapathy vijay is the king of dance in kollywood
as per he is the great human being
man of mass
king of box office
his dance is out of this world he learned himself.
Vijay should be within the top 5.. He dances with ease... Mostly smiling what some great dancers don't do very often.. According to me the list should go as Prabhu Deva, Hrithik Roshan, Vijay, Allu arjun, Lawrence, Madhuri Dixit, Shilpa shetty and so on
Vijay is the best amoung the current lot of top heroes in the industry. His expressions and the ease with which he dances are second to none. He is any choreographer's delight when it comes to dancing.
Vijay should be within the top 5.. He dances with ease... Mostly smiling what some great dancers don't do very often.. According to me the list should go as Prabhu Deva, Hrithik Roshan, Vijay, Allu arjun, Lawrence, Madhuri Dixit, Shilpa shetty and so on
10
Chiranjeevi

I don't say nobody can dance like chiranjeevi but only few. Whatever list you have given is not TRUE because we can't compare them with chiranjeevi apart from hrithik and prabhu deva.

Chiranjeevi is the world class dancer prabhu is good dancer and best choreography... I hope you can understand the difference between dance and choreography. Chiranjeevi's body suits for dance, his hand moments and leg moments are outstanding. Hrithik is the one of the best dancers

When we talk about vijay simbhu is the better dancer then vijay. Vijay's legs are not straight which are very very important for dance

Kamal is ok with classical but he is poor in western and no need to talk about dhanush.

I don't find anyone from malayalam industry but puneet is good dancer from kannada industry.

Ntr, allu arjun, ramcaran and ram are good dancers from telugu Idustry

Whatever I mentioned they are dancers, good dancers, better dancers when we compare with others but ...more
Firstly we can't compare MEGA STAR CHIRU with this generation dancers.. Cause Chiranjeevi sir is a senior actor.. So if we talk abt his generation without any doubt Chiranjeevi sir is the no.1 dancer.. During his time in TFI There were big heroes like BALAKRISHNA sir, VENKATESH sir, and NAGARJUNA sir. There were 4 top most actors of TFI. So when we compare Chiranjeevi sir's dance is a treat to watch. He has many signature steps.. From the movies INDRA HUTLER etc. people stop looking at the actress dancing with chiru sir and stare at Chiru sir when he is dancing. Even when we compare with other language actors.. Chiranjeevi sir was 1 step ahead of everyone.. So I say MEGA STAR was a dancer who dances with full grace and with his own style..
MEGASTAR chiranjeevi is the king of indian dance. He doesn't require any ratings like these guys. He is magical forever the emperor of dance. A true legend. He is the only dancer who introduced all kinds of dances that too when no one had a thought of doing dance. He is perfect in grace, style and speed whatever he is far away than any body. Even at the age of 63+ he proved once again that no body can reach his benchmark. Good thing is that allu arjun and charan are from his family who are number 1 dancers in this generation. That is his inspiration👍
He deserves more than this. Because during 80s and 90s no other actor in the whole country has such a talent in dance. He ruled with his ultimate dance movements. So many present dancers are inspired by his dances. Present days almost all the heroes are dancing very good. But during his days he is the only one.
The Contenders
11
Simbhu
The best dancer in Kollywood after Vjay. His dance was very good in movies like "Kathal Azhivathillai", "Dum", "Kuthu", "Sillambatam" and "kalai". Especially in the "Kuttie Pisasu" song. All of you go and watch that song
STR is the best dancer in india...he has got a life injury in leg but he dances to entertain people...he deserves to be in top 5...STR The Great...
He is the best dancer in Tamil industry...when it comes to India he may stand third after prabhu and hrithik
He is a very cute, awesome, lovely and energetic dancer. He is the top of all dancers
12
Raghav CrocRoaz
He is from a small state like uttarakhand and rose up to fame he has amazing skills of acting as well and last he is amazing human being who is grounded and humble still not forgotten his culture and always tell proudly that he is from uttarakhand
You are very good at dancing actually the best. I love your dance style. You are a cool guy and Your hair style is awesome.. Just waiting for your next rocking dance on the floor of did. KING OF SLOW MOTION KING OF INDIA.
Raghav's dance is out of my mind and even my society friends like him.
The slow motion amazed me when I saw first in the DID auditions.
Crocroaz, this name is creepy but good

I love your syle of dancing, you are even comedy and good looking
Seriously? Real dancers like him are in 8th position but actors are in 1st position. Half the people don't know the REAL professional dancers... by the way love you Raghav! You are the definition of a true dancer...
13
Shahid Kapoor

No way... Shahid has to be paced in top 5 not in 13. Are you guys mad to put allu arjun in the 3rd place.
Shahid you are way too cool. You rock
No.10... No Way! He deserves to be way higher, at least in the top 7. He is a lot better that Harman Baweja. Shahid, you rock, man!
Shahid is the only dancer in Bollywood who dances with more energy than the background dancers... He also performs each step cleanly!
Shahid Kapoor is a very good dancer. Just that he hasn't got that many songs as compared to Hrithik.
14
Harihar Dash
Harihar Dash is the best his dance is unique, and he has a wonderful grace in his dance, even it is mind excellent step.
I know you r great dancer in india. And dissulving performance for every moment.
His break dancing style with expression is superb
He is the best dancer I ever seen
15
Javed Jaffery
For me he is the best dancer. He still has ability to perform hard and challenging step. He was first to do break dance in India. He didn't only influenced young generation towards break dance but also inspired person of age 50----
His flexibility is awesome. He just doesn't dances or moves, but actually sways like a wave.
He not only did great brakdancing moves but also added som gymnastic stunts
I don't like you are in this dancer a fashion owls sac a
16
Ram Charan Teja

RAM CHARAN! My man! You're dance inspires me just to keep dancing. You are better than everyone in dancing. I don't know other stuff but dance, you are a king. Plus my name is Haveesh Macha and I am your biggest fan in the world
Ram charan is the best his dance is unique, and he has a wonderful grace in his dance, even it is small step.
He is the best dancer. People can dance like Allu Arjun and NTR but not like Charan. He has the grace and speed.
I'm really great fan of his dance. Every movement he do just with ease and grace. I think he deserves top 5 positions.
17
Vrushika Mehta
Vrushika is a very wonderful and amazing dancer. She connects with her audience through her facial expressions and expresses each word of the song perfectly through her face. She is very flexible and u cannot take your eyes off her while she is dancing. She can dance in every dance form gracefully. She actually feels the song and dances which makes her dance more beautiful. Above all she dances to EXPRESS and not to IMPRESS. She truly DESERVES to be in top 10.
She is a Brilliant & Versatile dancer & actress. She should be in the Bollywood as well as Hollywood Industry too. B/C, when she dance or act its like she owns the whole stage & platform. Eventually, she will draw everyone's attention towards her through her dance & acting performance. And, not to forget - she defines beauty w her charming look & graceful act or performance which makes her Dancing Diva w/o being Miss India, Miss World, or Miss Universe. I 've "FULL FAITH" & pray to Allah that (if she tries hard) Inshallah - one day she could be World's one of the best female dancer, as well as best actress. According to me, "VRUSHIKA" means - "V" for Versatile or Victory, "R" for Rare, Ravishing, "U" for Unique, "S"for Sophisticated, "H" for Humble, Harmony,Happy, "I" for Intellectual, Intelligent, Ideal Woman, "K"for Kind, Keen to learn, "A" for Attractive, Amazing, All in All.

All the best wishes & luck from your well wisher please do not waste time b/c "time & tide wait for ...more
An amazing dancer with a fab charisma. She is truly an inspiration for the youth and has proved it rightfully through her unconditional passion towards dance and Of course through her works on television. Vrushika has captured millions of hearts through her dance, therefore she deserves to be in the top ten.
She dances with grace and elegance in all dance forms. She emotes each word of the song through her facial expressions and her dance moves. And most important, she truly feels the emotions in the song through dance which reaches our hearts. She definitely deserves to be in top 10.
18
Faisal Khan
You are the best dancer I have seen ever in my life. you are the feature of Bollywood. may allah fulfill dreams. I think my message must help to fulfill your dream. Id-mubbarak.
From-pralipta
He is the only Indian dancers who have won all the shows he has participated in he deserves the rank of number 1 no onle else can! love him
He is one of the best dancers very talented and very stylish among all
Faisal you are really mindbloewing dancer in India. You are lovingly boy and you are smart.
19
Dharmesh Sir
He is the best... His moves are very crisp and sharp... He never misses any beat... For me simply he is the best... God Bless Dharmesh Sir...
You are great dharmesh sir! I will to meet you? I am very exited! You will teaching me dance please sir.
Excellent performer and awesome choreographer
He is one of the best and most inspiring dancers. His moves are clean and style is on a new level
20
Remo D'Souza
He is a really good dancer. I want to become your student sir, I wnt you to bless me so that I can become a good and known dancer. You are my god sir I worship you I love you remo sir
His very good dancer and his smile is very kute and his very great dancer
Remo D'Souza is the best and he should be rank in 1st Position
A man and his choreography behind all the best dancers
21
Shakti Mohan
Shakti Mohan is born to Dance. Her moves and expressions are just marvelous. She is the best example of every dance beat is her heart beat.
Shakti Mohan is the best female dancer... her moves and style and expressions are superb and marvelous. Love you shakti Mohan...
The true inspiration.. The youth icon.. The best dancer I could ever imagine.. She is like a poetry in motion... Proud to be your fan di.. Love you Shakti Mohan
Shes the BEST! Winner of DID 2, Trained in NY, has her OWN DANCE CALENDER which is by d way FIRST DANCE CALENDER of India. might not be bettr then Madhuri ma'am or prabhu deva sir, etc but definitely deserves 2 b in top 10
22
Govinda
Hello, this guy is a natural dancer. He should be in number 1! Go see his movies Coolie number 1, Prem Shakti, Gentleman and Dulhe Raja. Some of his movies he has done great dances in. He even dances in the slowest of music. He owns the dancers of this generation. Totally awesome!
Govinda is only the one and all in acting and dancing
No any other actor or any new generation can dance like him. He is just suberb. His face expression is one of the best in Bollywood industry.. love you sir
Really a effortless dancer and its in the blood no one can beat and still he can catch the moves as same he was and same as today's generation actors...
I have never seen this much range and variety in dance and expressions by any other actor. A real class performer
23
Kunwar Amar
His dance is super cool... from contemporary, freestyle, hip-hop, lyrical hip-hop any dance style you talk about.
The way he lifts his partner n one can beat him seriously. He is best at expressing his feeling through his dance.
Being a non trained he was in top 5 of DID2 and grabbed a lot of attention and gained millions of fans.
Without any professional training he ranked in DID 2. that's where he proved himself and also proved that its not training that always matters but your will power and hard work that matters.
He is great dancer and also great human he deserves much more and his moves specially contemporary and he reached this height without any trainer... Rockstar all the best your fans are with u
He is a very cool and stylish dancer. I love his dancing style. He is my favourite dancer. Keep it up and all the best for nach baliye 5
24
Dharmesh Yelande
Best dancers in world no Michael jackson can loose him
Beat king ever no one can match him
Love you very much dharmesh
You are my real hero
25
Sneha Kapoor
Sneha Ma'am is truly born for Dancing! For me she makes the word DANCE complete! The glory of this word increases with her presence! She is the Soul of Dancing! When she starts Dancing she creates the atmosphere so Beautiful & Divine with her natural & phenomenal dance moves! Her expressions makes the Dance more radiant! Dance world is incomplete without her! She is the Dancing Angel of God who spread the dance magic all over! She is the BEST!
Sneha mam is the Best Dancer I hve Ever Seen. She Dance from Heart and When ever I see her Dancer I Can see that her passion and love For Dance is incrediable.. ! I love her and I love her Dance a lot..!.. For me She is the best Dancer No one Can Compare Her.. ! When she Dance her Lil Lil Things like Her Moves Expression Make us Smile and Happy.. ! Bstest Dancer SNEHA KAPOOR
Sneha Kapoor is one of the the Ultimate Dancers I have ever seen. She can perform any style of Dancing very gracefully. For her Dance is her life. She breathes Dancing!
Sneha Kapoor's talent and her hardwork put in for dance is a role model example for all the dancers out there who want to achieve a successful career out of dance.
PSearch List