Best Iron Maiden Members
The Top Ten
Steve Harris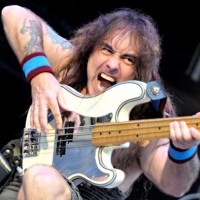 Stephen Percy "Steve" Harris is an English musician and songwriter, known as the bassist, occasional keyboardist, backing vocalist, primary songwriter and founder of the British heavy metal band Iron Maiden.
No Bruce = A worse vocalist in the band
No Steve = No Maiden
1. Steve Harris formed Iron Maiden!

2. Except for Geddy Lee, he's the greatest bassist ever.

3. Along with the fact that he penned such numbers as Hallowed Be Thy Name, Run to the Hills, Aces High, The Trooper, etc. , he is still going strong at 57! UP THE IRONS!
As a bassist I might be a little biased, as Steve Harris has inspired and influenced me in his playing (along with Cliff Burton, another amazing bassist). But let's be real, without him there would be no Maiden. Where would we be then?
Before voting for Bruce Dickinson, just check the best songs of maiden in this website. You'll find that all the songs in the list (1-10) are written by Steve Harris... ALONE!
Any more arguments? I don't think so!
Bruce Dickinson

Paul Bruce Dickinson, known professionally as Bruce Dickinson, is an English musician, airline pilot, and broadcaster. He is most well known for being the lead singer in heavy metal band Iron Maiden and his solo career.
I don't like Maiden without Bruce, but Bruce without Maiden is very great, and I'd rather pick Accident of Birth or Chemical Wedding than any of Maiden's 90's stuff.
HE ROCKS THIS WORLD! Hey the dude who said that Bruce is the worse vocalist in the band, no guts no glory.
A true heavy metal vocalist, no one sings like Bruce, he fits right into the classical heavy metal
he is he best singer in the world
- metfan001
Adrian Smith

Adrian Frederick "H" Smith is an English guitarist, best known as a member of Iron Maiden, for whom he writes songs and performs live backing vocals on some tracks.
Seventh Son was a masterpiece

Adrian leaves.

No Prayer through to Virtual 11 are albums which only hint at Maidens former greatness.

Adrian rejoins and Brave New World through to Frontier are all brilliant. Is is no coincidence.
Despite Adrian being my favorite member, I just had to vote for Steve, because, let's face it, without Steve, there is no Maiden. - kk2001
He's my favorite guitarist. I don't know why. - UFasten8Me
Dave and Adrian are the best guitar duo in metal!
Glenn Tipton and K.K. Downing (from Judas Priest) are the only competition - rock2metal
Dave Murray

David Michael Murray is an English guitarist and songwriter best known as one of the earliest members of the British heavy metal band Iron Maiden.
He's the best, I think he the most brilliant guitarist of iron maiden.

WITHOUT HIM IRON MAIDEN IS NOT IRON MAIDEN! He's the best
The first Iron Maiden guitarist, I have a lot of respect for him. HE'S THE BEST!
He was in maiden all the time, he is the best guitarist, and he is the beter person than steve harris
A very special sound different from other guitarrist, 100 percent Maiden. Very nice guy apart from that.
Nicko McBrain
Loudness is an important characteristic of heavy metal music, & Nicko Mc Brian does that too well. Without him & his constant beat, Iron Maiden is nowhere.
theres just a certain charm to him you can't help liking him.
Janick Gers

Janick Robert Gers is an English musician, best known for being one of the three current guitarists in Iron Maiden, along with Dave Murray and Adrian Smith, as well as his earlier work with Gillan and White Spirit.
Janick has a great personality. At some points, he can be a very serious, intelligent, and down-to-earth guy (look at some of his interviews). But when he's on stage, he runs around and becomes a very funny, humorous guy. Iron Maiden wouldn't be what it is without Janick!
he's great guitar player, he's always active, running all over the stage and he has such a great character, he's always calm and funny, he keeps the band alive.
Janick is a total showoff, how the hell is he better than Nicko?!
Clive Burr

Clive Burr was an English drummer. He was a member of Iron Maiden from 1979 to 1982. Previously a member of Samson, Burr joined Iron Maiden in 1979 (coincidentally at about the same time Bruce Dickinson joined Samson).
One of the best and most underrated drummers in metal history. Not my favourite member, but certainly Maiden's best drummer and extremely under-appreciated. - Mrveteran
Clive was verry better than Niko! Why this place?! RIP
Paul Dianno

He became a much better singer after he left the band, he simply got more experience - Metal_Treasure
Not such a great vocalist as Bruce but much more energy and charisma. The first two albums are my favorite ones!
My personal favourite meber.
Blaze Bayley

Blaze Bayley is an English singer, musician, songwriter, and lyricist. He was the lead singer of Wolfsbane from 1984 to 1994, and currently from 2010 following reunions in 2007 and 2009. Bayley was also the lead singer for Iron Maiden from 1994 to 1999. Since then, he has embarked on a solo career.
Blaze bayley no.10 is this a joke? Dennis stratton is a lunatic but blaze rocks he is a good singer and deserves more credit than he gets.
What?!?!?
He sucks and is a crappy singer!
Dennis Stratton
The first Iron Maiden album wouldn't be what it is without Dennis Stratton!
Still a legend to this day..
And still playing...
BAdd New Item