Dir en grey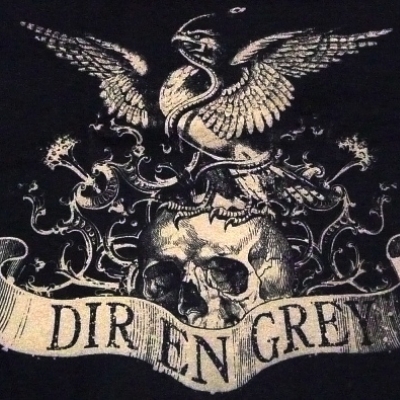 Uploaded by CastlevaniaFanboy128
Info
DIR EN GREY is a Japanese metal band formed in 1997 and currently signed to Firewall Div., a sub-division of Free-Will.
Comments
Top
Popular
Newest
Dir en grey, from Gauze to even their newest album Dum Spiro Spero, have always had their own sense of uniqueness and originality and have never ceased to progress in each of their albums and stated their own identity, which subtly changes every year ha ha, in not only in japan but also in the United States. Kyo stands as an extremely talented vocalist, and also versatile above everything else. Kaoru and Die have always shown their overall technical proficiency and their own brand of creativity with their parts. Toshiya has well is able to make these very creative parts that hold the low end while taking the forefront and along with Shinya, whose drumming has always being original and shown to also provide solid and subtly engaging or even technical beats, are able to drive their music.
The first time I ran into Dir en grey, I was captured by Kyo's vocal range and quality. He sang in a way that was similar to the visual kei style and j-rock style but was able to add his own completely unique touch. Not to mention I love their guitar riffs and melody that sometimes feel like you're being yanked down a spiraling path with a chain. The drummer and bassist are equally as awesome, making for a very well rounded band who continuously comes out with songs that appeal to the heavy side of metal. Lets not forget the lyrics behind their songs. If you've never looked them up, I suggest you do; they often press upon issues that just aren't spoken about in the open. But that's what music is about. Expression. The key to visual kei and J-rock. (not excluding any other genres.. )
Dir en grey transcends genre and reinvent themselves with every album. The band has been around for fourteen years now, and still continue to pursue the new and bizarre just when everyone thought that they could not possibly have something new up their sleeves. All members of the band are irreplaceable, because they each bring forth their own important, unique elements to the music. They may be a cult band, but they truly stand out apart from the rest of the groups on this list, despite their lack of 'mainstream appeal'. True rock musicians should be out to break boundaries and question authority; which is exactly what these guys do.
I love Dir en grey. I have never heard a band with so much passion. I love the way they can go from aching melancholy to brutal nihilism, sometimes within the same song. All the musicians are so talented, they each have their own distinctive style and give the arrangements so much textural depth. They never rest on their laurels and they reinvent themselves with each album. The only constant is a portrayal of raw beauty in a desolate world. They are the only band that have made me cry with emotion. Diabolos and Vanitas from their latest album are a couple of their masterpieces.
Dir en grey is my favorite band for a reason. There isn't enough space to list them all, so here's a few. I have every one of their CDs, and I'm not bored with them yet. Each CD is different than the last one, very rarely, if they ever have, do the repeat the same style more than once. Some people didn't like the more metal style of Uroboros, and felt they did the same thing again in Dum Spiro Spero. However, there are vast differences between the two. Yes, DSS is still metal, which I love, but they add so many classical and symphonic elements to their songs in DSS, it's mind-blowing.
there isn't any band who is at least similar to DIR EN GREY. They made totally new genre, they are experimental, they always surprise their fans. They are shocking, they are beasts, they are talented, they are fighting spirits. There isn't any bad thing about DIR EN GREY. I never, NEVER seen a band like them before. And I am sure, they will be doing more and more music without repeating themselves. Thanks DIR EN GREY, you are more than a band, you do more than a music.
Dir en grey is amazing. Every album always has very great songs. They are always experimenting different music styles, and they definitely know what their fans want. There is no language barrier in their songs for anyone with love for music will understand what this band is trying to tell their audience. I will forever be this band's fan, and am always grateful for the times their songs have cheered me up over an over.
They have a lot of career. Is the first Japanese band that I see that can make American people seriously respect them, even if they don't like Japanese music. Their members are full talented people. Kyo's voice is amazing, Shinya drums... that I need to say more? Is one of the best, not only in Japan... in the world. They are always moving, their music, style, even them... They just deserve to be in the first places
A lot of people accuse Dir en Grey of isolating their music from the general public by constantly pushing the experimental envelope. I guess that is a fair critique, but it also has the be the band's greatest strength. Surely, they have etched themselves in as one of the most original and unique metal groups of all time. I doubt they would even be on this list if they weren't SO different. So kudos to you Dir en Grey!
I love this band and they are very unique. Their styles, awesome guitars, Kyo's amazing vocals, variation-packed drumming, rhythmic bases -- simply full of talent, just to say in short.
What I like about this band is how they've managed to explore so many styles and be able to nail what they've tried to hit!
They also are very united band-wise.
Exploring new styles and always here for the fans.

I don't understand any of their songs. But they've proven language matters not, the songs touch me more than any song that I would understand.
Dir en Grey is the best. Enough said.
DIR EN GREY is the best band I have ever heard. They really know how to invent their different universes. Their music is special, no other band doesn't have a similar style, they're just incredible. It's an awesome band who know how to reinvent their music and themselves, because of that, any fan can be disappointed.
Sorry for my bad English, I'm French and only 15.
Dir en Grey is the best of any band. Amazing otherworldly vocals, true emotional value when it comes to lyrics, and even the best manager you could ever have, Yoshiki from X-Japan! Dir en Grey have crossed barriers no other band in the entire world could ever hope to even possible step near, and they will always live forever for what they've done in the music world.
I don't understand how anyone could get headaches from them! They are amazing, and if you listen to them, you'll find a perfect combination of smooth singing and good rock. Before I learned of them, I once went on a spree to find and American version of their style, and then low and behold I stumble upon them and I'm emotionally dying! Dir En Grey is probably the BEST rock band I have EVER heard!
The greatest band ever! Kyo's lyrics hold such deep meaning and he conveys that meaning through his voice. As a band they push themselves higher and higher with every new album. The track list of Dum Spiro Spero is enough to show their determination in producing the best sound.
Their sound is unique and they're a band that is constantly evolving through each album release. They have also proven that they can compete in an international market. But I most respect them for being comfortable pushing buttons and sharing their honest views of the world.
The professional, clean and perfected, yet still inspiring and unique music of this band never ceases to surprise. Their live performances are strong and their skills in renewing themselves not only every album they release but in between releases too is incredible.
For six years, they've been my favourite - and not without reason.
Their music and another band have truly helped me in many ways and I think they're one of the best and to some the best. If they don't win, it could be a shame, but it won't change their music and what this band stands for. I don't have the right words to express what I want to say but I hope Dir En Grey wins first place! One of the best in the world!
They present their message in a way no other band does. They live, breathe, and bleed their music. Dir en grey has been my favorite band since the first song I heard from them (shokubeni). They destroy music barriers all over the world and their fan base is the most dedicated I've ever seen. Can't wait to see them this December in USA!
There are no words that can describe Dir en grey, they are magnificent in every way possible, their lives are something not of this world. You leave changed and wanting more. They create something beautiful out of the grotesque and negativity. They make you aware and listen with your heart and its a powerful impact
m...
i think its entirely unfair...
dir en grey its the first Japanese band who play in wacken festival and kerrang in UK...
this band its the best of the world...

i hope they get the first place because its the only thing they deserve... only the first place
my heart always will be with dir en grey!
Kyo's vocal range is beyond anything anyone else will ever be able to produce. The sound they produce as a band is simply amazing. Unmatched by anyone, the only place they deserve is the very top.
never doubt than dir en grey bring fresh air for not only japan music but world music know them and bring japan music to world stage, they different sense they always create new music off them, kyo voice always bring different in they music, , very fresh music they offered every album and song
They got me 7 years ago with the diversity of their music and simply because each and every single song of theirs is interesting and well-crafted - and this hasn't changed until today. Kyo has a great voice, they're great performers, I've seen them live 9 times and I'd do it again and again.
I love Kyo's voice! It's beautiful He is the most amazing man! He writes wonderful lyrics. And Shinya is a very nice drums. Die and Kaoru and Toshiya are very very nice guitarists. I love them.
I find their music special. There is no more of these. There are no more such music in the world.
The one thing that I love about this band is simply just how pure the emotions are portrayed. No other band can be beautiful, pure, majestic and cruel at the same time. Dir en Grey expresses everything that is human in a way that can never be described with words. They touch your very being.