Thomas & Friends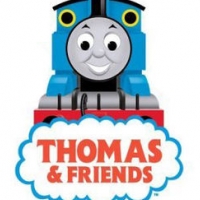 Found on wikimedia.org
Comments
Top
Popular
Newest
This show is very good. I watched it ever since I was 1 year old. I had a lot of Thomas Train Toys. Thomas, Percy, James, Edward, Gordon, Emily, Henry, Toby, Spencer, Murdoch, Salty, Flora, etc.
This show was my childhood, I refused to watch when I was a toddler, but when I had 2 months I started liking this show, it was my favorite show as a little kid, Its not my favorite anymore but its still great, I'm 12 and I love it
Aw Thomas I miss you so much now I remember your theme song and I loved to sing it but now you aren't even around anymore and your show isn't even on anymore! Oh I just miss you Thomas
Who wouldn't love a show based on a book series simulating British Rail realities written by a reverend?
The old ones were good, but like SpongeBob Arthur and Pokemon it became boring in the later seasons
I loved this show when I was a kid. I was Thomas every Halloween.
Ok, ok. I know trains can't actually talk. But it's based on an entire book series called the Railway Series featuring additional characters like Wilbert, Pip, Emma, Albert and Spamcan (which itself was based in real live British Rail happenings). And some of the narrators have been Ringo Starr (drummer in the Beatles) and Pierce Brosnan (one of the people who played as James Bond). This show is so good that even grumpy old Dad likes it! It should DEFINITELY, DEFINITELY have been #1. This show is unbeatable. This and Tickety Toc have nothing at all bad about them. I loved it ever since I was born and I am 9 in a half now and still like it!
The old on is awesome but the new one is too crap. On YouTube I watch YouTube poops of it (old)
This show is epic when they solve the crash problems and has awesome characters like Henry, James, Thomas, Spencer and many more! This show used to be narrated by Ringo Starr in the British and Australian dub. I also like the original Railway Series by Wilbert and Christopher Awdry which included awesome additional characters like Wilbert, Albert, Pip, Emma, Percy's unnamed friends who are black tank engines, Bear and Ivo Hugh. I also love the design of the wooden Thomas that Wilbert made for Christopher during measles.
Thomas is the best show ever I think it should be in first best show in the world
I'm almost 13 and I still really like the show! My favorite seasons are seasons 1 and 20.
And I also get the theme song tune stuck in my head because it's so catchy
I love the narrator and the eye rolling. This was awesome for me as a kid.
I love this show so much my parents let me see it live on stage
It's been with me since I was born
This show was stupid because my dad always gets me in it even if I'm older now! That show was for babies and boys even though I'm a girl!
Agree 10 year old, My mom also did it and I had more than 100
I used to love it now I find it creepy
CHOO CHOO LETS MAKE THIS GO ON NUMBER 1 BECAUSE THOMAS IS NUMBER 1!
Even though iam 9 I still watch it and have the toys of it this show brings back memories
Ok, my opinion, I still like it and I'm 8 O_o... I watch it! Don't continue if you don't want spoilers! They have made 20 seasons I think? 2 haven't been revealed. They will also make a WWII Movie!
I'm 17 and still watching, it's my childhood, I named a cat after thomas once. I even love the movies, yes that includes Thomas and the Magic Railroad. I was suprised to learn that the series was now in cgi, I didn't watch thomas on T.V. cause I didn't know what channel it was on, I thomas on vcr taped and even dvds. #classicera
I am 10 and I love this show! I'm glad they're trying to bring back old characters that never made face in the modern series. wel, I think they are bringing back donald, douglas, and murdoch. it's a shame my mom is trying to elimate anyting thomas in the house. it makes me sad she threw out my trackmaster stepney! And I hope some miracle I can take a stepney toy! And by the way, if you think I'm random, I have asberger syndrome!