Best Korean Actors
The Top Ten
Kim Hyun Joong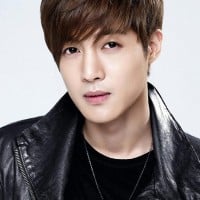 Kim Hyun-Joong is a South Korean entertainer, actor, singer, dancer, and the leader and main rapper of boyband SS501.
Have you seen him in inspiring generation? His acting is in a whole new level,.. best actor
Love your performances in Playful Kiss and Boys Over Flowers!
Kim Hyun Joong is a great great actor and in Inspiring Generation he prooves he is a great fighting actor. He can be the next best asian actor in the world. - France501
Playfull kiss, Boys Before flowers
Lee Min Ho

Lee Min-ho is a South Korean actor and singer. He first gained widespread fame in Korea and parts of Asia with his role as Gu Jun-pyo in Boys Over Flowers in 2009. The role won him a Best New Actor award at the 45th Baeksang Arts Awards.
His character is always the same... But it's a lovely character! :D - aram
He is so cute and fashionable and his act make me wondering! !
He should be first he is such a good ACTOR
You can't resist his charm! He's awesome!
Lee Byung Hun
My favourite actor in korea
The definition of BADASS - Not_A_Weeaboo
He is the best actor my no.2
He was in Gee.I. jo... - aram
Song Kang-ho

Pudgy and expressive, Song stole the show as plucky, goofy, giggling scoundrel Yoon Tae-goo, "The Weird".
He was also amazing in 'Sympathy for Mr. Vengeance' and 'The Host', and did a pretty neat job as the Korean voice of Alex the Lion in 'Madagascar'.
Jang Geun Suk

Jang Keun-suk is a South Korean actor and singer, He is best known for starring in the television dramas Beethoven Virus, You're Beautiful, Mary Stayed Out All Night, Love Rain, Pretty Man and Jackpot.
He can act REALLY DIFFERENT characters... Just compare him in Beethoven virus, you're beautiful, do re me fa, mery, love rain, etc. - aram
He is a very talented, hardworking, and single-minded person. Also he is kind and big-hearted man too. and I think the world needs an artists like him. I love him so much and I will always support him.
My prince is the best
Jang keun suk best on the world
Yoon Je-moon
Song Il Gook
He's the best
very good
very best
Ryu Seung-soo
Park Hae-il
He's a gifted and versatile actor. - SourNote2014
Gong Yoo
Gong too is the best Korean actor and his performance in coffee prince was amazing
Train to bus an was an awesome movie
Impressive feeling in his eyes!
Perfect in coffee prince and big... - aram
The Newcomers
? Ha Jung-woo
The Contenders
Kim Myung Min
Perfect in Beethoven virus... - aram
Yoo Ah In
Won Bin
Won bin my favoriet actor
My favorite actor since I am 12 yearsold...now I am 25 years old.. The long time to only loving him...
Byun Hee-bong
Lee Joon-gi
He's so cool...Best actor ever...
Such a versatile actor...He'll never disappoint you with his great acting skills and looks at the same time and you'll never be able to resist his charm...I love his bubbly persona...
Not to mention he look so good in both hanboks and modern garb...so is his hair...either it's short or long he's so dazzling...First time I saw him I couldn't believe how much he looked like manga character...and his manga-esque hair...
What I love most about him is, he almost always do all those dangerous and difficult stunts himself
He's the best, most naturally instinctive, intelligent, versatile Korean actor out there, no contest!
He's also a master at 5 diff. martial arts, horseman, gunman, swordsman & stuntman, who does all his own stunts, with a lean fighting body, yet is a gentle soul
He's also a singer, dancer, model + rapper, who does concerts for his fans! all over S.E. Asia & is loved all over the world, because he also has a great sense of humor & fun with co-workers, film casts, crews - he always works really hard, but always keeps a positive set!
He also has the sexiest Phoenix eyes/jawline/cheekbones/smile/hair/deep voice & unusual handsome face + lean body in movies & T.V. today!
Women are entranced by him, he has a mysterious charm about him & a way of looking at a woman, like she's the only one in the world for him...From North America▶ he is #1!
Jo In Sung
For me he is the King!
Jo Yeong-jin
Gang Dong-Won
Hyun Bin
I just love this man. He's just so amazing in every way. From 'My Lovely Kim Sam Soon' to the latest 'Hyde, Jekyll, Me'.
He is the best actor
He's the best actor.
I love you oppa!
Ji Jin Hee
Jang Hyuk
My mom likes him a lot - Rhapsody
Jung Woo Sung
Lee Seung Gi
Song Joong-ki
Great actor and handsome especially in innocent man.
Oppa <3 is the best...such a humble and sweet n of course lovely
Shin Ha-kyun
PSearch List