Top Ten Best KoRn Songs
chirkoman
The Contenders: Page 2
21
Good God

It's quite sad to see how little recognition songs from Life Is Peachy are getting, it is their best album. This song is epic, listen to the bass, the passion in Jonathan's voice etc. Top 10.
Jesus.. Only 22? That really shows how little REAL KoRn fans are here. That's just sick... Should be at least top 10
Should be at least in top 12
My most favorite
V 17 Comments
22
Trash

Really a brilliant song. It's so quiet and chilling, and Jonathon's Vocals are really something else.
No way this is the best Korn song. It is the perfect mix of chilling, then hardcore and this song should have been into the 10 for sure. I have listened to many of Korns other songs and believe me this is the best one.
The best of the best, forever!
The music is good
TRASH GOT RANK 10
For ME...
V 1 Comment
23
Kill You

This song is my favorite song from life is peachy and one of my favorites from korn. Very underrated song
This song brings me good memories
The chorus is amazing this song should at least be at the top ten
Dark song.
Awesome vocals and instrumentals, it is amazing! Listen to it, it truly is KoRn's best!
V 1 Comment
24
Y'all Want a Single

Great song. This song is the perfect song to play when you want to get down and go crazy. This song should be in the top 5.
Absolutely brilliant, should be at least top ten!
Fantastic song should be WAY higher! Perfect song for beeing mad at someone (or something).
Best nu meal song forever
V 6 Comments
25
Lies

SUPER powerful SONG!

Epic death growl. My favourite music
Best growl ever, this song is truly amazing shame it has an end
Oh God what is there to say? This is without a doubt Korns BEST song. Munky and Heads intense riffs, Heads chorus... The end is the most INTENSE part of the song. Every hair on my body stands up hearing this song.
V 2 Comments
26
Daddy

This song is incredibly sad and depressing. The song is about how Jonathon was molested as a child, and how his parents wouldn't believe him. I would've imagined how hard this song would've been for Jonathon to write, since in an interview he claimed how he couldn't bring himself to perform this song live (that's changed over time now, and he's fine with singing it)
One of the most saddest songs ever
Very powerful song... Seriously just listen to it. John's life wasn't the best >. >
It's so catchy, not as good as clown though
V 12 Comments
27
Faget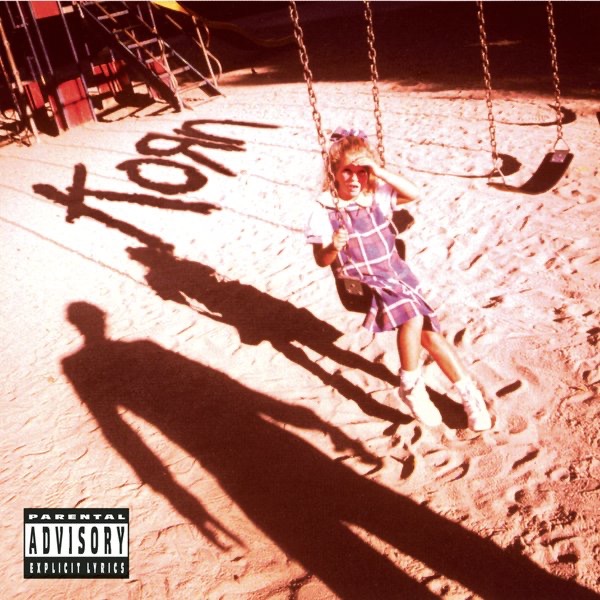 This song is the best and the drops of "suck my dick like it" and "all my life who am I" are amazing. How is it this low!
How is this song so low. In my opinion it has a great chorus and the best beat drop ever!
44! 44?!?!?! COME ON! This song is a CLASSIC! It deserves a higher spot!
You can't be serious. This is honestly the best song by KoRn and one of the best songs of the genre.
V 8 Comments
28
My Gift to You

Why is My Gift to You 86th! This song is number one and cannot be beat! Awesome Bagpipes in the beginning and dark and heavy bass and lyrics. All you need to do is listen to this song once, and you will know why it is their best song of all time!
Should be in top 3. Twisted Transistor, Coming Undone and Evolution in top ten? Ha, My Gift to You slaughters all these songs.
Most epic korn song!
This song is extremely underrated. Should be number 1, my god this song is so perfect.
29
Rotting in Vain

This song is so awesome it's ridiculous. It's heavy and aggressive and the vocals absolutely blew me away. Great instrumentals too. It's a huge throwback to their old work and in my opinion, even better. Yes, it's new, but it kicks ass.
Seriously, their new album is ridiculous. Top ten song for sure
Awesome song reminiscent of there album Untouchables.
The modern-shaped of the oldschool Korn style
V 5 Comments
30
Liar

First song I ever heard from the band, got me hooked right away and I love this track's sound.
Powerful old school sound, great lyric, so much feeling
Should be in the top ten in my opinoin
31
No Place to Hide

Really? 0.6%! Come on! This a great song that Defiantly deserves some love!
32
Dead Bodies Everywhere

Damn! This is so lame... Its one of korn's best song. At least it should be mentioned in top 10. Th
Are you kidding me? Has anyone heard this song. Listen to Dead Bodies and to Twisted Transistor back to back and then judge which one should be in the Top 10!
This is one of my favorite songs. The lyrics are great, the guitar is great, the whole song is great.
I was hesitant to listen to this song when I first saw the name, but I'm glad I put that aside, as this song is one of my favourites.
V 7 Comments
33
Prey for Me

Best on the album and one of their best in general in my opinion
This has to be one of Korn's best songs, definitely deserves to be higher as well as victimized.
Come on guys! A great song and a 'must vote' one
Beautiful sound, beautiful lyrics
34
Mr. Rogers

I listen to this song everyday (for the record, I do not at all hold a grudge against Fred Rogers) to remind me that I should be more careful about what my kids watch. I grew up on really scary and inappropriate kids shows like Billy & Mandy, iCarly, Mr. Meaty, etc.
Agreed! It should be in the top 10! Needs more votes!
One of the best songs by Korn!
How is this not top 10?
This song can tell a stranger what koRn is all about!
35
No Way

Most desperate, deranged, megalomaniac, delusional, intense Korn song ever written.
One of my favorite non-singles by them. Awesome song.
36
Get Up!

Before those of you who don't like dubstep down vote this, listen to the whole song. It's just them going in a new direction and in my opinion it kicks ass
This song made me enjoy dubstep for the first time in my life.
Just letting you guys know, this song has Dub-Step Roots.
So if you are as open minded as I am, you will come to see that... THIS SONG KICKS ASS!

Its loud and just the DEFINITION of a song to be played as full volume in a car!
This song means so much to me. Even though it is not Korn's best song it is great. This is the song that got me into metal in general. I used to like dubstep before metal so this helped me to find metal. I thank this song for bringing me into the metal world. Now I listen to all kinds of metal including nu metak, groove metal, thrash metal, heavy metal, death metak, etc. just because of this song.
V 9 Comments
37
Need To

Fantastic song featuring some of Korn's best and most emotional lyrics. I can't believe this is all the way back in 49th. Seriously, are you people deaf?
Are you getting me this song is so underrated. Listen to it!
This song 'Needs to' be higher. Eh see what I did there - wolphert
So underrated...deserves to be in top 20
V 3 Comments
38
Word Up!

I love this Korn cover. I never would've thought they could pull this off, but they did. It lifts my spirits whenever I hear it.
This song is inspiring to everyone and I listen to this whenever I need inspiration to do anything I wish every band could pull off songs as good as this. BEST SONG EVER KORN IS THE BOMB keep it coming guys you are truly amazing I love you guys KORN FOREVER!
This song is history... Made me a bit sad seeing this song deep down in no.11... Vote for this guys this deserves to be on those top tens
Best cover EVER!
V 7 Comments
39
B.B.K.

This is one the heaviest songs they've written, the high guitar is just so awesome, and the scatting the bridge works so well, they really should play this song live again, it's been awhile
Brilliant song, Jonathan Davis solo was just epic... Gotta listen to this song if you already haven't,
Amazing song with effects on the instruments, different rhythms, distortion, headbang interlude, JD's solo, powerful bass... Everything is good in this song.
40
Hollow Life

This song is a masterpiece. I can't understand why this song is so low on the list come on guys give this song some love. It's clearly one of their best!
This HAS to be in the top 10 at the very least, it's brilliant!

"We come to this place, falling through time living a hollow life"

Hauntingly magnificent :-)
Not only is this Jonathan Davis' personal favorite song, its also the best song on the CD. This also has one of the better KoRn Chorus' out there. Definitely a KoRn top 10.
Truly the best KoRn song, biggest shame ever this song is not in the top ten.
V 4 Comments
PSearch List
Recommended Lists
Related Lists
Best Songs From Korn's Debut Album
Best Songs from Korn's Issues

Best Songs On Korn's The Paradigm Shift
Best Songs from Korn's the Serenity of Suffering
Best Songs From Korn's Follow the Leader
List StatsUpdated 22 Feb 2017
7,000 votes
160 listings
8 years, 187 days old

Top Remixes (103)

1. Freak on a Leash
2. Blind
3. Twisted Transistor
htoutlaws2012

1. Freak on a Leash
2. Rotting in Vain
3. Love & Meth
EvilAngel

1. Lies
2. Blind
3. Freak on a Leash
dragger
View All 103
Posts
Error Reporting
See a factual error in these listings? Report it
here
.