Gloria Estefan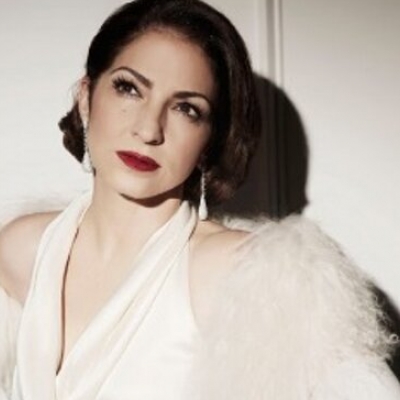 Found on twimg.com
Info
Gloria Estefan is a Cuban singer who currently resides in the United States. She is known for fronting the Latin pop band Miami Sound Machine and for several solo songs.
Comments
Top
Popular
Newest
There is something about Gloria that puts her head and shoulders above all other female singers. She is a very talented singer songwriter, dancer and stage performer. She is also a very beautiful woman who has captivated the hearts of millions of loving fans - and I am one of them. Gloria has a special place in my heart and listening to her music is one of the true pleasures in life. Gloria is also a lovely person, a very caring and loving wife, daughter and mother. Family is important to Gloria and she reminds us all that much of life is ephemeral - family and friends are the important things in life.
Gloria Estefan is a class act! She is an amazing singer, performer, and person. She always gives each and every performance her all as well as her albums. She just released her new album Miss Little Havana today and it is amazing in every was possible.
When you look at Gloria's face you will drool and things will start happening. When you hear her sexy voice singing to you in Spanish you might faint with love. Gloria is the most beautiful thing ever created in the universe and will always be and has always been - by far. Nothing ever in history or in the future will be more beautiful than Gloria Estefan. Gloria is angelic. Her face is so beautiful. Her eyes are so cute, warm and adorable. She is georgeous and she has beautiful hair. Even when she doesn't wear any makeup she is super sexy and attractive which means she is all natural. She is so sexy and has a very, very beautiful body. She is a gift from the gods and every bit of her skin is pure heaven.
Gloria is very sexy woman. I think I can tell you how without a doubt. She makes you excited to gaze at her body. Her dancing is exciting as she moves her lovely legs and you can see her shape. She sing beautiful romantic song that make you rant to hold her close. Her pretty face make you want to kiss her luscious lips. She sing so lovely and her hair is lustrous and I want to run my hand through it. Gloria is beautiful very lovely without a doubt. I crave her love forever.
Gloria Estefan's work ranges from light latin pop, through to disco and pop and then to latin ballads. I grew up with Gloria through the pop days and the disco nights and onto the more traditional latin music of her later years. I have always been a big fan of Gloria's singing but to me her voice trully comes alive when she sings in Spanish. The language suits emotional expression like no other and Gloria lifts her songs to new heights with a more mature vocal texture and expressive phraseology. I would recommend Gloria Estefan to anyone interested in exploring the richness of latin music as a great place to start and a great place to live.
This woman is super sexy. If you want to see how gorgeous Gloria is have a look at two versions of Conga on You Tube: 1, Live at the Miami Beach Centennial Concert 2015 and 2, the World Tour Into the Light 1991. Which is the sexiest - the young energetic sexy dancer of 1991 - great body, great legs- or the mature, confident, sensual being in 2015? Hey, just look at her! A few things you can say are consistent with Gloria: her music, her voice, her face and her body - what a wonder she is!
When I first saw Gloria's face I was startled by her beauty. When I heard her lovely voice I fell in love. Gloria is the most beautiful woman I have ever seen and the loveliest creature in god's creation. Nothing can surpass her beauty in voice, face, body and persona. I can say that nothing in the future will be more beautiful than Gloria Estefan. Gloria is an angel, pure and lovely. Her face is so beautiful. Her eyes are so cute, warm and adorable. She is georgeous and she has beautiful hair. She is super sexy and attractive and drives men wild. She is so sexy and has a very, very beautiful body and her skin looks soft and smoothe. Yet, she is a great wife and mother and loyal to her family. She is an angel girl sent to us all - she is a gift from the gods.
Gloria Estefan has been a major influence in bringing Latin music to the mainstream of popular music and to a wider audience than it previously had. If I had not heard Gloria's Mi Tierra album back in the 90s I might never have had the luck to have my ears opened to other artistes such as Celia Cruz, Maria Rita, Caetano Veloso to name but a few. It is this that marks Gloria Estefan's importance to Latin music as well as her own unique contribution. Gloria's own music and her interpretation of other people's compositions give a clue to her sensitivity and character. Her concerts range from sexy to traditional Latin with ease. Yes, a very beautiful and sensual woman, but more importantly a great singer, dancer and advocate for Latin music and traditions. Gloria Estefan's position as a top performer is assured for so many different reasons. Ms Estefan is one of the greats.
If there's one record from my mum's collection Cuts Both Ways still makes the mark. I was lucky enough to see Gloria two years ago and even though twice my age she is still has her voice, beautiful looks and is as sexy as hell. Songs like "Here We Are" have stood the test of time and are as relevant now as back then. A beautiful song. Cannot believe she is the same age as my mum! Love you Gloria!
When I first saw this woman I fell into a swoon! Her beautiful face, her eyes, her lips - within seconds I was head over heels! Her voice is sultry, sensual and full of expression and makes my heart beat faster and faster. I love this woman - she is so pretty, so beautiful - she is incredible! I love her so, so much - she is wonderful! I love her.
A great example to girls of all ages that following a career in singing and dancing doesn't mean you have to become trashy. Gloria has the right mix of sexiness and family - as she said on one concert "just because your married doesn't mean your dead". She is still sexy and can be raunchy when she wants but at the end of the day she goes back to the warmth of Emilio and her kids.
I love you Gloria. You sing beautiful romantic songs that fill my heart with emotion. You look so beautiful and your legs are gorgeous. Your eyes are so captivating, your skin so sexy, and your lips when you sing drive me crazy. Your voice is real, warm and charming. When you dance you move so smoothly. You are a delight Gloria - I love you always and forever.
Appeals to all music lovers, great energy and great great voice. #1 and probably top 5 of all female singers across all genre. Plus her enthusiastic approach to everything makes her a first class entertainer. One who has lasted as a top performer for years, and will continue to do so.
Always been a massive fan of Gloria Estefan, beautiful with such an amazing voice! This woman is quite simply brilliant, a great writer, singer and dancer with a number of great hits. I could listen to her all day and I could watch her dance and move every day for the rest of my life. Quite simply she is brilliant!
Stunning Cuban-American songstress who is often underrated as a singer and performer. Done so much to promote Latin music around the world and to widen appreciation of Latin culture. She's a fantastic role model in everything she does and manages to be as sexy as hell without being trashy like a lot of other female singers.
Gloria is just a lovely, beautiful person. Everything about her is wonderful. She is s a good mom and wife to her family, but she is still as hot and attractive as ever to her fans. I am in my twenties and it was my aunt who let me hear Gloria and after following up her videos on youtube I am in her spell. I fantasise about Gloria all the time and would give anything to be near her even though she is nearly sixty! Gloria is beautiful in every way and I love her.
A very classy lady, great singer and dancer. Her input into the political dialogue of Cuban and American interests have highlighted many of the issues affecting Cubans on both sides of the water. She is a great humanitarian and has had a positive affect promoting the interests of many minorities in the USA and around the world. Like Shakira, she uses her influence to improve the lives of others. Gloria is a wonderful human being.
I don't think a day goes by when I do not think about this lovely woman. When I drive to work I have her music to accompany me on the drive. The sound of latin music on the dullest of days brings out the sunshine in all of us. Gloria, to my mind, is the best latin singer in the world.
I first heard Gloria Estefan when she sang Falling in Love with the Miami Sound Machine - and I fell in love! Since then I have been a captivated and loyal follower and have never been disappointed with her music or her humanity. A beautiful woman and lovely singer.
She is the most beautiful woman in the whole world. I would love to meet her and tell her how wonderful she is. I love her singing and dancing so much and want to hold her close and kiss her. Gloria is so very beautiful. I love her with all my heart.
Gloria Estefan is a very beautiful and sexy singer and dancer from Miami. Gloria was born in Cuba and Cuban music and culture underpins her style. She is a great example of a sexy, sensual woman who also promotes family values.
I love Gloria Estefan. She has made me happy for so many long years. I don't need to hear her or see her any more, all I need is to picture her in my mind and I feel good and happy. Gloria is the love of my lifer and I will love her forever.
Saw her homecoming concert years ago - brilliant show. Saw her concert in Madrid a couple of years ago - brilliant show. The passing years have not diminished her talent. Great singer and ice person - love this woman.
Emilio is the luckiest man in the world. To hold this lovely woman in your arms every night would be the most marvellous thing. Por un beso - ah what a beautiful creature she is! I adore her.
I saw homecoming concert of Gloria and again her most recent. She is everything singer, performer and personality. She took me on a musical journey from pop to traditional Cuban and Latin music - she's great!
Related Lists
Best Gloria Estefan Songs From the '80s
Best Gloria Estefan Songs From the '90s
Best Gloria Estefan Albums
Top 10 Songs On Gloria Estefan's Cuts Both Ways