Selena Quintanilla-Perez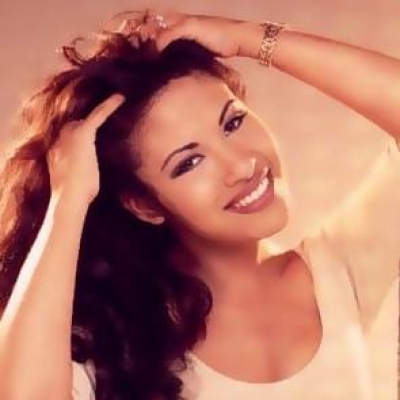 Uploaded by MontyPython
Info
Selena Quintanilla-Pérez was an American singer, songwriter, spokesperson, actress, and fashion designer.
Comments
Top
Popular
Newest
I fell in love with Selena the first time I ever saw her. When I then heard her sing my love for her strengthened from a simple crush to true appreciation of her as an artist. Selena is one of those rare individuals that capture your heart and senses before you even realize it is happening to you. I think that Selena is the best female singer of all time because of her voice and all the wonderful things she did on stage and because she is so so beautiful and sexy. She was blessed with stunning good looks and is to this day one of the most attractive women ever to have walked on this planet. I still love my Selena with all of my heart.
I watched Selena's last concert again last night. Wow could she dance! Her voice was so beautiful and strong it makes my heart soar into the sky when I hear her sing. That beautiful smile can lift you when you are sad. Her lips are beautiful and delightful and I still love her to this day. I wish she was still here giving her all to her fans again. She was the best female latin singer and was a great entertainer and such a kind and thoughtful person. I feel so sorry for her family to have this shining gem stolen from them. I love you Selena, you will be in our hearts forever.
I love her. She has a amazing voice and personality from what I can tell. She was a beautiful women and knew how show it without revealing to much of herself. She is one sexy/classy lady. I remember going to see the movie of here when it first came out and all the young teenage girls that were there were crying like babies when the movie ended. May her music live forever. RIP "SELENA" A devoted fan (Errol M. ) from Albuquerque, NM.
I still cannot believe that Selena is gone. This wonderful human being, sexy in every way, beautiful beyond imagination, full of energy, hope and youthful optimism was killed in such a terrible way. Selena was truly the best and most accomplished singer. A stunning beauty robbed of the gift of life, robbes of the chance to love. Selena leaves us with the chance still to love her. She was the best singer with the strongest voice I have ever heard. Had she lived she would still be number one - as she is in my heart even to this day. Love you Selena - bless you forever.
Selena is sexy and looks beautiful, She has her hair done in many ways but looks great with any kind of hair. Her lips are full and sexy. She has a beautiful voice, face, personality. People say that the real prettiness, is the prettiness you have inside- she has that and more as she is beautiful and a lovely human being. I love Selena Quintanilla-Perez and always will. I love you Selena, forever!
Selena is and will always be La Reina, she was great on and off stage, a real performer and a great singer unlike a lot of artists today. I wish I could see where she would be at today.
Selena is truly the queen of tejano music THE QUEEN! I'm sorry but forget everybody. She had a beautiful strong voice, she had the dance moves, and she was a gorgeous woman who was taken too soon. I hate that I was born in 2002 because I would have loved to go to her concerts and meet her. She made me want to become a singer. If I become famous, I would love to dedicate a song or something for her and her family. Nobody will ever out rank this Queen. Love you Selena and you will never be forgotten
I never saw or heard of Selena until about a year ago. I saw a video of her in a bar on some T.V. station that made me write down her name and find out about her. After going home to watch her on you tube I could not believe that you get such a great voice inside such a beautiful sexy body. I could not get enough of her face and her lovely voice. Her face was so pretty and she looked like happiness and joy and sensuality all mixed in to one heavenly package. Physically stunning. Sexually appealing and emotionally engaging - yes, I was madly in love with her! I would say I fell in love with her almost instantly and then, about a week later I found out that someone had killed this girl? Crazy! I still can barely believe it - why would you do that? She was so young. I have been trying to get everything I can about this lovely sexy lady CDs DVDs but there isn't enough around! Selena you are still the best and my heart is still with you forever.
Because of her tragic end its easy to forget how bright and joyful Selena was. I was absolutely mad about her when she was singing and performing. I didn't even like Tejano music - I just wanted to look at her. She was so pretty and energetic and enthusiastic about life and everything. And that was infectious. She lightened my life - every single day. I would listen to her music (which I didn't like) and it made me feel so good just thinking about her and visualising her. Now, I love Tejano music from Mary Rodriguez to Shelly Lares but my heart still belongs to Selena who fills my day, everyday with a little brightness.
Greatest musical artist - male OR female - EVER. Selena had a combination of talent, class and charisma that has never, and will never, be equalled. She taught us to follow our dreams, that humility is a virtue, and that the only way to love is to love with all your heart. LONG LIVE THE QUEEN!
Ground breaking Latina who dominated a male dominant genre, opened the doors for countless Latinos not only in music but all across the Entertainment industry, Stayed true to herself, didn't have to change her look nor dye her hair to appeal to a mainstream audience. She was the real deal! She makes me proud to be Latino! She an icon in the world of Music and fashion! Selena is our Elvis, Marilyn Monroe and our John Lennon all in one!
Such a wonderful singer and such an untimely end. Her smile was like a beacon of happiness and made you feel good inside. Her voice had power and sensitivity. Selene really was a beautiful girl - a great loss to music in general and Latin music in particular. Very, very sadly missed.
You can say shes the one that opened the doors for latinas to become well known in English market besides Gloria Estefan and to let women feel good and embrace their curves, the original bootylicious.
Beautiful Selena! She's an amazing woman with an incredible voice topped off with incredible love and if she was still alive and making music and selling out concerts, I would be in the front middle of the crowd cheering and screaming 'Selena, Selena'! - JudgePowers
What a wonderful girl You were Selena - so talented, so beautiful, so sexy and so inspiring. You made my life so much lighter. Just to hear your voice fills me with happiness and to see you dance fills me with love and desire. I love you Selena and I miss you so much. X
Selena was the ultimate Latina Superstar. She puts the rest to shame. Her talent and charisma were incredible, and her humility is what made the people love her. She is and always will be the best.
Selena did it all, she was the total package with a voice that never failed to get people to there feet, she would of dominated the English market
Selena is the best singer ever and she will always life on forever in our heart she was beautiful and talented and I love her a lot so, rip selena
Selena wasn't just the best Latin female performer of all time, she was better than anyone that ever lived of any genre!
Selena is the best! She opened the doors for latin female singers like Shakira, and Jlo. She is the "Queen of latin music".
Selena is and always will be the best singers. If she had crossed over into pop mainstream shed dominate both pop and latin music! As it is she did accomplish many things for example first tejano to win a grammy. First artist ever to have 5 albums on billboard charts. First hispanic to sell more than 300,000 copies on first day behind janet and mariah. If she really had lived its obvious she would be huge. Shes sold 60 million albums worldwide and it continues to sell.
Selena was one damned fine TALENTED looking' woman. Had she still been alive, she'd be up there with Mariah Carey, Janet Jackson, Madonna, Christina, and all the other top DIVAS.
So terrible that Selena was killed so young. She was a lovely person and an awesome singer and dancer. She was so pretty and her figure was gorgeous. I fancied her like mad as a kid and I still lover today. Selena forever!
SELENA IS THE BOMB! NO ONE CAN COMPARE TO THE QUALITIES AND LOVE SHE HELD.. SHE WAS A ALL STAR PERFORMER! SHE STOLE THE SHOW EVERYTIMe!
SELENA... NO ONE CAN COME AS CLOSE. Apart from been the BEST singer, dancer, she stayed humble with a smile that would draw you to her.
Related Lists
Best Selena Quintanilla Perez Albums