Selena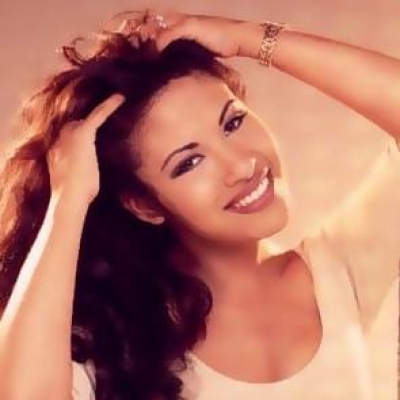 Uploaded by MontyPython
Info
Selena Quintanilla-Pérez was an American singer, songwriter, spokesperson, actress, and fashion designer.
Comments
Top
Popular
Newest
Me growing up as a kid remember listening to her all the time she is one of my inspirations and she will always be in my heart my mom and dad before I was born loved Selena and decide to name me after her and just to have the same name as one of my favorite singers makes me thankful and every weeks every day I wear a necklace with her picture in it I will always love you Selena and you will always be with me and a lot of other people for many years and one day we will meet
I love you Selena
She was the first to crossover before most of these artist and although JLo is great, she has Selena to thank for her exposure. 16 years later I still love Selena
She has had the most best songs ever! She should be number one in this list! She is so BEAUTIFUL not only that but her voice is just so perfect and sassy! I reckon if she was alive today she would be one of the world's most successful woman! I LOVE YOU SELENA QUITANILLA R.I.P! And to her family the quintania family are the BEST! SELENA QUITANILLA IS THE MOST HOTTEST, NICEST, PERFECT woman I have looked up to we all love you selena
I could say a lot of positive things about Selena, but I won't because when it comes to a contest of singing ability all you need to know is that unlike Jennifer Lopez (#3), Selena could actually sing, and unlike Shakira (currently #1), Selena could actually sing well.

But then again, this list isn't about singing ability is it? It's about popularity.
Selena is a big inspiration to me. She made a quote that the impossible is always possible. And they thought she couldn't reach her crossover success after her death, and again she proves that the impossible is possible. She still managed to come in at number even after death. She's unique and a very talented artist.
One of the most diverse and best latin peformers out there. She cleared the path for singers such as Jennifer Lopez, Ricky Martin and Shakira. Jennifer Lopez and Shakira keep Selena as their role model for latin woman.
Ah, Selena is definitely one of the BEST top Latin singers. Her legacy has reached so far. She remains one of the most important figures in latino culture. Proof is in the pudding, as she was part of "The Latin Legends" stamp of 2011. Selena forever!
She had many great qualities to her; charisma, uniqueness, nerve, and talent. She was very beautiful, and down to Earth. She headed the Latin Music explosion to mainstream America, without even knowing it. Her music, although many years old, is still be played on radio.
Selena is one of the best singers of ALL time! Though I am a fan from the UK I still know all her lyrics and dance around in my room doing all of her Selena moves. Not only was she an amazing singer but she was so humble and kind to everyone and she never took herself seriously, which is what I love! You see icons today and they are so serious but Selena was always smiling and brightening everyone's day! My favourite song of hers in her Spanish category is 'No Me Queda Mas' and 'Amor Prohibido'. They never fail to make me dance or cry. My favourite song out of her English music is 'Where Did The Feeling Go? ' which again never fails to make me cry. She was such a bright light that faded too soon but everyone to this day still continues her legacy which I think is amazing! #anythingforselenas
I love Selena so much. She is such an inspiration to me. Even though I wasnt alive when she was alive she has inspired a new generation. Selena is and will always be the best singer ever. She was so beautiful. Her music her music I love it so much. But I do really wish she would of done her English cross over. Selena will always live through her music and in our hearts. Selena is and will always be #1.
Selena is the best singer, not on this top ten, she's the best singer on the world! And I real mean that shakira don't deserve to be on place number 1... Because selena is the best! But it's ok. That is just on this list... In real selena is choice for best singer this year... So selena GOMEZ
Selena is amazing. Her music has spread worldwide and many people know of her. She is truly amazing and not many are able to expand to such great heights in such a short period of time. Rest in piece beautiful. We will never forget. We love and miss you now and forever.
I love SELENA so much! She is truly original and had actual talent, not like all the new singers nowadays. She is AND will be the BEST latin artist EVER! Her English songs are my favorites :) SELENA WILL LIVE ON FOREVER!
Selena is my favorite singer of all time. She is amazing! I love her so much and always sing her songs everyday. She is so beautiful and talented I wish she didn't have to go though. YOU GUYS MUST BE KIDDING ME IF SHE IS NOT NUMBER ONE! SELENA ALL DAY. Love you!
What can I say about Selena. One word, amazing. That voice and my god those spins! Although I may be black but I feel like Selena's music has no race. She would want everyone listening to her wonderful music. Selena should be at the very top of the page.
Selena had great range in the studio and ESPECIALLY live. When she sang live her voice never sounded tired. She would always give a strong performance all the way to her last note. She should be number 1. Hands down.
She is the best all around she has the look the voice and everything why is shakira in #1 she can't even sing live Selena will always be #1 forever all these new so called artist suck!
SELENA OPENED THE dOR TO MUSIQ FOR ALL LATINAS! SHe INSPiRED SO MANY NO mattER HOW FINANCLy LOW you ARE that with PASSIoN AnD LOVE you CAN ACHieVE fan BAse and your DREAMzZZZ
SHE WAS AND STILL IS THE BEST NO ONE CAN COMPARE TO HER SHE OPENED THE DOOR FOR SO MANY ARTIST SHE WILL ALWAYS BE MY FAVORITE QUE VIVA LA REINA DE LA MUSICA TEJANA...
SHE WAS AND ALWAYS WILL BE THE MOST CARISMATIC PERFORMER! SHE WAS TRUE BEAUTY INSIDE AND OUT. 16 YEARS LATER AND SHE IS ALIVE IN THE HEARTS OF MILLIONS!
Her Moves She The First EVER Female I Seen That Spins So Pretty & Her Dance Moves WOW! Her Voice Waz EXTREM! & Lovely iL0VE YUH SELENA Quintanilla!
Selena is what most artists today should be, TALENTED. She had the voice, the stage presence, the beauty. in my opinion, Selena deserves to be #1.
No, it's not Selena Gomez, it's another Selena. Selena Quintanilla is a better singer than Selena Gomez, even thought I love both of them. We will miss you, Selena
Selena should be #1. I can't take this poll seriously with J Lo and Ricky Martin ranking higher than Selena.
Selena was a natural performer that "sang from the heart" and to me she will always remain The Queen of Tejano.