Best Lyricists in Rock
The Top Ten
John Lennon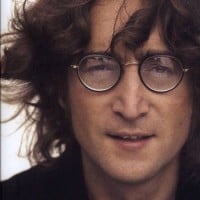 John Winston Ono Lennon, MBE was an English singer and songwriter who rose to worldwide fame as a co-founder of the Beatles, the most commercially successful band in the history of popular music. He was assassinated by Mark David Chapman on December 8, 1980 at age 40.
Brilliant is every way. Across the Universe is other worldly and is beyond words. Nowhere Man is an anthem for all of us who struggle at some point. His Christmas song has a poignancy and a proactive message that tops all others and Imagine is beyond brilliant in terms of it's effective way of capturing and identifying what drives people apart...religion and a fierce and childlike nationalistic pride.
John Lennon was the best at everything. He was an amazing lyricist and had more heart, soul, unflinching honesty and creativity than any other writer!
Geez! The Beatles were a POP band, not a rock band. John Lennon was a good lyricist, but he wasn't the only good lyricist. Beatlemania is alive and annoying on these top tens lists.
Inspired, other worldly, cutting edge poetry from this amazing man, never anything less.. He was the best! 1
Roger Waters

George Roger Waters is an English singer, songwriter, multi-instrumentalist, and composer. He is mostly known for being the secondary lead vocalist and bassist of Pink Floyd.
While Gilmour was the soul, Roger was the brain behind one the most magical bands ever.. Pink Floyd.
Makes you wonder that is it possible to convey so much with just a few words...

And if the cloud bursts, thunder in your ear
You shout and no one seems to hear.
And if the band you're in starts playing different tunes
I'll see you on the dark side of the moon. ---Brain Damage

How I wish, how I wish you were here.
We're just two lost souls
Swimming in a fish bowl,
Year after year,
Running over the same old ground.
What have we found?
The same old fears.
- Wish You were here

Bleating and babbling I fell on his neck with a scream.
Wave upon wave of demented avengers
March cheerfully out of obscurity into the dream. ----- Sheep
His lyrics like to deal with the hard topics, evident in some of his best work. Like, for example. Dark Side of The Moon. there, it deals with mortality, insanity, greed, and the fact that we can either waste our lives and leave a bad mark, or make a positive effect, no matter how small it may be.
Best lyricist the world has ever hasn't the pleasure of seeing. His lyrics can be applied to past, present, and future life. They have the power to change people. Should be number 1 in my opinion.
In my opinion he's number one. He's a genius I want my lyrics to be like his
Bob Dylan

Bob Dylan is an American singer-songwriter, author, and artist who has been an influential figure in popular music and culture for more than five decades.
The most inspirational and metaphorical lyricist that has ever graced this earth.

Darkness at the break of noon
Shadows even the silver spoon
The hand made blade, the child's balloon
Eclipses both the sun and moon
To understand you know too soon
There's no sense in trying.

Come on.

Then morrison, cobain, Maynard, waters.
Bob Dylan at number 4? This is preposterous. Bob Dylan is the best lyricist of all time hands down and without question. He was more than the voice of the generation, he was one of the best poets of all time. If you could ask any of the 3 writers listed above him, they would all say Bob Dylan is the GOAT.
He is the best. Half of the songs that made some other bands famous were written by Bob Dylan he just wasn't a great singer.
How is he not #1. Both Lennon and Waters would be the first to stay it is absurd they ahead of their writing Idol Dylan.
Pete Townshend

Peter Dennis Blandford "Pete" Townshend is an English musician, singer, songwriter, and multi-instrumentalist, best known as the lead guitarist and songwriter for the rock band The Who.
I love Pete Townshend's lyrics and how they weave through his music. I am happy to see him high on this list. Some other list had him way down or not at all! Probably should be one or two behind Dylan, although I think his music is more listenable than Dylan's. Paul Simon and Elvis Costello after them.
Pete Townshend's song: "Come To Mama" " It's hard to write about Townshend's songwriting and not simply copy and paste his poetic lyrics "His pride is like a bandage/He is wrapped in a warm cocoon/His pride is like heroin/He is back inside the womb His pride is like an ocean/Encircled by a reef/His pride's a hypnotic potion/His memory is a leaf Her pride is like an armor/Flaming ring of fire/Her pride is like a blindness/An ever tightening wire Her pride is like a razor/A surgeon's purging knife/Her pride is like a censor/She's slashed out half her life"

Album: White City
Pete is the best writer of his generation when tackling the issues of teenage angst.
Best lyricist...probably only behind Bob Dylan. Listen to his compositions like Behind Blue Eyes,We Won't Get Fooled Again,My Generation,etc;. Also he was the main guy with the idea of "rock operas" like Tommy and Quadrophenia
Kurt Cobain

Kurt Cobain was born February 20, 1967, in Aberdeen, Washington. In 1987, he started the grunge band Nirvana, which became one of the most successful bands ever. He was a talented yet troubled grunge performer. Kurt Cobain became a rock legend in the 1990s with his band. He committed suicide at his ...read more.
Kurt should be at first. Some people find his lyrics non sense. But if listen him and try to under understand his words you will find that he is the best... And in his songs he takes out all his feelings...
"Throw dwn you're umbilical nuece
So I can climb right back"
Maynard James Keenan

Maynard James Keenan, often referred to by his initials MJK, is an American musician, record producer, winemaker, and actor, best known as the vocalist for Grammy Award-winning progressive metal band Tool. He also is the singer of A Perfect Circle and Puscifer bands that vary in style.
I put Keenan right up there with Dylan. Completely different styles and it comes down to preference. As far as the hard rock/metal genre goes, he's at the top of the food chain. I love the variety of MJK's writing. His catalog hits all levels of human emotion as well as tackling traits and obstacles that keep us from growing. While I feel his best work is with Tool, his writing with APC and Puscifer is also strong. Tool is definitely an acquired taste that takes several listens to fully appreciate. Those who find the time and patience will be rewarded!
Lyrical genius. Never would have expected to have seen him at #1, and I think I'm more pleased with this list for that reason than any other list on the top tens. No wonder it takes 5 years to make their albums! It's music you can really connect with, and have fantastic meanings. He is also a magnificent singer as well. This list shows that it's maker at least knows what he/she is talking about.
Maynard's lyrics are like an Ogre, they have layers. Is that how the saying goes?

Many - maybe even most - of his songs are thoughtful, funny, provocative, and emotional all at once. That alone takes tremendous skill. Additionally, he uses less end-rhyme than almost any other popular singer aside from Ani DiFranco.
Kurt cobain #1, are you kidding me? Maynard James Keenan is the greatest lyricist of all time. Period. No questions. Hands down. This guy runs 3 bands, all are stellar. Kurt cobain couldn't even keep his own life. I think he was murdered, still if he was here today he would've gone down the tubes. Where's Maynard? Still #1!
Jim Morrison

James Douglas "Jim" Morrison was an American singer, songwriter, and poet best remembered as the lead singer of the Doors.
Jim morrison should be 2nd after dylan. Possibly the most intelligent and poetic rockstar ever.
Break on through to the other side. Enough said.
The End, Celebration of the Lizard to name a few.
Squirmin like a toad seriously.
Paul Simon

Paul Frederic Simon is an American musician, singer-songwriter and actor. Simon's fame, influence, and commercial success began as part of the duo Simon & Garfunkel, formed in 1964 with musical partner Art Garfunkel.
James Hetfield

James Alan Hetfield was born on August 3, 1963. He is an American musician, singer and songwriter known for being the co-founder, lead vocalist, rhythm guitarist and main songwriter for the American heavy metal band Metallica.
He kicks any of the top ten writers' asses. Maynard is an acid tripped dumbass. Jerry is good but not that good. Bob Dylan is way overrated. Trent is just okay. Kurt was a little heroin junkie who couldn't make sense to save his life. (He proved it) Eddie Vedder couldn't even comprehend a rhyme or consecutive lines that aren't their own little sentences. John Lennon was good but way overrated considering it was just the acid talking, but his acid talks better than Maynard's.
"Dylan is way overrated". - again someone here doesn't understand the proper use and concept of "overrated". It doesn't mean someone/something that an individual (you, the visitor quoted here) doesn't care for or have an appreciation for (perhaps a very limited knowledge of as well. Dylan won the Nobel Prize for literature. His lyrics are acclaimed by an abundance of those in the music industry and beyond. The existence of a few who disagree with the praise he's given and deserves does not constitute any validity to a claim he's overrated. The majority evaluation is overwhelming - your individual opinion is irrelevant in determining or claiming that he's overrated.
His lyrics are a lot more complicated than people seem to notice. After the first 2 albums, metallica songs had very deep meanings. Although even lyrics to early songs like jump in the fire consist of fun yet complex lyrics
If you didn't vote for James, you better have never listened to Metallica.

If not look up a lyric video of One or The Unforgiven
James should be #1! His lyrics kick ass!
Jerry Cantrell

Jerry Fulton Cantrell Jr. is an American musician, singer-songwriter and guitarist best known as the founder, lead guitarist, co-lead vocalist and main songwriter of the rock band Alice in Chains.
You my friend
I will defend
And if we change, well I
Love you anyway

I love alice in chains lyrics.. they're so emotional! I think I'm gonna cry...
"I live for you but I'm not alive... "
The Contenders
Bono

Paul David Hewson, known by his stage name Bono, is an Irish singer-songwriter, musician, venture capitalist, businessman, and philanthropist. His original nickname was Bono Vox which means "big voice".
"what more in the name of love"
Paul McCartney

Sir James Paul McCartney is an English singer-songwriter, multi-instrumentalist, and composer . With John Lennon, George Harrison, and Ringo Starr, he gained worldwide fame with the rock band the Beatles, one of the most popular and influential groups in the history of pop and rock music .
Only 12? I mean he's worse lyricst than Lennon, but he was one of the first songwriters to write more mature songs like For No One, She's Leaving Home, Eleanor Rigby, Yesterday.
Number 12? Paul McCartney should be at least in the top 3
Michael Stipe

John Michael Stipe is an American singer, songwriter, film producer, music video director, and visual artist.
Just listen to well um... ANY SONG
Axl Rose

William Bruce Rose Jr., better known as 'Axl Rose', is an American singer born on February 6, 1962, in Lafayette, Indiana. He Is the founder and lead singer of the hard rock band Guns N' Roses. He is a celebrated but controversial figure in the world of rock.
Axl is one of the most underrated lyricists in rock. Coma, November Rain, You Could Be Mine and Civil War is some of his best work lyrically
How Axl isn't at least in the top three is beyond me. Definitely the most underrated lyricists of all time. Simply outstanding
Try to listen to Coma and then we'll talk
Bernie Taupin
To have Bernie Taupin at 15 is total disrespect to one of the greatest lyricists of all time.
He should definitely be in the top 5, if not the top 3 lyricists of all time.
Has to be in the top 5.
Complex and innovative when most hits were written for three chords
So underrated.
Neil Peart

Neil Ellwood Peart, (September 12, 1952 - January 7, 2020) was a Canadian musician and writer best known as the drummer and primary lyricist of the rock band Rush. Peart received numerous awards for his musical performances, including an induction into the Modern Drummer Hall of Fame in 1983, making ...read more.
Thoughtful and explicit, Neil is able to tackle both philosophical and personal topics with beauty and precision. His writing was never tired or cliche. It is inspirational, descriptive and thought-provoking.
Listen to songs such as limelight, the pass and prime mover etc and the lyrics will blow your face inside out.
Heavily influenced by the Greeks and Shakespeare, but unique on his own as well...
His lyrics really "deviate from the norm"
Alex Turner

Alexander David "Alex" Turner is an English musician. He is the lead vocalist, guitarist, and principal songwriter of the English rock band Arctic Monkeys.
This man has made and continues to make some of the most profound and moving pieces of literature through his amazing storytelling capabilities in his music. He should be way higher
He might be on 17, but unlike the others in the list he is contemporaneous. the album humbug is a lyrical masterpiece and he deserves a higher place in my opinion.
the best
Don't get me wrong, I am a huge fan of some of the people listed above but Alex's lyrics are so creative and beautiful, how can you list him this low
Freddie Mercury

Freddie Mercury (born Farrokh Bulsara, 5th September 1946 - 24th November 1991) was a Zanzibari-born British singer of Indian descent, songwriter and record producer, known as the lead vocalist and songwriter of the British rock band Queen. He also became known for his flamboyant stage persona and four-octave ...read more.
He should definitely be higher, he did make one of the best songs in history and that is even stated.
He will be easily higher if you create a remix where you put him #1.
25th? I don't believe this!
Layne Staley

Layne Thomas Staley was an American musician who served as the lead singer and co-songwriter of the rock band Alice in Chains, which he founded with guitarist Jerry Cantrell in Seattle, Washington in 1987. Alice in Chains rose to international fame as part of the grunge movement of the early 1990s. ...read more.
One of the most honest song writers of my generation. He bared his soul and then delivered it to us with the most beautiful melodies. The songs he wrote with Jerry Cantrell and his work on Mad Season is the best.
Layne's writings and his collaborations with Jerry Cantrell were the stuff of legend. These guys were amazing song writers, so honest. Still enjoy listening to them today.
He was the man who combined grunge with glam metal with his touching voice and heart through lyrics just like Cobain...
Zack de la Rocha

Zacharias Manuel "Zack" de la Rocha (born January 12, 1970) is an American musician, poet, rapper, and activist best known as the vocalist and lyricist of rap metal band Rage Against the Machine from 1991–2000, and after the band's reunion in 2007 until their last show in 2011. He left Rage Against ...read more.
Zack's lyrics contains such a meaningful lesson of our world and I'm so glad that he got number 3(however he should've gotten higher).
Eddie Vedder

Eddie Vedder is an American musician, singer and songwriter best known as a member of the rock band Pearl Jam, with whom he performs lead vocals and is one of three guitarists.
Defiantly should be higher. He is a mastermind. He has the ability not only to write about his own experiences but also those of others. Jeremy, better man, the end, yellow Ledbetter, why go, all songs about others experiences
I can't believe eddie is on 8!
I love his work on into the wild soundtracks
N songs like
Yellow ledbetter
Black
Jeremy
Better man
Deep
Even flow
Last kiss
Breath
Just breath
Actually all of his songs...
He is amazing lyricist
The only reason many of theese artist are higher is because they're dead. I love Kurt cobain so much but to say he is a better lyricist than Eddie who has been doing it for such a longer time and has produced in quality for so long
Eddie is just the best. Songs like Corduroy, I got ID, Black, Light years are masterpieces
Morrissey

Steven Patrick Morrissey (born 22 May, 1959), known as Morrissey, is an English singer, songwriter and author, rose to prominence as the lead singer of The Smiths, an indie rock band - which was active from 1982 to 1987 . Since then, Morrissey has had a solo career making the top ten of the UK singles ...read more.
How is Morissey so far from the number one? It's almost outrageous. He penned some of the best lyrics in english language. His realistic, sometimes cynical poetries are something out of this world. Even if you're not into his song it's obvious that the guy's very good at it

"I was looking for a job, and then I found a job / And heaven knows, I'm miserable now / In my life, why do I give valuable time to people who don't care if I live or die? "

"If you're so funny, then why are you on your own tonight? / And if you're so clever, then why are you on your own tonight? / If you're so very entertaining, then why are you on your own tonight? / If you're so very good-looking, why do you sleep alone tonight? "
22! ARE YOU KIDDING ME! He's easily one of the most influential lyricists of all time! "I'm the sun and the heir of a shyness that is criminally vulgar" - not one mind in the above 21 can ever come up with lyrics this painfully distinct! People PLEASE listen to every artist before rating! Not merely rate your favourite artists. as a die-hard brit music fan this is a pain to see!
Brandon Boyd
You stare at me like I'm a vitamin
On the surface you hate,
But you know you need me.
I'll come dressed as any pill you deem fit.
Whatever helps you swallow the truth,
All the more easily.
Imagine your brain as a canister filled with ink.
Now think of your body as the pen where the ink resides
Fuse the two; kapow! What are you now?
You're the human magic marker,
Won't you please surprise my eyes?
Trent Reznor

Michael Trent Reznor, known professionally as Trent Reznor, is an American singer-songwriter, record producer, and film score composer. He is known for his intense music videos.
Trent shares the darkness of the human heart and mind through his lyrics... His words are top notch and wickedly enticing!
Davey Havock
davey's lyrics don't describe emotion, they express emotion
PSearch List