Roger Federer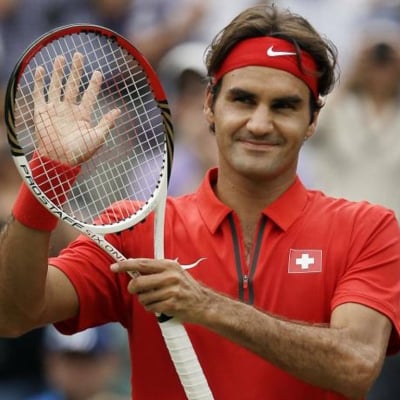 Found on roger-federer.org
Info
Roger Federer (born 8 August 1981) is a Swiss professional tennis player who is currently ranked world No. 3 in men's singles tennis by the Association of Tennis Professionals (ATP). He has won 19 Grand Slam singles titles, the most in history for a male tennis player. He has held the world No. 1 spot ...
read more
.
Comments
Top
Popular
Newest
There are four types of tennis specialists: clay court professionals, hard court athletes and grass court players, the fourth is outside of this world... FEDERER! People have said that he has had back problems and injuries... Because of all the trophies and grand slam events he has won and lifted up for the crowd to speculate. He is one of a kind and a true champion and ambassador for the game! The most stylish and eloquent player on the tour, you can go on for another generation Fed
inspite of setbacks, he keeps givin his best! He's is awesome.
Federer will always be the king of tennis. Nadal and Djokovic are the hard hitting players of this generation, but federer just makes it look so easy. What federer brings to the court is finesse and pure genius. He doesn't out hit his opponents, he just out smarts them. Federer will forever be one of the greatest players who ever lived.
Nadal may be a better athlete, but Federer is by far a better tennis player. Nadal wins because he struggles and fights for every point. Federer wins because he is the most talented. Federer is probably the laziest player out there, but he still wins. This tells you just how good he is. Vive Roger, vive le roi!
Federer is an all time great. He has all the shots and the success and the personality of a legend. Federer can beat anyone when playing his best tennis. Djokovic may try to claim the best player ever title but Federer has shown that he is the greatest player of all time with his amazing talent and attitude. His game is artistic and he is graceful in win and defeat. Federer deserves this title because of his amazing success.
His Serve, His handling of Big Servers, His Forehand, Sometimes even his Backhand, his (usually) humble attitude, and his ability to win on all surfaces makes Roger Federer the GOAT in my Opinion.

I am personally a Roddick/Gonzalez fan. But I love Federer too! GO ROGER!
He is a natural successor to Pete Sampras and is the greatest all rounder in the sport. His forehand is the greatest shot in the sport. He made tennis interesting and worth watch, and it will be a shame when he hangs up his racquet which I hope won't be for a few more years.
He was already the greatest male tennis player ever, and then 2017 happened. Dominating the world aged 35-36 and finally solving the riddle of how to beat his greatest rival Nadal. This makes him far more than just the greatest male tennis player, it might even make him the greatest athlete across all sports.
He has won a Grand Slam for a record 17 times. He dominated Tennis for so many years which no other tennis player can say. But, what really makes him the greatest player of all time is his ability to keep performing even when people say his carear is over. 2015 was said to be the year that Federer starts to lose his flairas he is already past 30, but he has proved all doubters by constantly being a contender in grand slams, getting to two grand slam finals and maintaining his world number 2 position. In my opinion there never has and never will be a player that can stay at the top of the sport for so long.
Most definitely the greatest tennis player of all time. Poetry in motion watching him play. All of the great players of all times has a rhythm of grace that makes your heart explode. We all are very fortunate to witness a true champion on and off the court. One of the greatest role model ever.
At the end of 2017, Roger has won 19 slams, including his 8th Wimbledon this year, 14 years after his first, and 24 days before his 36th birthday. In addition, his style, elegance and inventiveness on court are unequalled, and he is also loved, as well as being universally respected.
Federer is the all-time king of all surfaces, except clay, where he is a close second. Nadal is ONLY the all-time king of clay, an absolute clay-freak, but that's all he is and all he will ever be.
Federer is the king of all courts, EXCEPT clay, where he is #2. Period. His Spaniard arch-rival is no doubt the best clay player ever, BUT THAT'S IT. Federer is the epitome of elegance, effectiveness, class, style, grace, PERFECTION. Nobody even comes close. His younger rivals can barely beat him nowadays (2012) just because of their physical fitness, Roger being 31 and #1 ranked nonetheless (Oct 2012), not because their better tennis. When Federer retires, the world of tennis will suffer from a HUGE irreplaceable void!
He is truly a class tennis player with immense talent and great athletic abilities. His start to this year 2017 is remarkable and as an ardent fan I wish that he would go on to add at least a couple of grand slams to his credit... May be more... God bless him
Roger Federer at his best is the best player I think we have ever seen. The way in which he plays the game with great panache and flair is why he is both the greatest and the most popular player, although I have great respect for Nadal.
Laugh out loud... Federer is Ranking number one here too.
After all, all these sport Stars are but entertainers, and there is no better entertainer than roger Federer in Tennis. He will be remembered, say in 2037 as the player who brought Magic into the profile of the sport itself!
he might have a negative record against his greatest rival but when it comes to tennis there is federer and then theres the rest of them.
Roger Federer is a more complete tennis player and more gifted that Nadal. Nadal can handle better pressure and seem more determined than Federer on some plays but Federer is more gifted and has beaten Nadal only with his impressive back hand at australian open 2017. Nadal had a advantage before against Federe because he was left handed and could return.
Just think, if Nadal was not there, he would've had no competition whatsoever! Truly great and none more stylish. Do not forget about being an absolute gentlemen even of court!
Roger Federer has won 17 Grand Slams, WOW! He is an impressive player, nice backhand, nice strokes. I love how he plays, the world does.
Roger I saw you and andy this October in shanghai. You were amazing even you didn't win. However I just love your tennis talents!
King of tennis most elegant player ever to watch you love him when he is playing tennis best ambassador of tennis ever - Maklet901
he may have been defeated by nadal in 14 from 21 matches but he has much more grand slams and grand slam finals from him
He's the best tennis player ever! Just love the way he plays... He is definitely the GOD OF TENNIS... He has already won 19 grand slams... What else does anyone have to say about him?!
Feeder has the most grand slams. He can beat anyone if he sets his mind to it. In 2013 he was 8 in the world. At the beginning of 2014 he is NOW 4 in the world - Lenny8602