Best Members of Guns N' Roses
From the very original members to the current members or GN'R and everyone in between, who is the best?
The Top Ten
Slash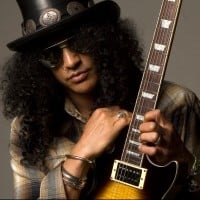 Saul Hudson, known professionally as Slash, is a British-American musician and songwriter. He is best known as the lead guitarist of the American hard rock band Guns N' Roses, with whom he achieved worldwide success in the late 1980s and early 1990s.
Slash is so cool best guitarists with or without Guns n roses he still rocks. Maby in the future he will reunite with Axl Rose
PHEW slash, axl, duff, steven and izzy are the best members of guns n roses. slash and izzy and duff and steven are hot as hell. don't know axl though. sorry to make girls angry. I am not gay
Slash is awesome as! LOVE HIS SOLOS! They are full of emotions and feelings! Some make people wanna cry like the don't cry solo...
GO SLASH
Love izzy duff steven and axl too!
To me M.R, Saul Hudson aka SLASH is the best guitar player when he done the solo for November rain it sent chills down my spine he also has played some great music with other bands too this man for sure knows how to make love to that guitar so it sounds beautiful just like him
Axl Rose

William Bruce Rose Jr., better known as 'Axl Rose', is an American singer born on February 6, 1962, in Lafayette, Indiana. He Is the founder and lead singer of the hard rock band Guns N' Roses. He is a celebrated but controversial figure in the world of rock.
O come on people. Without Slash the show was effected, without Axl there WAS NO SHOW! Its why Axl still fills stadiums today while Slash only plays before mediocre crowds. Axl has been most successful since the split, And is the only reason that Guns N' Roses albums have made history by being the only old album along with a whitney houston album, to outsell the new albums! Axl Rocks! He is God!
No one is a greater singer than Axl. Slash may have made most of the iconic solos of the band, but Axl was the true heart and soul of the band. He knew which songs would turn out to be good and would be successful on the music charts. That, along with vocal range truly defined the phenomenon that's Guns n' Roses
Axl Rose wrote the most beautiful songs for the band, not Slash. Don't confuse playing the guitar and flaunting masterful solos with the art of making emotionally powerful and great songs. A song is not just guitar. Rose gave a song everything that Slash could not give.
Axl Rose is the best, when Guns N' Roses is on stage, all eyes are glued on him. He is also very kind, the most interactive with fans (shakes their hands, wears their gifts on stage, tells stories for inspiration), Axl Rose doesn't deserve the mean things said about him
Izzy Stradlin

Jeffrey Dean Isbell, better known by his stage name Izzy Stradlin, is an American guitarist, singer and songwriter.
He's a really good guitarist and he doesn't get enough credit for that. Also, he's the hottest one
I love Izzy so much! He's the secret weapon of the band and (unless you include Chinese Democracy) has better solo work than Slash or Duff. His songwriting within Guns N' Roses was also exceptional, and he did a lot more on the songwriting side than Slash did.
A lot of writing stuff comes from Izzy... When he left, the only record Guns N' Roses made was an album full of covers... Izzy, I think, was a big inspiration and great composer for the band.. He's so underrated
Izzy is just as good as a guitarist as Slash. My two favorite Guns N' Roses songs are My Michelle and Mr. Brownstone, Izzy wrote the music for My Michelle, also Slash and Izzy wrote the music and lyrics together for Mr. Brownstone. This has nothing to do with the music, but he is definitely the hottest member.
Duff McKagan

Michael Andrew "Duff" McKagan is an American musician, singer, songwriter and author. He is best known for his twelve-year tenure as the bass guitarist of the hard rock band Guns N' Roses, with whom he achieved worldwide success in the late 1980s and early 1990s. McKagan rejoined the band in 2016, following ...read more.
The glue that held these guys together. Without him, there would be no guns. He introduced the parties of axl and izzy to steven and slash! Also, his bass style was highly influential and badass. A funky pick player with some killer tone. Also, a great songwriter. "So Fine," anybody?
Duff is good at everything...he plays drums, bass, guitar, and sings. He also writes (I LOVE "So Fine"). He's also a nice guy (guess he balanced Axl then), intelligent, and very hot! Also, he was a major orchestrator of the reunion tour.
My inspiration to play bass.
GO BASSISTS I respect anyone who plays bass. Such an underrated instrument...
Steven Adler

Steven Adler is an American musician. He is best known as the former drummer and co-songwriter of the hard rock band Guns N' Roses, with whom he achieved worldwide success in the late 1980s.
Steven Adler made all the happiness in their music, his drumming are maybe not technically the best, but he is playing with so much power, love it m/

Look at him when they are playing at the ritz in 1988, he is the happiest man on stage ever!
He brought the bands energy when he left they were never as fast or fun
He was and still is GREAT, all you have to do is look at Live at the Ritz in 88. Simply amazing
Steven has rhythm and a certain "wow" that you just don't see in many other drummers, but the greats.
Buckethead

Brian Patrick Carroll, known professionally as Buckethead, is an American guitarist and multi-instrumentalist who has worked within many genres of music.
He is the best guitarist of all time, so best member yes. However I love Slash too, if he stayed for the Chinese Democracy album it would be pure hold, however it is still amazing as it is!
Bucket head is trash
Crap, I forgot Buckethead and voted for Slash. I'm SO SORRY BUCKETHEAD!
Seriously surprised how no one has heard of this guy.
Ron Bumblefoot Thal
Very underrated Guitarist. Does a great job. I like the industiral sound he brought to guns nr oses and the solos in Chinese democracy album are insane but not as good as slash
Dizzy Reed
DJ Ashba
He looks like a Slash sellout but MORE tattoos
Yeah,but look at him now!
Richard Fortus
Fortus doesn't play guitar, he makes love to it.
He looks so much like Stradlin! I couldn't tell the difference!
Richard Fortus is an amazing guitarist, no doubt about it. He's almost as good as Slash.
The Contenders
Matt Sorum
Matt Sorum is the best drummer that has ever been with Guns N' Roses, at least on a technical level. As much as I love Steven and what he brought to the band, the drumming patterns themselves were usually fairly simple. When Matt stepped in, not only was he able to capture that raw energy that Steven was known for, but was able to bring in much faster, intricate and complex patterns on the Illusions albums. Besides, anyone who's first gig with a band is Rock in Rio and crushes it deserves mad respect.
Tracii Guns
His last name is punned onto the band name
Frank Ferrer
Gilby Clarke
Come on gilby clarke is amazing I know he isn't best member but deserves to be top 10
Robin Finck
Josh Freese
Multi talented across various genres
Melissa Reese
Ole Beich
Ole Beich Rules! What a Bassist! What a Legacy!
R.I.P Ole!
Paul Tobias
Bryan Mantia
Chris Pitman
Tommy Stinson
BAdd New Item