Lars Ulrich (Metallica)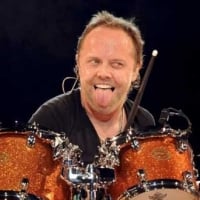 Found on metallized.it
Info
Lars Ulrich is a Danish drummer and one of the founding members of the American thrash metal band Metallica.
Comments
Top
Popular
Newest
The Rev is highly influenced by Lars. Without lars around he wouldn't play drums.
Metallica is the greatest but Lars isn't.. Shouldn't be top 10.. And the Rev should not be higher than 5
Well, Lars used to be a great drummer and also amazing artist. Lots of drummers were influenced by his drumming. But, let's be honest people. He doesn't practice much even he realized that his skills have been damaged through years and he can't even play his own songs such as Dyers eve. He admitted this fact in one of his interviews and I also consider recent Lars not an amazing drummer.
Lars was a legend back in the day. He may not be as great as he was back then, but no other drummer sounds like him. No other drummer has the awesome bass pedal tone like Lars does. He had some very good complex parts and his style of drumming is very influential. He's not my personal favorite but he deserves to AT LEAST be top 3. I love Lars. I love Metallica m/
Lars is a remarkable drummer. Just listen to any song of Metallica's and listen how he switches constantly to different time signatures. Anyone who is a true Metallica fan would know that. Lars has his own unique style even after over 25 years no one can match his exact style of playing, he is untouchable in a way. I can't say he is the world's best drummer but he does deserve the top 5 spot he is in now.
Lars at his best, back in the day, was great. But as the biggest overrated sell out Metallica fan boy of all time, he overplayed his role after the Black album. As the individual rightly points out, Metallica are the greatest band of all time, but I have always regarded Dave Lombardo as the greatest drummer in metal history.
"Hey guys, I'm a metal head and Lars ulrich sucks."

God those people annoy me. Yeah sure, Lars isn't the best drummer in the world, but the majority of modern metal drummers cite him as an influence, so screw all you haters. You want proof that he's not that bad of a drummer? Fight Fire With Fire, One, Dyers Eve. - MetalFoREVer1228
Lars has been setting the trend and style for Heavy Metal drumming for over 30 years and the above mentioned have been fortunate enough to follow and learn from the Master and that's why Metallica are the most successful Heavy metal band of all time.
Beast drummer who inspired a new wave of drummers that characterize metal today. Listen to St. Anger (not talking to fake Metallica fans who hate the song), Battery, Dyer's Eve, Damage Inc., My Apocalypse to understand the godliness of this monster.
True, he might not be the most talented of them all, but definitely who puts his heart and soul for every song, and that's what makes him an awesome drummer.
I voted for Lars because he plays in such a way that it just blends in the music. If this was the list of fastest drummer then he is a no no. But since this is the list of best drummers, he gets my vote. Fast doesn't make good bros/girls. He has contributed the band to be one of the best band ever. Just name a song in which he doesn't do the perfect match to the riff and vocals.
We all who voted know that lars isn't the best and we also know he deserves his place here but lemme tell you a thing... Why every body who votes for his band criticize the guy from metallica... Its jealousy you know that metallica is number 1 band of all time but you still think you can fight it back
Lars Is Not That Bad Drummer. Saying he's Horrible? He Has Monster Bass Sound. Listen To And Justice And Even The New Albums And Compare To Those Same Speed Drummers. Snare Sound That Is Unique. he's Better Than Lombardo. Fills Per Minute And Cymbals Every Second. Slayer needs Paul Bostaph..
Lars Ulrich were suppose to be at no. 2 or 3. Because without him, there will not any thrash and fast beat in metal. I strongly agree that dave lombardo should be at number 1 because of his fast and heavy beat. The rev? He should be where Lars is now, No.4. Joey, Should be where Dave is, no.3. And the no.2 spot the pioneers like Lars Ulrich or Dave Lombardo...
Every time I listen to Lars, no matter how many times I've listened to a track before, I hear something that surprises me, and is intricate and hard as hell. What wins it for me is his musicianship. Knows when to bring it on and when to back off. You notice the music first, as it should be.
Lars is great. It's popular to insult him, but Death Magnetic is incredible. I can't think of a single drummer that puts more creativity into their tracks save Neil Peart.
Just because he influenced other great drummers does not mean he should be high up on this list. This list is about his skill as a drummer not how he influenced people. George Kollias deserves this spot and even higher spots than this clown.
I don't know if he deserves the place #1, but he was for sure the main reason why so many drummers started playing drums. And I guess people also shouldn't only notice the skills but his composing skills as well. So I am voting for Lars!
He is best should be at number 1 check his work from kill em all too death magnetic he is best and name of Metallica is enough...
Metallica is best band of this world and Metallica will live forever... As I will give my life to all of them... Just I need more albums
. . Joey is the fastest, Rev is equally good with joey but Lombardo, Lars and Portnoy technically way ahead of them in my opinion. But over the years, I can't find any drummer as creative as Lars.
I always thought that Lars was the best drummer ever until I heard Neil Peart play. But I still think Lars is the best metal drummer of all time. But Neil is the greatest drummer of all time.
They were actually gonna kick him out after master if puppets but then cliff died so he picked his drumming up with... And justice for all but he really is not that good
Metallica wouldn't have been the same without him! Man he is just one of the best writers of beats and in every song of Metallica we can simply see how different and creative his drumming is! Hey may not be the fastest but he is surely the most talented one! - rahulsharma1
Lars is so overrated. How can you say he's better than Mike Mangini, Mike Portnoy, Danny Carey, or Thomas Haake? People who say Lars is the best must not play drums
Lars ulrich sucks and is a disgrace to metal and drumming in general. He should've stuck with tennis. And the opposite of a pro bro. He's the kinda guy that you keep around to ask him what to play, then do the opposite.
He is so overrated. Not top 10 at all - ryanrimmel
People said Lars Ulrich is a lazy drummer. Actually he is not. He style in playing drums is the best. Like dave lombardo said Lars plays drum with his own style. That's all