Mike Portnoy (Dream Theater, Liquid Tension Experiment)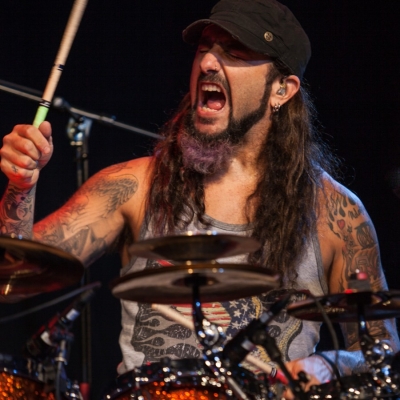 Found on metaladdicts.com
Info
Michael Portnoy is an American drummer primarily known as the former drummer, backing vocalist, and a co-founder of the progressive metal/rock band Dream Theater. Known for his technical skill as a drummer, Portnoy has won 30 awards from the Modern Drummer magazine.
Comments
Top
Popular
Newest
First of all... Mike Portnoy is the youngest person ever inducted into the Modern Drummer Hall of Fame. Just take a look at who else is on that list... MP is the only metal drummer on there. What mike actually plays is insane, the dance of eternity is crazier that anything anybody else on this list has done. I'm not a huge fan of his live drum solos but some of them are pretty cool. His use of odd-time signatures is deadly, and his use of effects cymbals on off beats and accents are just unreal (intro to 6:00 for example)
Look, I love Avenged Sevenfold and admire The Rev to the greatest extent, in fact, I consider The Rev an inspiration to me, being a drummer, but Mike is just OUTSTANDING! He's like a drum god! Don't believe me? Listen to ANY Dream Theater song or the Avenged Sevenfold album "Nightmare". As much as I WANT to vote for The Rev, I have to admit Mike is better. Nothing personal, Jimmy...
What the hell is joey jordison and the rev doing on this list? Joey jordison is overrated and hides behind triggers. The Rev might have ended up better if he was in a better band (he outclassed a7x by a huge margin) He's still not better than Mike portnoy, Mike Mangini, Dave Lombardo, Gene Hoglan, Thomas Haake, George Kollias, Vinny paul, Danny Carey, Bill Ward, Mario Duplantier, Martin Lopez, Brann Dailor, Scott Travis, Chris Adler, Vergil Donati and many more. This List is a joke. And What retard in the slayer section said that slayer weren't mainstream. Are you actually for real? There's a reason their in the big 4 you know. John Dolmayan better than George Kollias? I Don't want to live anymore...
Listening to Mike Portnoy playing the drums, reminds me of Neil P. Of Rush. The abilities to change up the tempo, from soft and slow to hard and fast, throughout songs, is amazing! After Avenged Sevenfold lost the Rev, who was another kick ass drummer... They brought Mike on board... That says a lot in itself, that the band also believed in Mike's awesome talents!
By far the best metal drummer of all time. I want to mention his other competitors in metal drumming, so here is my top 10:

1. Mike Portnoy (Dream Theater)

2. Dave Lombardo (Slayer)

3. Thomas Haake (Meshuggah)

4. Danny Carey (Tool)

5. Joey Jordison (Slipknot)

6. Bill Ward (Black Sabath)

7. Nicko McBrain (Iron Maiden)

8. Vinnie Paul (Pantera)

9. Lars Ulrich (Metallica)

10. John Dolmayan (System Of A Down)

(Also, I want to clarify that the only reason I didn't include Neil Peart in this list is because I don't consider Rush to be anything close to metal and it's not because I don't think he is good, in fact he is one of the best drummers of all time, I just don't consider him a metal drummer. Just wanted to get that point acrossed).
I highly respect dave lombardo, but he lacks the general versatility of Mike Portnoy. A7X fans, I've got some bad news... Yes the Rev was a great drummer, but he's nowhere near the legends that mike and dave are. Lars is the same thing, all metal drummers need to be great drummers, but Lars is only a little but above great. Joey Jordison is a great drummer, but he should be towards the bottom 10 on the list.
Mike should be first! I mean have you heard him play?! Honestly, I'm a big fan of all the drummers in the list but after watching all of them play different songs and solos, and have seen them play live, I think Mike is just the best! And I don't know why he quit Dream Theater.. Great band but its not the same anymore..
Wow... He's just incredible, blows me away each time I listen to dream theater. By the way, go listen to August Burns Red and Tourniquet and bring my men Matt Greiner and Ted Kirpatrick up the list. Don't let the fact that they're Christian scare you, the drummers are fantastic.
When I saw the Rev in first place, I was not surprised. Of course he's in first. He was a very good drummer with a LOT of fans. But the fact that his biggest influence was Mike Portnoy, I think that he should be in first instead. I have nothing against the Rev, but I do think there are better drummers out there.
mike portnoy is the best drummer ever. I bet these drummers above him can't even play the stuff he can. and lars ulrich is not a good drummer. he sucks so much. why do people keep thinking he is good? one of the most overrated drummers ever. anyway, portnoy is god. - deadgrass27
Mike is a tremendous drummer, period. He can do any style and do it amazingly. There isn't a better drummer out there right now that combines technical prowess, raw emotion, and precision like Mike can. You don't know his work, check it out with Dream Theater, Adrenaline Mob, Winery Dogs, Transatlantic, etc.
If you listen back all the Dream Theater albums from the era when Mike Portnoy was part of the band you can hear the great creativity that Mike has in his playing. He also has a very good sense of the feeling of every song that he plays and he always finds the perfect rhythm and fill for the need.
Mike Portnoy is best drummer in my opinion. You guys should listen his drum solo & pattern, and also her double kick bass technical process. His drumming is just so amazing. Actually he is my Dream drummer in this field.
mike is the best, just listen to Metropolis part 1, he's unbelievable, my top ten is like this
1. Mike
2. The Rev
3. Joey Jordison
4. Danny Carey
5. Bill Ward
6. Dave Lombardo
7. Lars Ulrich
8. Neil Peart
9. John Dolmayan - D2Demon
Ah, man he is so much better then lars ulrich, I don't know why he is so much underrated in this list, I mean number 6 what! ? Number 2 what be a better place for him come on guys he is so much better than ulrich all over skill's technique and speed.
Joey Jordison and Lars Ulrich have to be two of the most overrated drummers ever. And I don't get why Travis Barker is on ANY top ten list because of his work with Blink 182... Look at Mike Portnoy's composing, technicality, and longevity.
Not quite the best probably #2 but he is certainly one of the elite drummers who really know his theory and one of those drummers who great drummers look up to! - fireinside96
Portnoy hands down is the best ( my opinion of course) and The Rev was definitely great very good in my opinion probably second best and was hugely influenced by Lars Ulrich and Mike Portnoy so why are you hating on Lars? Laugh out loud
Portnoy is one of my all-time favorite drummers out there. He's incredibly talented, is a great song-writer, and has some of the best beats known to man.. Not to mention he's incredibly technical. Portnoy is the man. :-)
In my mind, Portnoy wins for not just having the power and energy to put into the music, but also insanely intricate technical prowess. I simply enjoy listening to Mike drumming more than any of these others.
The most "liquid" drummer out there. Playing cymbals like no one else. Playing original and characterize the drum kit is hard. Very hard. Mike is one of the few that pulls it off. EASILY the best drummer around!
For those of you who think somebody besides Mike Portnoy should be in first place, look up "The Dance of Eternity" by Dream Theater. If you haven't listened to it already, your mind will be blown.
To be honest for number one it's gotta be Portnoy or Lombardo, but as a DT fan this guy is a hero. His beats are interesting and technically intense, he can follow a mood and create atmosphere like no other drummer. If you've got any doubts on why this guy should be number 1 go treat yourself and listen to Honour Thy Father and In The Name Of God. Your mind will be blown.
This guy's playing technical beats in a way that you can appreciate it. Come on people there should be something wrong with this list. This guys is unbeatable. Those on top are just popular that's it.
The absoulute greatest of all time! Nobody can match his skills. He can play with amazing speed but also play slow complicated stuff, and his drum fills are amazing, just listen to honor thy father, dark eternal night, forsaken, and the shattered fortress, that's dream theater, and paradigm shift... Then redo your list