Roy Khan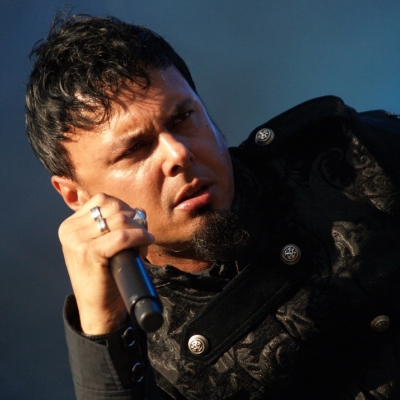 Found on metalsickness.com
Info
Roy Sætre Khantatat, is a Norwegian singer-songwriter. Commonly known as Roy Khan or simply Khan, he was the lead vocalist for the symphonic power metal band Kamelot from 1997 to his departure in 2011. He co-wrote most of Kamelot's songs with the band's guitarist and founder Thomas Youngblood during ...
read more
.
Comments
Top
Popular
Newest
Roy Khan is like no other vocalist ever in power metal and symphonic metal. The first time I heard his voice it was like no other. This voice was of a god. He is great lyric writer creating masterpieces like Anthem and Abandoned. Creating brilliant albums like The Black Halo and Epica. Roy's departure was the saddest day of my life, but I love him Til death. He adds so much emotion into the songs and creates a performance like no other legendary singer could possibly compete with.
'If the war for Heaven's gate released desire, in the line of fire someone must have known... that a human heart demands to be admired... but in the center of the Universe we are all alone'. Ignoring the fact that Roy Khan has the biggest voice register I have ever heard, he is arguably the best story composer and story teller the music world (not just metal) has ever had, and will have. He is more than a simple vocalist (of the best band ever, Kamelot, and the highly underrated Conception) but this man is an artist of feelings. He can shape them, and makes us the audience, listen dumbfounded as he penetrates into the deepest parts of our hearts with his delicate, but at the same time strong and powerful voice. We can't consider him solely a vocalist, he redefined the concept of 'singing'. Please, I love Rob Halford or Corey Taylor, but they are just that-vocalists, we aren't asking for anything else. But Roy Khan came out of this bubble, which makes him different to any other ...more
His voice unique, his performance filled with emotions, and every single note that comes out, every single, even the slightest hand movement, comes out so naturally. He was, and hoping so much for his return for this reason: he is in his element on stage, almost like he was born to sing and perform. He did it with his whole soul, body and mind. He gave it all, every time! He was for real and gave a 110% every single time. For this, I miss him so much, that words can't tell alone... I want to hear his voice again, one day... For once again. "... Just for a second more... "
Roy have been the soul of Kamelot for years and he was the reason that I got into them. Khan has a warm voice full of love and passion and emotion. He has a magic voice and will be missed dearly until he returns one day.
His range alone, especially from his Conception days, is a big part of what makes Roy Khan an outstanding and unique signer. His voice is amazing and the emotion he pours into his signing never fails to touch me even after years of listening to him. There's enough audio/video proof out there to see that he can actually sing live, and I often find myself preferring those versions. The lyrics he writes are also part of the reason why I am voting for him; his lyrics are far more profound and sophisticated than the average I encounter in metal. Although he is retired from the music industry, he deserves recognition for his amazing contributions.
You can feel his soul through his voice, and that soul is beautiful and full of emotions. He's not just a singer and a songwriter, he's a poet, a great performer and a true artist. We love you no matter what you decide to do for the rest of your life, because you've given us something so amazing and beautiful that touched our hearts, your music.
I have been listening to Kamelot since what, I was 12? Well I am not that old either. But Roy Khan's voice, unlike other singers on the list: M Shadows, or Ozzy, or Rob, his voice is always... Calm. I was so obsessed with his words and lyrics and sound after he left the band and they have Tommy as the new singer, I cry nearly every time I hear his voice again. To Roy, he doesn't need to scream and shout to be that of a great metal vocalist; to him, and to many others, including me myself, metal is the culture of the outsiders, and it is merely a way for him to sing what he believes. No matter it is what he does on stage or what he sings in the studio albums, I can always feel the power of his voice.

Though I am wondering another of my favorites, Tobias Sammet, didn't come up. But watever, Roy Khan is just wonderful. Reading what you guy say about him makes me wanna cry again, I just get a bit emotional over the whole him quitting the band and me never being able to hear him ...more
Never have I heard such a voice. So powerful, emotional, charismatic. Whether you're listening to Conception or Kamelot, his voice reaches out beyond it's limits and your expectations. One Cold Winters Night is simply the best live album I've ever heard. Simply flawless voice throughout every song.
Roy Khan is definitely the best male voice in metal world. I'm fan of vocal's of every genre especially classics and can say that Roy's voice is much more better than lot's of professional classic singers both tenors and baritones. It has so unique velvet colour you will never forget once heard...
He's the only reason why I listen to metal really. I also think that he's one of the greatest singer of our time. Sorry to say this but he's also better than those in the top ten because they're only there because they are more mainstream.
Roy Khan is one of the best vocalists I've ever heard. Listening to the new singer from Kamelot, it's obvious that he can't give us what Khan gave. His voice was able to travel far beyond anything I've heard before. From the heaviest tracks to the slowest, he always brought something new to the table, and that's what so brilliant about him. He does not sing the same way twice. He is one of the only musicians that has given me the chills, because he's able to tell stories with his singing.
He is the most extraordinary man x he shows us so many feelings and emotions, opens his heart and soul for all to see x a kind, sensitive and gentleman whom we all love to death x we wish he would return to usand grace us with his overwhelming performances that would grace any stage and genre of music and acting x and as for his musical and lyrical talent there is just no end to the poeticness of his genius x it is a pure loss to the world x we love you Roy x please come back and 'light up our lives' once again x
Trained in Opera for 5 years before downgrading himself to metal. This man truly knows how to hone his singing technique and has a rich tone throughout his entire register. He's simply an amazing blend of classical trained technique being brought to modern styles of singing.
I wept when Roy left Kamelot. I was inconsolable, but I've accepted that the man had the right to live his life. His voice will always belong to his fans in the recordings he's left us from Conception and Kamelot, as well as his guest work with Avantasia. His classical training and his ability to convey emotions without the saccarine under taste served him well as metal's leading male vocalist (of all time, in my opinion).
I've listened to music and have enjoyed metal for years. I never had a favorite band until an ex-girlfriend introduced me to Kamelot. That was six years ago, and to this day they are still my favorite band. Roy Khan is the embodiment of talent. I'm fathomed that people are putting run of the mill vocalists on here, against a legend like Roy. He has an incredible range and an impeccable style.

Listen: Memento Mori.
Simply one of the most beautiful voices in the music industry. Roy Khan put his heart and soul into every song and it is really felt when listening to his music. We lost a lyrical genius when he retired, unfortunately.
Did someone take note of the tone spectrum he can sing? Talent, charisma, stage and emotion makes me even compare him with other genders like Freddy Mercury or Michael Jackson. Good to know he could see the overwhelming fame he was gaining and took a step behind Kamelot. As a fan it was very sad, but good to know now he is happy, in peace and alive. Khan, you inspire me to practice every day.
Really great voice with very much feeling, the most feeling I ever hear in metal. I think a great vocalist should also do the hard songs and the emotion songs. Another point is that he is a great songwriter, and he has a big heart :).
Khan deserve to be higher! His voice is godlike, I think he isn't just the best metal singer, he is one of the best singers overall! He has wide range and rare voice color, also there is a lot of passion is his voice.. Listen to any Conception/Kamelot song and you will understand what I mean. He's not just a singer. He's artist, a storyteller. When he sings Karma, he isn't singer at stage, he is a king who realised he'll die like any other man.. Concept albums Epica and The Black Halo are also great examples of his thearthrical abilities. You believe he's a man who made a deal with Mephisto and lost his loved one..
Incredible voice. There is no one like him. He blew me away the very first time I heard him, and from that moment I was hooked. He gives it everything, and you can definitely hear that in his performance. It's difficult to explain, but he has a voice that is not just a beautiful sound, it reaches to the soul.
His voice turned my life around. Kamelot remained my favorite metal band for over 5 years, and even though he's left the band, he's still a huge inspiration to me as a vocalist.
Roy Khan has the best real metal sound I've ever heard. I really hope that sometime in the future he comes out of hiding and gives us some ear candy, because all Roy fans know that he probably has some amazing ideas in his head, if he hasn't already put them down, and we want him to share those with us!
Roy never screams nor ever strains. His voice has so much emotion to each and every song. He can make you feel what he portrays thru every note. He sings like no other. He gives every song a unique identity. There is no one like Roy Khan. I don't care what he sings, his voice turns everything to gold.
In my opinion, Roy Khan is simply the best male rock/metal vocalist in the last 15 years. Hell, I'd say he's the best male vocalist since Steve Perry. To add to that, his songwriting belongs with the best in the business
His dedication and passion for music is beyond belief. He puts 110% behind each of his songs, even during concerts - which is more than a lot of singers or (especially for this list) vocalists can say. Kamelot is one of those special bands that takes you with them into their albums, lets you live each song with the same amount of emotional as the band members themselves. Long live the king!