August Burns Red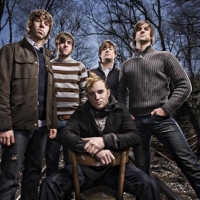 Found on christianmusic.com
Info
August Burns Red is an American metalcore band from Manheim, Pennsylvania. Formed in 2003, the group began their first performances while a majority of the members were attending their senior year of high school, and soon began playing shows around Lancaster, before being signed to CI Records. Afterwards, ...
read more
.
Comments
Top
Popular
Newest
The talent in this band is unmatched by other metalcore bands. Their live performances are simply amazing every time and are flawless. The lyrics really speak and have deep meaning. I have been listening to this band since Messengers was released and they are #1 in my book but they at least deserve top 5 in this list easily... Why is Avenged Sevenfold in this list?
Undoubtedly the best Metalcore band of today, their last album Constellations is a masterpiece with not even a single song to throw away because they're so good. This band's breakdowns are totally overwhelming, and then you feel all the power conveyed by their way to play awesome Metalcore.
August Burns Red is MUCH better than Bullet for my Valentine, TRIVIUM, and to be honest even better than Parkway Drive and As I Lay Dying (although they are both incredible to.) Bullet for my Valentine isn't even close. It sucks that even in metal the popular music is seen as superior by the conforming sheep.
Listen to the Rescue and Restore album and then click that vote button. I have been a huge fan since Messengers when Jake took over lead vocals and in my opinion have kicked ass and took names to be the best CURRENT metal band there is. Top 5 at least all time. Lyrically moving, guitar shredding, and thundering drums.
Unmatched harmonizing of guitars, with breakdowns of fantastic depth. Although the speed isn't on par with faster bands such as 'Animals As Leaders' and 'Protest the Hero', it is written to such a high standard that it feels faster, and makes more musical sense. A treasure in the vast ocean of Metalcore.
August burns red deserves AT LEAST number 5. This band puts on a great show, they sound amazing. I love that their guitar riffs and solos are unique. Matt Greiner is a great drummer and Jake does an amazing job as well. Their lyrics are meaningful. This band is by far one of the best on this list.
August Burns Red are at the core of what modern metalcore should be. After really getting in to this band I really appreciate how talented and awesome they are! Their breakdowns are what really get me, but their talent is unmatched.
August Burns Red is probably the most talented Metalcore band there is. Their newest album "Found in Far Away Places" on solidifies their spot as the best metalcore band around. While I think that (ATR's) "The Fall of Ideals" is the definition of metalcore, ABR has released 6 albums, all of which add new things and keep their music interesting. Their newest album is much more melodic and the guitar parts are getting MUCH better. Also, the meaning behind their songs is what really draws me in. - kingbob
They're probably the best melodic metalcore band around with Unearth. Technically prepared band with a nice screaming singing, plus the lyrics are awesome. They distinguish themselves from the mass of modern metalcore band
ABR, As I lay dying, parkway drive are for me are the best metalcore band in this list. Especially ABR. These guys are oozing talent. One of the few core bands I've heard that could mix melody, rhythm and br00talness so perfectly. Thanks to the gut wrenching vocals, fluidity and just plain awesomeness of the bass lines (which is actually really rare in bands these days), the soaring melodies and breakdowns of the guitars and one of the most technical drumming I've heard. I mean the odd time signatures, the suprise tempo changes. It just fits perfectly and ABR is one of the few metalcore bands that could be so technical and yet so groovy and heavy at the same time. White washed, Marianas trench, fault line are the ones that get you hooked. But songs like internal cannon, provision (one of the hardest drumming patterns I've heard from metal in a long time), spirit breaker, fault line. Just to name a few. This band deserves that number 1 spot. And every band in this list knows it.
Every metalcore band has different aspects that need to be put on the table. ABR is the leader in every part of this style. Matt is just astounding in every way, Jake is in the top 3 best vocalists that I've ever heard, Dustin kills the background on bass, Brent and JB grow into new levels of creativity with every album. Of course I'm stating my opinion, but I don't think any of the other bands beat August Burns Red. I do enjoy all the others on this list, but not enough to place them above my favorite group of outstanding artists.
This band not only combines pumping drums with some of the sickest guitars, but they manage to do so with lyrics that ring true and galvanize pure emotion. On top of that they continue to expand their experiments of incorporating other music types (salsa, folk, etc.) that blend blissfully with a new metal coat. ABR continues to grow and still retain the brutal intensity!
ABR is absolutely one of if not the top of metalcore. They are only second to Converge. Song and music structures are brilliant and their use of breakdowns are sonic perfection. Of all the bands here they push the genre further with each album. Lead, follow, or get out of the way because you cannot compare any band in the current metalcore scene to August Burns Red
Should be #1, simply because their ability to innovate and ride over the declining wave of popularity for the genre. Technically and lyrically, these guys are all masters of their respective instruments and craft.
Meaningful lyrics, amazingly gifted musicians and one of the best and most down-to-earth vocalists in the world. Empire, Indonesia, Composure, White Washed, Majoring in the Minors, Spirit Breaker or Separating the Seas are just a few of the songs that show their incredible craftmanship. Also one of the most tight sounding and energetic live bands out there.
My all time favorite band. I've been a fan since messengers came out in 2007 and they are still number 1 with Found in Far Away Places. I never though I would see the day you could fuse a positive message with metal and take it seriously. Thank God for ABR! I probably wouldn't be alive today if it wasn't for the song Beauty in Tragedy. Brought me out of a dark time.
Best drummer I've ever heard. Matt Greiner blows my mind every single time I listen to August Burns Red. My favorite on the list for sure, plus Jake Luhrs' screams have to be the best on the list as well.
August Burns Red is an awesome band! They have some of the best melodies in their music while also adding some sick drum beats. The lyrics are also extremely deep and moving. Check it out!
Most technical riffs, hardest hitting breakdowns. Also doesn't follow the poppy verse chorus verse chorus structure that's become ridiculously overdone.
Their Breakdowns are very tricky and hard to catch... Their Lyrics are very inspirational, Their Riffs drum rolls and Off-beats are unbelievable! Great Drum works and Guitar Skills
August Burns Red is more of just a metal band, but just like the first five bands on this list. They're extremely talented, and actually have a distinct sound apart from generic bands.
Incredible drumming. Incredible intricacy. Understandable, yet powerful vocals. Never heard a metal band transition between parts as well as these guys. Best breakdowns.
Just get constellations, messengers, and leveler. It will solve everything. Best band with best breakdowns, best band with best drumming...
August Burns Red are my favourite band. They have the best everything, best drumming, guitar and there singing is just great. Love them.
If you are a drum head, look up to this band. Great drum works. If you are into music with AMAZING breakdowns, dig this band.

I personally don't get why many drummers think the drummer of All That Remains is that talented... He is a descent drummer but I don't really think he is like "talented". The song This Calling was a piece of cake for me... I don't find that song hard.
ABR should be higher than ATR! Come on ABR fans, lets slay them all up there