Best MLB Pitchers of 2012
The Top Ten
1
Justin Verlander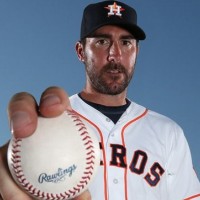 Justin Brooks Verlander is an American professional baseball pitcher for the Houston Astros of Major League Baseball.
Of course he's the best he's my favorite pitcher for the tigers of all time. He should be in the hall of fame he's amazing.
Justin is the man. He has a few bad games or innings but they're very rR. In my eyes, Roy Halladay is just old news. Its time for a new young player to take the spotlight.
He is the pitcher of the decade
Justin Verlander is the best pitcher in AL in my opinion. His 12-7 record isn't impressive, but his 2.51 ERA is, not to
Mention he has the 10th smallest amount of run support in the MLB
2
Clayton Kershaw

Clayton Edward Kershaw is an American professional baseball pitcher for the Los Angeles Dodgers of Major League Baseball.
Clayton kershaw is the best, I don't even know why he is #2.
Love kershaw (although I'm not a dodgers fun).
I'm not a dodgers fun but I love kershaw!
He led the NL in WHIP and ERA for the second straight year!
3
Roy Halladay

Harry Leroy Halladay III, often nicknamed "Doc", was an American professional baseball player who pitched in Major League Baseball for the Toronto Blue Jays and Philadelphia Phillies between 1998 and 2013. His nickname, coined by Toronto Blue Jays announcer Tom Cheek, was a reference to Wild West gunslinger ...read more.
Roy Halladay is the man! The "perfect pitcher" no pun intended! He's so good that MLB 2k12's million dollar challenge is based off him! Phillies fan for life!
$... $
Bank
Score3 for the w
Not a Lot o strikeouts anymore but still dominant
4
CC Sabathia

Carsten Charles Sabathia Jr. is an American professional baseball pitcher for the New York Yankees of Major League Baseball.
5
Jered Weaver
He got 20 wins this year and missed 3 starts because of his back injury
Jared weaver this season has been lights out. He is leading the AL in wins and not to forget he spent some time on the DL too.
6
Felix Hernedez
Felix has won a Cy Young. Plays for the mariners and still has tones of wins and low ERA. Been best pitcher in late 2012 and even got ahead of David Price, Justin Verlander and Jered Weaver in nearly all stats.
7
Cliff Lee
Do not let his record fool you. He still was among the league leaders in most other categories - miles500
8
Stephen Strasburg
As long as Strasburg is healthy, he will be the most dominant pitcher over the next decade, bar none. Once in a generation talent that will prove the hype was for real, watch and enjoy baseball fans!
9 Jon Lester
10 Tim Lincecum
The Contenders
11
Matt Cain
He pitched the perfect game this year in the first place. Also everyone that was amazing last year are all doing terrible now like halladay, lee, lincecum.
12 Ian Kennedy
13
Aroldis Chapman
Aroldis Champman makes flames come off his over powering fastball
14 David Price
15
R. A. Dickey
Good pitcher do not need to throw hard but the good direction is more important
16 Zack Greinke
17
Fernando Rodney
He has a 0.61 ERA through 73.1 IP to this point. What more do I need to say. It's not even meant to happen. It gives me nightmares thinking about it.
18 Bartolo Colon
19 Jake Peavy
20 Chris Sale
21 Gio Gonzalez
22
Craig Kimbrel
A star on my fantasy team and my vote for the CY Young award. He's clearly done a better job than Chapman, with his ERA and WHIP both significantly lower, and his k:bb ratio is even better. When Dennis Eckersley won the CY Young as a closer his stats weren't even this good.R.A. dickey gets props, but his season has only been monumental for a knuckleballer, not for a regular pitcher.
23 Johnny Cueto
24
Madison Bumgarner
A World Series for crying out loud
25 Barry Zito
BAdd New Item