Anderson Silva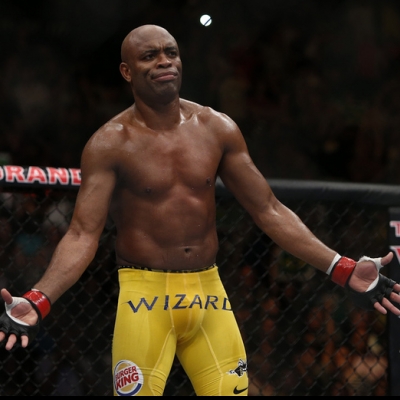 Found on themmacorner.com
Comments
Top
Popular
Newest
Anderson is the greatest ever. No one has a run in the UFC as The Spider. Fedor is one of the greatest, but never fought in the UFC, the best organization of all time. Silva humiliate his opponents, he puts his hands down, let them punch, and still wins in devastating fashion. He's an artist, the Ali of MMA. - vpenno
Silva is nothing com paired to st Pierre and fedor. He could never fight a heavy weight. Do you no what it's like to fight a man fifty pound more than you and smash them. Fedor does and George would never do the stupid hit me then get knocked out. He was good but not on the same level
He stands in front of people with his hands down and does not get hit he is the best because he can choose what happens in the fight and make it look easy to beat some of the best in the world
he holds the record for most consecutive wins in UFC (12) and Most consecutive successful title defences (9). Anderson Silva smashed Leben in his 1st fight then smascked rick franklin around in his 2nd fight to become champion! - Dickey96
Fedor is great, and is the baddest fighter ever, but that doesn't mean the best. When Anderson silva was in his prime, he was untouchable. His strikes were near unstoppable. I think he edges it out.
How is the spider not no. 1? He dominates in the octagon, and even in the ufc game he is one of the only middleweights that you can use to knock out a heavyweight. You couldn't pay me enough to let him kick me - Nemesis57
Anderson is on a level of his own. You get a fighter like him every 50 years or so. He will be remembered as the greatest fighter of all time in the years to come. It will take quite a remarkable person to top him.
Fedors record is against mainly cans Silva faced the top contender every time and made spectacular comebacks and just overall look at his highlight compared to fedor's
If he wouldn't have clowned, he may still be champion. This lead to rematch which led to broken leg. He was so good he was BORED OUT OF HIS MIND. Part of me thinks he wanted to lose.
If we're really comparing fighters in their prime, then there simply was no competition with Silva. should be #1
Sorry Fedor, Silva is the best ever. Fighting him must be like striking at smoke, elusive and smooth mover. Just scary to watch his fights with Rich Franklin and... Well anyone really. - zacenroe86
Untouched in how he dominated fighters and make them look like they had no business in the cage with him.
Don't like him that much and I still think he is the best pound for pounder of all time. - Patriots1884
undefeated in the UFC, came into the UFC with a big bang and has been kick ass ever since - anthonybecerra831
Easily the best ever. Fedor is good, but Anderson is the Beast. Anderson Silva would knock Fedor out in his prime. No doubt about that.
Anderson has not lost a match in the ufc he has held the title longer then anybody
Quality of opponent! 7 Years undefeated... Can beat Jon Jones... But chooses not to.
Anderson Silva should be first

really...
dominated everyone in mw division - anthonymcfadden
Anderson Silva is actually number 1 in the world right now. He is way to good.
Silva hands down greatest, get the pun!
Most dominant fighter I've ever seen. Its either Anderson or Fedor, definitely not GSP, who cheated in many of his fights and doesn't finish many opponents.
This is a close one because GSP and him are about even, but fedor is not close to those 2 come on but anyway he is a black belt in 4 martial arts and leads the all time list in KO's - NicCovington24
Number 1 right now kimbo is way overrated, has he really fought a ligit fighter? - arabhomie68
Was great as a youngster but as he matured he has been undefeatable. When you compare best figher ever you look at from beginning to end. May voters are not counting the end of Fedors Career when he looked pathetic. Anderson Silva never looked pathetic, even in the beginning. I think he will retire before that happens... If it could happen.
Related Lists
Best Wes Anderson Films

Top 10 People Last Named Anderson

Best Roasters at the Pamela Anderson Roast
Top Ten Facts About Julio Perez Silva