Fedor Emelianenko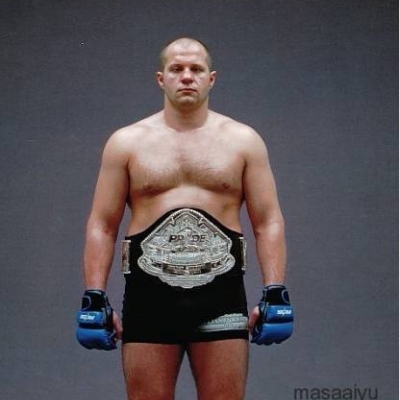 Uploaded by Marcial
Info
Fedor Vladimirovich Emelianenko is a Russian heavyweight mixed martial artist, sambist, and judoka, currently competing for Rizin Fighting Federation.
Comments
Top
Popular
Newest
Fedor is an awesome fighter! The greatest heavyweight fighter ever! There aren't even words to describe him
Dude it was actually 30-1-1 at its best he's a beast at his prime I think he could beat anyone in history he's not human!
NUMBER 1 of all time. Forget Dana White and Mir and their bias towards UFC. Mir said if you're champ in UFC you are THE world champ, what an ignorant statement. Now Mir says the UFC needs more depth in the heavyweights and is happy to see the strikeforce guys come over to make it more competitive. I did like Mir until he spoke like a fool.

Altough Fedor career is about to end after 3 losses, he remained for several year invictus, he fought in Japan with the brutal Japanese rules and he always won. He has a great heart, he is a good person and he doesn't name himself as the best fighter ever, even tough he is the undisputed heavyweight, ill put GSP 2nd
Fedor is truly the "Last Emporer". If you research everything he has done during his life, he's just incredible. The fact that he has never lost touch with his extremely humble beginnings and doesn't act like a bully or a cocky blow hard. He is just a hardcore poor boy, like Hank jr. says, A country boy can survive. If he's ever in Eureka Springs, Arkansas, he would find himself a most welcome guest in my house.
Greatest fighter of all time hands down. People talk trash after his 3 losses now, but he was in every one of those fights. Vs Werdum he was simply baited and gave Werdum his arm, Werdum didn't work to get the arm Fedor simply left it there. If they fight 10 times since then Fedor wins 9. VS Silva Fedor won round 1, during round 2 yes he's destroyed by the 280 pounder on top of him for 4 minutes and yet still comes out of the round with Silva's ankle. Doctor stoppage before round 3. VS Hendo well Hendo to me is the first guy to do it in my book. Hendo is my 2nd favorite fighter and both warriors rocked each other, Fedor let Hendo slip out and took it off the chin. I wish I could say it was a quick stoppage but Fedors face hit the mat, he was out for a second. Sure he may have fought some cans but he beat the dominate top 10's also in there primes. - tacitus23
Feder in his best form is unbeatable! He could overcome any adverse condition! He remained undefeated for nearly a decade, achievement comparable only to Rickson Gracie during 80's & 90's, but this is a different story.
Damn he is!

He blacks out during a fight, and in any way, finds a way to win.. It's about a video that I saw years ago about his attitude during a fight, he said:

"I see my opponent as someone who will bring me & my family back to poverty, and must be eliminated quickly.. with this perspective, it is a life and death situation. - I must win"

CHILLS ME TO THE BONES!
IN HIS PRIME THIS MAN WAS QUITE SIMPLY UNTOUCHABLE! HE MANAGED TO BEAT ALL THE BEST FIGHTERS FOR PERIOD OF 10 YEARS WITHOUT EVER EVEN BEING CLOSE TO LOSING! WHAT IS EVEN MORE AMAZING IS THE FACT THAT HE BEAT ALL OF THEM AT THEIR OWN STRENGTHS AND NOT THEIR WEAKNESSES...TRULY ASTONISHING MAN AND STUPENDOUSLY GOOD FIGHTER WITH PERSONALITY TO MATCH. WE'LL NEVER EVER SEE ANYTHING EVEN REMOTELY CLOSE TO HIM AGAIN. IT WAS AN HONOR AND ABSOLUTE PRIVILEGE TO BE AROUND TO SEE WHEN FEDOR IN HIS PRIME PERFORMED SPECTACLE AFTER SPECTACLE. MISS HIM A LOT!
The best fighter I ever seen. More then just a fighter and he has his one stile. I saw somewhere was written that hi is a gladiator and I am thinking that it is right.
10 years without a loss. As the reigning champion and "baddest man on the planet." Other than Joe Louis, there's no other fighter in the history of combat sports with that type of stat to his credit. He brought it every chance he got for ten years. Nothing more needs to be said.
MMA has changed and lots actually, but Fedor was the undisputed heavyweight champion for more than 10 years. I think he's a legend, and fought with anyone no matter the weight of the contenders.
He's definitely the best MMA fighter of all time, in my opinion I think he can beat all the other G.O.A.T. he had beaten great fighters during his time fighter who are also in their prime. So far I don't see anybody who fights like fedor. Jon Jones might be the second best as of this very moment he beat almost all elite fighters in LHW division but for me what makes it less impressive is the fight is always in his advantage he stands 6"4' with a reach of 84.5 in. compare to the natural size of fighters he fought in the division, we can see his weakness and flaws when he faced Alexander Gustafsson I believed he lost that fight he was winning the fight only in the late 4th round and in the 5th round.Wondering where's Anderson Silva and why he's not even 2nd? well for me he is so overrated the only elite fighter that he defeated is Dan Henderson, disagree? well who else?
Just the best, and that's all. Best of all times, in any weigh. His sambo is best, his fighting skills are awesome. He is strong, fast. He knows exactly what to do in any situation. +
Fedor emelianenko is best mma fighter ever... no1 will ever get to his level where he was at his prime, 30 fights win streak is no joke.
He is without a doubt the best ever! Many people think Anderson silva is better because he is more spectacular to look at, but that doesn't make him the best.
There is no match with Fedor. He was the best of all time. I hope he never comes back. And keep his name that he always had. I am a fighter and I never seen anyone like him.
Fedora has always been the only heavyweight I have been legitimately impressed to watch. He wasn't for grandstanding or talking trash, he went in and did what he needed and he did it better than everyone else.
He's beast he went 10 years undefeated enough said and the best hands in MMA history!
Just the best of all time. Speed, cleverness, power, great technique. All for the result. A fighting machine. Like Tyson in boxing. Like Serena in tennis. Like Schumacher in F1. Fedor.
His skill was so vast and well rounded. He may not have fought in the UFC, but he fought and defended his belt against the best heavyweights of his time who would then go on to fight in the UFC.
Fedor is the best MMA Fighter - I have seen all great fighters and it is no doubt that fedor is the best till now
In an open weight tournament (no weight classes) Fedor would be favored to beat any fighter that ever lived. You can argue pound for pound with GSP or Silva but they're smaller than Fedor and wouldn't have beaten him in an open weight tournament. Also, Silva tested positive for steroids, and that disqualifies him for me.
Fedor is flat out the best. No one has made a impact in heavyweight more than Fedor. In his prime he was unstoppable
Great fighter! His unbelievable power and excellent technique very impressive!