Alter Bridge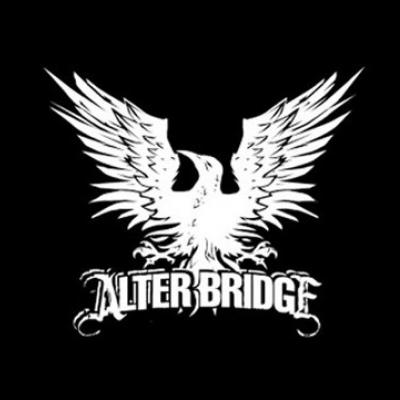 Found on deviantart.net
Info
Alter Bridge is an American rock band from Orlando, Florida, formed in 2004. The band consists of lead vocalist and guitarist Myles Kennedy, lead guitarist and backing vocalist Mark Tremonti, bassist Brian Marshall, and drummer Scott Phillips.
Comments
Top
Popular
Newest
Currently we are in a time of the old greats leaving us, and that gives room for newer talents to step up. And while we probably will never get a second incarnation of let's say The Rolling Stones, there are a few bands out there that I can see becoming the next big thing. One of them is Alter Bridge.

I think it's rare that a band today has such a developed sound, and they seem to know and are comfortable with what they are. They don't need to change much in their music. They have found that great balance between great songs and a great image and appeal to the public.

And to have such a devoted fanbase isn't all that common today. And I mean really devoted. If you go to an Alter Bridge concert in the EU, you'll almost hear the audience more than the band. They know every word of almost every song, and that says something... Shame they're not as popular in the rest of the world as they are in Europe.
Musically speaking, this is the absolute best rock band today by a long shot. Their dynamics, harmonies, and techniques are in line with those of vituosos who have changed the course of music throughout history, and like them, they focus on putting real meaning into their songs instead of writing for the sake of sales. They are the Beethoven, Mozart, and Haydn of rock, always thinking outside the box. Almost no songs sound the same. Mark Tremonti has won best guitarist for 3 years, and Myles Kennedy just won best vocalist for the 3rd year in a row.

One reason I believe rock has lost some of its audience is that it became very depressing and angst driven (nobody wants to hear that message for very long, ehem... Linkin Park). Alter Bridge makes a conscious effort not to do that, and it shows in their music. Most of their songs are very uplifting.

Anyone I introduce to Alter Bridge ends up asking me who in the world they are. In the past 4 years, I've accidently gotten them ...more
Alter Bridge puts out modern masterpieces like there's no tomorrow; they are what we can tell our kids to check out and say "This is what I listened to when I was your age" without being ashamed of it. On top of this, the musicians who form the band are all class A, and know what they are doing, both in the business and when it comes to personal attitude. As a plus, Mark Tremonti, the lead guitarist, is in the midst of a solo career as well as working on AB material, and fulfills the extra oomph you sometimes want out of an AB album with his thrash and speed metal tinged works on his solo albums. Both are very worth checking out for the modern rock/metal enthusiasts!
What! How is Alter Bridge so low on this list. Alter Bridge is the best band there is, just listen to their songs. Their song have emotion, meaningful lyrics, great guitar riffs and awesome vocals (Myles Kennedy and Mark Tremonti). This band is probably the greatest band there is because they are different. Alter Bridge truly rocks!
AB needs to be at the top of the list. After Tremonti and Kennedy are the best combination since peanut butter and jelly! He won guitarist of the year 3 times and provides spine chilling vocals to many AB songs. Kennedy is an amazing frontman, best singer of all time (in my opinion), and a good guitarist in his own right. Their songs are all so poignant and simply sound amazing. This band doesn't receive anywhere near the credit it really deserves. Best band around today, best band ever. LONG LIVE AB!
This band is so good. Myles Kennedy have a great voice and Mark Tremmonti is a guitar genious! Listen to "Rise Today", "Metalingus", "Find the Real" and you will see waht I'm saying! - TimRise
This band has the potential to make history. They have the perfect blend of hard rock, guitar solos and melody in their songs to satisfy fans and silence critics. Myles Kennedy has an iconic voice and his voice is extremely versatile. They are my favourite rock band of all time.
The best band ever. myles kennedy is in the top ten greatest vocalist list. mark tremonti is the greatest guitarist of all time. but alter bridge don't have a position.. redeculas...! come on people.. alter bridge should be number1.. -
Alter Bridge is amazing and they just make their own place with songs that can range from metal all the way to soft rock. Myles is an amazing singer that can take your breath away after listening to him on the album or live, either way, he sounds amazing.
The reason why they shouldn't be in top 5 is because every single song they have is 5 stars no doubt if your a true ab fan you'd agree. The guitar work is incredible in every song and the singing is the best mark and myles are gods. AB is the future of rock
Only one word for them "The BEST" and nothing else and sooner or later the will be number 1
Put the most talented musicians all together in the same band and you have Alter Bridge. No screaming crap! Kick ass guitar riffs and sweet harmonies just make me want to cry. Simply the best band of this decade if not the Millenium!
Amazing band with chock-full of talent in almost every department...be it Myles Kennedy's angelic lullaby voice or Mark Tremonti's mind numbing guitar play as well as breathtaking solos that apparently doesn't need a mention.. - Arhaan95
This band is sadly underrated... Linkin park is just plain fine... Making money and fame only out of their catchy choruses... Alter Bridge has a variety to offer... From the soft (like Watch over you) to the hard core (like Metalingus)...!
Every one in this band play their rule really good, the band combination is too good, you can see in Metalingus, white knuckles, Isolation, I don't agree they hang at 5th, they deserve to have much more
They should be number one! Sad that they are on the last.. Myles Kennedy is the best singer in Modern Hard Rock today! Mark Tremonti is a awesome e-guitar player! Love them!
this band is pure gold, best band ever, myles kennedy is the greatest rock vocalist of our time, along with the great mark tremonti on the guitar, blackbird is the best song of the 2000's
Alter bridge is the best rock band out there right now. Every single one of their songs comes from a deep core of their heart. So much emotion. They make you feel what they feel. ABC all the way
Alter Bridge is, easily, the most talented rock band out there right now... And in quite a while. Everyone who has not listened to alter bridge do yourselves a favor and do it, you won't regret it.
Just went to their live show at HOB in Orlando prior to their European tour. As good as advertised...solid music and lyrics I can listen to with son. Don't see that much these days.
Alter bridge is the only band in the modern times whose compositions are tough, yet the most versatile of all. Mark Tremonti and Kennedy's partnership is always epic.
One of the best modern rock bands. Stop voting for Justin Bieber, akon etc. Vote for myles kennedy. He has a very good vocal range and his voice is so melodious
Alter Bridge is really amazing at incorporating amazing riffs, powerful melodious vocals, deep and gut-wrenching guitar solos, meaningful lyrics, and raw passion into their songs.
They really are the future of Rock; anyone with real value for music would realize this if they give them a listen.
Myles Kennedy in my opinion is the premiere rock singer of our age. He and Adam Levine (sp? ). Seriously. Four octaves? Awesome. Mark Tremonti is also a guitar god, so... Enough said.
Biffy Clyro anyone? They should at least be in the top five let alone the top ten. I agree, 30 Seconds to Mars should be here as well as Twin Atlantic
Related Lists
Best Alter Bridge Songs
Top Ten Songs from Alter Bridge's the Last Hero
Best Songs on Alter Bridge's Blackbird
Best Songs On Alter Bridge's Fortress