Best NFL Players not Drafted in 1st Round
This list is for the diamonds in the rough. NO 1st round picks are listed here.
The Top Ten
1
Tom Brady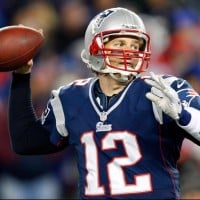 Thomas Edward Patrick Brady, Jr., is an American football quarterback for the Tampa Bay Buccaneers of the National Football League. Brady is known for being the only quarterback in history to win 6 Super Bowls, and is often considered one of the best quarterbacks of all time. Brady is also frequently ...read more.
Greatest QB ever to play the game of Football. As of 2013 he has led the New England Patriots to 5 Super Bowls, winning 3. He was the Super Bowl MVP in 2 of the 3 Super Bowl Wins. He has been elected to 8 Pro Bowls and holds the NFL Record for most TD passes in a single season with 50. He has the most Playoff wins out of any player ever with 17. He has the longest consecutive winning streak ever with 21 consecutive games. He led his team to the first undefeated season since the institution of 16 regular season games. He has won 2 NFL MVP awards and was Athlete of the Year in 2007. He is also the first QB to lead his team to 10 Divisional Titles. He has countless other awards and titles but this is getting too long. All of this and he was drafted in the 6TH ROUND!?
One of the best clutch abs of all time and shows that he's not a one trick pony by boasting a great regular season and playoff record. Can put up huge numbers when given good receivers 2007-2012 and can win even with scrubs around him 2001-2006 and 2013. Truly one of the greats
Not a better QB than Dan Marino. The product of a system that fit him to a tee. Would not be as good in a different scheme. Can not play under pressure, so why is he considered the best?
Have these people ever met tom brady. He is like the best player ever. I bet these people don't watch college football
2
Joe Montana

Joseph Clifford "Joe" Montana, Jr., nicknamed Joe Cool and The Comeback Kid, is a retired American football quarterback.
Apparently, in scouting reports he was called "cocky" and that "he lacked the tools for a NFL quarterback". Well, here we are in 2017, still gazing at his achievements, and, hey, I know it was the draft stock, but, really? Third round?!
greatest qb ever and in the 3rd round?! its a no brainer
I don't like the 49ers but how is joe Montana not number 1?
4 superbowls, enough said.
3
Brett Favre

Brett Lorenzo Favre is a former American football quarterback who spent the majority of his career with the Green Bay Packers of the National Football League.
Drafted by the falcons, traded to green-bay sat behind " the majic man" and got a lucky starting spot and took the green bay packers to the first Super Bowl since 67 got into a car accident, rehabbed and held more passing records then any qb in nfl history definitely the greatest at his position no doubt!
he's the greatest football player of allllllllllll tiimmmeee. period.
Didnt pronounce name right on draft day.
4
Fran Tarkenton
Drafted in the third round.
5
Johnny Unitas

John Constantine Unitas, nicknamed "Johnny U", or "The Golden Arm", was an American professional football player from the 1950s through the 1970s.
Should have been number one
6
Kurt Warner

Kurtis Eugene "Kurt" Warner is a former American football quarterback, a current part-time TV football analyst, and a philanthropist.
So underrated now he's actually playing really well with Arizona this year. TD should not be ahead of him and his career was cut short so what if he had stayed healthy he might have been the all time leading rusher he didn't and now he's a analyst on the nfl network. I'm sick of people and there stupid "what if"s it didn't happen get over it.
Former Hyvee stocker and 2 time MVP
7
Terell Davis
Thurman Thomas (2nd round) above TD (6th round)? TD could be a #1 and still be ahead of Thomas. Buffalo 0-4 in SBowls... :).LMAO
Terrrel Davis was one of the few RB's to get over 2000 yrds in a season ever , he may go to the football hall of fame!
in my oppinion if his career wasnt cut short he would be the alll time leading rusher
8
Steve Young

Jon Steven Young is a former professional American football quarterback who played 15 seasons in the National Football League and is best known for his 13 seasons with the San Francisco 49ers.
Greatest Rushing QB of all time, and has most TD passes in a Super Bowl (6)
9
Terrell Owens

Terrell Eldorado Owens is an American football wide receiver who played for the Seattle Seahawks, San Francisco 49ers, and Philadelphia Eagles of the National Football League.
10
Deacon Jones

David D. "Deacon" Jones was an American football defensive end in the National Football League for the Los Angeles Rams, San Diego Chargers, and the Washington Redskins.
26 sacks in 14 games, anchored the rams defense, played for so long... from a 14th round draft pick. whoever votes on these must not know about football before the 90's.
this guy invented the word sack, how is he not in the top 5? he had 26 sacks in a 14 game season. this list is awful.
The Newcomers
?
John Randle
Randle is the 2nd biggest bargain of all time. Not drafted, but signed as an afterthought by Atlanta as a free agent after the draft, cut, then picked up by Minnesota. There, he turned into an unstoppable force wherever he lined up along the defensive line. Hall of Famer
The Contenders
11
Ray Guy
Actually Ray Guy is the only punter ever drafted in the first round. (not counting two-way players or kicker hybrids)
Bro this guy is beast he has NEVER gotten a punt for a TD in his whole career!
12
Steve Largent

Stephen Michael Largent is a retired American football player, enshrined in the Pro Football Hall of Fame, and a former Republican politician, having served in the U.S. House of Representatives for Oklahoma, from 1994 until 2002.
No one had beter hands then Steve Largent.
He's pretty big around Seattle now
I'm a 49ers fan and I'm still Steve Largent's #1 fan
13 Thurman Thomas
14
Adam Vinatieri
possobly the best kicker ever has made more clutch kicks in games not only games but super bowls
15
Russell Wilson

Russell Carrington Wilson is an American football quarterback for the Seattle Seahawks of the National Football League.
3rd round pick to super bowl champ in only 2 years
Really good quarterback was a 3rd round pick
16
Devin Hester
Best kick returner EVER! how is he not on this list? he already nearly broke the most kick returns in a career record, in only 3 years! the current record holder played for at LEAST 7 years
17 Dick "Night Train" Lane
18
Richard Sherman

Richard Kevin Sherman is an American football cornerback for the San Francisco 49ers of the National Football League.
He is really good and was a 5th round pick
19 Marques Colston
20
Aaron Rodgers

Aaron Charles Rodgers is an American football quarterback for the Green Bay Packers of the National Football League.
He is better then tom brady
21
Bart Starr

22
Kam Chancellor

Kameron Darnel "Kam" Chancellor is an American football strong safety for the Seattle Seahawks of the National Football League.
23
Rod Smith
Undrafted, need I say more
24
Roger Staubach

Roger Thomas Staubach, nicknamed Captain America and Captain Comeback, is a former American football quarterback in the National Football League.
Staubach was drafted round 10 pick pick 129 and is in the hall of fame. He made it to six pro bowls and was a a two time super bowl.
25
Dak Prescott

Rayne Dakota "Dak" Prescott is an American football quarterback for the Dallas Cowboys of the National Football League.
PSearch List