Top Ten Best NFL Safeties
The Top Ten
Troy Polamalu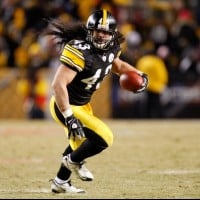 Troy Aumua Polamalu is a former American football strong safety who played his entire twelve-year career for the Pittsburgh Steelers of the National Football League.
Hey! Whoa there! Polamalu may have worse records than Ed Reed but has anyone seen the interception he did against the Chargers?! Ed Reed got traded to the Texans in 2013 and then got traded again to the Jets. Troy Polamalu is obviously the better of the two.
The Steelers have a top 3 defense with him, but it's below average without him, proven by the 2009 season.
# 1. He can catch anything and he is a better playmaker than anyone in the NFL or DA Bomb!
Troy better than Ed Reed
Ed Reed
The best ever, even though injuries have slowed his career and physicality in the game. Ed reed changed the game, and made the defense into an offensive assault.
Polamalu is amazing but Reed is obviously the better out of the two.
Where is ronnie lott how come he's not here
If bill belichik says ed reed is the goat ed reed is the goat
Ronnie Lott
He has tons of interceptions is the defenition of hard hitting and he also aputated his finger to play in a game. He should be number one
How isn't he on this list. He is the definition of a hard hitting safety
Best safety ever including he was the minister of the 49ers defense
How is he not number 1 what even is this?
Brian Dawkins
He should be number 1!
I love this guy. Bears fans all wish they could say Mike Brown, but he's hurt, again! I hate that guy. GET RID OF HIM JERRY ANGELO!!!!
He's better than polamalu in every stat category period the only question is him or ed reed for number one
Steve Atwater

Stephen Dennis Atwater nicknamed "Smiling Assassin" is a former American football player who spent most of his career playing free safety for the Denver Broncos.
Such a hard hitting safety he once knocked himself out because he hit an opponent so hard. The guy is so tough.
Sean Taylor
He was on the right path to become a superstar, but then he was murdered.

His death still haunts me to this day.
He would have been a top 2 safety. May Sean Taylor Rest In Peace. I'm a cowboys fan
He was an NFL ledgen and he only played for 4 years it is upsetting he can't be here with us today
His hits were out of this world it's sent players across the field
Bob Sanders
Bob Sanders is a beast

He should be #3

Small but mighty

Running backs watch out for Sanders
Earl Thomas III

Earl Thomas III is an American football safety for the Baltimore Ravens of the National Football League.
Best safety in the game
Enough said
Paul Krause
Kam Chancellor

Kameron Darnel "Kam" Chancellor is a former American football strong safety of the National Football League. He spent all 8 seasons of his career with the Seattle Seahawks, and was a key member of their Legion of Boom defense.
Most brutal safety there is
Best safety duo with Earl Thomas III
Most underrated player in nfl history
Ronnie Lott is more brutal
The Contenders
Larry Wilson
John Lynch

John Terrence Lynch, Jr. is a former American football strong safety who played fifteen seasons in the National Football League and is a current color commentator for the Fox network's coverage of the NFL.
His hits were the best ever in the NFL. No safety could ever hit as hard as this guy. Once he even hit his brother-in-law.
Led his team to a Super Bowl. Leader of that 2003 D
Charles Woodson

Charles Woodson is a former American football cornerback and free safety. He played college football for Michigan, where he led the Wolverines to a national championship in 1997. Woodson, a "two-way player" who played both offense and defense, won the Heisman Trophy in the same year, becoming the second, ...read more.
Roy Williams
Laron Landry
The only one I would want to try to fit into the shoes of Taylor (RIP)
He is boss his team beat p mannings
He kills peolpe
Ken Houston
O.J Atogwe
Kenny Phillips
Lawyer Milloy
Jack Tatum
All of those other Guys modeled their game AFTER JACK TATUM...Fact
Gibril Wilson
Rodney Harrison
Tyrann Mathieu

Tyrann Devine Mathieu is an American football safety for the Kansas City Chiefs of the National Football League.
THIS DUDE IS UPCOMING! YOUNG & READY! HONEY BADGER IS READY!
Eric Weddle

Eric Steven Weddle is an American football free safety for the Baltimore Ravens of the National Football League.
George Atkinson
PSearch List