Jerry Rice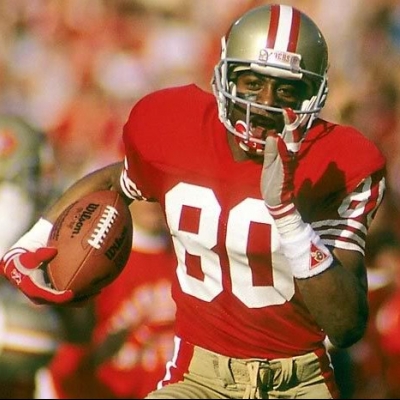 Uploaded by htoutlaws2012
Info
Jerry Lee Rice is a former American football wide receiver who played 20 seasons in the National Football League, primarily with the San Francisco 49ers.
Comments
Top
Popular
Newest
Jerry rice is the best reciever of all time. Nobody will ever be as good as him no matter what their stats say moss is good but does not have the impact that jerry did on the field. nor does he have the charisma or the un denied respect of the fans. owens is good but nowhere near the player that jerry rice is jerry was a humble god. And just like all these people said Moss and owens are taller, jump higher, run faster have better hands but it's amazing how they can't catch his stats. ask any real football player and they'll tell you when its fourth and 20 jerry rice is who you want lined up wide. JERRY RICE GREATEST OF ALL TIME
If a list of top 5 best nfl seasons by a wide receiver were made, I think 2-3 of them would belong to him. If a list of 30 were made, 7-10 woulld likely belong to him. He had longevity, consistency, explosiveness, rings, great numbers... The only cracks I can think to make at him was that his single season touchdown and yards records are broken, that he was in the era in between modern athleticism and older supposed mugging, and that he had good qbs. He's still the best at this position, and in my mind the second best football player of all time. (I gotta give #1 to Sammy Baugh, for his being great at three positions at once)
There is no doubt JR is the greatest receiver of all time. It's possible he's also the best single player ever, in NFL history.

Not only was he absolutely a threat on every play he was ever involved in, but he was a class act off the field. No one burned more defenses than Jerry. He was like a five speed runner or something. Driven and dedicated in his training, intelligent, and supremely well timed in everything he did, no one was more clutch.

An inspiration, and my GOAT.
Rice was known as Mr. Reliable. His "catch to drop" ration was the highest ever which ultimately got him the record of most td's ever for any reciever, most catches, most yards receiving. He used to practice catching bricks as a kid with his dad which is how he developed such soft hands for the ball. Jerry was known for his amazing work ethic and endurance and it showed time after time when he would still be fresh in the 4th quarter while the defense was huffing and puffing. This should not even be CLOSE. Rice is not only the greatest receiver to ever play the game but arguably the greatest player to ever play!
He came from a small division 2 school in Mississippi with literally no coaching. Willie Totten would just throw up the ball and he'd go get it. To grow as he did and advance well above others is unheard of. I wonder if Bill Walsh was thinking here's this kid in Mississippi who is doing the impossible. What if we take him and add him to our weapons we already have and teach him how to play the game. He will be unstoppable.
HE IS THE GREATEST around 22,895 yards receiving in 20 years and the next closest is Terrel Owens with 15,934. He has 1,549 receptions the next closest is a TE Tony Gonzalez with 1,128. He has 197 receiving touchdowns, the next on that list is Randy Moss and Terrel Owens each with 153. WHAT A BEAST!
It's simply impossible to put together an argument giving Jerry Rice ANYTHING other than the #1 spot. The man was an absolute BEAST on the field consistently torching defenses but he was also a first rate class act on & off the field... Something that is unheard of now a days. Thanks for the great years you dazzled us with Jerry.!
Others guys may be more athletic or have better hands, but at the end of the day, what counts is your work ethic. Jerry Rice always wanted to be better than he was, and he was always working. Great receivers are made, not born, and the GOAT always worked harder to be better than everyone. And it worked. Congratulations, Jerry Rice.
JR. Rice is my roll model I want to be just like you you are the best Wide receiver in the world he can catch mostly any ball.
He is the best ever to play the game he is one of the few men to go to more than 10 pro bowls he went to 13 that insane he is awesome not to mention his 3 super bowl rings and his super bowl MVP this guy is my idol I am also a receiver I hope one day I might make the top ten but jerry rice is the best
Rice is a good man as well as the best receiver in NFL history. If he had not gotten injured, he would have even higher numbers than he posted. He was good at BL Moore HS and Mississippi Valley State. He was a serious threat no matter how you got him the ball.
He is the top 10 best wide receivers to me. I have him on my play station he is good enough for me. He's a beast at it. And that means awesome he is crazy out there. I thought that he was Quarterback at first. He is cool for sure I like his nickname GOAT too.
I think Jerry Rice is the best ever. WHO THE HELL IN THERE RIGHT MIND THINKS CHAD JOHNSON SHOULD BE ANY WHERE ON THIS LIST. ALL HE DOES IS SELF PROMOTE, HE IS BARELY A TOP 10 RECEIVER THIS YEAR. - Cbatower
Don't even try saying that Jerry Rice is not the best wide receiver ever. He holds almost ALL of the records a wide receiver can think of. Never seen the guy play before since I am 14, but yes, he is one of the best football players ever HANDS DOWN!
Is there really a question? JR was the best, is the best and will be the best for a long long time to come. Freddie Solomon took him under his wing and told him he could either look good or be good, Rice ended up doing both.
The question should be "is jerry rice the greatest football player ever? " to me, he is the GREATEST FOOTBALL PLAYER WHO EVER LIVED. The babe ruth of football. He dominated his position like no one has before. He was like Michael Jordan to basketball. Yes, he was that good.

To put things into perspective, jerry rice holds every major receiving record, except total tds in a season... Which is currently held by randy moss.

Randy moss scored 23 tds in 16 games for a 1.44td/game average. Jerry rice scored 22 tds in 12 games for a 1.83td/game average. This just explains the sheer dominance of jerry rice, who was able to put up these monstrous numbers without the luxury of today's ridiculous pass-happy rules.

To sum it up, he not only was the best WR... But the best football player of all time.
He can dodge you if your 20 yards ahead of him. He's a great by himself, but with Montana on the roster, the team will be crushed. He has 208 touchdowns.1549 receptions for 22895 yards. You can't lose with him. - Danmarino4
Combined all it takes to be the greatest. He had Steve Young and Joe Montana, two of the top five QB's ever. Rice did everything a receiver could ever do. - apachereporter
Nobody will ever do what Jerry Rice did. Even if Moss caught 23 TD passes it still wasn't as amazing as Jerry Rice's season where he caught for 1200 yards, 22 TD in just 12 games! - Crazydudewithabeard
Rice by a long shot. Moss in my opinion is great at #2 but there's absolutely no way any receiver has ever been as good as Jerry Rice. End of discussion. - ahaleysr
He was fast and good at catching, did bad in rookie season but made it to be one of the greatest of all time. He should be number one and that is a fact jack.
The game has become so soft no one will ever have the opportunity to rival RICE. There are no more fist fights throughout the route. D back are not allowed to hit like ronny lott anymore. With the wars he had to endure he still tops the charts. RICE ; I'm my opinion has earned an NFL ALL TIME MVP! Put that in your pipe n smoke it!
Jerry rice is the best wideout of all time nobody has even come to close to breaking all of his record and no one has as many records as jerry rice
Greatest ever. Great hands, ran perfect routes better than anyone in history, deceptive speed, big time clutch player, ran short, intermediate and deep routes, ran reverses better than any WR and had a long fruitful career and broke all the records possible. Also played with the greatest QB of all time Joe Montana and with Steve Young later in his career. He is considered the greatest FOOTBALL player of all time.
Jerry Rice was the consummate professional. He had a second gear after the catch and his route running skills were the best of any wide receiver to put on a uniform in the NFL. Rice also had the best hands of any receiver to ever play the game (without the aid of stickem.
Except Rice has admitted using stickem, at least in cold weather even though it was illegal when he played. Not saying he's not the greatest, but lets face it these guys all do whatever they can get away with. Rice was no different..