Randy Moss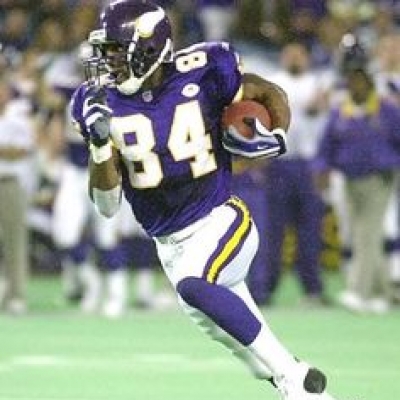 Uploaded by htoutlaws2012
Info
Randy Gene Moss is a former American football wide receiver who played 14 seasons in the National Football League.
Comments
Top
Popular
Newest
We all know Rice is number 1. And #2 should be between two players that have played in the same era.. Moss and TO. Privileged to watch both and honestly both are extremely gifted athletically. The amount of attention Moss got on the field as well as being the biggest deep threat this league has ever seen gives him #2. Moss may have never had the greatest quarterbacks, but I'm sure he opened up the field... Just ask culpepper. A person who never had a career if it wasn't for Moss. Even though he is "retired" he is 2 years younger than TO and I'm sure we will see Moss again soon.. Love you buddy!
If randy moss would have consistency through his career he would have had jerry rices numbers. rice had montana and young for the first like 15 years of his career randal cunningham and tom brady were the only notable quarterbacks he played with and he broke rices record with brady that was never supposed to be broken and scored 17 touchdowns as a rookie with cunningham and not surprising both of those seasons are the 2 highest scoring seasons ever
moss is the best reciever ever to play the game I mean speed hops hands awarness can even throw you neva heard someone say o you got riced or you god owensed or irvined no you jus got mossed plus look at the qb's he had before brady and rings don't define a great player how many great players don't have a ring? a lot plus if moss is second all time in every recieving record behind jerry rice but if moss playes for 21 years he would be numba 1 in stats - tjda1
OK let's look at the facts: #1 offense of all time 07 Pats, Moss: 1493 Yds. and 23 TDs... #2 Offense of all time 98 Vikes, Moss: 1300 Yds 17 TDs. Easily the most impact on the game of any receiver in history... only Rice rivals him because of the extraordinary numbers but hey Moss has only played one season with a first ballot HOF QB look at the other receivers' QBs! Easy choice man really... - bigwern99
Randy Moss had a career filled with double and sometimes triple coverage and still managed to accomplish greatness. His natural athleticism is only rivaled by the great Bo Jackson. Randy Moss is without doubt the number one receiver of all time, just his presence on the field would change the entire dynamic of the game, allowing others to be open due to the muli-coverage on Randy Moss.
Jerry and Moss both have there pros and cons. Well in my opinion Moss had more pros like he was faster, more athletic and had hands. And Rice just really had hands. Moss made the best Corners and Safeties look like they did not deserve to be on the field. Moss caught in triple coverage he was the man his only con was he had to much baggage in the attitude department.
Moss is the best and most talented receiver of all time hands down. Statistically Moss would break all of Rice's record if he plays the same amount of seasons as Rice. Not to mention but Moss had double to triple coverage throughout his career. Moss is simply much more talented than Rice. Rice is second.
Randy Moss is the greatest talent to ever play in this league. his 4.3 speed and 48 inch vertical put him light years beyond everyone in the league right now...i don't know about best ever cause there was this guy by the name of Rice who wasn't to bad, but Moss is certainly second to only him.
The only wide receiver with his combo is skills is Megatron. Even though Megatron is bigger, nobody has the hand eye coordination of Moss. Fastest and best leaper on this list. Granted, he hasn't had the consistency or longevity of Rice, but he chnged the game and has attracted more double and triple coverage than anyone in the history of the game. If he had had better quarterbacks for most of his years, he'd be within reach of rice's records.
You rock randy they are stupid if you were on the patriots vs their stupid team you guys would win know
They are jealous

They don't know a lot of football like you because you were the best player in the nfl and I know you know that and others know that too
ok the way randy moss is playing right now hell blow all of jerry rices records away hes got everything the speed the hands the qyarterback hes the best deep receiver of all time jerry couldnt have made that onehanded catch againist the colts
He is the most athletic, most naturally gifted, and has the greatest combination of size, speed, hands, and leaping ability. However he did not go 100% on every play like others did, which is why the #2 spot is perfectly fitting for Randy Moss.
Randy Moss is the best play-making receiver ever. He burned DB's with his blazing speed and could go up in triple coverage and find a way to catch the ball. He would be easily top ten players of all time if he had a Super Bowl ring
Randy Moss and his one handed catch is the truth and him and Tom Brady have side kick connections. Also if you put 5 guys on him he will sill catch the ball and jerry rice is no were near as better than him
randy moss is way faster than jerry rice will ever be. he can catches any ball that is throwing to him no matter if it under thrown or overthrown. if randy moss stay healthy, he will the greatest receiver of all-time.
Randy Moss is the best in the world I think he should go back to the Patriots with Tom Brady. '-'
With the way Randy is playing now, he'll beat Rice's record in a decent amount of years. We know he's better than Marvin, and if Randy plays as long as Rice does, he'll abliterate Rice's record. Yards, Tds, you name it.
Moss is going to break majoriy if not all of Jerry's records this season. As long as Moss is with Brady he'll set even more records. He will be the Brett Farve of receivers
He is so epic! There was away called the randy ratio, where he would get the ball two times a quarter, and he almost was MVP. Even though he had a bad attitude he is awesome. - CityGuru
I wont say he is number 1 now, but he will be #1 if he continues his great success with the greatest team in nfl history the NEW ENGLAND PATRIOTS... lets go BOSTON...
I grew up as a big Moss fan even though a lot of the things he said and did bothered me but just watching that athleticism was just head shaking. Best deep threat ever... - Patriots1884
Wow, Jerry rice had one of the best quarterbacks in nfl history, so when you think about it... imagine how good he would of been with like... Jay Cutler or Ryan Fitzpatrick!
I think randy moss was the best he was even triple covered and still owned. He also didn't have the best quarterback throwing to him all this time, but Jerry Rice did.
Just look what he could have done if he had a HOF QB his whole career by checking his numbers with the Patriots lining up with Tom Brady. That wasn't even his prime anymore and he put up record breaking numbers. Just imagine. Jerry Rice is close but he just didn't have the athletic ability to compare with Moss...
Randy Moss is and always will be the greatest Wide Receiver because he's got the attitude athletic ability and hands. He will always be one up the jerry rice ever will hope to be.