Best NHL Goalies of All Time
Let me get this clear, this is the goalies who did the best in the NHL, not in any other leagues.
The Top Ten
1
Martin Brodeur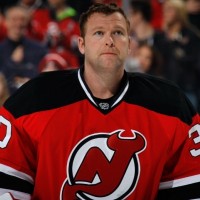 Brodeur is the greatest goaltender of all time. Critics say the trap helped him but they conveniently or ignorantly neglect the fact that he was one of the main key components of the trap being as successful as it was. The canadiens played the neutral zone trap as well when Roy played there. It was Brodeur's remarkable puck handling that really made the difference. The trap forces teams to dump the puck in the neutral zone, Brodeur would then use his skill and make passes immediately putting the Devils back on the attack. When Montreal played the trap Roy was not a force to be reckoned with when it came to handling the puck. Therefore he could not limit shots or scoring opportunities as Brodeur did. Brodeur gets criticized for not facing as many shots on average per game as Roy. However instead of stopping shots, he was stopping the scoring/shooting chances all together by handling the puck. Stopping the opportunity is just as important as stopping the shot. Then the Brodeur rule came ...more
Owns almost every all time goalie stats. Best puck handling gt as evidenced by the "Brodeur rule". Rarely ever got goals for support. Did it all one team. A team that was a small market and not a power house like Detroit or Montreal. Didn't jump on a team that was up and coming when his team was going down like the other so called greatest gts. He stayed and kept his team competitive for almost 20 years. That's what was most impressive!
The best by a landslide. He never had to adjust to the times, the times adjusted to Martin Brodeur. A true testament to the impact he had on the game.
How many times has the NHL changed the rules for goalies because one of them was too good? Once -- The Brodeur Rule. Which means Brodeur rules!
2
Patrick Roy

Patrick Jacques Roy is a Canadian former professional ice hockey goaltender and the former head coach and vice-president of hockey operations for the Colorado Avalanche of the National Hockey League.
Patrick Roy developed goalie equipment. He developed goalies for years to come. Goalies today even pick Roy over Brodeur. In 1993, I do not see Brodeur stealing those games like Roy. Brodeur has the most losses all time and at the same time even lost his starting job in New Jersey. Was never a starter in St. Louis. Brodeur made a conscious choice to play so long no one held a gun to his head..
Roy stole way more games than Brodeur. Roy had a way better record in overtime in the playoffs than Brodeur. Roy still has one more assist than Brodeur and played way less games. Brodeur missed the playoffs at least 10 times. Roy only missed the playoffs once. Brodeur played a role in those teams missing the playoffs. Brodeur has the most losses all time.
I will take my playoff stats over regular season stats any day. Most wins in the playoffs. Most overtime wins in a single playoff. Most importantly three consmyths, not topped even by Wayne Gretzky.
Goalies even today pick Patrick Roy over Martin Brodeur. Gretzky even pick Roy over Brodeur. Is Gretzky purjering himself.
3
Dominik Hasek

Dominik Hašek (born January 29, 1965) is a Czech former ice hockey goaltender. In his 16-season National Hockey League (NHL) career, he played for the Chicago Blackhawks, Buffalo Sabres, Detroit Red Wings and the Ottawa Senators. During his years in Buffalo, he became one of the league's finest goaltenders, ...read more.
I was scared when Hasek was starting against the team I was cheering for. It gave me chills when I saw him in net, because I knew my team wouldn't have a chance. Between his 6 Vezina's he got while playing for a weak team, 2 Hart's, and 2 Stanley Cups, on top of carrying the Czechs to an Olympic gold medal while limiting an overpowered Canadian and Russian team to 1 goal, he's the best.
Statistically, in the current era (tracking save%) Hasek owns the best save % and second best GAA career stats. Yeah, Brodeur has the most wins, but he also holds the record for the most losses as well. It really isn't close. In the stats that actually define a goalies skill, and not the team's performance, Hasek crushes everyone.
Is this a joke how is Hasek not first? Would have passed brodeurs shutout record if his career didn't end early won two Hart's in a row while no other goalies had won any won 6 bruins trophies while Brodeur was playing, he once had a 70 save shutout in the playoffs. He was simply and will always be the best goalie of all time oh yeah I forgot to mention him William M. Jennings trophies he also won a lot of those just too many for me to remember the exact number!
It's him with his 2 Harts or Roy for being a great playoffs goalie. Brodeur shouldn't be in the Top 5, Sawchuk, Plante and Hall belong ahead of him!
4
Jacques Plante

Where is ed belfor.
5
Terry Sawchuk

4 Stanley Cups, 4 Vezina Trophies, 447 Wins and 103 Shutouts. All in the 50's and 60's when playing goal was much different than today. It's hard to compare players from different era's but I am sure his numbers would be even better playing in the modern era of goalie protection at all cost.
6
Glenn Hall

Most underrated great goalie ever. Made seven first all star teams and four second all star teams. Won the Calder, and three Vezinas. And that was done during the 1950's and 1960's when both Plante and Sawchuck were also at their peaks. Had 84 shoutouts and played 17 seasons from 1955-1971. Won the Smythe for his outstnding play during the 1968 playoffs for an expansion St. Louis Blues team against a powerful Montreal team. That seson Hall shared the goal keeping duties with Plante. And last but not least he plyed 502 consectutive games in goal for Detroit and mostly Chicago from 1957 to 1962. His nickname after the streak ended was Mr. Goalie. It is an injustice that he is not in the top five goalies of this or any other list!
He was nicknamed "Mr. Goalie" for good reason. Played 552 straight games in the NHL during regular season. Over 800 straight games counting the playoffs and minor league action. Won or shared the Vezina trophy three times, the Calder and Smythe trophies once. He deserves to be in the top five of this list.
Mr. Hall's butterfly style revealed that he was a strong competitor that took the position of goaltender to a different level.
Glen Hall was the first to use the butterfly style. Was Tony Espositos mentor late in his career. They didn't call Glen Hall "Mr. Goalie" for nothing!
7
Tony Esposito

The goalie who pioneered the butterfly style. He completely revolutionized the way the position is played.
Simply the best of all time.
Yes. Changed the position!
8
Ken Dryden

Back in the day Ken Dryden was the best Goalie I Every Seen
Too highly placed. in my opinion. WAS a disspointment against the russians tretiak was better
9
Bernie Parent

Come on, this guy is behind Marc Andre Fleury...give me a break, he's one if the best ever, definitely top ten.
Who ever wrote this list...needs to watch some tape
He's better than half of the goalies above him.
"Only God saves more than Bernie Parent"
10
Henrik Lundqvist

Henrik Lundqvist is a Swedish professional ice hockey goaltender for the New York Rangers of the National Hockey League.
Hank is the best, everyone thinks he's so bad cause he has no cup but that doesn't mean how good a goalie is.
Lunquist should be 2 or 3
400 wins ok a lot of goalies have reached that mark by he continues to make amazing saves with his trash d
The Contenders
11
Pekka Rinne

Pekka Rinne is a Finnish professional hockey goaltender currently playing for the Nashville Predators of the National Hockey League.
4 time Vezina nominee?! No other goaltender in today's NHL has accomplished that other than Peks. Not to mention finishing in the top 2 three of those four times
Quick and Fleury overrated. Cups don't determine how great a goaltender is. They're just an extra stat based on the team or bad refs
I don't think enough people realize just how consistent he is. Probably the most underrated goalie in the league
"The Flower" at #7 is laughably too high. If anyone from current years deserves that spot, it's Pekka Rinne
12
Vladislav Tretiak
Big Red Machine.
13
Marc-Andre Fleury
One of the greats.. He's a winner. Look what he has done on the expansion team the Golden Knights..
He should be in the top threes I'm a penguin fan so I think that GO PENS.
They call him the flower because he lets up to much goals
He's great and I'm a penguins fan but 9 is too high
14
Carey Price

Carey Price is a Canadian professional ice hockey goaltender who plays for the Montreal Canadiens of the National Hockey League.
Price at 22nd he should be 5 or 4 he has records better than any other goalie he won so many trophies 2014-2015. He deserves way better
Carey is going to be in the hockey hall of fame. He deserves, at the very least, top ten. He won the hart trophy.
In 2014-15 he had the best season a goaltender ever has had!
Carey price #31 best goaltender in the nhl
15
George Hainsworth
The best GAA by any goalie ever
16 Bill Durnan
17 Grant Fuhr
18
Roberto Luongo

Roberto Luongo is a Canadian professional ice hockey goaltender for the Florida Panthers of the National Hockey League.
Should be waaayyy higher on this list. The fact that Kari Lehtonen, Ilya Bryzgalov, Ben Bishop and many other not very good goalies are higher than Luongo is perhaps the stupidest thing I've seen. Holy crap. Luongo should be at least top 10 just look at his career stats and the fact he has been one of the best in the game for so long. He is a sure thing hall of famer. This list is a joke.
Luongo better then bobrovsky and price? More like noobongo!
19
Sergei Bobrovsky

Sergei Andreyevich Bobrovsky is a Russian professional ice hockey goaltender currently playing for the Columbus Blue Jackets of the National Hockey League.
20
Tuukka Rask

Tuukka Mikael Rask is a Finnish professional ice hockey goaltender currently playing for the Boston Bruins of the National Hockey League.
He can be really good or really bad.
He is ugly and he sucks
He is simply the best
He's really good
21
Jonathan Quick

Jonathan Douglas Quick is an American professional ice hockey goaltender currently playing for the Los Angeles Kings of the National Hockey League.
Watch Some He Has Epic Saves Every Time And As Of This Year He has the best statistic for saving
Quick is certainly one of the best goaltenders in the league now.
Gave the best drunk Stanley Cup celebration speech ever.
22
Miikka Kiprusoff
This goalie deserves to be top 10
23 George Vezina
24
Billy Smith
Best money goaltender ever
4 consecutive Cups isn't an easy feat
25
Turk Broda
Most wins for a maple leafs goalie 302
PSearch List