The Legend of Korra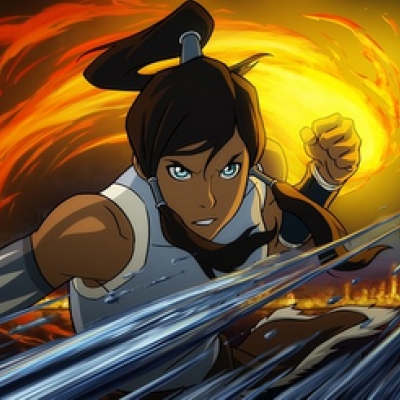 Uploaded by ModernSpongeBobSucks
Info
The Legend of Korra is an American animated television series that aired on the Nickelodeon television network from 2012 to 2014. It was created by Bryan Konietzko and Michael Dante DiMartino as a sequel to Avatar: The Last Airbender, which aired from 2005 to 2008.
Comments
Top
Popular
Newest
This show has to be one of the most beautiful things I have seen. It has brilliant and smooth animation. Fans of The Last Airbender have stormed over it and have approved of it. I simply love it, being a fan myself. It has great quality and great plot. The characters are brilliant and I think it deserves a higher vote.
I don't really watch Nick anymore after the end of "Drake & Josh" and "Avatar The Last Airbender", but I got to say "Avatar The Legend of Korra" is truly the best show on Nick right now. I only change the channel to nick just to watch Avatar. There is absolutely no other cartoon/anime on television right now that can possibly compare to this show. Great Plot, Comedy, Romance, and what I love most is the Action!
The legend of korra is a really good series, but its nothing compared to the series avatar the last airbender because avatar is supposed to be with the old times the four elements. And in the new series of avatar there are cars and technology that's just bull. But its a really good series I lit was really loved it, it was really good series and it should be one of the best series of this time.
The Legend of Korra was beautifully made. It included real-life situations and the struggles of being a hero. The antagonists are far from being 2-D and present important social conflicts. Avatar has always been one of my favorites, so I was excited when they released a sequel. It The characters are well developed, and the plot is amazing! Congrats to the show making top 20, but I'd love to see it make it to the top five!
OH MY GOD! This is the best show on Nick its even better than the original Avatar! Sure it doesn't have as much goofball humor but its much darker and serious, plus, the animation has grown and become much better since the original Avatar, if you haven't seen it yet, go watch it on the internet Season 1 already ended so you gotta wait for 2013 for season 2. Hope this helped!
I love avatar, and it DEFINITELY deserves first place! I have watched Avatar: The Legend of Korra online, because I live in Australia, and so far, it deserves a higher ranking than this! Come on people, there is only like, eight episodes, but they are damn good episodes! If I could pick one show to watch for the rest of my life, it would be the AVATAR's series (BOTH! )!
This Show is one of the most intelligent shows ever to be on Nick. The story telling is brilliant, the scenes they create are beautifully done. It's entertainment for both adults and children. It is even better than the last Air Bender. I don't understand how it's so low on this list.
This Show May Have Been Great, But It Will Never Be As Good As The Original Avatar Show.
This show has really set a benchmark for what a good show should live up to in the 2010's. The trasition from The Last Airbender is phenomenal. I watch re-runs all the time and they never lose quality.
Second best to the original series so far, however with the next 3 seasons it is expected to excel and further develop into a enticing story in hopes to out do Avatar: The Last Airbender. The visual art is simply stunning and the flaws are near to none. Phenomenal series and best of 2012 for sure.
The sequel to Avatar: The Last Airbender. Of course for any sequel, nothing compares to the original. Regardless, The Legend of Korra is one of the BEST show out there! It's just as action-packed as the original, the characters are very likable, and the episodes keep getting more epic.
The story is very realistic and the artwork is gorgeous. I love the action choreography the most. Really powerful and beautiful action scenes I have ever seen. Look forward to discover more secrets of the Avatar world through the Korra series.
YES YES YES YES YES YES YES
Have you watched legend of korra? It shouldn't even been in 21th place what the hell. Yeah it's not good as Avatar the last airbender and it has a lot of flaws but the good stuff definitely overpowers the bad stuff and there is A LOT of good stuff. just go watch Beginnings Part 1 and 2 and then you'll see why this show deserves to be at least in the top 10 or top 5
It's avatar! Of course it is going to good! It may not have the same characters, but it will still be good!
It got removed from Nick and put online because it's ratings dropped to 1.103 million, the biggest drop in ratings since 2013, when Nick Studio 10 dropped Nickelodeon's ratings by 30%. - nelsonerico6
To me the first season of Legend of Korra just feels like season four of the Avatar series.
This show is the most amazing thing that I have ever encountered, well except Avatar. The animation is amazing, the characters are well developed, and I just ADORE the soundtrack! Nothing can compare. Ever.
Why is this so low? Its like the more modern avatar. When my brother showed me avatar It came in before spongebob! I was sad when I finished it. I found this show next! Korra goes through a lot of challenges with no connections to the past avatars.
I know this is a little worse than Avatar the Last Airbender but its not that much worse. Like come on Zoey101 is ahead of this show and I never even heard of that. Let's go guys lets get this to the top 10
This shows has definitely lived up to Aang's legacy. It is much more serious and based around teens, but it is still a fantastic sequel to an incredibly amazing original series. It is hard to find another series that is as visually wondrous, emotionally engrossing, and wonderfully plotlined as this new sequel.
I can't belive its this low on this list. Legend of korra is the BEST! LEGEND OF KORRA FOREVER! Season 3 was the best so far. Season 2 was not so great. I can't wait for season 4!
This is one of my favorite shows on Nick. I love Avatar: The Last Airbender so I knew I would like this too. It was a shame it ended though.
Korra is my hero! This show was AWESOME! I ship Makorra and enjoyed things like the animals playing around and the air nation being restored! I think Mako is hot! Anyway, Korra faces struggles like every one of us has. This show is realistic like avatar. I just wish this was high ranked, right next to avatar!
Hey its related to avatar and although its not as good as the first one its good enough for me
It is different every episode and much more different then other shows. It is good for children to engage their minds with the possibilities in this world