Atif Aslam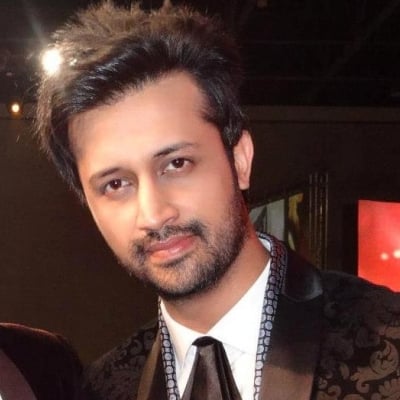 Found on shortday.in
Info
Muhammad Atif Aslam is a Pakistani singer and film actor. His movie debut was the 2011 social drama Bol.
Comments
Top
Popular
Newest
He is outclass mind blowing banda...
He is the best singer of world so cute good looking and have very good voice so definitely he is the best
He is really the best singer present
I like atif aslam and I love atif aslam
I love him he is really good singer!
The best singer of Pakistan he is cool guy
Atif aslam best singer in the world
Atif's voice is the best. His voice and talent is evergreen. No one can sing like him. He can sing without any background music and he is the perfect number 1 singer.
I think atif is the best singer in all over the world. I love his style of singing. That why he is called the prince of pop music. I love you atif.
Atif aslam is the best he is very humble and caring
He is really hot sexy and handsome
His voice is very unique
He touches my heart every time I see or hear him
Love you aadee
Atif aslam is best singer all over the world
Hi guys I'm a British south Asian, I never was a fan of hindi songs, by chance my friend was playing one of his songs, I liked it so much I had to ask about the singer, his voice so unique it had a natural flow of lyrics which had the emotions attached to inner souls, that's what I have experience from his songs, which is truly sensational and rhythm of love and emotions.
Atif aslam you are undoubtedly the best and I want to say you are the voice of India too! There are uncountable fans of yours in the world and I am also one them, I respect you and MAY GOD BLESS YOU AND CHERISH you WITH ALL LUXURIES AND HAPPINESS please continue to sing for India and sing punjabi songs also
Atif's "Vocal Belting Technique" differentiates him from all the singers of Pakistan. He just rocks!.
I like you becouse your vice is very very very very very very very very very very very very very nice
He is the best singer in the world his voice is just superb amazing mind blowing cool
Atif Aslam is the best singer in the world. I am his biggest fan. Atif rocks!
The best and heart touching voice I ever listen. He is not only the best singer of Pakistan but all over the world. Allah bless you more.
The ousam ousam ousam singer of the world having nazzel voice which no one is having in the world from the start of singing
Atif is the best singer all around the world and no one can take their place
Atif you deserves to be always one... Love you... Please release new albums...
The best singer of this universe... you rock on the heart of many people
You are the best singer & your voice is touching directly to the heart.
Atif aslam is very good singer and he is voice so much sweet and emotional and nice he was world top singer I am big fan atif aslam I love you
Atif aslam have a very sweet tone. He should keep it up