Best PBS Kids Shows
The Top Ten
1
Arthur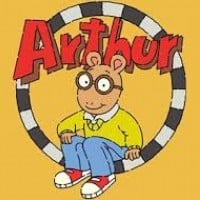 Arthur is a Canadian/American animated educational television series for children, created by Cookie Jar Group and WGBH for PBS.
This show is unlike most other PBS Kids shows because of the fact that it doesn't specifically aim towards little kids. In fact, I think people of all ages could learn something from this show. While Sesame Street gets kids ready for school, Arthur gets kids ready for life. This show tackles subjects such as cancer, dyslexia, 9/11, and Aspergers. This is also one of the few PBS Kids shows that doesn't shove some sort of lesson into your face (math, science, reading,) instead, it shows you how to be a good person and how to be a good friend. In my opinion, this show is much better than Sesame Street and deserves the number 1 spot.
Arthur is a good show. The characters have tons of depth and are like able. The plots are well done and the humour is in the right place at the right time. But you know what my favorite thing about this show is? It is really mature. It has dealt with cancer, dyslexia and 9/11 and those were all interesting episodes with smart writing. It doesn't throw random crap at the screen.
Hey Arthur fans! Let's get Arthur back to number one! That's the way it was before, and that's the way it should be! We Arthur fans shouldn't get thumbs down for liking Arthur! Unlike Sesame Street, which just helps kids get ready for school, Arthur helps kids deal with more important things like cancer and dyslexia! Vote for Arthur! And Sesame Street fans, instead of shoving your opinions down our throats, just make a remix of the list!
Yep. Sesame Street was my childhood, but Arthur is now one of my favorite shows. It's the reason I get bullied in school for watching PBS Kids, along with Wild Kratts. Great job, PBS. - PizzaGuy
U would recomend this show because it teaches u a life lesson
2
Sesame Street

Sesame Street is a long-running American children's television series, produced by Sesame Workshop and created by Joan Ganz Cooney and Lloyd Morrisett.
Really number 3? No no no no sesame street is number one I don't watch it anymore but its still should be number one who ever voted dragon tales at number one hasn't seen sesame street before cooke monster is a awesome character and so is elmo and if it didn't make first then people are just dumb really guys arthur before sesame street come on now lets use are brains for a second and think ss nation my brotha its kj and I will always love sesame street till the day I die any ways that's all I wanted to say.
Me Abby and All my Teachers Love it and its Way Better than Barney
Sesame Street deserves a season 46 for being the best show on PBS kids!
I simply adore and embrace Sesame Street! This show has been around since November 10th, 1969, and it is still on T.V.! I have been watching this show ever since I was a baby, and my favorite characters are Big Bird, Elmo, Oscar the Grouch, Cookie Monster, Grover, and Ernie & Bert! I really like 90s and 00s Sesame Street the best, because I had VHS tapes of my own that were released during that time. I loved all the songs they sang, taught me to be nice to friends, and the characters were cute, colorful and charismatic! I even read a book that talks about the history of Sesame Street when I was thirteen, and I learned way more than I did about Sesame Street! This show is the crown jewel of PBS, this shows longevity are one of the things that make Sesame Street special.
3
Curious George

Curious George is an American animated television series based on the children's book series of the same name which features Jeff Bennett as the voice of The Man with the Yellow Hat.
amazing beautiful showstopping one of a kind never been done before
It's annoying sometimes, but overall a great show!
My brother loves this show so much since he loves monkeys.It's so good and funny.But I really hate Bill so much.He thinks George is a "city kid".Gosh he's not a kid.he's A MONKEY
I'm 12 and still watch it!
4
Wild Kratts

Wild Kratts is an American-Canadian educational children's animated series created by Chris and Martin Kratt.
Did you know the kratt brothers are REAL people? Yep. Why are superwhy, barney, oh I don't like arthur either BARNEY IS THE WORST! Come on people! This is actually educational! I mean, I still learn from this... ( I admit it ok? Its embarrassing! ) it teaches you about animals, plus really funny! An adult could watch it and learn, at least its in front of wordgirl UGH SHE GETS ON MY NERVES! YOU can't JUST BE A SUPERHERO AND KEEP IT SECRET, JUST FIGHTING WITH WORDS! AND YOUR TELLING THE EVIL PEOPLE THE SECRETS THAT EVERYBODY KNOWS! AND, AND, AND, UGH YOU FIGHT PEOPLE SO DUMB THAT I COULD BEAT WITH MY SKILLS INSTEAD OF SUPERPOWERS OR WEAPONS! Ugh sorry shes just horrible. Anyway! This should be higher up because you know, animals aren't as creepy as they seem and wild kratts seem to prove that!
This show is amazing! I can watch it with my kids anywhere at anytime by either watching it on television or on computer. We can learn about any animals from different countries and it's also really funny because of adventure comedy. The characters are very friendly and very helpful. Creature powers are awesome and epic for having super powers of any animals and very useful to fight against villains in the show. This show is really worth both the education and entertainment for anyone!
My two sons absolutely love Wild Kratts. After we discovered this show, they named each other Martin and Chris, and it helped them to become better brothers. Also, they learnt so much about different animals and different countries. Kids and parents dream come true show! We hope there will be more episodes:-))
Awesome sorry Sesame Street cyberchase arthur dragon tales and curious George wild kratts is for everyone I love it
5
Cyberchase

Cyberchase is an American–Canadian animated television series on PBS Kids. The series focuses around three Earth kids, Jackie, Matt, and Inez, who are brought into Cyberspace, a digital universe, to protect it from the evil Hacker. Cyberchase was created by Thirteen. It was first shown on WNET as ...read more.
I really don't remember much but I didn't hate it so it gets a good score from me.
I understood math thanks to this show, and it still teaches me even today. It even shows you how to apply that math in nature and pretty much everyday life, and if you don't know how it will help you, you got those funny For Real segments to give you an example. Cyberchase is pretty much the only PBS Kids show that I still watch, and it still airs new episodes, even if they take a long time. Despite it's simple math, you will still learn because it sometimes shows subjects you either forgot or didn't learn to apply well. And not just the educational part is awesome, the adventure is so much fun, and expect to have a great time with the characters, where even the secondary ones manage to get major development once in a while.
I love cyberchase a lot it helped me learn math without being boring it's the best show ever
Cyberchase is the best show ever made! I didn't hear about it until season 8 was premiering, because I was living in Florida when the series first premiered, and I don't get the show in Florida. But now that I love in New York, where they do air it, I can use it anytime I need to study for math. Oh, and it was never cancelled after season 8. Season 9 premiered with 3 new episodes from November 4th to 6th in 2013, followed by the Cyberchase movie in April of 2014. It also recently aired season 10 from November 9th to 13th in 2015. So there's that, it's still running new episodes, and I rely on it when I need to study for math.
6
Dragon Tales

Dragon Tales is a Canadian-American animated pre-school fantasy adventure children's television series created by Jim Coane and Ron Rodecker and developed by Coane, Wesley Eure, Jeffrey Scott, Cliff Ruby and Elana Lesser.
My favorite Dragon hands down is Ord. He is good. If Ruff watched this show, he would be amazed.
I used to watch this show when I was little and it is good for kids. The only character that is bad sometimes is max because he talks a lot. It's sad that this show doesn't make episodes anymore and I don't see dragon tales repeated episodes that much.
This show was very good I used to watch it a lot when I was little I think its still on early in the morning but I just don't see it anymore
Who put this under best PBS Kids shows. THIS SHOW SHOULD BE THROWN IN A VOLCANO AND DIE FOREVER. It is such a bad example for kids. Max always runs around and gets mad for no apparent reason, and he never listens. Emmy always cries over the smallest things such as losing a game. Ord is always eating all the time and that's how he is so fat. Zak and Wheezie are extremely mean and are always arguing over little situations. Parents, never let your kids watch Dragon Tales. It will make YOUR children get mad for no reason, not listen, cry and argue over small things, make them fat, and behave mean around everyone. OH and my 8 year old friend and her 4 year old cousin still love watching this dumbass show.
7
Mister Rogers Neighborhood
Here's something that a lot of you people don't know. Fred didn't only act in this show. He also wrote the scripts, he wrote the music, and did the Neighborhood of Make Believe Puppuets. And something that I find interesting is that he can appeal not just to little kids and babies. But to people of all ages. Heck, I had barely even heard of this show when I was little, but when I was in 5th grade, I watched it on Saturday mornings because the PBS station in the city that I live in broadcasted it on Saturdays, and I enjoyed it. How he appealed to so many kids, I'll never guess, but he was the '80's version of Barney in my eyes (in the respect that all the little kids loved him, not the stupidity level). Thumbs up if you have ever been enchanted by Fred Rogers
As kids, my brother and I never wanted to miss an episode of Mister Rogers', even if it was one we'd seen before. We were throughly entertained, but learned so much. In a world full of educational toys ready to teach even one years their ABCs, it was important that someone taught us about our emotions/feelings and how to handle them. We all had a friend in Mister Rogers.
That Show Was My Favorite PBS Kids Show of All Time
There will never be a show for children as influential and important as Mr. Rogers' Neighborhood. His friendly presence made him a great person for kids to watch. He also made it easy for children to understand scary concepts, such as the Assassination of John Lennon, and communism.
8
Fetch! with Ruff Ruffman

Fetch! with Ruff Ruffman, sometimes shortened as Fetch!, is an American animated television series that was on PBS Kids.
My FAVORITE TV show when I was a kid. My favorite Fetchers are Noah, Rosario, Sam, Isaac, and who could forget Rubye. But there was 1 problem, I WAS SUPPOSED TO BE IN SEASON 6! Good show though.
It should be in the top 10 because it not only teaches kids science but also how a points system works which is god if they are nascar fans because as they compile points throughout the season they work towards the honor of grand champion. IT SHOULD NOT HAVE BEEN CANCELLED!
THIS SHOW SHOULD NOT HAVE BEEN CANCELLED!
I wish it wasn't cancelled either. The reason that it was cancelled was due to a lack of funding.
I love this show and I hate children's shows. This, Ben and Holly, and Lazy Town are baby shows that I like. But sadly in 2014 a dumb reboot online about internet safety was cringe. And the new one is dumb. Now Ruff cares about himself more than the kids. And on the 24/7 block it comes on at 5 AM who stays up till 5 just to watch a great baby show- Carolina Panthers/Nirvana fan.
I don't like this show anymore. Carolina Panthers Nirvana fan was my old name before I joined..
9
Clifford the Big Red Dog

Clifford the Big Red Dog is an American-British educational animated children's television series, based upon Norman Bridwell's children's book series of the same name. Produced by Scholastic Productions, it originally aired on PBS Kids from September 4, 2000 to February 25, 2003.
I used to watch this show a lot till I turned 7 or 8. I think there is nothing wrong with this show. My favorite character is Mac. The spinoff Clifford's puppy days was good but not as good as Clifford the big red dog. It's sad that this show was cancelled in 2003. It was cancelled because the person who played Clifford was going to die during that time. They still show this show usually when pbs kids ends for each day during the week.
Who wouldn't like Clifford the big red dog! Clifford is so loveable!
Just like they say in the theme song, "I love Clifford the big red dog"
One of the few baby shows that I don't hate to this day.
10
Thomas and Friends

Thomas & Friends is a British children's television series. In the United Kingdom, it had its first broadcast on the ITV network in Great Britain in 1984.
This show was amazing until they dis the whole CGI thing which was forgettable.
Current Shows
Arthur
Bob The Builder
The Cat In The Hat: Knows A Lot About That
Curious George
Cyberchase
Daniel Tiger's Neighborhood
Nature Cat
Odd Squad
Peg + Cat
Ready Jet Go!
Sesame Street
Splash And Bubbles
Super WHY!
Thomas And Friends
Wild Kratts
I love this show so much! It's very nostalgic and memorable! It should be at number 1!
I used to watch this show when I was little and I had Thomas and friends toys. My favorite character is James the red engine. My favorite movie was Thomas and the magical railroad. My favorite part in that movie was when diesel 10 fell of the bridge he deserves it for hating Thomas and his friends. This show also has very good ratings so this show shouldn't get cancelled.
The Contenders
11
Odd squad

Odd Squad is a Canadian/American children's live action television series that premiered on TVOKids in Canada and PBS Kids in the United States on November 26, 2014, both on the same day.
My personal favorite and nowadays they have Opal, Orla, and Oswald and other great characters 10/10
I was watching T.V. with my little cousin, and Odd squad came on. I watched some of it with him, and I was REALLY impressed by how good this show was. The show ingenuously teaches math concepts that I didn't think kids could comprehend, but also mixes it in with comedy and smart writing that even adults will get a chuckle out of. Show it to your kids, it's good stuff.
ODD SQUAD IS THE WORST PBS KIDS SHOW I HAVE EVER SEEN TAKE THIS OFF THIS LIST RIGHT NOW. THIS SHOW IS WORSE THAN CAILLOU AND BARNEY AND FRIENDS. THE PEOPLE THAT HATE BARNEY that's FINE, I'M SORRY FOR LIKING CAILLOU AND BARNEY. AT LEAST BARNEY DOESN'T WHINE LIKE CAILLOU. I LOVE BARNEY SOMETIMES BECAUSE I'M 22 YEARS OLD AND BARNEY WAS MY CHILDHOOD. I KNOW WERE TOO OLD TO WATCH THESE SHOWS BUT I STILL LIKE THEM
I'm kinda sad about the changing characters of the new season I wish they brought back the old characters
12
Between the Lions

Between the Lions is an American children's television series designed to promote reading. The show was a co-production between WGBH in Boston and Sirius Thinking, Ltd., in New York City, in association with Mississippi Public Broadcasting, in Mississippi.
My 20 Year old sister Loved the show when she was 5 or 6 years old. I Was Always in there with her watch PBS Every Weekday Morning. I thought the lions faces were a bit creepy but I was 15 back then so I didn't care
Do I really need to explain how great this show was? This one will always one of the greatest kids shows of all time.
Great show an awesome cross of sesame street and reading rainbow my son learned his voles before he went to preschool from there cute song
My 15 year old sister loved this show, although, I don't know why maybe I was crazy, but I didn't. But it really is good, the lions aren't too scary, either
13
Reading Rainbow

Reading Rainbow is an American half-hour children's television series that aired on PBS Kids from June 6, 1983, to November 10, 2006, with a total of 155 half-hour episodes spanning over 21 seasons.
That Show Has So Many Books Like Between the Lions
I always watched this when I was in 1st grade.
SO SO sad PBS doesn't still run this show
This show should not have went off the air in 2009 because of the broadcast rights expiring
14
Berenstain Bears
This was also another great show that aired on PBS kids
This was the best show EVER till they took it down :(
I preferred the books but its still a good show
This was one of the best shows ever
15
The Magic School Bus

The Magic School Bus is a Canadian/American Saturday morning animated children's television series, based on the book series of the same name by Joanna Cole and Bruce Degen. It is notable for its use of celebrity talent and combining entertainment with an educational series. Broadcasting & Cable said ...read more.
My sister is crazy about this show but she worries about huge insects. I like the show too cause it teaches children about science and I love science.
This show is great! Loved it when I was a kid and my children love it now.
I haven't seen this on PBS in 3 years.
This is the best show ever no contest. my 5th grade teacher put this on (probably to get a break from this kids) and everybody started groaning and going on about how dumb this show is. yeah I know 11 is kind of old to be watching this but I was the only one paying attention. also I did not know this show used to be on pbs
(
16
Martha Speaks

Martha Speaks is an American-Canadian children's animated television series based on the 1992 children's book of the same name by Susan Meddaugh, about a talking dog named Martha (voiced by Tabitha St.
Have not seen this in 7 years. Then two days ago...I SEEN IT AGAIN! This is childhood. I have other favorites, Odd Squad..Clifford..Arthur.. But the theme song..too catchy. My favorite character is sis six
I think this and Arthur are one of the greatest PBS Kids shows of all time. Except I think it's kind of animal-racist that Martha keeps saying she hates cats. And I think Helen is more of a robot than an actual human being at times. AND I wish the voices were the same still, (although TD and Milo's voice changes were understandable because their voices were getting deeper) but other than that the show is great and teaches kids words.
The cat thing is normal, since Martha's a dog. Didn't you realize that? - TheRedstoneWiz
Why would they cancel this. It was awesome and the theme song was just amazing. The animation was peaceful.
I don't really hate this show, it was actually pretty good. But martha is the real reason the show got cancelled. Other than her fat and super ugly mouth, the show isn't bad.
17
WordGirl

WordGirl is an American children's animated television series produced by the Soup2Nuts animation unit of Scholastic Entertainment for PBS Kids.
This show has always been so useful for me! I discovered so many new vocabulary words from when I was 8 (at the time the show started airing) up until I was 12 or 13! And I STILL find a few new vocabulary words that I may have heard of, but seldom use because I don't know the complete definitions of them. I don't understand why this show had to end, it was so well though out and put together!
This show is by far the most AWESOME! Personally, it give kids a relatable kid hero to look up too. Plus, it adds humor for the whole family. It is an AMAZING show!
I remember this show. The theme song was amazing. " Word Up its Word Girl"
It was not so suitable for children because in one episode. She tried liking on someone and and wanted to make out with her and make love.
18
Liberty's Kids

This show needs more attention. Its one show I will keep on watching the Remakes til I'm bored.
One of the only shows I enjoyed in school.
Oh god don't bring this nightmare back
Moved to Starz

Hadn't watched it yet
19
Bill Nye the Science Guy

William Sanford "Bill" Nye, popularly known as Bill Nye the Science Guy, is an American science educator, television presenter, and mechanical engineer.
That's my favorite kind of TV show at
olcitv & in Pbs kids too, Teletubbies.
No explanation needed, just a higher ranking.
This guy was on Disney channel not pbs
SCIENCE RULES
20
Ready Jet Go

Ready Jet Go! is a CGI animated television series created by Craig Bartlett which premiered in the United States as part of the PBS Kids block on February 15, 2016 . The series is produced by Wind Dancer Films and Snee Oosh, Inc. in cooperation with NASA's Jet Propulsion Laboratory. The show is aimed ...read more.
This show deserves to be in the Top Ten, it's good to know and realize that PBS Kids has finally made something good for once after all those years, when there were no good shows. First of all, There's a good plot. Also there's no laugh track. The quality is also very good and watchable, unlike the quality of the other shows, which seem bad in comparison, also the characters are nice in both looks, words and actions, yet this show also has good morals, and it also has an improvement method in the acting that doesn't happen in the other shows in this era. And this is the first time in years that PBS Kids has finally made a show that drew millions of viewers that are actually fans, which makes this show the most successful Nick show in a long time, and it became such a big hit that they're making a one hour special of it soon, and it better be a good one.
This show is so underrated, you guys who watch this show should know that, for a long time, since PBS Kids has been making really bad shows in the modern years, for the cartoon brand, Nickelodeon has unleashed a new generation in the good side of the live-action brand, and that generation began in February 15, 2016 with Ready Jet Go, and later in the year, PBS Kids has refreshened it's cartoon and live action content with Wild Kratts, Odd Squad, and Nature Cat, the best shows on PBS Kids since 2009, and since Arthur and Sesame Street got messed up years ago, The only four good shows on PBS Kids nowadays are Ready Jet Go and Wild Kratts and Nature Cat and Odd Squad, it's also no doubt that those shows are the last good shows on PBS
The show is a rare gem in the realm of modern day children's cartoons. It is very in-depth, educational, and informative about space, astronomy, science, technology, and teaches great morals in every episode about friendship and teamwork. It has unique and detailed animation, top-notch songs, zany humor, likable, relatable, and deep characters, and just about the best of literally anything in a cartoon targeted at the under-fives. It has plot and lore, real drama, suspense, and who knows what else, but they keep it appropriate for children. It's also getting a film where Sean and Sydney go to Bortron 7 with the Propulsion family! It's also getting a second season, and will roll out tons of merchandise. Space Explorers (ready jet go fans), get ready to ready jet GO!
My Fair Jet, which premiered today, is now my new favorite episode! It has a great song, witty humor, and a real plot with real suspense. This is one of the only reasons why I watch PBS. A lot of modern PBS Kids shows are cheesy and feel like they're pandering to the lowest common denominator, but not this show. While this show is obviously not better than Arthur, Sesame Street, and Mister Rogers' Neighborhood, it is better than modern Arthur, modern Sesame Street, and every preschool show of the 2010s. It deserves to be in the top ten for sure, it is educational, and keeps everyone entertained.
21
Zoboomafoo

Zoboomafoo is an American/Canadian zoological children's television series that originally aired from January 25, 1998 to November 21, 2001. It is still currently shown in syndication and was regularly shown on Sprout until 2011. A total of 65 episodes were aired.
I used to watch it, I liked it. Now, It still isn't too bad, but Its not worth watching full episodes all the time anymore. Its now one of the few shows I actually enjoy looking back at, unlike Caillou and Barney.
This show is so sweet and funny. I love Zoboomafoo! Sometimes I feel like crying watching this show,only because of nostalgia though. The show itself is not sad, rather entertaining.
I remember my mom saying this was the only show we watched on PBS when we were kids that she actually enjoyed.
I used to watch it
22
Nature Cat

Nature Cat is an educational American-Canadian children's animated comedy adventure television series.
I don't know why this is on the list. Here's the problems I have with it: 1. At the beginning of the theme song, Fred, (A.K.A. Nature Cat) says when his family leaves for the day, he doesn't just sit inside and watch the world go by, he goes outside. Ain't that the point of being a cat?! Just sitting inside and watching the world go by is the great thing about being a cat! What's wrong about being lazy and watching T.V.? 2. Daisy the Rabbit. OH. MY. GOD. Daisy is ALWAYS on her tablet. For a nature show for kids, this is a bad role model for children. I mean, I'm on my computer a lot, but I'm not on it ALL DAY. There is actually two episodes where Daisy is TOO focused on her tablet. PBS, replace the tablet with an encyclopedia or a Great Big Book of Everything OR, lets not give her anything but a big brain. 3. In one episode, Squeaks is chased by two owls that are trying to eat her. When Nature Cat and his crew meet the owls, he grabs Squeaks to save her. The owls try to grab Squeaks ...more
This show is actually funny! It has a likable voice cast, fast pasted humor, and a God plot. Nature cat is the funniest and best show for young kids!
Fun fact: The person who played Hal also played Panda from the Cartoon Network show We Bare Bears.
Nature Cat himself looks a bit like Top Cat which makes me love the show even more!
23
Teletubbies

Teletubbies is a British pre-school children's television series created by Ragdoll Productions' Anne Wood CBE and Andrew Davenport, who wrote each of the show's 365 episodes. It is owned by Canadian Studio WildBrain, which is the largest independent Children's and Adolescent's Film Studio
Listen Tubbyphobia guys.
Tinky Winky is not gay his antenna actually looks like one for a television not a gay symbol. Who cares if he is purple, who cares if he carries a red bag that does not make him gay.
Why no one likes Teletubbies? I do (I'm maybe the only one who does)
This show was my childhood... Along with SpongeBob of course.
Sorry for thumbing down. You're awesome. It's just that this show drove me crazy since I was 4.
I still secretly watch it on DVD.
24
Block House
That show doesn't exist.
Block house is really funny! There must be jokes on every page of the episode scripts
Block house is great! In my version of this list Block house is in fourth place!
Block house is on season 7 right now and Block house is still funny!
25
Let's Go Luna!
This Show Deserves To Be On This! The Animation and Character Designs are Really Appealing! And Judy Greer is Great as Luna!
Created by Joe Murray, who also created Rocko's Modern Life, which is one of Nick's best shows.
Fun Fact: Joe Murray Made This Show!
Sing along with us
PSearch List