American Pharoah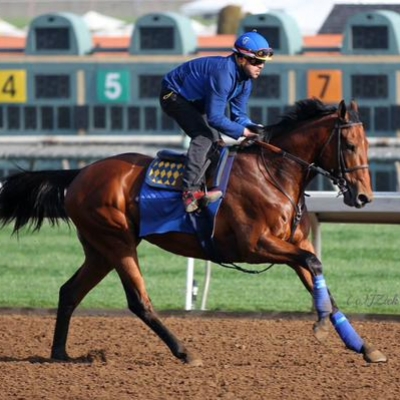 Uploaded by eventer51314
Info
American Pharoah is an American Thoroughbred racehorse who won the American Triple Crown and the Breeders' Cup Classic in 2015. In winning all four races, he became the first horse to win the "Grand Slam" of American horse racing.
Comments
Top
Popular
Newest
Good race horses are a dime a dozen a lot of horses can win upper level allowance races and stakes races but rarely do you ever see a horse that can go out and dominate grade 1 stakes races the way Pharaoh did his one loss doesn't really even matter his performance in the Triple Crown and Breeders Cup show that he was one of those rare horses that you only see once in a lifetime many horses are great but I was always taught that a Triple Crown winner is something extraordinary there are good horses there are great horses then there are 12 legends the 12 Triple Crown winners the last being American Pharaoh
No where near as talented as Secretariat, or Man O' War, but was a winner. He was an amazing racehorse. But he had a winner mentality. Won all 4 races, putting up an amazing time in the Belmont race. This horse is definitely better than Arrogate because Arrogate never even ran in an of the Triple Crown races. The Arrogate fans need to calm down, he barely beat an old California Chrome. Also, California Chrome injured himself before another time him and Arrogate faced off, and that is why he lost that one. Arrogate also doesn't have the best competition. American Pharoah went right into breeding after the Breeder's Classic, so he never faced off against Arrogate. But we all know American Pharoah would come out on top. American Pharoah is the best horse with Zenyatta of the post 2000's so far.
I knew for a fact that he would win the triple crown. I watched California Chrome and Orb try but fail these last few years. I've been a fan of horse racing ever since Big Brown raced in the Kentucky Derby. But when I first saw Pharoah run the Derby, I had a gut feeling that he would go all the way. I'm only 15, and my dream for the past few years was to see a triple crown happen before I die. I guess luck was on my side this year. Pharoah is a truly magnificent horse and I hope to see more from him as he begins his stud career. Long Live The Pharoah!
The greatness of American Pharoah is that he was able to win the Triple Crown in a time when any "fresh" horse is allowed to enter the race. Therefore unlike earlier winners who competed against horses who ran all three races (was required) like themselves, American Pharoah had to run against horses who had far more rest than he! That's what made his win so amazing! Over time I think he will move up on this list!
American Pharoah was the first horse after 37 years to win the triple crown. Not only that but he became the first horse in history to win the grand slam and in record breaking time (triple crown and breeders cup classic in the same year) American Pharoah went out as a hero to all Americans. His stud fee is 200k which is the 4th largest in history. Thank you American Pharoah for raining on the long lasting drought!
American Pharoah has to be at least one of the top 20 to top 10 horses of all time. Very similar to Seattle Slew in racing style with the take the early lead and catch me if you can approach. He's had one of the best 3 yr old seasons ever accomplishment wise. He has done everything asked of him by winning the Triple Crown and winning the Breeders Cup Classic, the premier race in North America for horses 3 yrs old and up. He did it by beating older horses something that isn't done very often by 3 yr olds. His stride was one of a kind and he has easily become what perhaps is the most popular horse of all time with all the followers on social media during the internet era.
I loved watching American Pharaoh run. he's a great race horse. I know in the racing business you look at things from a money point perspective, but I personally would have wanted to see him run more because those horses like him seem to be once in a life time.
American Pharoah gave people a new sense of hope that we may just have a new Secretariat, although he did not beat his record he is one of the greats just like him, and deserves to be treated that way, he is our next step forward to getting the next Secretariat, although no horse can ever replace his glory.
Didn't have the benefit of building up his foundation with plenty of preps leading up to the Kentucky Derby, AP won the Derby on pure talent, heart, and will. He got stronger as his brilliant 3yo season unfolded, ending with a smashing win at the Breeders Cup Classic in two minutes flat on a moderate Keenland dirt track, first Grand Slam winner. American Pharoah likely never hit his true bottom, or peak, as his efficient stride allowed him to win most of his races relatively easy. His freakish 112 degree stride angle was the largest among the Triple Crown greats, meaning he could've ran with any of them, yes, even that one.
A great modern day thoroughbred who would stack up favorably with most horses of any era. A Triple Crown winner who came up half a length short in the Travers, but I believe he will rebound strongly in the Breeders Cup Classic.
Amazing racehorse only grand slam winner heart of a champion and the first triple crown in 37 years to call Pharoah the horse of a lifetime is an understatement American Pharoah is the horse of ANY lifetime - Helenxcgirl99
Not sure where history will put him but the fact he is the FIRST Grand Slam winner should put him in top ten. Granted the other great horses didn't have the chance to be grand slam winners but he is the first and the numbers show he is one of the greatest.
American Pharoah was the first horse in 37 years to win the triple crown. And then not only was he already well known he then went on to be the first horse in history to ever when the grand slam in record breaking time (triple crown and breeders cup in same year) He retired after that race and went out as a 200k stud. We should all appreciate American Pharoah and what he achieved!
American Pharoah won the American Triple Crown and The Breeders' Cup Classic, thus becoming the first horse to ever win the "Grand Slam" of american horse racing. That should be enough for the top 3 right there. American Pharoah produced good results, that is the goal of horse racing.
One of the great 3 year old seasons ever, and the first winner of a horse racing grand slam. He is definitely the greatest 21st century horse so far.
Awesome runner. Fast and powerful but also one of the smartest racehorse I have seen. Alert, confident, and in perfect sync with the jockey. Loved to run and win. Wish he could run as a 4 year old.
I wasn't around for the other triple crown winners but boy was I lucky to be around to watch this horse win. Truly inspiring event and what a Amazing horse to watch. He should be second
American Pharaoh, like Secretariat, has the sweet natured temperament and superior athlete physical dominance that make him my pick. He is beautiful, charismatic, confident and powerful all in one.
Why is he at 36 when he is one of only 12 Triple crown winners? Love to see him win the Breeder's Cup!
First horse in history to win the grand slam! Though he may not have be as far as secretariat he is still as great! American pharaoh deserves to be #2!
I refuse to compare him to Secretariat! He is AMERICAN PHAROAH! He is awesome and perfectly put together. He is the kind of horse legends are made of. He is my Champion.
I loved watching American Pharaoh run he always had me on the edge of my seat and he was the first horse to win the Triple Crown in 37 years
Great run for a Triple Crown winner! Second fasted at Belmont - would've lost to Secretariat by only 10 lengths.
I think in time history will show American Pharoah belongs in the top 10, if not top 5. And you wonder if anyone will ever win the Quadruple crown again?
He's an amazing athlete and the best part? He loves people! His owners always talk about how sweet he is. He's a winner. I hope I get to meet him some day.