Man O' War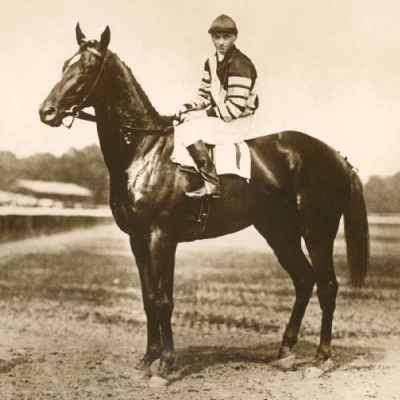 Uploaded by eventer51314
Comments
Top
Popular
Newest
People really need to do their homework before just voting for a name they recognize. MOW was killing the competition so bad that the jockey club started forcing him to carry more weight. He was carrying on average 32 pounds more than the other horses and he was still beating them so badly that it actually became hard for him to find anyone that was willing to race. It became so ridiculous that in his fourth year of racing the jockey club wanted him to add more weight. His owner thought that was to dangerous and retired him because he was scared he would get hurt. N'ough said, I love Secretariat but I'm sorry MOW would beat the brakes off of him.
Man o' War was probably the greatest racehorse ever. He dominated over the racing world like no horse had ever done. As a two year old, he was a great one. He went into his 7th race undefeated. But in Big Red's time, the electronic starting gate had yet to be invented. So when the race started, Man o' War was facing backwards. He lost 4 lengths at the start. He was also spotting the horse with the next closest impost (the eventual winner, Upset) 15 pounds. Since 2 pounds make up 1 length, plus the other 4 Man o' War had gave up at the start, he was giving Upset 11 1/2 lengths. The 2 year old passed 1 colt after another until an eighth of a mile from the finish, there was one more horse running 3 lengths ahead of Red. He thrust himself forward bearing down on Upset, hugging the rail that eventually would cost him an undefeated title. There was a narrow opening on the rail just big enough for a horse to fit through an then... No! Upset closed up the space and jockey Loftus had to pull ...more
Man O' War was truly an amazing racer, he lost only one race because he was in the wrong position. Big Red was never fully extended or allowed to run to his limits, the world will never know how much he could do. I feel like Big Red deserves first place, Secretariat was an amazing majestic runner, but Man O'War will always be the greatest race horse of all time in my mind. He deserves it. Big Red paved the way for today's racehorses, and he deserves the fame he has now.
So many don't take into consideration of the weight Man O War carried, the shoes used at that time, the track conditions, and the lack of competition and the fact that they never really unleashed him and held him back because of the huge distances he was already winning by. Man O War is and will always be #1. And Ruffian would be my second.
MOW was absolutely the greatest horse since Eclipse (1764). Even having Seabiscuit in the top 50 all-time shows this is about general popularity from movies than from facts. And contrary to the movie, War Admiral was not much bigger than Seabiscuit. Native Dancer and Secretariat would be tied at # 2 in a legitimate poll. Native Dancer won 21 of 22 and only lost the Kentucky Derby because of a poor ride. He sired Raise a Native who in turn sired almost half the horses alive today through his sons and and was damsire of Northern Dancer, the # one sire of the last 75 years. Native Dancer sired most of the half not from sons of RaN
Seemed this horse didn't so much have an extra gear - more like an afterburner! That it would use in short bursts. When it kicked in the horses spine would really snake up and down and its legs would fly. Any horse alongside would 3 seconds later be 4 and half lengths down on Sea Bird which by now had switched off the afterburners and was in a hi speed cruise gallop. Don't believe look at you tube 1964 Epsome Derby - or the Arc De T 1965.
Just as the others have said, he would have won the triple crown for sure! If only there was a major motion picture made of him then everyone would know his name.
Man O' War will never be outmatched. There will never be a second Man O' War. He was, and always will be, the fastest Horse who ever lived, Secretariat could have beaten Citation and all the others besides I happily admit, but Man O' War could have beaten him in a flat out race on both their best days.
Man o war was unbeatable and his record proved it. Only loss was a bogus start that cost him and they boxed him in. Most of his races his jokey slowed him down because he was so far ahead and didn't want to chance injuring him. So you can't go by just speed records. Old saying goes, great teams aren't always great, they are only great when they have to be. I love secretariat too, but the bottom line is it is all about winning. Secretariat was beaten five times and one time a horse caught him from behind and blew by him
Big Red won every race that he was correctly in place to start. The one loss he had was because he was facing backwards when the starter let them go and even then he only lost by a head! And not only was he a brilliant Race Horse, he also kept going as a fantastic stallion and going on to sire multiple Triple Crown winners and award winning racers. I love Secretariat, but as good as he was, he got that greatness from his grandsire. It's all about the blood and heart, and Man o' War had both, and he passed that on to his progeny.
The list of greatest ever racehorse is a little crowded at the top but I believe it truly becomes a race between Man O War and Secretariat. I give MOW the edge and the title simply because he set the standard against which the greats are compared and dominated the sport several decades before the benefits of science, nutrition and training that had evolved by secratariat's era. Also, most of the great racers are of MOW's blood line and his still greatly influences breeding to this day.
I am shocked! Secretariat would have been so far behind Man O' War, that he wouldn't even see his dust. The only horse that might even challenge his greatness would be Ruffian. They both would have won the triple crown if they had raced. Third is not good enough for Big Red.
Watched the videos of all of these and the eye speaks more than the clock in races years apart. What a monster, his consistent authority makes him number 1. Not lots of excuses, just the one valued one for just nose defeat when facing wrong way at start. In modern era Frankel is great, but not in the same way or tested against other greats, his career was more staged liked a prizefighter avoiding possible defeats.
Best race horse ever. Can't prove it as you can never line them all up and go. Never had excuses, sick, bad tooth, etc; Horse racing was different in the 20's than the 70's, tracks were different, care was different. Now it is all down to personal opinion. Man O War was the best, Secretariat right up there with him and perhaps Sea Bird. On the opinion note, Native Dancer is not listed up there and he was a 20 of 21 winner, but no one thinks he is worthy of a high rating...
Slow tracks, different situations. I don't think that there ever has or ever will be a horse as fast as this. I think the only horse that ever could of pushed or beaten him fairly would have been Secretariat. Red's only loss was a result of a jockey's poor decision, not the horse himself. I don't think there is an accurate way to measure. Different times, tracks, competition. They are both fabulous but Man O War still gets my vote!
Man 'O War carried more weight and still won races by many lengths. He was carrying more weight and still held back by the jockey winning by several lengths. Had he been let out to show what he could really do... Who knows
By far and away, the greatest of them all. Only loss was a fluke or possibly a fix. Set the standard for every horse to come. Never extended, won races effortlessly. Simply the best of all time. Number 1, end of discussion
Man o war was the greatest because he has a better record than secretariat and has more records and he raced on a slower track. There never was a horse who could touch man o war. If you look on the lists that aren't fan rated than man o war is ALWAYS on top. Why do you put him third he needs to be FIRST. Secretariat should be THIRD. Ruffian should be SECOND. Not Phar Lap.
He should be number one. Look at the stats. He was the king of the track. King of horse racing in America. Without him and his amazing racing speed and skill along with passing his racing talent, we wouldn't even have Secretariat, Seattle Slew, Seabiscuit, War Admiral, and many other horses. I'm sorry but it is disrespectful and wrong to put him in 3rd.
Man O' War beat many horses and by far should be the #1 racehorse of all time. I have a descendant of his and she is very fast. Man O' War beat many horses by many strides.
There never was, there never has been, and there never will be, a second Man O' War.
Never fully tested, less efficient heavier shows, track conditions worse, carried much heavier weight, Man O'War was in a league of his own. Secretariat was fast but if the two were raced under even conditions Secretariat's rider would have wanted it to be a mud less track...
I discussed this with a horse vet and racing aficionado, who agrees MOW was the all-time best. He commented MOW was never really tested. Also, then it was the gentlemenly thing to do and not embarrass your competition - so MOW very much was pulling up. Though he did mention that possibly no horse ever could have beaten Secretariat at Belmont - Sec was unbeatable that day.
Big Red is the Greatest racehorse ever to step on a track. Third is not good enough for him.
He could have won the Triple Crown it just wouldn't have been credited unil a decade later.