Seabiscuit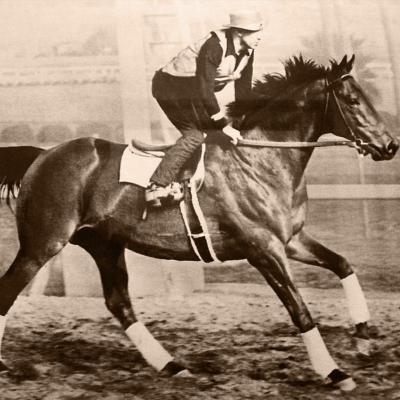 Uploaded by eventer51314
Info
Seabiscuit was a champion Thoroughbred racehorse in the United States. A small horse, Seabiscuit had an inauspicious start to his racing career, but became an unlikely champion and a symbol of hope to many Americans during the Great Depression.
Comments
Top
Popular
Newest
Speed alone doesn't make the greatest horse. Courage and intelligence should count, too. Also, in considering Seabiscuit's winning times for races versus other horses winning times at the same distance, you have to consider he won a lot of handicap races where he was carrying heavier weight than horses who might have faster times in other races. Seabiscuit was also very smart. He had to relearn things in ways horses who were expected to win from 2 years old never had to. At 2, he was used to boost confidence in other horses, taught to always pull up so the other could win. He had to learn a totally different way of doing things then, so he could win races at all. He also learned an unfamiliar starting method just to race War Admiral. Stats on paper are never a complete story.
Seabiscuit won the heart of the nation. He ran past most racehorses retirement age with weights higher than most horses ever run with. I think the most seabiscuit ran with was 133 lbs or something around there. Secretariats highest weight was only 126 lbs. Seabiscuit also taunted his opponents letting them catch up then speeding away from them again. If Seabiscuit had better opponents he would have just gone faster. I would love to see a race between Seabiscuit, who never backed down, and Secretariat, who set multiple still standing track records. I don't know who would win. All I'm saying is no one ever saw Seabiscuit run against a horse he couldn't beat.
Seabiscuit was an extraordinary horse. Beat the speed records on almost all of the tracks he raced on, and even after he sustained a career ending injury that would have stopped most horses, he recovered and came back, and even though he was more than twice as old as his opponents, he still won one of the premiere races of his time, the Santa Anita Handicap with a much greater load than the other horses.
Seabiscuit has one of the most compelling stories in racing history. Due to his ability to carry remarkably heavy loads (up to 132 pounds) and an extended carrier, I would consider he was the greatest. Also, though he was short is height was NOT a small horse. Check-out the width of his head, body, and chest. Running near War Admiral in the famed match race, Seabiscuit seemed to be the bigger, stronger, and faster horse.
Seabiscuit was a fantastic horse. Not only did he have great speed, but he also had the heart and courage of a champion. Red Pollard did, too! My favorite of the Seabiscuit team is Tom Smith, the quiet, quick-comeback-to-the-press trainer. I like Secretariat too, but think Seabiscuit has by far a greater story than Secretariat. Although the Biscuit died at 14, (and his owner and owner's wife soon after) he continues to live in the hearts of horselovers forever. Thanks!
Seabiscuit will always be my favorite race horse. He ran 89 races and won a great deal of races he ran in. He was the true definition of that speed and bloodline are not the only things that make a great race horse but most importantly... Heart. The only other horse that could come close to seabiscuit in my opinion is John Henry. Second greatest horse to me. Of course of have always love the whole underdog story.
I think Seabiscuit should be the number 1 horse he was the best race horse of all time nobody thought he would ever win a race because he lost a lot of races but that's because he was used to make other horses better so he was used to loosing. And that is what they made him so that was what he was. but then they expected him to win, but he was trained to lose so he didn't know how to win. Eventually everybody just gave up on him. but one person didn't and taught him t win not lose. and he did it. that is why I think he should be number # 1
I really liked Seabiscuit when I read Ralph Moody's version of "Come On Seabiscuit." I think his spirit and courage made up for his bad confirmation and size. I would have loved to see him race without weight! I haven't read a whole lot about other race horses but I think he deserves to be classified as one of the top ten or twenty race horses.
No other horse went through a more grueling career than Seabiscuit (check out the total number of races he ran). That would have absolutely ruined any other horse... but not 'The Biscuit.' Overcoming extreme adversity, he kept on going. Other champions may have been taller, faster, easier on the eyes, etc., but no other horse displayed more "HEART" or persevered TIME AND TIME AGAIN against seemingly-insurmountable odds. While I love all horses, Seabiscuit is now--and forever will be--NUMBER ONE in my book. C.A. Craig
Too Old, Too Small, Carried too heavy a Jockey, Broken Leg, and still beat the triple crown winner War Admiral by 4 lengths. All that without serious conditioning and training. If had been noticed when he was young and run in the triple crown when he was 2-3 years of age he would have taken it easily. The Greatest Horse along with Secretariat hands down!
Best race horse ever. He compensated for his small stature with his enormous courage and will to win and after suffering a horrific accident where he ruptured a tendon that would have been the end for most horses he came back to win at Santa Anita in 1940. The horse with the biggest heart. Hands down the greatest.
Seabiscuit was by far the best horse EVER. even better than the great Secretariat. he was smaller and never backed down. He was not built for the races he won. if put head to head with Secretariat, he would have won just like he beat War Admiral... I say this being a big fan of Secretariat but this little horse refused to lose!
Seabiscuit was born so small that most thought that he could never have the chance to even race, but when he was given the chance he proved himself that he was worth it. Unlike other horses that he larger then him he showed them the size does not mean anything, he never shied away from fear or was shut down when they said he could not do it. He was another fenominal racehorse that walked the earth.
Should be the number one horse. Unbelievably successful even with a smaller stature and strikes against him when younger. He also had to carry quite a bit of weight if I recall. Biggest success story of all race horses. Represents Americans well--- a champion underdog. Love this horse.
Biscuit was incredible animal he had heart and a deep soul very smart trained to lose to run from behind gate to a bell and then war admiral he had beat the whole race but to pull him back and look eye to eye that's an awesome animal with desire to win always be#1 to me
Seabiscuit by far was the strongest and most athletic of all. His handicap in every race was 130+ pounds. He was smaller, but far stronger then any of the other horses. Also he was much older. He raced against horses that were half his age.
I love underdog stories and this is one of the best. He didn't take crap from any horse and just willed himself to win. There is one thing you can't coach or train and that is HEART. This horse had enough for a while field of horses.
Seabiscuit will always be #1 for me. He had heart and intelligence. Seabiscuit represents all of us who are not quite perfection on the outside, but internally he shines with the brightest of stars.
People say that sea biscuit is #1 because he was small and had to hold a lot more weight than all of the big horses like secretariat. But Northern Dancer was small to. Northern Dancer has a better racing record winning the derby Preakness and coming 2nd by a head in the Belmont. His stud career was better than seabiscuit Northern Dancer was the best sire of the 20th century. Face it northern dancer was the same size as seabiscuit but had a better racing record and a better stud career. Northern Dancer should be in 3rd
There just so many varibales to conceder when trying to figure the greatest racehorse of all time. Seabisuit is he the greatest of all time? I'd like to think so as he is my favorite. Every horse listed in the top ten could lay claim to the title greatest ever. There many more who are not mentioned that could as well. Each horse has a heart of a champion An over whelming desire to win. And the will to fight. I love horse racing and the stories that go with each horse. I do think either Secretariat or Seabiscuit are number one two I just don't know what order. In seventy years or so racing fans will visit this again. Then maybe even Pharoh will be mentioned. Who knows?
He had a rough start in life. But he proved that size and looks didn't matter. With the right trainer and jockey and love he could be the best. He should be number 1 on this list. There isn't any race horse better than he was.
The odds against him were great. He was able to overcome so many physical oddities and naysayers who thought he would not succeed to be a horse who not only won races but brought such joy to people both in and out of racing circles. He was always the underdog(horse) and exceeded all expectation to become one of the best; in my opinion he is the BEST!
Seabiscuit is a nobody from nowhere, from zero to hero, the most popular living creature in the planet during it's time, more famous than Hitler, Roosevelt, Babe Ruth etc.
He had tremendous heart. Seabiscuit takes the number 1 spot to me. Not just his heart, he won against tremendous weight requirements and his small size. His heart was huge. A special race horse.
Seabiscuit should be ranked number 1, not just for speed, but for all he overcame to be the legend he was then and now!