Secretariat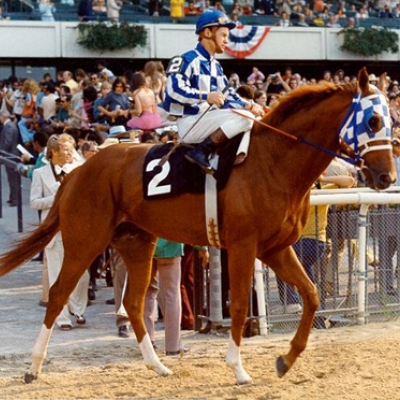 Uploaded by eventer51314
Info
Secretariat was an American Thoroughbred racehorse who, in 1973, became the first Triple Crown winner in 25 years.
Comments
Top
Popular
Newest
The wins are unlikely to be matched by any horse again. As a 3YO, he won from 7 furlongs to 13 on dirt, slop and turf, defeating 3 future Hall of Famers, 13 World, track or stakes record setting horses, and setting no fewer than 7 stakes, 5 track and two world records, including all three Triple Crown records (marks which have stood for 40 years now). He was capable of remarkable versatility in his running style, running around horses, through horses or on the lead the whole way. He nearly set a track record as a 2YO in an 8.5 furlong race (one fifth of a second off mark). His losses, while unfortunate, mostly came as a result of his handlers' desire to let the country see the horse race before his retirement mandated by the breeding syndicate. He was generally such a sound healthy horse that they made a couple of mistakes with him, but that shouldn't take away from his absolutely remarkable performances when healthy and properly trained.
There have been some amazing thoroughbreds, Seabiscuit, Man O'War, Seattle Slew, but if you are talking about the best, the winner, no pun intended, by a mile, is Secretariat. He was an amazing horse, fleet-footed, graceful, wonderful personality, a great heart and a record-breaking history that will remain unchallenged. Time Magazine did not title him Super Horse without a reason, we will never see the likes of this beautiful horse again. He was unique, a true champion, and is admired the world over. He is the standard to beat, and I doubt any one ever will.
Many wonderful horses on the list but, Secretariat seems to shine just a little brighter than the rest. No disrespect to the other great racers, it's just that Secretariat was in my opinion, one of a kind.
Secretariat was and still is in my opinion the greatest Thoroughbred Race Horse of all time. He not only proved he had speed but also stamina and heart which made him the champion he was and for those of us who feel that way he always will be the best. No horse has equaled him or even come close. Someone mentioned Ruffian and she too was a champion in her own right as was Zenyatta. But in my mind as in a lot of other peoples minds there has been no horse who could equal him. He will live on in those of us who believe him to be the greatest race horse of all time, Forever!
Secretariat is bar none the greatest thoroughbred that ever lived. He still owns the track records for all three Triple Crown races. His performance in the Belmont, which he amazingly won by an astonishing 31 lengths, will never be broken. This is something that comes along once in a lifetime! Godspeed Big Red!
Been watching horse racing all of my 44 years of life. Big Red was definitely # 1 Its not just about winning every single race, its about heart and determination, any race he lost ( one he raced sick in) he came back the next race and set track records... He NEVER gave up. Even two days before his death, as bad as his Laminitis was he was still trying to run... There is a reason his heart was twice the size of other horses. He was simply twice the horse!
GOD IS GOOD ALL THE TIME! JUST watch all Secretariat Race and the unforgettable Belmont Race 1973, and was amazed of Secretariat... He is uniquely beautiful, magnificent, gorgeous and brilliant...Secretariat is the BEST of Bests. He is truly GOD's awesome blessings. I believe he have a combination of human and horse hearts and it shows in his wonderful eyes and gestures. I praise and thank God for you/your life Secretariat. Thank you for being you.. For sharing your life with us.. Giving us lifetime joy... You are FOREVER Number ONE (1! To all who cares and loves Secretariat... GOD Bless You!
Secretariat was the fastest but let's not forget about his smartness. He knew how to get through the crowd he never had to be whipped he knew when to hold back and when to throttle up. This horse was the dale Earnhardt of horse racing. To me the only other horse that comes close to what secretariat was would be seabiscuit. This was another horse that had the smarts to be a racer and know when to make his move. If everyone remembers secretariat wasn't the one anybody wanted at the coin toss except penny. He was bread for blood and smarts and man did he do it he done what no other horse to this day has done. So all the jealous people can talk about Hollywood PR reps all they want but it takes a lot more then a rep to do what he done. SECRETARIAT WAS THE ALL TIME GREAT.
Look at the numbers, they are there in black and white of Secretariat's races and times. Still standing, record times at all three Triple Crown Tracks, world records at numerous distances. No worthless opinions, or prejudices, just cold, hard, facts. When you look at the numbers and compare all of the other great horses to him where there is a commonality, no other horse is even in the same league. He is truly a man among boys. When you compare Secretariat's best time at each distance mark and all the other horses best times at each mark, his times destroys every other top race horse that ever lived!
I am obsessed with this horse. I cry at the movie! Yes all of the horses on this list are amazing, but this horse. THERE ARE NO WORDS. I wish I was alive at the time so that I could watch it in person! I love my horse to death. But if I had an offer to trade my horse for him. Well, I might have just accepted it. But, it would be a hard choice. My parents offered to buy me a cherry bay show jumper that was a Thoroughbred because, my dad owned my horse at the time and took her back to his house, he basically took her from me. But I said no, because I wanted to get my horse back. - diehardbarrelbabe
I saw most of these horses run their races people. Secretariat would be able to beat them all. I read where folks have said some of these horses didn't set the records because they were so far ahead they didn't need to run full out. For most of his races Secretariat was held back and not let free to run all out. See what he did at the Belmont when he ran full out. Think of what it might have been like at the Derby or the Preakness f he'd been allowed to run full out from the start like he was at the Belmont. My Gosh he was so good. If there were a race between all these horses if they were in their prime today --- my bets on this guy. Secretariat --- by far the greatest race horse ever born.
Without a doubt Secretariat was the best horse to ever run a race. No matter how far behind he was his determination, and competitiveness was like no other. He toyed with the other horses giving them some hope, then would turn it up, and blow right by them. Secretariat by FAR is, and was the best horse ever to run the track. There will never be another horse like him! Guaranteed!
I watched him run in all 3 Triple Crown Races. When he pulled away from Sham in the Belmont, I started crying, and didn't stop for over an hour! Never saw anything like that performance in my life, and will NEVER see it again. I have a framed picture of him in my living room. It's a lithograph taken of him in 1973, and the copyright is 1974. Underneath it simply says: Secretariat Triple Crown winner 1973. It is one of my most prized possessions, and I look at him everyday. The GREATEST Horse Ever!
Best can mean a lot when stats come into play, so remember,... Secretariat would pose for pictures, carry on for school kids, clown around with Eddie (Sweat), and Bill (Nack)... And Penny, well he would tell her he loved her, THAN the Big Red Horse would RUN, shattering records, and hold our hearts years after. I know of no such horse, on this list, who is still revered by America, to this day... Best? Go watch a you tube clip of him playing it up for his adoring fans... There are no stats for tears shed, for the BEST RACEHORSE of ALL TIME...
Secretariat was the complete package. He's everything one would pick if tasked with designing the perfect racehorse. I believe if all the best racehorses could compete against each other in prime health, on the same track, & all conditions being fair & equal, Secretariat would win. He was the best horse before I was born (1974) and in my 42 years, no horse has proven comparable. I think there may never be another horse like him. As exciting as it would be to see another horse like him, his rarity made him great.
Secretariat, was an marvel a true speed machine with the heart and will to run as far and as hard as it took to win. His Belmont race showed you exactly what he could do, putting the rest of the field to shame. I truly believe he could bet any horse who ever lived. That's at tall task, but he was one great horse, built to run like the wind, all the time saying catch me if you can, in his three year old season, it was Secretariat and the also ran!
Secretariat, I mean what can I say than other he is just plainly THE BEST OF THE BEST! I mean come on he beat the triple crown by 31 LENGTHS! He has a 22lb heart and he showed every dang bit of it! He IS the best horse to ever walk the plains other than BARBARO. I MISS YOU Secretariat!
No other horse comes close to Big Red. He holds the record time for all 3 Triple Crown races. His Triple Crown win provided one of the greatest and most dramatic performances in the history of all sports. His performance at the Belmont is a one in a lifetime moment. There will never be another. Secretariat gave me one of my best memories as a sports fan. Unforgettable.
Big red is the gold standard. Just watch the Belmont where he runs Sham off the track in 6 f and still finished in 224. I believe no horse has ever run 225 on the dirt in 1.5 dirt race. He probably could have gone faster but he was only ahead by 31 lengths in the stretch.

He was a beast. The will to win of a human being. More heart than any horse ever raced.
Man O War raced back when there were far fewer horses in racing. While he did win a race by 100 lengths his fans won't tell you that it was against only one other horse which was entered or the fans who showed up to see him run would have been disappointed. Secretarat lost his first race because he was slammed coming out of the gate. His next he won by open lengths but he was DQ ed. He lost the Wood Memorial because he had an abscess and the bit rubbed against it. It was not discovered until after the race. He would only lose twice again, to older horses after he had run the fastest Triple Crown races ever and in times that are STILL the record. He ran twice on the turf and beat the best in the USA and Canada. In the Marlboro Cup he set a track record and beat one of the two older horses he had lost to previously. He would have been even better at 4 but his owner had to retire him in order to raise enough money to pay off her estate taxes.
Man O War still has the record at 1 5/8 ...more
Secretariat was never driven to his top speed. He was retired at 3 before he reached his full potential- maybe smart for insurance reasons but a crime against horse racing. At his best, and all things being equal, I don't think any horse in history could have seriously challenged him at a distance of a mile and over. Remember, he was never really pushed, and he was still a teenager when retired.
I think Secretariat is the best because even after he had passed Sham in the Belmont he kept going faster and faster. He could have slowed down but he didn't. He had more will than any horse I've ever seen. His owner Penny never gave up on him either, she always believed he could and so he did. He had the best trainer and jockey anyone could ever imagine. Even his groom loved him and new his personality, and he always called him Big Red!
This impressive house is who inspired me to be a horse trainer! I started as an exercise rider but was too tall to be a jockey. I instead started training show horses and fell in love with Paints after a friend asked me to show her stallion for her and I was hooked! But my heart belongs to Secretariat, Seabiscuit, Ruffian and all the greats. I still train and show but will always have a place in my heart for the great Thoroughbreds!
I want to be a jockey now because I watched secratariat. I am only 9 years old and my dad says I am to tall. I agree most famous jockeys were as tall as my 4 year old brother! I am 4.6 feet most jockeys are 4.0 feet. I want to shrink. Secratariat is the best no horse could beat him. I was shore that in the Belmont sham was going down. I hope all you horse fans love secratariat! He is number 1 of course! P. S zenyatta is my favorite secratariat is 2nd. Sorry. - Gatsby
Secretariat could stand minute after she was born and run at 55mpg. She has won more races than any other horse I know and I live on one of the top horse breeding farms in America. I have a couple race horses some hunters and jumpers battle racers and even two foals. Nun of my horses are like Secretariat. In fact shes my favorit race horse of all time. None of my freinds ( who all own horses) have a horse (or pony) as fast as her. Some of my horses have won more than one race but not as many as Secretariat. Her record for fastest time is 1.45 miners. I love SECRETARIAT.