Best Rap Groups
The Top Ten
1
N.W.A.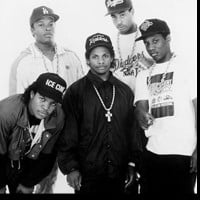 N.W.A was an American hip hop group from Compton, CA. They were among the earliest and most significant popularizers and controversial figures of the gangsta rap subgenre, and are widely considered one of the seminal groups in the history of hip hop music.
They are definitely the best rap group ever the combination of Dre, Cube, Eazy, Ren, Yella, and Arabian Prnce, is amazing
First rap song I ever heard was from these guys. They made me fall in love with rap.24years later they are number 1 group of all time!
I'm not really that big a fan of rap, but I can confidently say that N.W.A is without a doubt one of the best and most influential rap groups of all time, as well as being my favorite.
N.W. A are the founders of gangster rap. To this say nobody has a record that compares to the great beats, message and lyrics of Straight Outta Compton definitely the best rap group to ever walk the earth
2
Wu-Tang Clan

The Wu-Tang Clan is an American hip hop group from New York City, originally composed of East Coast rappers RZA, GZA, Method Man, Raekwon, Ghostface Killah, Inspectah Deck, U-God, Masta Killa, Ol' Dirty Bastard and Cappadonna.
No one can touch the Wu Tang Clan. They drop classic albums nearly every time and everyone in this group is a true emcee. When these 9 rappers spit together, their rhymes are just magic and create masterpieces such as Cream, Reunited, Triumph, the Mystery of Chessboxin, and Protect Ya Neck. No other rap group can claim to have the influence and the catalog to back it up within the hip-hop game as the Wu Tang has shown. Raekwon, Ghostface Killah, Inspectah Deck, U-God, Method Man, RZA, GZA, Masta Killah, and ODB(R.I.P. ) each can rhyme tight circles around these coward rappers today getting promotions such as Tyga and Wale. It wouldn't even be fair to compare the greatest rap group of all time to losers who couldn't even drop a good line if their lives depend on it. Not only do the Wu drop classic albums together, but they can drop masterful albums in their own solo careers as well. Like Ol Dirty Bastard said when he famously interrupted the Grammy Awards to speak the truth... ...more
How did D12 and G Unit and Outlawz get here... The Wu is definitely THE greatest hip hop group of all time. Their classic albums spawned classics. Just one of these albums would beat the whole discography of Lil Wane, G Unit and D12 combined:

Enter The Wu-Tang (humouristic, ear-shattering, gritty, hardcore and occasionally soulful sound)
Tical (a darker tone than Enter The WuTang)
Liquid Swords (a stone cold, ill and metaphor fest)
Only Built 4 Cuban Linx (a hardcore, criminologic and bombing album that'll make your head bobble the whole time)
Ironman (a mix of OB4CL and Liquid Swords. Keeps the grimy sound of LQ and the mafioso feel of OB4CL)
Wu-Tang Forever (An orchestral, majestic, powerful sound which displays all of the Wu's talent into one album)
Supreme Clientele (a hardcore album that'll make you want to murder your family)
No Said Date (a masterpiece which revived the Clan after several disappointing albums)
Every album the have, every album that each member has, is incredible. And they're still together, Wu Tang for the children.
PE, NWA and Bone Thugs are good but Wu-Tang has to be the greatest. Every MC in here got lyrical talent especially Ghostface and Deck. Only Em, Proof and Swifty are good in D12.
3
Public Enemy

Public Enemy is an American hip hop group consisting of Chuck D, Flavor Flav, Professor Griff, Khari Wynn, DJ Lord, and the S1W group.
One of the most influential artists in Conscious/Political Hip Hop. Chuck D is great. Oh, and the Bomb Squad(Production crew)make some of the most fantastic production in old Hip Hop.
Even though groups like NWA, Bone Thugs and Wu Tang were great, PE deserves to be number 1. Public Enemy was one of those groups that changed the face of hip-hop and gave it a distinct political message. Every emcee respects Chuck D and listens to what he has to say, because of his legendary Hip-Hop status. Flava Flav (even though he lost his mind) continues to be the worlds greatest hype man and actually employs B-Boyin unlike a lot of hypemen these days. They also inspired groups in other genres such as Rage Against the Machine in hard rock/metal. They always drop real knowledge with true certified hip-hop!
As Much I Us To Love N. W. A, PE Are What True Hip Is About.
They had the best rap poet and the best hype man.
4
Bone Thugs-N-Harmony

Bone Thugs-N-Harmony is an American hip hop group from Cleveland, Ohio. It consists of rappers Bizzy Bone, Wish Bone, Layzie Bone, Krayzie Bone and Flesh-N-Bone.
Some people like to say Wu Tang's and NWA's music has never been recreated ever, but just sit and think. Have you ever heard a reproduction of the Bone Thugs? Well If your telling the truth, then you would say "Hell No"

Everything about the Bone Thugs Is 100% Original. The music, the style, the beats, all original. And never once have they ever changed their style for any reason. They are true to the bone and they are still raping to this day!

They spit fast as hell In all of their songs, without even putting 100% effort into It, and they are still known as one of the fastest rap groups of all time. Plus, they love their fans to death. Always talking to their fans on Facebook and twitter and saying whats up, whats not to like about the Bone Thugs?

They have rapped with every major rapper there ever was, Tupac, Big, etc. They are truly the #1 best rap group of all time In my eyes and will always be! Bone Thugs for life! EST for life! I love you Cleveland!
Unique, one of the best groups of all time. Trully amazing, just listen to their music.
Bone thugs are without a doubt the most talented group on this list. Unfortunately from listening to their discography you may not comprehend, because with the success of Crossroads they were put in a box by record labels, and from then on out, viewed as a cash machine for labels to put out pop singles and albums full of bland radio hits. But even on their worst albums they have gems, and a massive amount of high quality unreleased material. They are a unique and spiritual hip hop group.
This is one of the most innovative, and talented groups to come out of the "golden age" of hip hop. They're also criminally underrated. They sounded like no one! They didn't change their sound either. These young men were SO respected that even the greats wanted to work with them! These men created their OWN lane in the high-traffic era of the mid 90s. I strongly believe that had they come New York or LA and were signed to Death Row or Bad Boy, Bone would be considered one THE best rap groups period!
5
Outkast

Outkast is an American hip hop duo formed in 1991, in East Point, Atlanta, Georgia, composed of Atlanta-based rappers André "André 3000" Benjamin (formerly known as Dré) and Antwan "Big Boi" Patton. The duo achieved both critical acclaim and commercial success in the 1990s and early 2000s, helping ...read more.
Lyrics, rhymes, beats, soul, personality, creativity, originality, social and cultural awareness, and vision; Outkast had it all, and more. There's an Outkast song for everyone and every occasion. Their music wasn't just hood, or Southern, or club, or mainstream, or underground, or old school, or new school, or rap, or hip-hop music. It simply was, and will always be, great music. It wasn't music for only one race or culture, but poetry and art for anyone. It was fun and serious, chill and hype, smooth and rough, light and dark. Big Boi and Andre 3000 weren't just lyricists and rappers, they were true artists and absolute originals. There's not one person, whom appreciates rap/hip-hop/urban music or any similar genre or sub-genre, who doesn't like at least one Outkast song. There are many incredibly talented groups and solo artists in the history of rap/hip-hop, whose impact and influence can never be questioned, but Outkast will always be at the top of my list of favorites.
I am outraged! Outkast is easily top 3.. along with Bone and NWA.
Number ten. Are you kidding me! Easily top three, in my opinion number one.
The fact that Outkast isn't top 3 (at least) is outrageous. Big Boi's delivery is better than 99% of rappers out there and Andre 3000 is easily among the top 3 lyricists of all time.
6
Beastie Boys

The Beastie Boys are an American Rap/Rock group that was formed in 1981 by its three original members, Michael "Mike D" Diamond, Adam "Ad-Rock" Horovitz, and Adam "MCA" Yauch.
Anybody who doesn't consider them AT LEAST "in the conversation" for best rap group of all-time either: is under the age of 25, and/or has no respect for music that "came before" what is popular now, AND/OR discount's and disrespects them for being white and Jewish and thinks that just because of that, they don't deserve to be in the conversation. No other explanations...
No rap group on this list can match the Beasties run of sheer greatness. From first to last, all their albums are top notch amazing. and the first three are all-time landmarks of music. Mix in their incredible diversity and creativity and it's game over.
Started off as a joke, ended as a legend. Having said that, License To Ill now sounds like a groundbreaker like all the rest of their albums, just with a little less artistic ambition. Albums like Paul's Boutique and Check Your Head are as good as anyone elses best, and the rest of their albums? ALSO INCREDIBLE. Special love to The 5 Boroughs which gets talked down by some critics but is absolutely great.
Boys are the best. More creative and consistent than the top 4 on this list by a country mile - straight gold from beginning to end. Don't forget the tartar sauce you crab rappers!
7
A Tribe Called Quest

A Tribe Called Quest were an American hip-hop trio that was formed in 1985, and was composed of MC and producer Q-Tip, MC Phife Dawg and DJ and producer Ali Shaheed Muhammad.
This list gives absolutely zero consideration to production. Tribe are the greatest bar none, Ali Shaheed Muhammad's beats are so unique and Phife and Q-tip, what more could you need!? Seriously... G-Unit? ARE YOU KIDDING ME!?!?
tribe should be top 5 easy.. midnight marauders might be top 2 rap albums ever.
Probably the biggest influence on hip hop ever
They should be in the top 5 at least. I'll go as far to say top 3. They had great lyrics that went with the flow. They knew how to rap, and they did it to perfection.
8
D12

D12, an initialism for The Dirty Dozen, was an American hip hop group from Detroit, Michigan. D12 has had chart-topping albums in the United States, United Kingdom, and Australia.
Royce has got a lot of talant. Same with Em, he wasn't so trash back then.
, D12 is the best group ever! No one can beat these guys! They just so awesome! Its sad that Proof died but they can and will go on kicking other groups butts! The only groups that could probably be better D12 is Dirty Boyz.
D12 is the greatest group and will thump, Bone Thugs and Beastie Boys! eminem is platinum!
Yes they may only be known because of Eminem, but either way, they were gonna make it anyway. All of these guys are lyrical (maybe except Bizarre) but D12 was all about coming up with the funniest weirdest stuff you could think of but at the same time be lyrical. Bizarre could do that, but the others are all talented rappers and are overlooked as a group because of Eminem. RIP Proof
9
Run-D.M.C.

Run-DMC was an American pioneering hip hop group consisting of Run, DMC, and Jam Master Jay. They were formed in 1981 and disbanded in 2002 after Jam Master Jay was murdered.
They should be 1 because they made better songs than any other rap groups
Based on one of the 1st rap groups to get serious air play and the longevity of their career it's a damned shame they're not #1!
Run DMC is so much better than D12, they invented Hip Hop literally, and should be within the top 4, rolling stones even named them 48 on the greatest artists of all time, and called them "The Beatles of Hip Hop"
They were the first successful rappers. Why is 50 Cent so popular on this site it doesn't make sense. I get it he got shot nine times but doesn't make him a good rapper.
10
The Roots

The Roots is an American hip hop group, formed in 1987 by Tariq "Black Thought" Trotter and Ahmir "Questlove" Thompson in Philadelphia, Pennsylvania, United States.
Way better than Tribe. Black Thought and Malik B are far superior lyricists and MC's than Q-Tip.
This is the best rap ever I believe. They are the total package! They play instruments, have real emcees, and stay true to the hip-hop culture. They never sold out. In fact, there newer stuff is just as good if not better than their older stuff. Black Thought, the lead emcee of the group is a very dope emcee, and his rhymes are some of the best that hip-hop has to offer. Their music continues to elevate real hip-hop despite the fake trends out there. The raised the bar to a new level.
Undoubtedly the best rap group. They stick true to their name and continue to put out classic music for over the span of 15yrs. Black Thought is a genius and can deliver lyrically on any track. People need to recognize his talent. The rest of the group is dope too, and they can play their own instruments since, which really is a bonus in the age of Justin Bieber and Lady Gaga. I think they definitely deserve a nod for the greatest rap group of all time. Anyone unfamiliar with them should listen to How I Got over to understand why I they deserve to be on top.
They deserve to be the best, hands down. They put out timeless music and Black Thought is an amazing rapper, that can cut to heart of an emotion or issue. No other group comes close to what they have done lyrically or musically. Not only are they a rap group, but they are a band as well that creates their original beats and style of production. No other group comes close! How I Got Over, and their latest album, Undun, prove this!
The Contenders
11
Eric B. & Rakim
This are the best they redefined hip hop and what it means to be a good lyricist. He evolved it from simple rhymes using internal and multi syllabllic rhymes
Eric B. & Rakim includes Rakim. There should be no discussion here.
Should be in the top 10
Such a good group with superb lyrics and flow
12
Mobb Deep

Mobb Deep was an American hip hop music duo from Queensbridge Houses, New York. The group consisted of Havoc and Prodigy, and were a hardcore East Coast hip hop group.
The Infamous Mobb Deep. A great lyricists and some of the best beats of all time.
I like mobb deep and I like his lyrics and how he wants to represent bloods and how he talks about it in shook ones and explains so much like for example half way crooks
Love early mobb deep. Of course the infamous is a classic and a top 20 hip-hop album but hell on earth was a classic to and muda muzik is very good itself.
The Pinnacle of East Coast Rap. Untouchable. Immortal. Powerful. 1990's ERA!
13
Gang Starr
Guru was one of the best lyricists ever, and dj premier is the best producer in hip-hop EVER
Swizz BeATz is actually the greatest producer of all time but he's not good for me
Yes Gang Starr is the best rap group ever.
How is gang star not in the top 5 or at least top ten guru had awesome lyrics he sometimes would school his self in rap songs and dj premier
14
Bad Meets Evil
Damn I'm just going to say that they rapped really fast. Hands down man. I think the should at least make it to Top 10 Royce and Eminem one of the best duos. You don't always need a group to kill some times you just need 2 to ill.
Bad meets Evil has had some great songs - living proof, fast lane, above the law - really most of hell the sequel album was really good. They've had some lyrical genius, and some speedy lyrics. But do I think they're the best? No. Don't get me wrong, I love this duo. Eminem is one of my favorite rappers of all time. Royce is great too. But they really haven't made that many songs together, and they even beefed for a while, with Eminem & D12 and Royce & slaughterhouse (slaughterhouse is better than D12 as well). Anyway, they aren't the closest group, similar to that of Easy and N.W.A. Great songs a lot, but not the best team or the most songs. Overall, they're a great duo and you should definitely check them out, but I don't think they're the best duo.
Best hip-hop duo ever. I wonder why they aren't in the top 10 list.
Number 1 man they rock
15
Hieroglyphics
Hiero should be number 3 on this list after D12 and Wu-tang just listen to their songs it's great.
Casual, Del the Funkee Homosapien, Domino, Pep Love, A-Plus, Opio, Tajai, Phesto, DJ Toure, Snupe, Mike G, Jay-Biz. Most of them are unknown but still the third best rap group ever in my opinion.
16
Outlaw Immortalz
The Outlawz in my opinion make the best music out of any of the groups. One of the problems is they are living under the shadow of arguably the best rapper of all time. Some people expect to have an unreleased Pac verse on every song they do. People need to give them a proper listen to, because far too long the industry has black balled them. Yes Wu tang are amazing emcees and are well respected because of their skills, for me the Outlawz make better songs. Here's some songs to check out below;
The Outlawz - Black Rose, Pushing on, Our life, Remember me, Real talk many more..
The list is based on publicity. Outlaws immortals, tribe called quest Westside connection are all top 10. How is d12 there? Just because of Eminem. Kadafi, fatal and Napoleon were better than kuniva and the others. Nwa should be followed be Westside connection. Group with Tupac has to be 2nd. I admit the remaining outlaws now aren't decent, but the 3 I nentioned earlier are wild as hell! Kadafi was dope but died at like 19, raw talent gone early then just like Pac.
The Outlawz were and will always be the best. They were trained and directly influenced by the greatest rap legend 2PAC. Come on now! No one beats the Immortal Outlawz!
I have no clue how they arnt at least number two. Way better than the beastie boys. How are they better than tupac, kadafi, EDI, and all them? Number one in my book
17
Fort Minor
There Only Popular Because Of Remember The Name But I Still Think There The Greatest
You can just sit and listen to their album for hours, I wish they would make another one so I could listen to them a little bit longer
Its too bad they only have one album, but I think if they just released more they would become one of the best rap groups out there. 100% Reason To Remember The Name.
Mike Shinoda kills this album. One of few albums where I could enjoy ALL the songs!
18
Cypress Hill

Cypress Hill is an American hip hop group from South Gate, California. Cypress Hill was the first Latino American hip hop recording group to have platinum and multi-platinum albums, selling over 18 million albums worldwide.
These guys, NWA, and Beastie boys are the best rap groups ever, individually not the best, but not bad either.
G-Unit shouldn't be near the top ten, and DMC is only on here because of popularity/respect. Cypress Hill has all the skill these rappers don't posess. I say give this band at LEAST #7 position.
Hello my name is DR. Greenthumb
They have skill on the mic and on the turn tables, they keep to what they know and are great at it.
19
The Fugees
The Fugees aren't my favourite rap group but I voted for them anyway since I can't take it that they're so far down, should be 5-8
The birthplace of miss Lauryn Hill.
THIS LOW!? Lauryn Hill, Wyclef Jean and Pras pretty much redefined this genre!
Lauryn Hill Wyclef and Pras are just too good
20
De La Soul
True hip hop here. They are true masters of their craft. And they're still going! Many groups will break up after a couple of years/albums, but de la soul are still at it.
Hugely underrated

Personal favorite hip-hop group
So overlooked, like water. You hardly notice it, but we all benefit from it.
One of the greatest rap groups helped develop blues rap and they had 6 albums 4 of which were fantastic

Infinitely better then D12
21
Run the Jewels

Run the Jewels, also known by the initialism RTJ, is an American hip hop duo consisting of rapper/producer El-P and rapper Killer Mike.
Killer Mike and El-P are some of the best rappers of the 2010's. El-P is also a GOAT tier producer. Belong in the top 5 for sure.
There is no way all of this can be on this list. what makes a rap group good and a rap group a group is the chemistry. groups without chemistry aren't really a group. that's what makes RTJ one of the best
Best new rap group that deserves to be at least 75
Should be higher
22
Slaughterhouse
Are you kidding me. Slaughterhouse is lyrics, lyrics, and more lyrics. They are probably the best lyrical rap group ever. However, don't blame me if you get too hooked to them as I did. Once you start listening to them, there is no way out.
I'm feeling like they should be top five dead or alive and that's just off two LP's.
What? I truly think they ARE the best rap group ever. I bought welcome to our house & was blown away! And when Em is featured on a song its even sicker. Any member of slaughterhouse is lyrically better than Lil Wayne & YMCMB. Shady all the way! This is real rap!
There is very little real stuff out there anymore but this group is real as it gets. Lyrical geniuses, each one, especially Royce! They all can keep up with Eminem the greatest rapper ever so obviously they're good!
Why does everyone on these lists think Eminem is the best rapper ever? He's good, no doubt, but not as amazing as everyone rates him
23
G-Unit
They should be at the top of the list 50 cent lost his mum got shot 9 times been jail came up from the bottom then sold 13 million records the 10 the next g unit is an amazing rap group everyone knows every person that's in the group and everyone sold records in the group and stronger enough to be solo artist I'm very offended there not in the top 5 you got groups above g unit that ain't sold records nowhere near g unit
g unit sold 20 million records with there album beg to mercy before that and still had the mixtape game on lock had there own trainers and they became a brand people still talk about g unit today g unit was my generations nwa
50 cent, lloyd banks, ton yayo, mobb deep, young buck all in 1 song! AWESOME
50 Cent of course! What else!
Love 50 Cent, Lloyd Bank, Tony Yayo, Young Buck and Kidd Kidd... Nice to see G-Unit BACK!
24
Jedi Mind Tricks
Amazing production, incredible rappers (well, not just Allah nowadays) what more could you ask for?
Production is incredible, Stoupe kills every track. Vinnie P. Is one of the best lyricists ever in my opinion. You need to check out some of their music.
They are the most underrated rap group of all time, hands down.
Some of their earlier albums sit alongside the likes of Illmatic and Enter the Wu-Tang as achievements in hip hop.
25
Styles of Beyond
Best rap group ever... Should be in the top ten at least...
Very too much best
Underrated band... They have amazing songs... Superstars was the sountrack of Need For Speed Most Wanted...
Why is Styles of Beyond not on the list? Ryu and Tak are some of the best rappers out there. They have been rapping since the late 90's till now. Their songs superstars, second to none and sugar honey ice tea say it all.
PSearch List