Best Rappers of 2013
Best up and coming rappers or rappers who are still making music.

The Top Ten

1 Eminem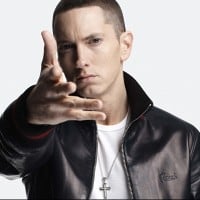 Eminem, born Marshall Bruce Mathers III, is an American rapper, actor and music producer born on October 17, 1972 in St. Joseph, Missouri. Eminem has sold over 300 million records making him the bestselling hip-hop artist of all time. In addition to his solo career, he is a member of D12 and (with Royce ...read more.
Eminem should allways be on the time of the best rapper list.
You always have to respect slim shady. Opened the rap genre to so many listeners. His next album will be quality.
You r the only rapper of the world you r best
Eminem was beast as soon as he started out, and is still beast today.
You have to respect him no matter if you like him or not, if he is offensive
Or not, he is better than anyone else! I am 12 years old!
2
Kendrick Lamar

Kendrick Lamar Duckworth (born June 17, 1987) is an American rapper and songwriter. Raised in Compton, California, Lamar embarked on his musical career as a teenager under the stage name K-Dot, releasing a mixtape that garnered local attention and led to his signing with indie record label Top Dawg ...read more.
Listen to good kid maad city with skits and how the songs tie in and tell me otherwise
All Hail King Kendrick freshest rapper ever his flow is great and this lyrics are too deep for the ordinary rap fan
The tupac of this generation! Hands down best rapper of 2013
Best rapper lyrically also they call him a backpack rapper because of his lyrics. Listen to his Control verse, he saved the rap game because of it he called of Drake, Big Sean, Meek Mill, and others. In his cypher he takes a shot at Drake without saying his name he says "It was never the same when I dropped the Control verse, I tucked a sensitive rapper in his pajama clothes". He called Drake soft and sensitive.
3
J. Cole

Jermaine Lamarr Cole, better known by his stage name J. Cole, is an American hip hop recording artist and record producer.
One of the most lyrical, deepest rappers of 2013, just listen to his newest album "Born Sinner" to see what I mean
J. Cole should be right behind Eminem. he song lyrics have meaning and talk about struggles of the African American men and women in their communities. he does have some songs that are about money and girls but that's why he shouldbe number two cause Eminem doesn't play and his rap is about real life and tough situations. not being hooked on drugs like it is a good thing
Him, Kendrick, Chance, Childish and everyone else are changing the game. If you don't like it, go listen to older stuff. Yes, Em and all these old school guys are still dope, but the game is changing and new faces are emerging. If anyone can even compete with Kendrick right now, its cole
Please tell me how j cole is #6? I'm going to break down the list with people that are supposedly above himm.. No wayy is lil Wayne over him he didn't do anything in 2013 no album few features nothing special who the hell is #4 keep it in the us please! Now I like drake but I believe j cole was stronger likeeise wit kendrick born sinner was the best album in my book it was real diverse and he did it himself! He didn't feature but only 2 artists that's what sets him apart and em is great but I just feel like he had a down year compared to his previod years

Lyrically cole is one of the best artists in the game his flow is on another level and born sinner proved it best artist of 2013
4
Drake

Aubrey Drake Graham, known professionally as Drake, is a Canadian rapper, singer, songwriter, record producer and actor, born on October 24, 1986 in Toronto, Canada. He started his career on Canadian reality show "Degrassi: The Next Generation".
Drake shows talent in every song, not only in his voice, but also in his lyrics. He transmits so much energy, deepness and heart. He is special because no other rapper shows or rap their perspective and sense of life that Drakes shows. Drake you are my idol because you are the best example of being unique and following your oun heart no matter what others tell you. Thank you
King of hip hop today, when I say this I mean he is the most complete rapper we have today, Kendrick may be more of a pure MC, but doesn't have the perfect balance drake has to make commercial radio hits and still be a lyricist of meaning and purpose, This guys has been able to make the most number 1 rap singles in history in just 4 years. From stage performance to club presence to radio dominance and still remaining lyrically, this guy is at the top. Kanye told us its Drake season, he want lying.

Artistically speaking, Drake is probably number 1 Hip Hop artist today in the music industry along with Kanye, but he is not the king of Hip Hop. I think the king of Hip-Hop should be the best RAPPER out, skill-wise, MCing, and I think we can all agree that the best today is Kendrick.
Drake is a lyrical genius, hence he is always killing rappers career, all I can say is Nothing Was The Same September 17! It's going to be a classic and a memorable day in hip hop history
Drake is a fresher rapper who hit the top of his rhyme and has a good way to phrase. For me Gus,
He is the best in the world
5
Macklemore

Ben Haggerty, (born, June 19, 1983) known by his stage name Macklemore and formerly Professor Macklemore, is an American singer and songwriter from Seattle, Washington.
We can all relate to Macklemore's songs. Unlike other rappers his songs have meanings. He will always be number 1 in my mind and many people all over the nation.
Mack is the dopest of em all. He beats are fresh and unique. His lyrics capture and inspire the listeners. Ryan Lewis is a gnarly producer. King macklemore is the best
Unlike people like Eminem and Lil Wayne he has meaning to his songs. He writes with hope that people will take his songs and do good things with them he is AMAZING,
Macklemore is a terrible rapper he's for white people that think they know rap but don't even know a single song by 2pac, eminem is a way better rapper. Macklemore only had a handful of hits, eminem had dozens
6
Kanye West

Kanye Omari West is an American rapper, songwriter, and fashion designer. He was born on June 8, 1977 in Atlanta, Georgia. After West's parents divorced, him and his single mother moved to Chicago, Illinois. At the age of 10, West temporarily moved to Nanjing, China, because his mother was teaching ...read more.
Kanye's creativity is matched by none. He is more than just a rapper but an artist whether it be his music, video visuals or even his eye for fashion there is no competition, eminem is great and one of the best but way over rated.
West is cool and great I should he number one he great rapper I rap to his songs and this is coming from a little girl
He's very clever with what he do with his rap. I enjoy his style. Nice. I public he say crazy things. But that's him.
The votes should be on him, come on guys really? , have you even heard YEEZUS, the punchlines are totally SICK!, He was born 2 be number one
7
Jay Z

Shawn Corey Carter, known by his stage name JAY-Z, is an American rapper, record producer, entrepreneur and investor born on December 4, 1969 in Brooklyn, New York. He is best known for his albums Reasonable Doubt, The Blueprint, and The Black Album. He is considered to be one of the best rappers of ...read more.
Jay z is nice
The king of rap since 1990 and the 2nd oldest in the game shawn is the most famous rapper and ritchest married to pop star beyonce on of the biggest singer in the world and hottest stars and jay-z is friends with tons of rapper and famous basket ball player and is an enemy to the game who has been in the game for 11 years and jay-z has been in the game for around 24 years and is currently 44 years old and is enemy to birdman who came around 1998 so not as long.
Its J-Hova for Gods sake. The Godfather of rap
He should be among the top 5. somebody fix this list
8
Lil Wayne

Dwayne Michael Carter, Jr. is an American rapper from New Orleans, Louisiana. He was discovered by Brian "Baby" "Birdman" Williams at a very young age, and was signed to Cash Money Records, where he would be one quarter of the rap group Hot Boys. In the years to follow, he would go on to find his own ...read more.
Lil weezy Was born to be a rapper to people is a hobby but for him it's what his life, rapping to him is his way of talking, he is an idol to those who love rap, his punch-lines are just too good on one can touch them and they make total sense unlike other rappers
Multi platinum albums sold in row
Lil Wayne got free style, he is much more inspired than the others and so he has got what it takes to be a rapper
Lil Wayne will always be the guy that change the by rapping the way he want and I like his punch lines, lyrics, swag oh definitely listen to those metaphors, I love his music I've been a fan and always will be a fan.
9
ASAP Rocky

Rakim Mayers, better known by his stage name ASAP Rocky, is an American rapper, record producer, director and actor from Harlem, New York.
A$AP needs to be top 15 his lines are so catchy with modern rap fans. While he goes hard in his verses, he also gets funny with some lyrics and he opens up one of the best rap songs of our generation, "f***** problem"
Because he is the best
So much more talented and better then Macklemore. He should be in front of Macklemore
Every Single Track is awesome, because he had a Killer flow.
10
T.I.

Clifford Joseph Harris, Jr., better known by his stage names T.I. and Tip, is an American hip hop recording artist and actor born on September 25, 1980 in Atlanta, GA.
Besides jay Z... He is the only one that still raps about songs that people can connect to... No one can really see him in the booth...
Tip should be in the top five of this list period in what kendrick doing down there?
I still to this day can't belive how underrated he is. He should be in the top 3, he got the swag, flow, lyrical talent, what more can you ask.

Long live the king
The king of the south got my respect for the things he says in his track NO matter what I fan that track even if its old
The Contenders
11
Wiz Khalifa

Cameron Jibril Thomaz, better known by his stage name Wiz Khalifa, is an American rapper, songwriter, and actor. He was born on September 8, 1987.
He's just the man
He is so great rapper
Him and Kendrick Lamar are tied in my eyes
I respect wiz, he rhymes is amazing
12
Wale

Olubowale Victor Akintimehin, better known by his stage name Wale, is an American recording artist, record producer and actor.
He is an amazing rapper!
Wale is so dope. He needs to be up there with J. Cole
The man! Dope shoe game as well
Two words... No Hands
13
Nas

Nasir bin Olu Dara Jones, better known by his stage name Nas, is an American rapper and entrepreneur born on September 14, 1973 in New York City. His album, Illmatic, is considered to be one of the best rap albums of all time. He is also considered to be one of the best rappers of all time.
Can't deny he is the best rapper. The best lyrical rapper.
Can't mad here lil Wayne.. Lil Wayne is whack
Nas the best rapper alive
Greatest of all time
14
B.o.B

Bobby Ray Simmons, Jr., better known by his stage name B.o.B, is an American recording artist and music producer from Decatur, Georgia.
His song are cool "headband"
I think B.O. B's Underground Luxury is one of the best albums of all time. Straight up.
He is a awesome rapper I like the song airplanes by B.O. B
HEADBAND is so cool
15
Hopsin

Marcus Jamal Hopson, better known by his stage name Hopsin, is an American rapper, record producer, director and actor from Los Angeles, California. Hopsin was born on July 18, 1985. His first album was called Emurge but he's best known for his album titled Raw.
Lil Wayne should not be on this list, nor should Drake. Hopsin should be higher, Joey Bada$$ should be able to fit in somewhere in this list and most of all, Dizzy Wright should. There is some really whack rappers on this list.
One of my favorite rappers at the time, he can be funny and also get a message across. Rap needs more people like Hopsin, he's been through some stuff with Ruthless but now he's doing good with his own record label. Single handedly one of the best, Lil Wayne shouldn't even be on this list. Hopsin should be at the top of this list, Eminem is over-rated.
Great rapper, has been improving since he started, His first album Raw (2010) was great and knock madness will be on of the best releases of the year for sure, and his whole crew is great.
Hopsin is the best rapper of all time! Although he isn't that famous yet so I was surprised to see him as 10!
16
Meek Mill

Robert Rihmeek Williams, better known by his stage name, Meek Mill, is an American hip hop recording artist.
Drake meek mill an Kendrick Lamar are the best but I had to go with meek milly because he has the best flow and he was 14 he should have been 1 2 or3
"meek mill is the realist rapper out"
Meek Is One I The Hardest Rappers to Do It I Would Know From Living In Delaware And Getting Every Mixtape That Dropped. Meek Is The Only One Who Can Really Say " Started From The Bottom " Everyone Talks About How He Just Raps About Money, Chains, Cars, Watches, etc. Why wouldn't He. Meek Came From Nothing To Being One Of The Most Known Rappers Alive And I Hope To Be A Rapper On DreamChasers Label To Shine Like Him.
Top 5 or 10
17
Tech N9ne

Aaron Dontez Yates, born November 8, 1971, better known by his stage name Tech N9ne, is an American rapper. In 1999, Yates and business partner Travis O'Guin founded the record label Strange Music. He has sold over two million albums and has had his music featured in film, television, and video games. ...read more.
Honestly not a big fan. I see where he comes from, but his song Straight Out The Gate just ruined it for me (Yes, I heard it first from WWE 2K18). Vampires, Blind Faith, Reading The Bible while holding guns, really? I don't hate him by any means, I prefer him over any of the Lil's any day.
The best rapper I have ever heard of. He has such a unique flow and his lyrics are meaningful. He is like a storyteller while rapping but also is known for rapping really fast with amazing flow. No one around like him. Best ever. Technician for life.
Tech and his entire label are the kings of rap music. They rap about so much more than money, cars, women and other material possessions. Tech tells a story and they way he words his lyrics is so unique compared to any other rapper out there right now.
He is the best rapper alive. If you actually go through and listen to all of his music, you will actually see that he is a better lyricist than anyone else. Better on stage. Annunciates every word perfectly regardless of how quickly he double times the beat. GET OUT OF YOUR MAINSTREAM BUBBLE and listen to it! No one can even compete! Why do yall think eminem wont collaborate with him?
18
Ludacris

Christopher Brian "Chris" Bridges, better known by his stage name Ludacris, is an American rapper, entrepreneur, and actor.
19
Tyler, the Creator

Tyler Gregory Okonma (born March 6, 1991), better known by his stage name Tyler, The Creator, is an American rapper, record producer, and music video director. ...read more.
I love tyler because he's just crazy and makes awesome music. Its different than a lot of other artists and has good flow
This dude must be in first place!
How's hopsin at a better placing then Tyler? did you even hear Wolf?
He's just different and y'all should learn to appreciate his stuff c'mon... Should be around 10
20
Lupe Fiasco

Wasalu Muhammad Jaco (born February 16, 1982), better known by his stage name Lupe Fiasco, is an American rapper, record producer, and entrepreneur. He rose to fame in 2006 following the success of his debut album, Lupe Fiasco's Food & Liquor. He also performs as the frontman of rock band Japanese Cartoon ...read more.
Intelligent man doing intelligent thought provoking lyrics that should be seen as the best working after the great Food and liquor 2 and his repairs to Kendrick and the game in SLR 2
This man should be in the top 10 for sure. REAL rap. He defines it. Period.
All of his albums are classics or going to be classics
THE BEST RAPPER OF 2013!
21
Logic

Born on January 22, 1990, in Gaithersburg, Maryland. Sir Robert Bryson Hall II, better known as Logic, is one of the most influential artists in the rap game today, with amazing lyricism and flow. Logic first gained major fame through making 2013's edition of the XXL Top-10 Freshmen List, and has easily ...read more.
Logic will be on the top in 2014
Great flow great voice great lyrics. He deserves better
How is Logic so low on the list? His mixtapes alone kill half this list! Real lyricist! Come on people wake up please...
Him and Kendrick will be running the game after Eminem is done. He's too good his mixtapes are better than lil waynes best albums
22
Ace Hood

Antoine McColister, better known by his stage name Ace Hood, is an American rapper. He was born in Port St. Lucie, Florida and raised in Deerfield Beach, Florida.
One of my favorites is bugatti
Ace is the best. His rap are real unlike a lot of other rappers
Should be top 5 at least
Ace hood is the best rapper In the world - tendani666
23
Chance the Rapper

Chancelor Jonathan Bennett, known professionally as Chance the Rapper, is an American rapper, singer, songwriter, and record producer from the West Chatham neighborhood of Chicago, Illinois.
This kid should be at the top no lie
He should be in top 10. Acid Rap made him great.
How is he not in top 10, at least 6 or 5
Best rapper of 2013
24
Joey Badass

Jo-Vaughn Virginie Scott, better known by his stage name Joey Badass, is an American hip hop recording artist and actor.
Better than 95% of these rappers...
Nicest rapper out of NY these days. Only kid in this genration who can hold his own against Kendrick
Man he is ill.. Him and Freddie Gibbs are the best upcoming rappers..
He is lyrical and has a nice flow
25
Machine Gun Kelly

Colson Baker, better known by his stage names MGK and Machine Gun Kelly, is an American rapper and actor, from Cleveland, Ohio.
This guy is beyond wonderful, his new album black flag is wonderful, believe it or not since I started listening to him. I have gotten out of my depression some of his songs really speak to me, call him whatever you want I think he the best thing that I've come across
Okay first off, Black Flag was a mixtape. His only album is Lace Up, and he is working on his second album. 2nd of all, MGK can spit pretty fast, but he is not the fastest rapper of all time. I don't even think he tries to be.

He definitely is a very good musician and is starting to change the rap game. When time passes, he will go down as a legend. He has fans thatll stick with him no matter what, and his fanbase continues to grow. And he actually appreciates his fans more then most famous people, which is awesome.

Hang in there dude, more fame will come with time.
He is #1 to me his music speaks to mean and get me outta bad moods just gotta put his music on and I'm good. Can't wait to meet him.
I can't believe he's no. 12! He should have been in top 10. He's so amazing. I mean he always almost won EVERY Contest he has entered but I guess it's from the bottom to the top so way to go, Kells!
PSearch List