Best Real Madrid Players of All Time
The Top Ten
1
Cristiano Ronaldo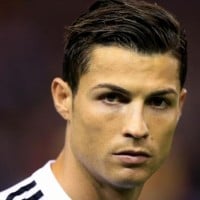 Cristiano Ronaldo dos Santos Aveiro is a Portuguese professional footballer who plays as a forward for Italian club Juventus and the Portugal national team.
he is one of the best player in the world and can perform verious types of new skills as well
best player because he can perform new, new tricks and also he is the fastest player among all players and also in whole world.

He is a brilliant player! He is very skillful! I think he is the best player in the world!
I love his game! I know you also love his game =)
He has the record of highest total goals scored by a madrid player till now in a season in all competitions with 60 goals in the year 2011-12 and he even has the record for highest la liga scorer for a season for madrid till now. He is the star of highest club transfer deal till now! His style of playing, ball control, free kicks, long ranged goals, everything sets him far more apart than other madrid players till now! He is the best!
2
Zinédine Zidane
Best player ever, elegant, team player, efficient... And remember his goal against bayer leverkusen
He rocks and also he is a team player. I think he is friendly and kind he probably could beat any defender any day any time.
Zidane the best player and king of football. It is so entertaining to watch him play. Amazing skill and first touch
His technique was the best in the world, maybe the best in footballs history, and his skills with the ball, control of the ball and his vision and understanding of the game were on another level. He was not especially fast, but he was strong, body balance great, his finishing was great with left and right foot. The best all-rounder ever.
3
David Beckham

David Robert Joseph Beckham is an English retired professional footballer. He played for Manchester United, Preston North End, Real Madrid, Milan, LA Galaxy, Paris Saint-Germain and the England national team, for which he held the appearance record for an outfield player until 2016.
"ya son its beckam ya! " well he's a beast and I need to take up room
Many are envious and jealous of Becks life and they hate and diss him for it but let's be honest... the player is awesome! He might not have incredible pace or speed but he was always doing his job well enough to leave the clubs he played for as a proud champion! Not many players can do that!
People have this wrong theory that beckham was of no use at real. He was one of the clubs key players.
David beckham roles the soccer world and Real Madrid
4
Raúl González Blanco
I started watching football by 1992. By this time, Real Madrid was nothing but an old legend, under the shadow of Barcelona's "Dream Team". They didn't even play Champions League for many years, as only the Liga winners were allowed. And since the last European Cup in 1966 or so, they just played a few semifinals and one final in 1981. As I said, AN OLD LEGEND, not much more.

Real Madrid started to be great again just when Raúl arrived to the team. He was always the solution for every match, didn't matter how bad or good the team played through the years, didn't matter the better or worse players that surrounded him, at the end Raúl always had to be there in every single match to make the impossible within a flash and make Madrid win 99 out of 100 times. Even in the worse situations, we knew Raúl could do suddenly something out of nothing and win a match.

Suddenly it was possible to defeat an Italian team or a German team. I swear by God that this was ...more
this man has more history than any other player so I think he should be 1
Mister Raul Madrid! Incredible player
Certainly not the best player that has been seen at Real Madrid but my vote goes to him due to the fact that he pretty much symbolises them. A legend of Spanish football.
5
Iker Casillas

Iker Casillas Fernández is a Spanish professional footballer who plays for Portuguese club Porto and the Spain national team as a goalkeeper.
He's the only one. He's the reason of my fallin in love with Real Madrid. When I saw Real Madrid's game first time, I just couldn't get my eyes off him. He will always be a madridista, as me. Love you Casillas!
Awesome player best keeper ever no other goalie compares only buffon and van der sar are near him in skill
I think the only keepers in the world that can match him are buffon, petr cech and victor valdes
Valdes is no match compared to casillas, right now the closest player to him is neuer.
Iker Casillas devoted his life to Madrid. He literally gave Real every trophy possible and the Spanish National Team as well. He is a true legend and should never be forgotten. Enough said.
6
Roberto Carlos

Roberto Carlos da Silva Rocha, more commonly known simply as Roberto Carlos, is a Brazilian retired footballer.
He is best player of th world. His amazing skill and shut in goal...
By far the best shot taker of all time 11 12 foot curves UN heard of and persice as a sniper
Best free kicker
He scores goals from super far
7
Alfredo di Stéfano
Goal machine perfect striker strong and with a deadly finish and seriously beckham?
Nobody else in this list compares to di Stefano. Look at his achievements, 8 League Titles & 5 European Cups - say no more. David Beckham achieved nothing with Real Madrid, he should have stayed with Man Utd. Di Stefano is not just a Real Madrid Legend but a Soccer Legend! One of the Greats!
Di Stefano, obviously.

emm.. Beckham??? HAHA!?
Should be ranked higher in my opinion, one of the all time greatest players to play the game.
8
Ronaldo Luis Nazário de Lima

Ronaldo Luís Nazário de Lima, commonly known as Ronaldo, is a Brazilian retired professional footballer who played as a striker. Popularly dubbed O Fenômeno, he is widely considered to be one of the greatest football players of all time.
How is it that Ronaldo is over Zidane in the Best footballer of all time thread when he is under him here? Don't get me wrong. Zidane was a brilliant footballer, but Ronaldo was RONALDO!
raul is my hero, but ronaldo has won everything everywhere he has played.
This is Real Ronaldo!
completely Best Player n true legend!
All 10 player here are amazing but Ronaldo 9 Nazario is best and all time favourite amongst all. Most important thing Whenever he played, There is one man show, He can score from nothing and un believable skill, technique, speed and ability to score,
He is real Phenomenon
Even Great Pele said : Ronaldo is best, you cannot compare him to anyone for football
If anyone have a doubt then go see all these 10 players Match Videos
Only then You can understand
He is TRUE living Legend
9
Ruud van Nistelrooy
His instinct to make goals was unique
He was a extreme
He desrves it
10
Sergio Ramos

Sergio Ramos García is a Spanish professional footballer who plays for Real Madrid and the Spain national football team.
Passion, spirit, amazing skills, simply the best!
The best center back in the game rite now..! Quick to win the hearts of Madrid fans due to passion to fight for the Jersey...
Plays very well, defensive is almost perfect! No doubt, is the best defender in the history of Real Madrid.
The MVP against Atletico Madrid UEFA League 2014
The Contenders
11
Gareth Bale

Gareth Frank Bale is a Welsh professional footballer who plays as a winger for Spanish club Real Madrid and the Wales national team.
Deserves to be in top 10, Won 2 champion leagues in 3 years, scored and assisted in both matches, scored the winner in Copa del rey, proved himself better than Benzema. Took Wales to quarter finals.
Bale should be in a higher place than 17 anyway he's the newest real Madrid player but he's still sick!
Bale should be way higher he's amazing at free kicks and has great speed should be below Ronaldo
3rd favourite player ever. I think he's the best at the moment. needs more time so far. BALE!
12
Mesut Özil

Mesut Özil is a German professional footballer who plays for Premier League club Arsenal. He is considered to be one of the best players in the world. Özil plays mostly as an attacking midfielder, but can also be deployed as a winger.
Football with brains, it is supposed to be like this. He has the perfect touch.
He is responsible or involved with every goal Real score. A Scholes like figure, always has an idea when he gets the ball
He is zidane 2
If you summed up Real Madrid's midfield in one word, that word would be Ozil.
13
Ferenc Puskas

Ferenc Puskás was a Hungarian footballer and manager, widely regarded as one of the greatest players of all time.
Probably the most underrated player ever in the history of this game. Puskas's record speaks for himself. A true hero and a legend and probably the best player ever. Maradona and Pele are known to us because they have had limelight from the media since the beginning and that is why names like Di Stefano and Puskas isn't a household name. I will request people to check Puskas's track record. _/\_
I'm giving my vote to Puskas, he doesn't deserve to be down as far as this, he's a legend and was a fine player in his time, decorated in silverware from all over the world. Ronaldo deservedly is at the top, no doubt.
How can he be ranked as low as 12. He has to be in the top 3 at least. Simply one of the greatest players in the history of the game
Simply the best player in rm history... Great speed, shoot power, dribbling, goal scoring skills... Complete player!
14
Luka Modric

Luka Modrić is a Croatian footballer who plays for Spanish club Real Madrid and the Croatia national team.
Only player to kick Messi and Ronaldo out of the ballon dor slot
He controls the defending mid field side
Modric is probably one of the best midfielders ever he is a very amazing player
He is the best of all time! Watch the videos on youtube that are called: 10 best luka modric tricks!
My favourite player, good luck with the league that's ahead of you real madrid!
15
Luís Figo
Great team player I think. Him and Zidane did control the midfield offensively beautiful. Stable player, simple and direct. But yet I think he's very much greater than beckham (witch is a joke, did only make it worse. it was all buisness) Figo did have those celeb needs, like c ronaldo got. I am a big fan of him.
Very talented player yet very controversial. Let'all face it, he has contributed to football and he is a real legend. Mr. Controversial Figo, thank you so much for inspiring many youth in this beautiful game of football...
Perhaps not the best right winger of all time when it comes to pace, and dribbles but he fulfill all the needs with his technique and unique crosses... And icon in football, captain of the golden generation... And my 1st inspiration to love football
He is the reason why football became my religion.
16
Kaka

Ricardo Izecson dos Santos Leite, commonly known as Kaká or Ricardo Kaká, is a Brazilian professional footballer who plays as an attacking midfielder for Orlando City SC in Major League Soccer and the Brazil national team.
Hi is the best but need more time to prove him self like he did in milan and he is not in postion he played in milan
He need to play like he did in milan and score more goals as well
He had a great skills during in milan. But, since he came to los merengues, his playing style has change. He can't perform many movement like in milan. But, I was great fans of kaka. So, I will keep support him! HaLa Madrid! HaLa Kaka!
The heaven has bless real with one of the best player in the 20th century
17
Hugo Sanchez

Hugo Sánchez Márquez is a retired Mexican professional footballer and manager. A prolific goalscorer known for his spectacular strikes and volleys, Sánchez is widely regarded as Mexico's greatest-ever footballer, and one of the greatest players of his generation.
He was incredible he was a star player of club and country he was amazing should be well higher not only was he great in real life he is also unbelievable on fifa
Why isn't he higher in the list
This list is ridiculous if we are talking of all time why would you include players like pepe, benzema, kaka etc.
Becouse he is the best stricker that real has ever had scoring almost 300 goals in 8 yeras. He is one of the best...
18
Zinedine Zidane

Zinedine Yazid Zidane, nicknamed "Zizou", is a retired French footballer and current manager of Real Madrid.
How is he so low on the list? He is one of the greatest to ever play. Deserves to be higher.
Zinedine Zidane is already ranked!
Best legend
19
Angel di Maria

An amazing argentine surpassing Messi and maradona
He is the dangerous man
Best real player at the moment
He retired puyol simple
20
Karim Benzema

Karim Mostafa Benzema is a French professional footballer of Algerian descent who plays for Spanish club Real Madrid and the France national team as a striker.
One thing I love about Real Madrid is that they don't allow only one player to over monopolize the team as a star record holder. Barca should learn from Bayern, Real, PSG. They've allowed Messi to be their everything with no competition. We initially thought Suarez will do something but he didn't last. Benzema on the other hand has worked so hard that he has at least taken Ronaldo from a spot which is the highest assist-maker in the team's history.
WOAH you didn't see Benzema coming in 44th place. He should be in the top 20!
The best player karim
HE is The Best player in the history of soccer In Moving In The Field
21
Marcelo Vieira
Marcelo is a beast he is like the best lb in the world such a boss
22
Toni Kroos

Toni Kroos is a German professional footballer who plays as a midfielder for Spanish club Real Madrid and the German national team.
He is a great player he sets up amazing attacks that normally lead to goals
He deserves to be much higher in the ranks
His passing is unbelievable.
The second xabi alonso
23
Raphael Varane

Raphaël Xavier Varane is a French professional footballer who plays as a centre-back for Spanish club Real Madrid and the France national team.He previously played for French club Lens and, ahead of the 2010–11 season, began training with the senior team and appeared on the bench in several league ...read more.
He's a fantastic part of real. he helped france win the world cup. Ronaldo can't do it at all.
24
Fernando Hierro

Hierro was my favorite player back in the day. His passing skills matched Pirlo and his defensive presence was equivalent to that of Thiago Silva. His leadership skills were impeccable. Top 10 all time in my opinion.
He is a real legend one can't think of. he is a solid defender and a good character and a great player. he is a captain by example and he scores and create from center back. he can played in center back and in mid field. great personality. my best ever defender. I like and love him
He's a legendary player, I never have sean a player with his dignity and pride
Wonderful captain and great player
25
Gonzalo Higuain

Gonzalo Gerardo Higuaín is an Argentine professional footballer who plays as a striker for Italian club Juventus.
Is a bomber. You just need to pass the ball in the penality area and he is deadly
I like you gonzalo higuain
PSearch List