Alex Van Halen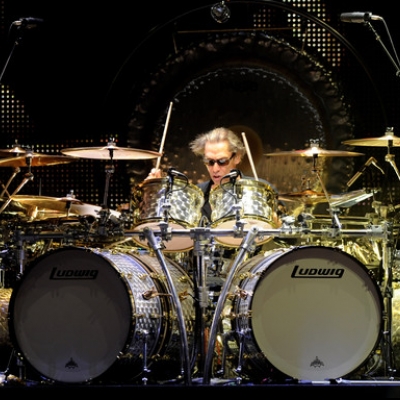 Uploaded by Troydileo
Info
Alexander Arthur "Alex" Van Halen is a Dutch-born American musician, best known as the drummer and co-founder of the hard rock band Van Halen.
Comments
Top
Popular
Newest
Brilliant!, overshadowed by his brothers guitar work, but incredible in his own right
Oh my god why isn't Al higher. Listen to Pleasure Dome, As Is, even Everybody wants some, or a live version of Panama. His playing is unmatchable. Al + Ed + Mike + Dave/Sam=Best Band in the world.
Maybe the most under rated drummer of all time in rock! I would compare him to Alex Lifeson of Rush. They both are over shadowed by Legendary players. - GeddyGaddy
Could synopate with the best of them and was so fluid it is not funny. " Hot for Teacher", " Good Enough" and " Pleasure Dome " are some of the most awesome drum tracks ever.
Listen to something like mine all mine A.F. you Naturally Wired or his best Hot For Teacher then you will understand why he is one of the best
He is amazing and is able to play amazingly faster rythums unlike joey jordison. joey go try to play hot for teacher and then tell me you are better then alex - locus14
he is the best drummer ever and his brother is the best guitarist ever! I heard one of his solos, and he went so fast it sounded like a machine gun going off!
This guy is the best drummer ever! And he is playing with the best guitarist ever too. Listen to hot for teacher or pleasure dome. Its all insane
He's a legend and has one of the greatest drum sounds ever. His sound is easily recognizable. You can't say that about many drummers.
How can you not like Alex Van Halen. It's like saying you don't like chocolate. He is simply the best and there is no other way to put it.
And what are you doing not in the top 3? One of the best and an awesome soloist. Fast as heck, and just plain old good
His kit is amazing and he works every inch of it. Sad that back and shoulder problems have plagued him.
He plays really fast seriously listen to any of his solos, he's really good!
Pretty damn amazing drummer. Just look up Hot for Teacher, your welcome. - NvGNick
Listen to hot for teacher... And you will know
One of the best drummers with one of the best guitarist, deadly
Intro to Hot for Teacher says it all
LOL I voted 4 this guy on 2 computers. Thats how good he is - adamcHALO3
He is still the best people need to listen more he is sick
Alex van happen is my favorite, surprised to see him at 26
Amazing drummer. Just listen to Hot for teacher intro
Greatest rock drummer in the world drunk or sober - rocker1796
Yeah Ed is not the only talented Van Halen yano
Hot 4 teacher makes me laugh how fast the intro
the musical genius must run in the family - pauler94
Related Lists
Top Ten Van Halen Songs
Best Van Halen Albums
Top Ten Van Halen Songs With David Lee Roth
Top 10 Songs Off Van Halen's Debut Album