Carl Palmer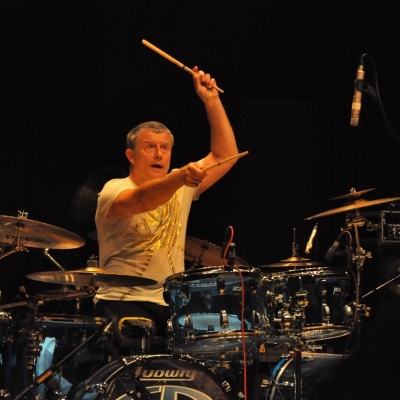 Uploaded by CastlevaniaFanboy128
Info
Carl Frederick Kendall Palmer is an English drummer and percussionist most famed for playing with the prog-rock bands Emerson, Lake and Palmer and Asia.
Comments
Top
Popular
Newest
He could make a song from the beat of drum. One of the few drum soloist that did not have a cliche drum solo. I agree with all the comments written here, he should be much higher in the list. Definitely top 5.
Carl is 1st in my book, because he can play more than the drums, gongs, and timpani. He can play every kind of percussion out there. His time signatures are outrageous. He can play multiple signatures at the same time. If you've never seen him live, it is a MUST. His drum 'tricks' are Awe-inspiring. And he can play every type of music, from Progressive Rock to Orchestral.
The Greatest Rock Drummer of all time, period. Listen to Karn Evil 9, all three impressions and you will agree. Buddy Rich and Gene Krupa and perhaps Neil Peart can be named in the same breath as Carl, but none surpasses the legendary Carl Palmer!
Carl Palmer is by far the best drummer of all time !! I'm not talking about just your favorite band now i'm talking pure genius on the drums! Bonham, Starr, Peart,were all great drummers but not as technical as Carl. Check out his web site and see for yourself.
I expected Carl Palmer to be in the top 3, at worst top 5. For me he is my all time favourite drummer and I have seen a large selection of the top drummers in rock. Saw him in 1973 and several other times since, the last time being in 2014 and he is still excellent. - Myke1
Though I agree that Peart is one of my Fav's Guys like Dave Weckl,
Or Carl Palmer leave his in the Dust. Ive Seen and met Palmer twice and Honestly everything Peart does, Palmer can do, and 100
times faster. He is Remarkable.
Number 54? Are you kidding? For this alone, this list is compile of crap. How I would love to see everyone on this list gather for a drum off, (with respects to the deceased) and Palmer would wipe the floor with them all.
Carl Palmer should be at the top of this list. His ability is unmatched. He is a "god" to all drummers who came after him.
He has to be better than #53! He is so talented! The only reason why he's probably at 53 is because Emerson, lake, and Palmer weren't very commercial. But behind that outrageously huge electrical drum kit, Carl Palmer thinks of such amazing rhythms that typical rock drummers dream of! He has such a variety in playing and you can never get enough of him! Even in his 'Asia' days! Vote #1 prog rock!
Copeland at 17th, Bruford at 19th, and Palmer in 22nd? What is going on here? Dave Grohl is great too but come on, even he would admit how good these guys are. Carl is a beast, he's fast, precise, talented and a good showman. Hr combines classical, jazz and rock into a godly mix that I have never seen from any other drummer. It's a bloody shame that he isn't in the top five, cause he damn deserves it.

And why the hell is Lars even in the top 10? Even when he was good, he's easily topped by many drummers. Too many people voting for their favorite bands here...
Carl is still at the top of the craft, even in his 60's. There are lots of great drummers but Carl is among the best in history. I have seen him live over the decades, 1970's, 80's, 90's and just last year, October 2011 and he is still a master of the craft!
How dare Carl Palmer be 53rd place on this list! He is easily better than all of these drummers (even better than John Bonham! ) He should be number three or four. If you don't believe me, listen to his drum solo from Karn Evil 9 or Tank.
A consummate showman, a technical genius, and a groundbreaking performer who has fostered the development of new technology. His contributions go far beyond his work on stage and record, but just those by themselves should put him in the top 5.
When he was in his 20's and 30's no one could touch him. Try drumming to Keith Emerson. I will go with what Buddy Rich once said" the best drummer in the world is Carl Palmer".
Good point about know -nothings rating drummers. Today's young drummer cannot touch the likes of Phil Collins, Carl Palmer, etc.
Carl should be at least in the top 5! His style is not basic rock and roll, I dare any drummer to play the music he plays with such effectiveness. Once you have seen him perform LIVE, you will be totally convinced.
Carl, in his 60's has all the energy of a young drummer- and then some. His kit alone can make one dizzy but to see and hear him play it can strike awe into even the most jaded listener. This man is top- cream of the crop!
Best drummer I have ever heard or seen in concert. If you ever have the chance of seeing this man in concert you absolutely must go. He is the best, par none.
Listen to Carl Palmer across all the albums played and compare them with other drummers across theirs. Dare you! Carl comes out ahead every time. Other drummers liked : Ginger Baker - go ahead and play his solo with Cream and tell me he can't be higher on the list too!
Carl Palmer is by far one of the best drummers in the world. If only drummers were voting in this poll carl would be in the top ten for sure.
62? What a bloody joke - the legend, the showman, the craftsman, the one and only! Up to #1 where he rightfully belongs!
Palmer is the TOPS! See the Carl Palmer Band- Even at 62, he still kicks ass as a drummer.
Carl deserves to be in the top 5. His soloing technique nearly rivals that of Buddy Rich, and just does not get any better! Move him up!
Besides knowing his instrument like few, he knows Music - his work with EL&P demonstrates it.
I guess we must be getting old because many who voted here have probably never heard Carl Palmer play. My top five would be in no particular order,
Palmer, Peart, Rich, Bozzio, and Paice. I guess because of the recent popularity of Rush that Peart is the only one getting his due respect.
Related Lists

Top 10 People Named Carl
Best Movies Directed by Carl Reiner
Best Carl Weathers Movies
Top Ten Movies Directed by John Carl Buechler