Chad Szeliga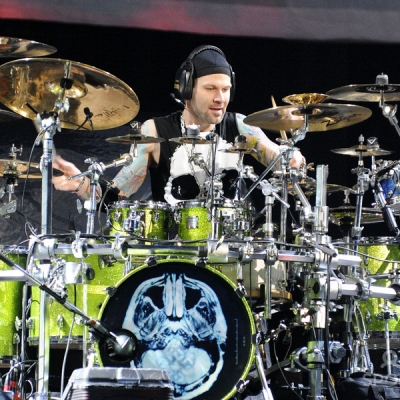 Uploaded by CastlevaniaFanboy128
Info
Chad Szeliga is an American drummer and percussionist from Elyria, Ohio. He is best known as the former drummer for the band Breaking Benjamin.
Comments
Top
Popular
Newest
He's been my drum idol for years. I have never been so hooked on a players drumming than I have with Chad's. This man has become my greatest friend, role model, and now teacher... He is just the best at what he does period, and is underrated like no other. If any of you took the time do your research then you would realize that Ben Burnley is the reason that Chad's playing is so held back on the albums. My man can do anything you ask, he's sponsored by DW drums for a reason. Your always the best in my heart bro, love you Chad.

- Danny Anton Watts (dwattzdrummer)
Chad's drumming just adds so much to Breaking Benjamin's music, he knows when to be flashy and when not too, he knows when to let the other instruments breathe for a bit, not only that but all his drums parts, simple or not, are so amazingly catchy, he is my inspiration for music, and I don't even play drums, Chad definitely deserves to be in the top 10, whether you like breaking benjamin or not (they are personally my favorite band) I think he should be number one, but that's just my opinion
Chad Szeliga is so awesome! The way he combines and incorporates all different styles into his playing whilst being incredible technically precise is amazing. The beats he turns out are just dripping with creativity and style. But the best thing is the way he is able to be so creative whilst making his drumming gel with the music so well. All the genius of drumming can be found in Chad Szeliga. A true drumming idol!
Chad Szeliga not in top 10! Are you guys kidding me? Have you listened to Phobia? This guy makes that intricate drumming look extremely easy. Speed, rudiments, techniques, this guy got them all. Just listen to the variety of music he plays. And he takes time to reach out to his fans and teach them how to play his songs and improve their skills.
Just one word to describe him - AWWWWWSSSSOME!
He's so nice... Such a sweetheart and he knows how to play drums. There's this video on YouTube with him and one of his students playing "Crawl" together in his basement. Chad even taught him to do the little drumstick spin thing! It was epic. Also, Chad plays with a lot of energy and I'm so happy he's still with Breaking Benjamin even though the dispute happened. KEEP ROCKING Chad!
Chad, your lucky to be where you are. I've seen plenty of killer drummeres up there, like Jimmy Sullivan, a. k. a, The Rev, from Avenged Sevenfold. You should be proud of where you stand at number 21, but if you make it to number 20, that's quite an achevement. Keep your drumming up, and you might be lucky enough to place in the top 15. Keep it up, Szeliga.
Chad's technique, clarity and power are just out of this world. Everything he plays just sounds amazing! He is one of the most devoted drummers I know and really knows how to combine playing for the song and creating a cool and inventive drum part. A true legend this man!
Really started to regard Chad's abilities in a different light after seeing several of his YouTube videos. Monster chops yet always serves the music first.
I saw Chad play plenty of times! He is a great drummer, not only that a great person at heart... He would do anything for his fans! Most drummers in Banda will not give you the time of day. Chad helps people on the side for drum lessons no drummer would ever do that.
Great Style and a Great Guy Also! He keeps his Facebook page updated and from what I Read He is a GREAT guy. He came in later on in the band but was a great addition and a great sport coming in. Seeing his audition tape on YouTube blew me, and I'm sure the band, away.
Chad uses so many technique's from all sorts of styles and incorporates them into breaking benjamin's songs, to a beautiful standard. And unlike a lot of drummers, he has lessons dedicated on YouTube to some of his songs that fan's requested to learn.
His creative nuances are what makes his style of fusion drumming different and quite frankly better than the kind of drummer who just spits out constant thirty-second notes on the double bass drum. Chad Szeliga is the best modern drummer. Period.
He has been my drum idol for years now. He is the nicest guy you will ever meet. He is now my teacher and I haven't looked back. He has the most passion and feel then any other drummer I have seen. He is so clean and will continue to fight to be the best.
Definitely and underrated drummer. The guy is so versatile and is able to successfully incorporate his jazz and funk roots into his rock. Definitely my favorite drummer right now. Check out his YouTube drum solos, they're amazing.
He is amazing! He is a part of an amazing band and he's my drum idol. I love his way to play the drums. He can do anything and stay with the rhythm of the song, while the other are doing other things. He's fantastic. I'm in love with him.
As a guitarist I always want to make sure I'm playing along to some great drumming. His fills are so fulfilling to listen to and when playing along you're never thrown out of time, perfection around a drum kit.
Chad has inspired many out there. He's a less conventional drummer to normal rock drummers, but his raw ability to fuse different styles, even into the simplest beats, make him one of the best out there.
Chad's not only a phenomenal drummer, he's the real deal, the whole package! He's got talent, finesse, amazing technique, and simultaneously is humble, down-to-earth, and just a great guy! Rock on Chad!
Chad Szeliga is one of those ideal drummers anyone can look up to, with a wide range of playing genres, one of the best rock/funk drummers out today, and definitely my favourite!
This guy does stuff to a drum set that I feel sure is not legal. His charisma and finesse are out of this world and he is completely untouchable when it comes to ANYTHING percussion. - krkenny2590
A great drummer who stays close to the community. I haven't seen anyone who maintains such a close relationship with his fans. His drumming videos are absolutely insane to boot
Chad has been my number 1 influence from literally day one! When I started to take drums seriously, Chad just blew me away... His work between the bell and hi hat I find especially intersting. And his desire to dance around the hi hat also:-) I am in the habit of doing it now too! I even find myself buying similar sounding equipment!
Chad adds so much to the already great Black Label Society. UnBlackened would not have been the same with the percussion section. Multi-talented; a joy to watch play.
Not only does his drum skill go beyond the level of other drummers in the rock world but he plays for like the best band ever so there is no doubt he should be number 1
His playing is amazing... he's inspired many to pick up sticks and even offered lessons to them... great guy with a huge heart and very respected in my book!